Guess what? It's not just log cabins that are built from logs!
If you have a few simple tools and are good with your hands there is no reason why you cannot make use of a few old logs or tree stumps to provide interest and texture to your garden. Firstly decide if you want to make something that is purely a piece of sculpture, something useful, or maybe even a bit of both. So whether it's something to spice up a garden getaway or has a use, we'd bet you can make it from logs!
Is it going to be something for the adults to sit on while entertaining or something for the kids to play on? There are many different types of garden sculpture, home decor, furniture or play equipment that can be built using old and discarded tree parts. The only things you have to consider when designing your piece are:
Decide what the original shape reminds you of and cut to enhance the shape.
Make sure the piece isn't rotten and can hold the intended weight.
Use as few cuts as possible.
And use protective equipment to minimise damage!
These attractive garden table and stools make use of the interesting grain pattern to provide texture
The shape of this tree trunk reminds the viewer of a sleeping dragon.
Stripped of bark, these different sized logs will add height and colour to a patio garden when used as plinths for other sculpture or plant pots.
Tree stumps used as carving stock can produce interesting garden seats. Logs can be used for side tables.
More sculptured tree stumps and logs produce this interesting  garden bench, table and stool set.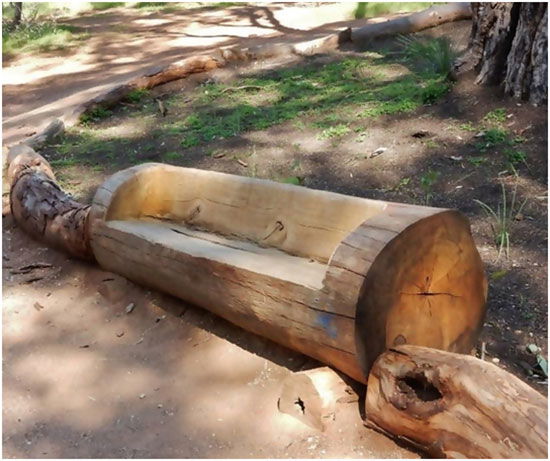 A chainsawed tree trunk provides a welcome wayside rest stop for hikers.
This interesting collection of smooth branches makes a fantastic climbing frame for the kids.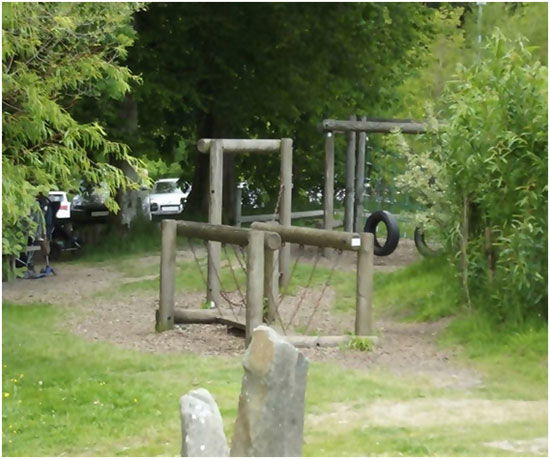 Branches joined with simple half lap joints makes a fun adventure playground for the kids.
Simple woodworking joints make seats or 'stepping stones' for the little ones. Let the kids' imaginations run riot.
When half of the tree has died and been cut back, build a treehouse for the kids.
Different coloured tree wood can produce a startling effect when making garden furniture.
The variations in texture and colour that you can produce from old bits of tree are truly remarkable and all you need is some basic carpentry skills, some simple tools and a lot of imagination. Spending a few hours at the weekend building these will really liven up anyone's garden, bar, or even home salon and of course, you can alter the scale of things to suit the size of your garden.
Featured image Credit: pb826 / Pixabay
And although we said earlier that logs don't always get used for log cabins, they tend to over at BillyOh! That's because we've been manufacturing and stocking high-quality log cabins for going on 20 years now.
But don't take our word for it – we've got loads of customer stories from satisfied people who want to tell the rest of the world about their awesome log cabins.
So if you're thinking about investing in a new garden building and are eyeing up a garden cabin made from logs – let us help you out. Not only can our helpful customer service team walk you through what we have to offer, we've got loads of helpful design insights and even videos to show you just how a BillyOh log cabin would work in your garden.
Then all you have to do is pick a good location for it and follow the comprehensive assembly instructions provided with your order. Trust us, you and a friend can have an outdoor cabin up in just a matter of hours using nothing more than some basic tools. We even offer assembly kits as an optional extra if you don't have any tools lying about.
From there, our blog has loads of great posts to help you every step of the way with your new outdoor building. For example, we've got posts on everything from how to keep your cabin secure, to damp-proofing and insulating it and even converting it into a home gym if you want to.
So check out our blog for more guides and stories all about log cabins.