Sheds come in a variety of sizes and styles to suit a garden. The BillyOh Mini Keeper Overlap Pent Store Shed was purchased by Sam for general garden storage. The contemporary pent design fits in well with his modern garden style. Sam shared his customer experience and told us what made him purchase this particular garden building.

What made you purchase your building from BillyOh?
The dimensions and reviews. We had spent a long time looking for specific dimensions for the relatively small space we have in our garden. While we found a few that we the right length or width, there was always something, like height, that would put us off (and often many shed retailers will give you the inside measurements, sometimes adding half a foot – a foot when you look at the actual exterior sizes). We felt that BillyOh measurements were honest, and the feedback and reviews from independent sites pointed at BillyOh.
Why did you choose the product?
The mini-keeper fit the bill as it wasn't looming in its height (my partner stipulated it needed to be shorter than her!) and it's thin depth, whilst allowing for storage of all the necessaries, meant it wasn't as imposing as competitors. BillyOh had a great range, and the price point was really perfect. Reviews of the product from various sources stated that it was a sturdy option for that price bracket, and well made. So far it has not disappointed.
How was your customer experience?
Really good, so easy to set up the purchase, and as mentioned the price is competitive, and actually is pretty much unbeatable, plus free delivery (people also sell the same dimension shed brand new on eBay for a higher price). Regarding delivery, I accidentally selected the wrong day and it only took a short phone call on the day of delivery, when I realised, for the customer service adviser to contact the driver and request he leaves it by the bins down the side of the porch, which he did.
How are you finding the shed now?
I love it, the in-laws love it, it gets a lot of comments, but mainly for me is the feeling of a well made structure alongside value for money.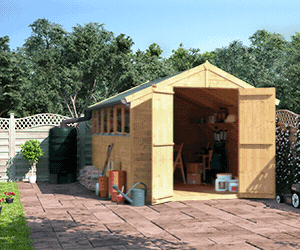 Would you recommend buying from us?
100%
How will you decorate it? 
We will be applying a few coats of wood protector initially, and painting with some exterior wood paint ultimately. Colour-wise and source: That's the Mrs's area of expertise. Previously we have used smaller brand stuff that does the trick for the gate, but I'm sure we will end up with something at a higher price point.
Deciding on what shed design is perfect for your garden depends on how you intend to use it and what for. If you need general garden storage like Sam, you may want a low budget garden shed to store your lawnmower.
Having a hard time choosing your garden shed? Take a look at our variety of shed designs from wooden, metal and plastic and start to customise your own.