In most cases, a good-looking garden shed exterior can help boost the curbside appeal of a property. But the interior also plays a big role.
The interior of a shed can look just as good as the exterior when the right materials are used. When it comes to finishes, people are always on the lookout for an economical approach.
From roofing repair products to flooring upkeep, things like lining for walls can make the space warm and ideal for year-round use. But what's the best wall finish material for your garden building? For ideas, keep on reading!
1. Plywood
Plywood has a lot of properties that make it great for lining the interior of a shed. It's strong despite its thickness and is ideal for attaching items to the walls or where they may otherwise get knocked off.
A variety of thicknesses are available, from 3.6mm to 18mm. For sturdier and better insulating properties, we recommend at least 9mm.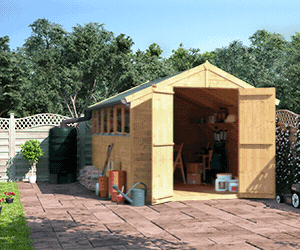 Most suitable for: smaller sheds.

2. Drywall
Drywall offers a smooth and attractive shed interior finish. You can paint it any colour or texture you choose or even cover it with wallpaper.
Its superior resistance to fire compared to woods like plywood makes it an excellent material. But it's not suitable if your shed isn't already waterproof.

3. OSB
OSB (Oriented Strand Board) is made of layers of chipped-up lower-grade wood. It has a flaked appearance and bumpy texture.
An ideal choice for under layering carpets, tile, hardwood flooring, roofs and wall sheathing. If you don't mind the textured appearance on the walls, OSB is a good choice.
Even better, it'll provide similar properties to plywood but potentially at a lower cost.

4. Beadboard
Beadboard is a wood panelling featuring long, continuous vertical grooves and raised beads. It is made of fibre cement, giving you a natural wood panelling look.
The material also resists twisting and decaying and prevents wood-damaging insects from your shed. It's a great alternative if your wooden walls have experienced termite problems before.
It's a bit pricier than wood, but it's safer, long-lasting, and requires lesser maintenance.
5. Shiplap
Shiplap is widely used for constructing the exterior of garden buildings, including sheds. It's known for its cut out grooves, and its easy-to-install properties.
The surface of shiplap is planed smooth meaning you can paint it straight away without any need to sand first.
Warping and rotting are the potential drawbacks. Thus, it won't be ideal if you live in a humid area.

6. MDF
MDF or Medium-density Fibreboard comprises softwood or hardwood residuals made into wood fibres. It offers a smooth surface and also gives you a room-like feel with minimal work.
The smooth edges make it easy to cut, even for detailed designs. It's easy to work with and makes a good choice for a DIY shed project.
One thing to note about MDF is that it'll soak up a lot of water, potentially posing a challenge for use in a shed that may at times be damp. To avoid this, treat the board with high-quality wood treatment.
7. Upcycled pallets
Pallets make a great cost-effective option for a shed interior wall. If you're going for this approach, ensure the pallets are safe for indoor use.
There should be no markings, such as the MB (Methyl Bromide) stamp. Also, don't use pallets with CP1, CP2, CP3, CP4, and CP5 markings as they're used in the chemical industry.
Instead, look for the IPPC marking. This mark ensures that the wood doesn't have insects or any disease. Plus, HT (heat-treated) and KD (kiln treated) are safe and aren't harmful to your health.

8. Fabric or drop cloths
The fabric might be a workable option if you don't have the money for drywall. The perk of cloth, particularly for the ceiling, is that it looks unique and gives off a 'living inside a tent' vibe.
Along with the low price point and ease of installation, it's an appealing alternative. You can buy a spray to make the fabric fire retardant.
9. Pegboards and slat walls
Pegboard is lightweight, cheap, and can be installed directly onto wall studs. It offers convenience and storage spacecraft supplies, DIY & garden tools, and such.
A slat wall system is similar to a pegboard. But they're a bit more durable for hanging heavy items like wheelbarrows and even bicycles.

10. Tin or metal roofing
Metal roofing is lightweight, not a fire hazard, and easy to screw into studs. But the metal is sharp and hard to cut, so you wouldn't want to expose the edges, especially if you need to trim the panels.
Sheets come in different colours, but we think that simple grey looks best. The downfall is that sound will echo in rooms with this lining.

11. Vinyl siding
Vinyl siding is perfect for DIY – it's cheap and extremely easy to work with. It's best to attach to OSB or wood panels for stability.
You can cut it with a saw, or even with tin snips. Moreover, the pieces of siding interlock, which makes them secure and quick to install.
As long as the shed is structurally sound, you can cover it with vinyl siding. 
12. Veneer plaster
Veneer plaster is a good alternative and comes closest to traditional drywall. It doesn't require as much skill or as many tools as hanging drywall does, but it's a time-consuming option.
13. Lath & plaster
Like veneer plaster, you can combine laths and then coat them in plaster. Laths are narrow strips of wood installed horizontally between studs or ceiling joists.
It's a mediaeval wattle and daub style, great for adding some texture to the wall. If you have non-flat walls, like a curved surface in the corner of the room, lath & plaster will work well.

14. Wahoo walls
If you're trying to cover a wall made of cinder block or concrete, go for Wahoo walls. It's a basement wall finishing system that's also ideal for sheds.
It mimics the look of drywall and is moisture resistant. Plus, you don't have to screw it into the wall; these panels click together.
15. Keep it bare
Consider whether interior walls are needed or not. If you're just using your shed for storage and not spending any time in there, it'll probably be fine without the extra insulation and cover.
But if you plan on spending more time in your shed, say, during winter, it's better to have an interior wall and insulate it. This is also essential if you store sensitive items in cold temperatures.
In the long run, you may be able to save money compared to running an electric heater in an uninsulated shed.

Shed Interior Walls: Round-up
Sheds don't usually come with any material on the interior walls. The wooden framing for the structure features exterior cladding of T&G timber. This leaves the interior open and untreated. Speaking of treatments, our garden buildings come with pressure-treated options.
Going back, lining the shed's interior walls offers tons of benefits. For one, it helps improve the overall appearance inside and, at the same time, reduces heat loss. Installing shed interior walls is also straightforward, and you can even do it on your own! Then you can use your outbuilding year-round, making it a perfect space for work, hobby, or leisure.
#
Shop Garden Sheds
FAQs