Garden storage is very important, whether it's in the form of a shed, log cabin or outbuilding. Bike sheds will keep bicycles, scooters or any other valuables clean and dry. We talked to Francis who purchased the BillyOh Mini Master Apex Bike Store and shared his customer experience with us.
What made you purchase your building from BillyOh?
"I purchased from BillyOh as I was looking for something a little bit different, I needed to store a lawnmower and a couple of bikes but I didn't want a large shed.  Also, all the reviews I saw for BillyOh were very positive." says Francis.
Why did you choose the BillyOh Master T&G Bike Apex Bike Store?
"I wanted it to look good but not hide anything in the garden and so the low height Bike store was perfect."
How was your customer experience?
"Ordering online was very good, I really liked the way the shed could be customised, choosing different options for floor and roof construction or roof material etc, and then see straight away what the price would be." he says.
"I had booked time off work to wait for the delivery and so it was good to get confirmation from BillyOh the day before it arrived, on the day itself there were several delivery updates and also a delivery tracker map which was very useful! The driver was very friendly and really helpful everything was offloaded and in the garden in no time."  he adds.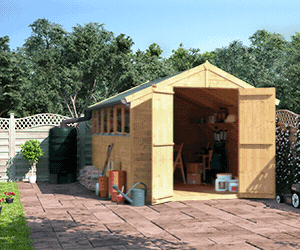 Would you recommend buying from us?
"I would definitely recommend BillyOh sheds, there are a couple more items of garden furniture that I would like and when the time comes I will be back to BillyOh."
If you need a place to store your BBQ, garden tools, equipment or bike like Francis, our range of sheds will lead you to the perfect piece for you. Get your own shed now from small to large, wooden and more.