You can't call a shed game room a game room without these 15 must-haves!
True gamers agree that a gaming chair alone isn't enough. If you're one of them, don't you think it'd be nice if you have your own space dedicated to this pastime, as well?
But what if you live in a smaller house and just don't have the room? Transforming a garden shed into one might be your best option.
This is an excellent renovation idea for an old shed building or a dynamite reason to invest one! Now, let's take a look at some gaming accessories to complete the look of your game room, shall we?
---

---
Key takeaways:
Garden buildings aren't just for storing gardening tools and equipment. Converting a garden building into a fun entertainment area can give you the perfect gaming room.
Over the past year, many UK homeowners have put up their own shed game room in their backyards. While others have transformed their garden buildings into garden offices and home gyms.
Aside from creating a separate entertaining space, a gaming room can enhance the value of your property.
Whether you already have a garden room or are still working on building one, consider adding these items to your list.
Some are necessary. Others are…fanciful. But all would come in handy, and complete the look of your game room design!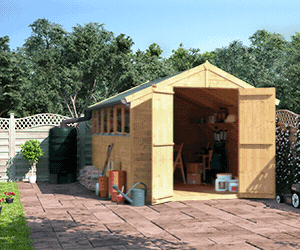 Imagining Your Ideal Gaming Room
Having a gaming room or wanting to set up one means you have to decide which equipment you should invest in. You don't want to just end up buying too many games consoles and miss out on the items that make a game room functional.
Take a cue from BillyOh Studi Insulated Garden Room (photo above)! It'll give your garden the 'wow' factor whilst transforming it into your dream gaming room.
And to help you come up with a plan, our team has curated fifteen garden gaming room must-haves.

1. Gaming shed essentials: electricity and internet
Building your own gaming room in the comfort of your garden is an excellent solution for those who don't have enough space at home. The beauty of having a shed is you can transform it into more than just a gaming room.
You can add garden furniture pieces, such as a corner sofa, where you can sink yourself during breaks. Even better, if your shed building is big enough, you can create a homemade garden bar.
But before you get too thrilled to fill in the shed with arcade machines and other video games, you need some shed planning. This includes getting power for your games console, computer, light fixtures etc.
Electricity is essential for your gaming room! On top of that, you'll also need the internet. You can either run an Ethernet cord down to your shed or use a WiFi antenna to get access to the internet.

2. Game room ideas: interior and furniture
The interior of your shed gaming room is primarily up to you. You can put anything and do whatever you want. But here are a few of our interior suggestions that'll give your space that 'award-winning games room' title.
First, a gaming desk. This is a no brainer, particularly if you depend on a PC or a laptop when playing video games. You need a place for your keyboard and mouse (and a spare surface to put your food and drinks!).
Next, a gaming chair. To get the best comfort when playing for long periods, you'll need a reclining chair.
Most designs provide adequate cushions and lumbar support. These features are perfect as they ensure you won't hurt your back after sitting for long periods.
---


---
There are lots of designs available in shops and online. Plus, various colours, materials, and shapes you can choose from based on your preference. Top tip: Install more than one chair if you plan on inviting a friend or two over for a gaming session.
You can either set up a computer gaming set or the newest console – Xbox Series X and the Playstation 5. These are the newest next-generation gaming consoles by Microsoft and Sony with approx. £449 price tags.

3. Consider installing a TV
Aside from your gaming desk, an 'entertainment centre' would be an excellent addition to your shed gaming room. And adding a flat-screen television is a brilliant way to do it.
An entertainment area is perfect if you plan to have people over to enjoy your new game space with you. Paired with a comfy sofa set, you and your guests can relax while watching a movie on the TV.
What's more, television can double up to connect to whatever gaming system you've got, as well as streaming devices, and even your PC monitor to a much larger screen. This is great if you and your pals are doing a CoD night.
Plus, everyone can be in a more relaxed position while playing video games.

4. The perfect lighting setup (e.g. strip lights)
Nothing beats natural light, but you also need to focus on getting the interior lighting right. Light fixtures are one of the most exciting and important aspects of designing a gaming room, so you need to take this seriously.
There are tons of unique lighting solutions you can find on the market today. In addition to LED lights, you can add marquee bar signs, accent lighting, or strip lights under your desk or on the ceiling.

5. Game room ideas: blackout blinds
While natural lighting is good, sometimes, it can be a real headache to play video games in a room with too much external light. Whether it's direct sunlight through the windows or the door, it can all make it harder for you to focus on your game.
This is where blackout blinds or curtains come in handy. They've come along the way; now, they're an absolute must in most bedrooms and offices.
One of the best kinds is blackout roller blinds. This type of blackout blind lets you adjust the height on each window easily, depending on the time of day and your desired light level.

6. Advanced gaming accessories
There are tech gadgets that can make a big difference, enhancing video games. Not only do they look super cool, but also, these fun collectables will make a statement in your game room.
We're talking about stuff like:
RGB wireless surround sound gaming headset for PC
Headphone stand with USB charger
Wireless keyboard and mouse combo with RGB backlighting

7. A good sound system
Listening to good-quality music creates a cheerful atmosphere in any space or activity. And, setting up a games room with a superb sound system will surely upgrade your gaming experience!
For this must-have item, you can opt for a speaker system with 2.1, 5.1, 7.1 or 9.1 surround sound channels. Surround sound offers much greater sound quality than stereo, giving you an immersive listening experience while playing.
Top tip: To reduce messy and tangled cords in your shed game room, opt for modern wireless multi room speaker system.
You can also opt for modern wireless designs to reduce messy and tangled cords in the room.

8. Gamer wall decal and gaming posters
After painting the interior of your game room shed with your desired colour palette, it's time to add some touch-ups. Putting up some gamer wall decal pieces, along with posters, will do the trick.
Not only do they look great and create an ambience, but also they're easy to put up or move around.
Top tip: Painting with a colour scheme usually takes too much work. For a better solution, go with a neutral colour as a base, then stick some gamer wall decal stickers and your favourite gaming posters.

9. Game room ideas: neon signs
Though not technically part of any gaming equipment, you can always achieve a retro vibe inside your games room with a neon sign. It'll provide a splash of brilliant colour into your gaming space for an exciting feel.
If you want to add a neon sign into your game room, make sure to dim your lighting to emphasise it!

10. Arcade machines
Adding a vintage vibe into your games room is best done with a classic arcade machine! There is nothing to worry about regarding space and cost as you only need one solid unit for a totally retro feel.
You can then enjoy your classic arcade games with friends and family any time you want.
Note: Make sure you have enough space to place these machines inside. You don't want your shed games room to be cluttered.

11. Game room ideas: board and card games
Aside from video games, playing challenging board and card games has been proven to increase brain function. Adding it into your games room and inviting family and friends to come and play will surely give you a great time.
If you want to shift from common monopoly and retro games, you can opt for the following:
The modern Coup
Codenames
Flamme Rouge
Catan
Do something physical in between your game breaks and enjoy a game of darts! Set up a dartboard inside, and choose among the traditional types, the magnet ones or the suction cups.
Don't forget to keep track of everyone's scores and record them using a chalkboard, too. Whatever the game is, you can make sure to note down every player's score or rank if you have one in your games room.

12. Billiard table
For being one of the most popular games among the masses for a long time, a billiard table just has to fall on the list of your games room must-haves!
Aside from your modern gaming equipment, a billiard table can be a stylish and fun addition to your games room. But before purchasing one, you should first consider your available space.
Top tip: Opt for a design that doubles as a table tennis table.

13. Minibar set-up
An ideal games room wouldn't be complete without a mini-bar set-up. Whether you want a luxurious or simple atmosphere, a bar will allow you and your guests to chat and enjoy some drinks in between gaming sessions.
This adds a retro and fun feel to the environment! Of course, make sure to get some stools where you and your friends can enjoy some refreshers while on break.
Your shed games room can also serve as a garden pub where you can gather and entertain guests, especially in the summertime.
Take a look at the BillyOh Nightjar Garden Bar. The Nightjar can be your best bet if you wish to add a mini-bar set-up in your game room.

14. A centrepiece pool table
In addition to (or in place of) a billiard table, a solid pool table is one of the most important pieces in any game room. It's a summer essential where you and your family can enjoy a fun competition for many years to come.
Add one to your game room ideas list, and get ready to have an excellent time with your friends! Pool tables are also one of the best family games to make the most of the summer evenings to chilly winter festivities.

15. A fully stocked bar cart
If your shed building is limited in space, but still you want to enjoy cold drinks, a bar cart is your best bet. Some quality drinks only add to the fun, and a fully stocked bar cart can complete the look of your mini-game room.
This also adds storage and a bit of sparkle to the ambience. Plus, a stylish focal point.
Along with the variety of mix-ins to customise tasty cocktails, be sure to add these essential items to your bar cart:
Garnishes
Cocktail-making tools
Ice bucket and tongs
Glassware
Dishtowel
The Bottom Line
If you want to create a dedicated space for gaming, a garden shed makes an excellent choice. The transformation may take a lot of time and effort, but if you're dedicated to this idea, it'll be worth it.
We hope our curated list of gaming accessories and game room must-haves will help you have the best gaming experience.
Shop Log Cabins
FAQs
Gamers take their playtime seriously. With this, having a separate room for solely gaming is essential.
Now, when talking about how to set up one, go back to our list of must-have 15 items to complete the look of your shed game room.
Note: Make sure to create a space with an ambient background light to make your gaming experience fancier. Add strip lights under your gaming table or on the ceiling and some accent light fixtures.
Apart from your PC, it would be best to have a stable and good quality gaming desk and chair. A good desk will ensure you get to enjoy your playtime for years to come, giving your computer a rightful area.
Whereas a comfortable chair will keep you from having backaches, so you can focus on your game well.
If you have the means, you might as well add these cool, high-tech gadgets in your gaming set-up:
RGB wireless surround sound gaming headset for PC
Headphone Stand with USB charger
Wireless keyboard and mouse combo with RGB backlighting