Should you or shouldn't? All sorts of garden furniture face the same battle, and that's the harsh weather. As a result, wear and tear, including dirt and dust accumulation, are imminent. This is where the maintenance comes in, a routine not only limited to "scrub, rinse, and dry" but also cover.
Cue garden furniture covers. With a cover, you could be helping your furniture to survive in better condition for longer, giving you much, much better value for money. But don't just take our word for it – read on and find out all about them! 
Covers for Garden Furniture

It's always a good idea to cover your outdoor furniture not only during winter downpours but also during dog days. If you don't get a lot of snow, the occasional rain drizzle is worth keeping an eye on, too.
Covering up protects the set from these elements, particularly UV rays. Besides those weather damages, these covers also keep them free of debris when stored in the shed. This reduces the need for frequent cleaning and upkeep in return.
Outdoor furniture covers come in different sizes and shapes to fit various kinds. From garden chairs and tables to sofas and dining sets, and BBQs even, to name a few. Moreover, they are made of materials durable enough to protect furniture from weather.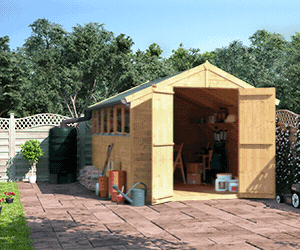 The simple act of covering, when not in use or cold or warm seasons, can extend the lifespan of your investment.
Why Invest in Patio Furniture Covers?

It's true that garden furniture sets are designed to withstand all kinds of weather. But they get worn and dirty over time, and that's their unavoidable nature. As the owner, it's your responsibility to keep them in good shape so you can maximise their usage.
Other than the defence from various weather conditions, garden furniture covers ensure to:
1. Protects from moisture
Sure, your outdoor furniture can last without a cover – but how long it can do so is questionable. The case is also different when dealing with moisture-rich conditions. Especially in the spring and summer, when humidity is high, and rain is a familiar weather.
To bypass these elements, your garden sofas will benefit from a protective cover. For aluminium chair sets, cover up before the rain starts. Although they are weatherproof, the holes in their design can cause water damage. Wooden, metal and rattan furniture are no exceptions.
Top tip: If water does get inside, bring them somewhere dry and drain, then cover up once dry.
2. Shield from high heat conditions
Regardless of your furniture material, it's always a good idea to know when to cover them in the warmest season. Doing so can help prevent fading due to intense sun exposure and UV rays.
Plastic furniture is likely to crack and break under extreme heat and cold. When not in use, cover the set to keep it at a regulated temperature.
For rattan, particularly natural wicker, the furniture is also prone to sun damage. Again, covering up when unused is definitely worth it. For synthetic rattan, the material is durable, and thus it won't be essential all the time.
The same practice applies to wooden and metal outdoor pieces. But for rust-resistant and weatherproof iron, a garden set cover isn't as likely.
3. Keep dust, debris, mould, and pests at bay
Dust, debris, mould, mildew, and pests can build up over time, especially in the summertime. Overlooking dust can leave discolouration not only on furniture but also on clothes. Mould can lead to warping, and debris can be a real hassle to clean up if caught in small corners. Even worse, pests can turn into an infestation, and mushrooms could even grow due to moisture!
Build a routine for cleaning off the surfaces of your furniture and cover them before storing them.
When Should You Cover Up Your Garden Furniture?

Covering is an essential step in protecting and keeping it looking its best. Here's when you should do it, so you can enjoy your outdoor furniture for years to come:
During extreme British weather conditions
Such weather conditions can cause significant damage if left unprotected. These include heavy rain, snow, hail, and strong winds. Use a waterproof cover to keep your patio sets dry during heavy rain or snow. Or cloak them with a sturdy cover to prevent strong winds from blowing them away.
When not in use
When your garden furniture isn't in use, covering helps prevent any damage from occurring. Even if the weather is mild, do so to protect it from dust, dirt, and other debris that can pile up over time. The cover can also prevent your sets from being scratched or dented if it accidentally gets hit.
During the off-season
Furniture covers especially come in handy during the off-season. They offer the needed protection from snow, ice, and freezing temperatures. Top tip: Wrap your outdoor pieces with waterproof covers and store them in a shed or garage.
Going on vacation
Leaving the town next weekend? Don't leave your outdoor living space unattended. Draping the covers around your garden seats ensures they are protected while you're out. Most importantly, this can help prevent them from being stolen or vandalised. 
Choosing the Right Type of Cover
Some materials may not be suitable for certain climates or environments. Wrong size? Don't expect the furniture cover to do its job as intended.
1. Find the right material
The material will depend on the specific needs of the furniture and the climate in which it'll be used. Generally, high-quality materials such as polyester, vinyl, and canvas are recommended. These are durable, water-resistant, and can withstand harsh weather conditions.

Also, choose a material that is waterproof, UV-resistant, and breathable. A great example is this garden bench cover made of polyester. It's weatherproof, UV-repellent, and finished in an attractive forest green colour.
2. Size is key

Many designs claim one-size-fits-all covers – just like this BBQ Grill Cover. Designed to fit the most popular UK BBQs, the UV coating provides exceptional durability. What's more, with easy-clean, weather-resistant material and adjustable straps.
But if you're looking for something specific, measure the length, width, and height of each piece you want to cover. Make sure to include the chair arms or table legs for patio sets and the lid and wheels for BBQs.
Look for a cover that matches the dimensions of your furniture as closely as possible. If you can't find an exact match, it's better to opt for a slightly larger size than a smaller one.
Round-up
Yes, you should use garden furniture covers. So the next time you look at the forecast, keep your outdoor sets in mind and grab a cover! Click the button below to browse our range and buy now.
Shop Garden Furniture Covers