If you sow seeds and pot up seedlings on makeshift tables, a pent potting shed makes a dream garden addition. Offering a peaceful place to plot and plan, organising is key to keeping it in working order.
It's easy to forget your tools outside and possibly get them lost or rusted if you don't have proper storage. Below is our curated list of potting shed ideas featuring space-saving storage solutions!
1. Invest in a quality planthouse
You're lucky if you'll find one that comes with 2-tier windows and interior shelves. The shelving units check off your storage concerns so you can focus more on cultivation.
This BillyOh Planthouse Tongue and Groove Pent Potting Shed could be the unit you're looking for!

2. Get yourself a potting table
A practical work table is top of the list of necessities for a potting shed. Think of it as a workbench wherein you could place the materials you're working on for your garden.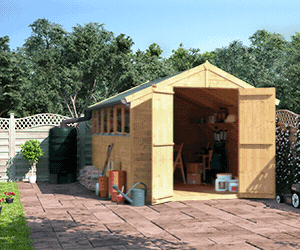 It's best to have it with raised sides to stop compost from falling onto the floor.

3. Bins with lids
Keep your soil, fertiliser, and nutrients all secured in lidded bins. These bins will help save space and can make storing contents easier. Ensure the lids are sealed so no moisture enters your nutrients.
4. A place to hang tools
Install a pegboard, a row of hooks or special racks to keep your garden tools neatly stored off the floor. Racks and hooks can run either vertically or horizontally. Never leave them in a chaotic heap in a corner again!

5. Install shelving units
You don't want to leave everything on the floor; installing shelves will help you get rid of this problem. Shelves are perfect for storing materials, from small tools to big equipment that can't be hung.

6. Make use of an old sink
No water in the sink; just a place for mixing potting soil and filling pots. An antique and reclaimed sink fixture will surely adorn your long bench. It'll also add a rustic charm to the space.
7. Have handy containers
Consider getting handy containers to store extra materials overhead. If you have lots of pots, get crate-types of containers to stack them in a corner. Sacks are also great storage for lightweight materials.
8. Functional storage on all sides
Equip your potting shed with plenty of functional storage. Install open shelves for pots, a countertop as a workspace and for a utility sink.
Add wall storage to hold ladders and various garden tools. Maximise the space on all sides to free your floor space.

9. L-shaped workbench
An L-shaped potting table is much larger than a basic one. It can accommodate and store more materials. At the same time, giving you a large work surface for projects and potting plants.
10. Shaker-style peg rails
Shaker-style peg rails are used to hang outdoor essentials such as brooms. Use two pegs for hanging larger tools like rakes. Three closely spaced pegs can be used to store rain boots.
11. Metal tub hose holder
A lying hose on the garage floor can quickly clutter the space and cause potential trip hazards. Wrap the flexible expanding garden hose around a metal tub attached to the wall. This DIY approach is simple, effective and attractive!
12. Trash bag/sack dispenser
Use two curtain rod brackets and a wooden dowel to create an inexpensive sack dispenser. Not only will it save you from clutter, but it'll also give you quick and easy access. (Make sure the trash bags are clean and unused!)
13. DIY PVC holder
Keep your long and tall garden tools safe and orderly with these under-shelf PVC holders. Cut the pipe to length and widen it out until it fits the tool's bodyectly. Sand any rough edges before attaching them to the shelf.
14. Hang pegboards
Pegboards provide ample space for hanging and rearranging tools and other gardening items. A pair of kitchen carts nearby allow for more storage for pots, soil in containers, and more.

15. Stash essentials in one place
Tired of endless hunting for your gloves, secateurs and string? Create a garden caddy to keep everything you need in one place. A simple canvas bag, basket or lined fruit crate will do.
16. Magnetic tool strip

Installing a magnetic strip is a smart way to keep metal tools always at your fingertips. It prevents tools from cluttering your work area and minimises the risk of accidents. It ensures you can easily grab the right tool for the task.
17. Seed storage cabinet

A dedicated seed storage cabinet is a must for serious gardeners. Sort seeds by type and planting season. That way, you can create an efficient and tidy system for your gardening supplies. This not only helps you find the right seeds when needed but also maintains their viability.
18. Repurpose old furniture
Breathe new life into old cabinets, dressers, or bookshelves. Not only will this approach add a touch of character, but also provide functional storage. You can use drawers for small tools and shelves for pots and containers.
19. Pegboard tool display

Pegboards offer an aesthetically pleasing solution for displaying and organising your garden tools. With hooks and pegs, you can arrange tools in a visually appealing manner. This makes it effortless to locate and retrieve them to add.
20. Labelling system
A well-implemented labelling system is the backbone of any organised space. With this, you ensure that everything has its designated place. Moreover, you simplify finding and storing items. Overall, this contributes to a more efficient and orderly workspace.
Round-up
It's indeed a beneficial hobby to take care of plants, though the upkeep is another issue altogether. This is what the alternative potting shed is for! It provides the perfect space for cultivating and experimenting with various planting techniques.
If you have a large garden, consider pairing it with a BillyOh greenhouse. You can choose a wooden greenhouse or an aluminium greenhouse.
Here's some additional read for you: Greenhouse Ideas to Get the Most From Your Garden