Our vertical garden ideas will open a new path in the world of gardening!
One of them is vertical gardening. This method uses upright growth habits or containers to make the most of your growing space.
A versatile technique that works indoors and out. What follows is our list of vertical garden ideas that'll act as your guide and inspiration!
1. Grow in a potting shed
A potting shed makes a perfect location for vertical gardens. From there, you can add wall planters or install shelving where you can showcase your plants.
The BillyOh Planthouse is a perfect example, featuring two-tier windows and shelving.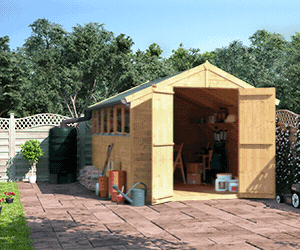 2. Mounted pots on walls/fences
Wall planters don't take up any floor space but rather utilise an unoccupied area, a.k.a. walls. Blue wall-mounted pots on a bare white wall with bright summer flowers will give off a Greek garden vibe.

3. Chicken wire trellis
Chicken wire is attached to strong supports that mimic the architecture of a trellis. Use clay pots with metal hooks on; plant succulents, ferns, or herbs for a display.
4. Made out of pallet
Wood pallet shelves are another vertical gardening technique. If you find a pallet suitable for shelving as is, use it as a growing space in your garden. If you're building from scratch, use this guide.

5. Leaning ladder
If you're running out of room for your plants, leaning ladder planters is key to maximising space. Like with pallet shelves, you can make one using pallets or stock lumber. Customise it with as many steps as you'd like.

6. Tiered hanging baskets
All you need for this concept are sturdy threads and quality woven baskets. Thread and knot braided polyester rope through the corners of woven baskets. 
Add potting soil and plants, then hang the whole array on strong hooks.
7. Built from mesh hanging file
Office accessories like mesh hanging files can be repurposed as vertical planters. Use coconut fibre liners, potting soil and starter herbs, and you'll have a mini herb planter! Hang it in a sunny spot close to your kitchen.

8. Succulent frame
Succulents are low maintenance, easy to grow and can survive in severe conditions. They can be even planted on a frame and have a living succulent picture frame!

9. Picket fence planter
It's true; almost anything can be used to make a creative planter for the garden, including an old fence. Picket fences can serve as a foundation for a long and tall vertical planter.
Use metal hose clamps as mounting brackets for tiered terracotta pots.

10. Lattice wall planter
DIY lattice planters are streamlined and simple to make. They're perfect for climbing plants, providing them with enough places to stretch branches.

11. Balance and symmetry
For this concept, you'll need pine boards and 1/4" diameter rope. Cut out circles in the boards with a hole saw, then nestle a terracotta pot in each hole. The balance and symmetry make the design eye-catching!
12. Hanging shoe organisers
Another versatile piece that makes an excellent vertical garden solution! An over-the-door pocket organiser will do; fill each pocket with soil, and put a plant in each sleeve.

13. Hanging metal pipes
Lengths of metal pipe and thin metal wire are needed for this type of hanging planter. Connect the metal wires on each planter to add stability as well as create a ladder-like effect. Great for succulents.
14. Kitchen spice rack with a twist
This DIY mason jar vertical herb garden is something you wouldn't always see in yards or kitchens. A fresh re-imagining of a kitchen spice rack using repurposed mason jars to plant fresh herbs.

15. Repurpose nesting box
Nesting boxes for chickens in a former life, a vertical garden planter in the present time. Each nook holds bright blossoms and trailing greenery, bringing a touch of nature to the wall space.
Mount it on a garden shed, on your balcony, or a larger patio design.
Round-up
Vertical gardening adds new heights of creativity in both outdoor and indoor spaces. While not limited to small areas, vertical gardens help maximise the space (mainly small ones) effectively.
What's more, they offer the opportunity to make the most of walls, fences, and barriers to growing greenery. Our vertical garden ideas are sure to help beautify your home landscaping!