Pressure-treating is a process that ensures a wood is given the longest life possible. It immersed the timber in a liquid preservative and placed it in a pressure chamber.
This method forces the chemical preservatives into the wood fibres and thus makes it more resistant to damp and rot. And the preservative is what strengthens the wood and makes it also weatherproof.
Thus, pressure-treated wooden garden buildings tend to be more durable all round. It is no surprise why many pressure-treated sheds are the preferred alternative by many UK homeowners!
Here's your guide to pressure treatment. Find out the importance of this shed treatment and how it can benefit you and your outbuilding in the long run.
Key takeaways:
The process of pressure treating creates a magnificent work of art. It involves many steps, each precise, but the outcome results in a higher-quality product that lasts longer than untreated sheds.
Regardless of the size of the garden shed you have (from small to larger sheds), you can guarantee its prolonged longevity when it's pressure treated.
A properly pressure treated shed can withstand any weather which the UK can throw at it. This can give you many benefits over time.
The Process of Pressure Treatment
Wood is a great material for garden buildings, and sheds are no exception. It's a material that subtly blends in with its natural surroundings, at the same time, it offers flexible and durable construction.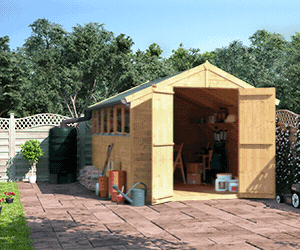 Yet, even the hardiest of woods is subject to decay, rot, and weathering. That's why at BillyOh, we value the quality and longevity of our sheds and other outbuilding units.
And hence why we take the pressure treatment process seriously.
Pressure-treated sheds ensure one thing: they will hold up to whatever the British weather throws at them. But behind this incredible aspect, the process of making this possible is labour-intensive.
The procedure begins with drying the untreated timber with a kiln or through airflow. Once all the moisture in the wood is removed, the material will be placed in a pressure treatment tank.
This is where all its air will be removed by a vacuum; with the wood being situated in a vessel full of wood preservative. After some time, the additive is removed.
It's the low pressure of the wood that draws in the preservatives deep into the grain. This results in converting a normal timber into a fully treated end product.
Generally, pressure treated timber highlights a green tinge type of finish. If you saw a shed with this colour, it means it's pressure-treated.
Then again, this process alone takes longer. Though this ensures that you can make the most out of your shed all year round.
Pressure-treated sheds are a bit expensive, but you do get what you pay for! The overall quality of the wood will be superior as a result.
Pressure-treated vs Dip-treated Sheds
You might come across the term 'dip-treated' and wonder if it's just the same as pressure-treated. Well, a dip-treated shed is exactly what it sounds like.
The wood is dipped into a bath of wood treatment for a lengthy period. This covers the exterior but the preservative penetrates deep into the timber.
In return, it can only protect the shed in the short term. A dip-treated garden building may not last long unless you regularly stain it to make sure it's fully protected from the elements.
Although it's on the cheaper side, the required yearly maintenance can cost you.
As you might now have guessed, creating pressure-treated sheds takes longer and involves more labour – meaning it's more expensive than dip-treated alternatives.
Many UK homeowners prefer this as it offers exceptional quality. Plus, they won't need to worry about adding preservatives to it.
Of course, it always pays to keep an eye on it. If you want to provide the ultimate level of protection, we recommend adding a coat every two or three years.
The Benefits of Pressure-treated Shed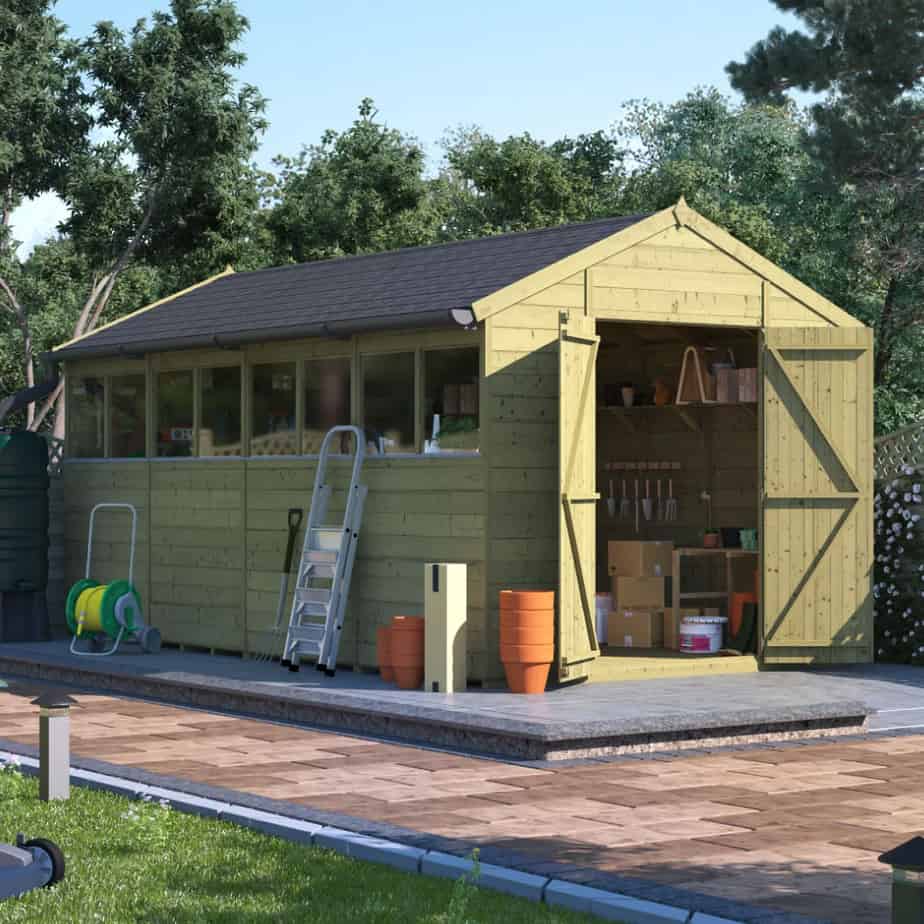 Now that you know the basic principles of pressure-treated wood, here are the advantages of having one in your garden.
1. Longevity
Untreated wood tends to deteriorate much faster, especially when exposed to extreme weather. This won't be a problem at all with a pressure-treated one.
Not only does it last longer, but it also warrants durability. If you use your shed as storage for your gardening essentials, you'll want it to undergo this treatment.
A pressure-treated shed can keep all your valuable items together in a safe manner and against the ravages of nature. Having said this, pressure treatment is the way to go.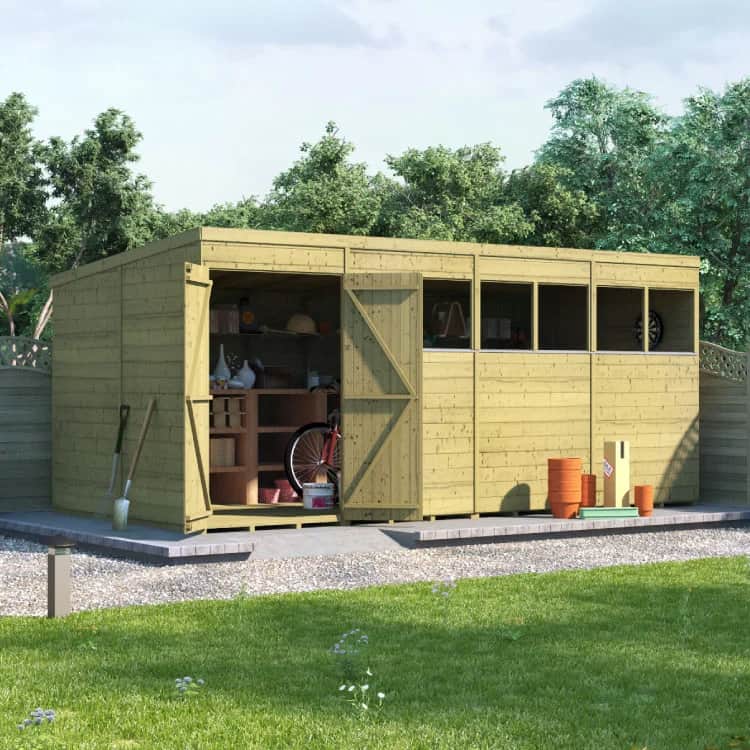 2. Weatherproof
Remember how we said that pressure treatment draws out air and moisture from the wood? To simply put, this replaces the water with a specialised preservative, so there's no room for air and moisture.
This helps protect the wooden sheds from wind and rain, as well as hot and cold weather. The preservative can also act as protection against rot and decay in damp places.
You don't have to worry about bacteria and fungus taking root and decomposing your shed anymore. Pressure treatment prevents this from happening.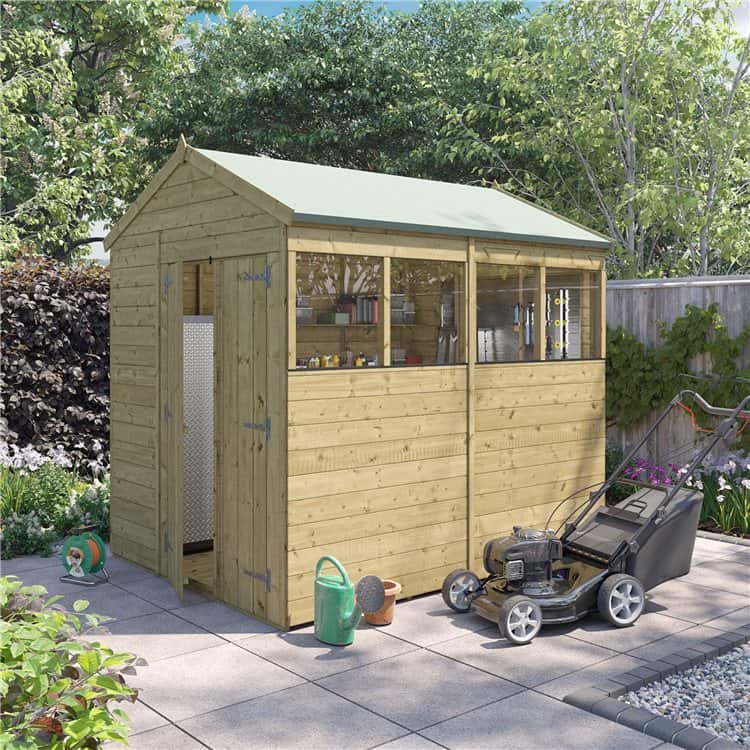 3. Cost-effective
When people think about the money they would spend on an expensive thing, the quality usually gets compromised. For example, choosing temporary surface protection for your shed will cost you more money than buying an already pressure-treated unit.
Pressure treated sheds are penetrated with quality wood preservatives – inside and out. Thus, your shed won't be needing regular treatment to remain in tip-top shape.
It may require an extra initial outlay, but you may well end up saving money in the long run. Luckily for you, there are budget-friendly pressure treated sheds on the market.
So, pressure-treated or -untreated? The latter is a cheaper option, but the former is certainly the final best choice.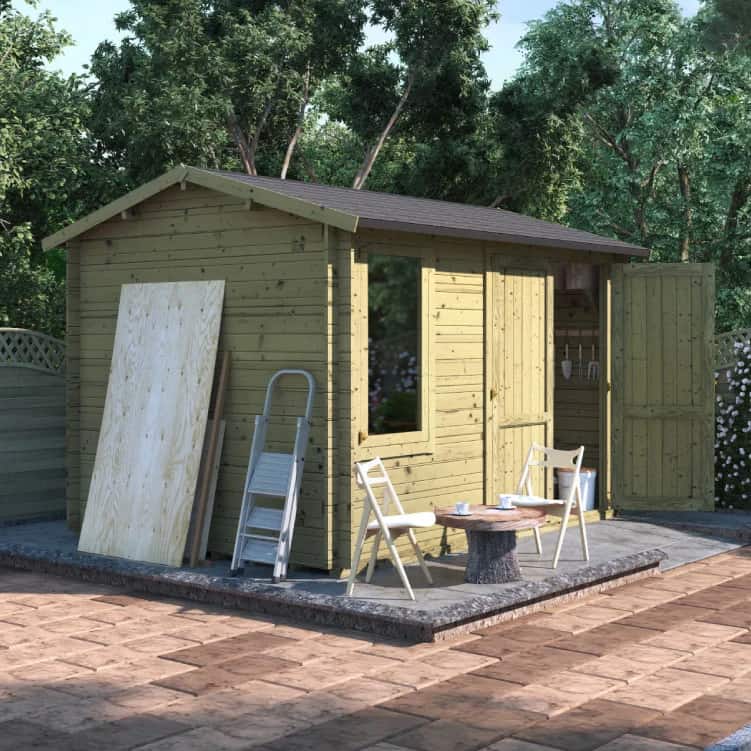 4. Durability
You already know by now that pressure-treated wood is much stronger than the untreated alternative. Pressure-treated wood is better equipped to survive strong physical impacts.
This ensures your shed has a solid structure, thanks to its treated wood board. And, if you want to have even more durability for your outbuilding, consider buying it a base.
A base will act as the shield of your shed from direct contact with the ground. It also can keep the structure protected from moisture and pests.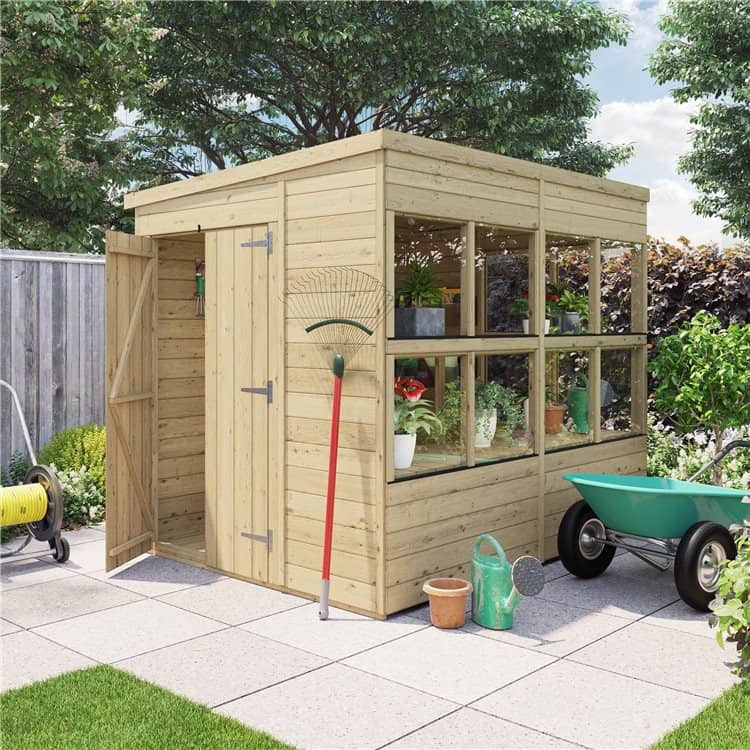 5. Low maintenance
Pressure treatment reduces the amount of maintenance of wooden sheds. With all the preservatives infiltrated in the wood, your shed will be resistant to any weather conditions and pests.
Meaning it can sit safely outside for many years without further treatment. Once you've built your shed in your outdoor space, you can put the thought of maintenance out of your mind for a while!
Round-up
If your shed is left untreated, its quality can deteriorate over time. This is due to the structure being exposed to the elements of weathering and moisture.
By considering treating it with a wood preservative, or opting for a pressure-treated shed as an investment, the durability, longevity, and overall quality of your shed is extended. This also limits the time required for upkeep and maintenance, helping you save money.
FAQs