You can't force something to grow quicker, which often leads gardening at the back end of the trends list. This, however, does not mean that there will be no new gardening trends in 2018. With the economic and political climate constantly changing around us, gardening has to keep up. So what can we expect to see in the New Year?
1. City gardening
Rented accommodation, micro apartments and bohemianism have led to an influx of indoor plants. Pinterest and Instagram have become a platform for users to boast about their use of Feng Shui or combat pollution. But the bottom line is that there simply isn't enough garden space for urban Freewheelers.
2. Upward growth
With garden space becoming a bigger problem, plants are headed the same ways as architecture, vertically. Taller plants have become increasingly captivating, serving as a great alternative for urban gardeners. Wall planting is set to be a big feature of 2017, with hanging shrubbery creating vertical gardens.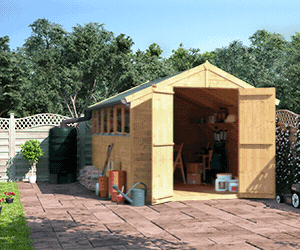 3. Garden houses
Bringing nature indoors will be the gardening strategy of a new generation. The 'iPhone generation' is due to start an urban jungle.  Expect to see house plants boom and garden balconies spread across city tower blocks. With renting amongst young people growing, there is a dwindling number of garden owners.
4. Going vegan
Veganism is on an upward trend. Over the last decade, the number of vegans in Britain increased by 360 percent. With backing from Hollywood A-listers like Arnold Schwarzenegger, more people are trying to reduce climate change and cut out the meat. So expect more fresh veg available, when preparing your home cooked meals.
5. All-weather protection
Climate change is set to have an everlasting effect on our gardening. It has become essential to prepare for all manner of weather changes. 2016 was the driest year on record according to the Met office. But with flooding a constant issue, expect more plants set to combat both droughts and water flooding.
6. Authentic looks
2017 is set to be a year of back to basics. Instead of the clean-cut modern look, landscapers are going back to the DIY image of the 1970s. Going organic and producing fresh veg is a big part of modern culture. To keep gardens on an organic path and to maintain a natural look, expect more running rivers and wooden decor.
7. Hyperlocalism
Plants or vegetables with a local connection are set to see a boom. During the past decade, foreign imports have been a big hit, with exotic plants taking centre stage over homegrown. After the referendum in June, and following uncertainty surrounding potential trade agreements, locally sourced plants are set to come back into fruition.
8. Staying healthy
The mental and physical benefits of gardening are at last being recognised. Stress is a major problem for the NHS, 37% of sick days in 2016 were down to stress related issues. There is a huge benefit of mental wellbeing found in the garden. Thrive, a mental and physical disability charity, made note of the improved social connections that gardening brings. The physical bonuses are more noticeable, with gardeners regularly seeing improvements in joints and fitness. With more cutbacks to national trusts, the governmental parks inquiry are set to produce their findings on the role of health in parks.
9. Smaller shrubs
Lack of space and time for the everyday worker has left gardeners in need of low maintenance plants. Horticulturists are still in love with growing, but finding the time and energy is difficult. Small shrubberies give the best alternative to 20 years' worth of unnecessary pruning.
10. Homemade pesticides
Much has been made of the potential health hazards surrounding chemical pesticides, especially the effects on 'good bugs.' Natural remedies are far cheaper and give you total control of what is going into your garden. Ingredients such as garlic, nettles, cayenne or even green tea, diluted in water have been deadly to destructive bugs.
11. Containers
Following the trend of city gardening and reduced law space, an influx of containers is likely to come. You can virtually grow anything anywhere as long as you have a container. Expect to see more pre-prepared vegetable pots like tomatoes and herbs, could we see entire ready-made vegetable plots?
12. Price comparisons
Foreign plants are already feeling the effects of Brexit which could trigger price wars in the market. A higher demand for local plants will also see competitors going pound for pound against each other. It's great news for the everyday gardener, a drop in price could see plant and veg sales boost.
 13. Winding patios
As gardeners focus on the authenticity of a garden, winding patios have come back as a feature. A straight and narrow walkway has too much association, with urban parks. A winding path, which has curved edges, provides a natural organic look which gives the impression everything is handcrafted
14. Outdoor lighting
Having a garden, fresh with wild flowers and vegetables is no longer enough for modern society. There is a big focus on garden design and furniture, with trends pushing for an area of socialising for summer months. Lighting schemes are being used to big effects, not only to highlight horticulture but also to serve as mood lighting for social areas
15. Water growing vegetables
Having a constant supply of fresh organic vegetables is extremely difficult for any gardener. If you're working with limited space and only have potted veg, then it becomes even more problematic. Re-growing vegetables in water is quickly becoming a time and waste solution. Plus you can continue to have growing vegetables around your garden. Putting the roots of various vegetables, such as celery, green onion and cabbage in a water bowl you can re-grow the food. It requires nothing else and simply grows just from the water source.
16. Epsom salt  
Epsom salt is the home remedy of gardens. When people first started using the salt, it failed to pick up much traction, however, its benefits are clear for all to see. Just by simply sprinkling a few table spoons of the salt across your garden, will hugely enrich the soil. For the city gardeners who need quick results, it is a great alternative to plant fertiliser.
17. No compost no problem
As we see more garden's move onto balconies and indoors, creating a full batch of compost is just not viable. But there are some great things that you can do with the same wasted food bits. Instead of creating a full batch, adding crushed egg shells, banana skins or coffee grounds have all been beneficial to soil.
18. Preserving your herbs
Garden herbs are so readily accessible from supermarkets that you don't even need to buy any seeds. Purchasing the entire herb ready to use has been a hit amongst urban cooks. However, preserving them is a different issue. Sticking your herbs in an ice cube tray is a quick fire way to make sure they stay nice and moist. If you want to have your herbs readily available, freezing them in oil, allows you to stick them straight in the pan.
19. New plants on the scene
Last year it was a long-standing Calendula, along with the mountain pepper and Golden Duchess. Finding plants that can stand up to tough weather is what gardeners are already pioneering after this year. Fleuroselect have already mentioned that 2017 will be the year of the Zinnia and bean, whilst the begonias is set to be a hit
20. Getting shapely
Shearing and clipping into geometric shapes is not something new for 2017. But it has been a continual trend which shows no sign of slowing up. The progression is more in shaped beds, with right angles and asymmetric geo-shapes taking development. The Chelsea Flower show proved, that sharp shapes can add that extra boost, so expect more in 2017.
21. Outdoor living room
Outdoor seating has never been more comfortable with a huge emphasis now put on indulgent garden sofas. Gone are the days of upright, hard wooden chairs, hosting a garden party requires modern garden furniture like lazy, soft, lounging chairs. The trend started with seating areas, but has since progressed to day beds and egg swings.
22. Less paving
Paving has been adapting for the past few years and has now transformed into something completely different. Paving is now a mash-up between grass and gravel, or lawn slabs. Winding patios, with granite setts interspersed between lawn and shrubbery, is the latest trend.
23. Outdoor kitchens
An outdoor kitchen very much comes along with the outdoor seating territory. If you have such a beautiful place to lounge around and relax, there must be food services available. Garden kitchens are much more than a BBQ on wheels, fridges, work surfaces and sinks have made their way outdoors, following fire pits. This is a trend which will only continue to grow.
24. Clean gardens
With a push on small gardens and reducing waste, there is set to be an emphasis on 'tidy gardens.' Gone are the days of strewn tools lying around or unkempt shrubbery. Gardeners are emphasising on a natural, organic look with low maintenance.
25. White plants
The more common use of white plants is more of a returning trend than a new one. The flowers give off a glow at night, which compliments any outdoor seating or living areas. Flowers such as the English marigold and Calendula have shot up around Europe, finally making tracks back to the UK.