When talking about the best patio heaters, you can't miss chimineas on the list. That's how well-liked this terracotta outdoor stove is in the UK and across the globe.
Now, you may be wondering what's the hype about this classic front-loading fireplace. How does it work? Is it better than an outdoor fire pit or electric patio heater? And which one is the best chiminea material?
That's what this post is for! Read on and find out how conventional chimineas can add warmth and flair to your outdoor space.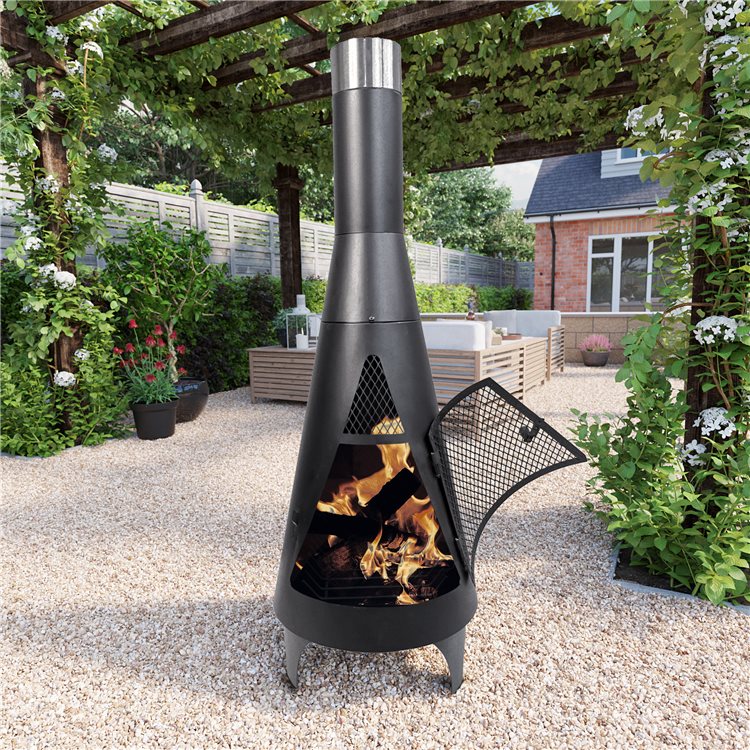 Chimineas Explained
Chimineas are classic, hand-decorated outdoor fireplaces with a potbelly shape and a chimney. They are mainly used for cooking and heating.
Not only are they functional, but their rustic appeal adds a lot of character and beauty to backyards. When lit with fires in them, chimineas become decorative accent pieces.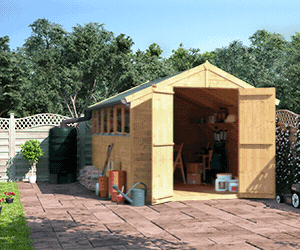 The chiminea material started from terracotta clay. Today, you'll find cast iron and cast aluminium available for sale. You'll mostly find them sold at marketplaces and in patio stores.

The history
The clay version originated in Mexico, but over the years, chimineas now come in two styles: a clay model and a steel model.
Prior to this, a chiminea was made of clay and designed in a wide-bottom vase form. It features a narrow, vertical chimney through which to direct the amounts of smoke. The wide mouth in the middle or side is for the fire pit.
The design allows it to function even in the rain without the water extinguishing the flame. Constructed from clay and mud, chimineas were found very useful for breaking bread and generating heat.
Tribesmen in Mexico have benefited from this traditional type of chiminea. Fast forward to today, chimineas are now available in various materials.  And these latest versions have paved the way for a more convenient and stylish way of heating up patios.

Style and Construction
As mentioned, the classic chiminea has a round, squat "belly" topped by a wide chimney. It sits on a metal base to raise it off the ground.
A chiminea may have little to no exterior decoration or have painted and raised details. Meanwhile, a modern design offers a more contemporary and sleek look. And depending on the material the chiminea's material, you might also find one with an open-mesh style.
Cast iron vs clay vs cast aluminium vs stainless steel
Cast iron chimineas last longer than those made from clay. They're a more robust type that proves their value over time.
Moreover, their construction is very heavy and meant to be placed only once. Moving them can be a bit challenging for the handler.
And due to the metal material, they're prone to rust. Let alone their surfaces that can be extremely hot when the fire is lit. This makes them quite risky.
Meanwhile, clay chimineas are the oldest construction type. They're made from wet clay and crafted from two pieces, joined at a seam, and kiln-dried.
They're a lot safer than a metal chiminea in terms of the risk of getting the surface hot when lit. But they are heavy, susceptible to wet and cold conditions, and prone to wear and cracks. Thus, they require more maintenance.
As for the cast aluminium chiminea, they're safer to use as the clay type but more lighter. An ideal portable fire pit unit, the aluminium material can last longer without cracking.
What's more, they are the all-around go-to for most buyers. On top of this, cast-aluminium chimineas are made to last and have a variety of features, making them ideal for nearly any need.
They're ideal for use as a gas fire pit or burning pieces of wood; they can hold up very well over time. But keep in mind that they're not as durable as the cast iron and metal ones.
Finally, we come to stainless steel chimineas. These chimineas can serve a great many purposes, such as garden decor, portable outdoor fireplaces for camping, and more.
Stainless steel chimineas are the perfect choice for a weekend event or a simple patio fireplace. They're fairly cheap and come in various designs, allowing you to swap out designs without a heavy cost.
However, they're not as long-lasting as more robust types. (But with proper care and maintenance, it can allow you to cosy up around the soft glow of a warm chiminea.)
The verdict
Chimineas are available in a wide range of materials, varying in design and styles. The usefulness and longevity of each chiminea depend heavily on the material used.
A clay chiminea would be a poor choice for a year-round outdoor fireplace, especially during winter. Even worse, if you don't plan on covering it when it rains.
A cast-aluminium chiminea, in contrast, would hold up both without much effort. The same goes for cast-iron and stainless steel, particularly with regular upkeep.
These points are important and necessary for the proper placement and use of the chiminea you've chosen.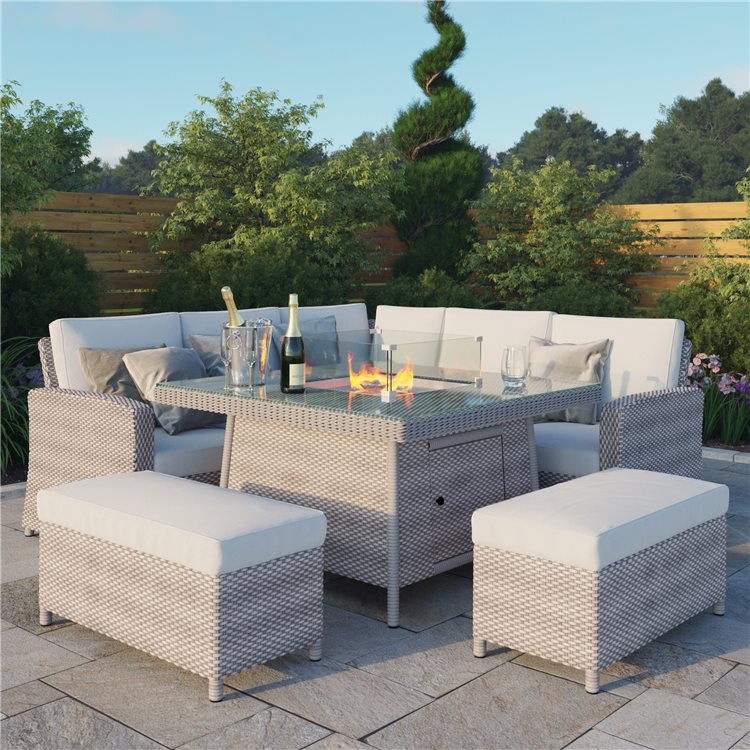 Fire pits vs Chiminea vs Patio Heaters
Which one suits you best? Ultimately, the choice is up to you. 
But if you're looking for an energy-efficient option, go for electric patio heaters. They come in all shapes and sizes and are particularly suited to both residential and commercial users.
Fire pit ideas are great if you want a versatile heating solution. One can double down as a cooking space (such as the BillyOh Capri), or as the focal point for a regular garden party host.
And finally, we recommend chimineas if you're looking for something a bit more extravagant and for personal use. They're great for smaller gardens and family gatherings as a permanent feature.
If you're looking for a little more from your outdoor heater, a charming chiminea would be a better option. They're more suited for an understated patio set up that needs a charming, rustic touch.
And you're lucky if you find one that adds practicality and functionality in the design insights. A great example of this is the BillyOh Tall Black Steel Chiminea.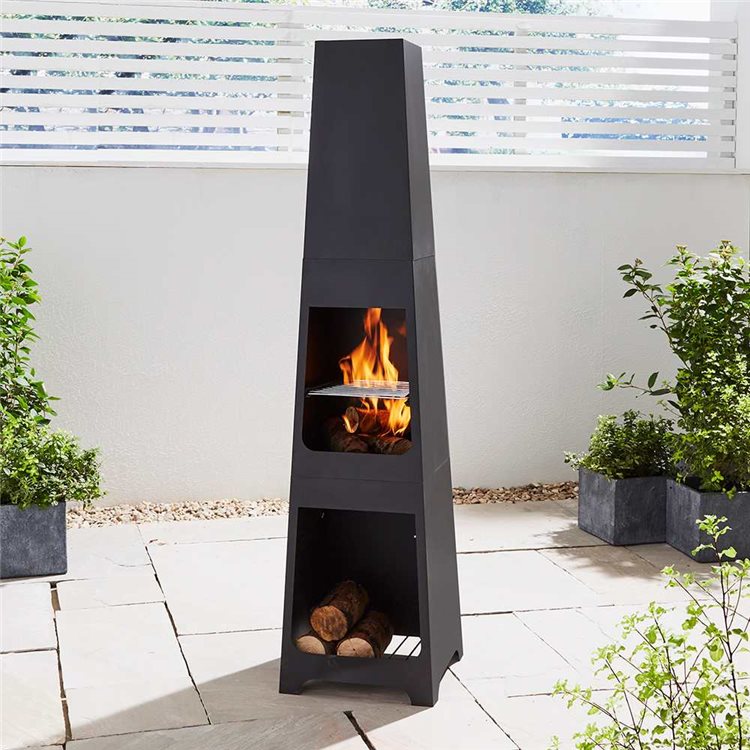 Price:  £188.00
The sleek, tall design features 3 clear sections, with one included for storing logs. This ensures your garden space remains tidy right throughout the day and night.
Its jet black tone will blend in perfectly with the natural colours. It creates a wonderful contrast that fits in with both modern and classic garden settings.
And because the design is vertical, it won't take up much floor space at all. Even better, this chimney-like heater is a 2-in-1 use: for heating and cooking like BBQs! Once in place, our 150cm black steel chiminea will become an all-year round central heating piece.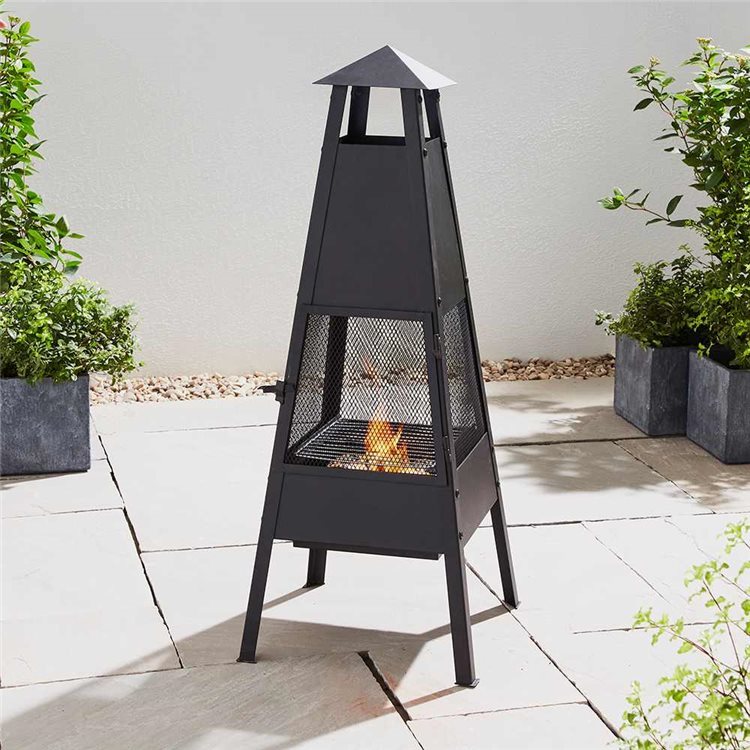 How to Light a Chiminea
The process for lighting a chiminea should be the same for all models. There are three simple steps.

Step 1: Add kindling
Put scrunched up newspaper on the sand inside a clay chiminea, or the log grate of a metal one. Place kindling or finely split dry wood on top of the newspaper.
Step 2: Light the fire
Light up the fire using matches or a long-nosed lighter to light the newspaper and kindling.

Step 3: Keep the fire burning
Once the fire has caught sufficiently, add another log (such as an aromatic wood). One or two are enough to keep the fire going and generate a decent amount of heat.
Note: Never light a fire directly on the base of the chiminea. Do it only on top of the sand or grate inside the model. Using aromatic wood is optional.
Round-up
Terracotta chimineas are a lasting delight and a favourite outdoor heating source, indeed. Many UK homeowners have, in fact, added to their patio spaces already.
By adding one to your outdoor living area, you can enjoy alfresco entertainment year-round. And the right chiminea on decking will be great for keeping toasty, setting the mood and even for flaming some tasty meals on.
But regardless of what you plan on using your chiminea for, it can bring you years of enjoyment. Whether it's for an occasional backyard gathering or simply as a decorative piece.
Shop Chimineas
FAQs