Home improvement tools may not be the first thing that comes to your mind when shopping for the holidays. But for any DIY enthusiast, they'll appreciate a new tool, accessory or organiser – cue these DIY tool gift ideas.
They make the perfect present for the DIYer in your life, especially if they could use some boost to get going. Like these garden gift ideas, you'll find something practical and unique below.
Here's a list of the best DIY tool gift ideas they wouldn't want to live without!
DIY Tool Gift Ideas
1. Silicone gun set
A silicone gun is cheap but effective for fixing framing, roofing, and leakage problems. It's the perfect gift for a budding or experienced DIYer who does home repairs and has a shed or workshop.
With this set, they can tackle mould and fungal growth with convenience on their end. It's a smart move to have one at hand on the workbench or in a toolbox, so get one as a gift and another one for yourself!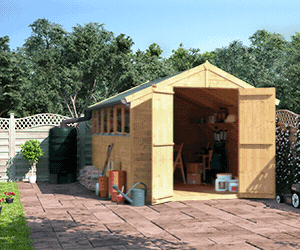 2. Multi-tool pens
One pen, multiple purposes. These multi-tool pens allow you to perform different tasks with one customisable instrument.
Depending on the design, they can feature a pen, stylus, level, ruler, and screwdriver. They're exactly what every handyman needs to complete their work at home or in the workshop or office.

3. 3-in-1 toolbox set
The more toolboxes there are, the better – and you can never go wrong with this 3-in-1 steel toolbox set. It has suitable sizes to suit any storage needs.
Each box comes with robust metal latches that ensure the contents are secured. Plus, a padlock eye for added security.

4. Custom branding iron
The ideal solution for artists or craftspeople looking to make a lasting mark. A custom branding iron offers a classy way to sign their work.
Even better, it can have their name or signature on it; you can get it customised with any design. What's more, they're long-lasting with minimal maintenance.

(Image Credit: lindsaydocherty)
5. Utility work gloves
Protect the hands of your favourite tinker with a new set of gloves. It doesn't matter if they already own one; having some spares won't hurt.
Opt for a product with a flexible spandex design for comfy use. Screen compatible fingertips feature is also a plus! Note: The sizes vary, so make sure to get the right fit, be it for a woman or a man.

6. Folding steel log sawhorse
A sawhorse allows for cutting wood in similar lengths, one after another. It's a useful feature for log work, offering accuracy and time-saving benefits.
This log sawhorse has a non-slip serrated supporting surface to keep the timber in place. It can also be easily folded down for compact and easy storage. Ideal for woodworkers.

7. Coverall suit
There's nothing wrong with wearing t-shirts and leggings to paint and build stuff. But instead of getting them a new shirt and pants, why not get them with coveralls this time?
A protective coverall ensures a high level of protection during work activities. It's the perfect combo of chic and function – and they'll look better than the Lego figure, that's for sure!

8. Ash vacuum cleaner
DIY projects are fun until you're left with dust and debris, and the thought of cleaning is already dreary. But not anymore with an ash vacuum cleaner.
Even more so than the fireplace, it also deserves a spot in sheds or even garages as makeshift workshops. The next time they clean and repair a BBQ or fireplace, they clean up the ash debris in a safe and healthy way.

9. Magnetic tool wristband
Nothing's more frustrating than being knee-deep in a task and realising a screw is missing. But this DIY tool gift idea will solve that problem!
You see, it's not an ordinary wristband; it comes with magnets to keep metallic tools in one place. Anyone who uses it can wrap up their projects without losing any tools in between.

10. Open tool tote bag
If they're always on the go, an open tool tote bag makes a suitable option. No matter where they're plying their trade, not having to fiddle around with straps or zips saves time.
This tool bag guarantees that. It provides a straightforward way to carry around essentials while keeping them organised.

11. Chalk and wax paint brush
If the fix-it expert in your life has done any furniture painting, chalk and wax paints are not foreign to them. Chances are also good that they've bypassed the proper brushes because "a regular brush will do".
They'll surely be thrilled to have a new pair of chalk and wax paintbrushes. These will give them the brushes and tools to take your furniture projects to the next level.

(Image Credit: Wikimedia Commons)
12. Respirator mask for woodworking
One of the potential hazards that carpenters will be exposed to is the cloud of sawdust. On top of being a pain to clean, airborne dust is also harmful to the respiratory system.
Even mundane projects like drywall repair can kick up some nasty particles. Protect their health, particularly their lungs, with a respirator mask.

13. Cordless electric scissors
Sometimes regular scissors aren't enough to get through a DIY project that involves a lot of sniping. But you can save the hands of your keen tinker and avoid hand cramps with electric scissors.
Most features an auto sharpening system, so no worries about the blades going dull. Great for sewing, crafts, and all types of do-it-yourself projects.

14. Drywall sander
Power sanders save lots of time and effort and limit the need for bulky and costly scaffolding. Thanks to the optimum force transmission, sanding a surface can be done quickly.
One can be a bit costly, but it is worth the investment. This drywall sander, for one, is easy to carry around and doesn't take up much room in storage. They can take advantage of this tool for years to come!

15. Voltage tester pen
Safety is paramount with any electrical DIY output, and currents are nothing to mess with. This is why a voltage tester pen like this is essential and a must-have in toolboxes.
It indicates how much electricity is in a wire, ensuring the user isn't working with a live one. When the tip glows red, and the unit beeps, voltage is present.

(Image Credit: Wikimedia Commons)
16. Blacksmith sharpener
It's possible to sharpen a knife by hand using a block, but for perfect results, a jig does the magic. A drill-powered one is an excellent choice, and you can even make it yourself!
It's time for you to be the DIYer and create something functional for your fellow enthusiast.

17. A painter's pail
Know someone with a big painting project coming up? A specially designed painter's pail could be a big help.
Unlike an ordinary bucket, it's loaded with helpful small details. This includes a hook for hands-free use, magnets for the brushes, and a resting place for the roller handle.
It's one of the most dependable tools in any painter's or construction worker's arsenal.

18. Chainsaw chain break
One of the most important chainsaw safety features is the chain brake. It stops the movement of the chain in the event of kickback during operation.
A gift like this is another surefire way to enhance their safety. You better check your chainsaws if they come with chain breaks, too!

19. Cordless fan
Anyone who has tried to complete a DIY on a stifling hot day will agree on one thing: fans are a must. A battery-operated fan works wonders – even better when it's cordless and rotates 360°.
Look for a clamp-fitting unit so it can be attached to any surface, e.g. on metals if it's magnetised. Also, consider a compact size and a tripod for mounting.

20. Magnetic pickup tool
Give the gift of longer reach with a magnetic tool stick. Ideal for picking up metal bits and pieces, one features an extendable magnetic arm.
It'll be greatly appreciated by anyone who ever fished a missing screw under a workbench. This rescue tool can also retrieve metal parts like nails, wrenches and metal shavings.

Round-up
Putting together a tool collection for a newbie? Surprising a passionate DIYer with new gizmos to tinker with?
You already know what to get them! But make no haste while they're still busy planning their next home improvement or DIYs.
This list is perfect for those who are getting started or already have a workshop filled with the basics. Browse all the amazing DIY tools in our range by clicking the button below! 
Shop DIY Tools