Christmas is just around the corner! Have you started looking for the best year-end holiday gift for gardeners?
Delight your favourite fellow with green fingers with a new set of tools to make their job easier and enjoyable. Be it a family member, a friend—a novice or seasoned one, perhaps for yourself, we've got something for you here.
Here, we feature the best of best gifts for anyone who loves to dig in the dirt. From toolsets to greenhouse units, you'll find practical present ideas that are up for the gardening tasks.
Let's dive into our list!
1. Gardening tool kit
You can't go wrong with this one! Anyone who has been working with soil knows the gain of owning a complete set of gardening tools.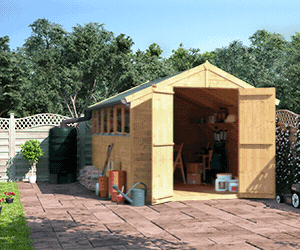 Most garden tool kits include all the necessary things to carry out gardening. This gift idea is especially perfect for beginners.

2. Gardening sun hat
One of the things a gardener shouldn't have is a hat. This is such an essential particularly if you spend a lot of time in the garden. Don't forget to wear sunscreen!

3. Garden gloves
Green fingers require lots of hard work and our hands play an important role in this line of task. Good quality gardening gloves can protect those precious hands of your cherished gardener.

4. Cool tool apron
Having a gardening apron has two major perks: 1.) protecting the clothing from dirt and plant stains, 2.) safely carry tools within reach. This might be something that your green finger friend has in their wish list, or an item you need to buy for yourself!

5. Handy-dandy basket
Avid gardeners could use a basket for harvesting or keep all their supplies organised in one place (if an apron won't suffice). Or you can use it to combine all your gifts and have the ultimate gardener's gift basket.

6. Water feature
Water elements stand out against the greenery and foliage. A single fountain, for one, can draw the eye, while providing a self-sustaining ecosystem for a variety of nature and wildlife.
Garden water feature is a smart and practical gift idea, if you'd ask us!

7. Solar garden stake
Now going more high-tech, solar-powered stakes make an excellent addition to yards. Not only can they light up the garden and make it look more attractive at night, but also they are environmentally-friendly.
The latter benefit is something that many gardeners endeavour. You know what to do!
8. Decorative terracotta pots
Perfect for indoor and outdoor gardening, terracotta pots are wonderful staples in cultivation. Even better, they give off that distinguished look, making them ideal for adding aesthetics. A plus for green-fingered Brits!

9. Garden cushion kneelers
As the name suggests, this item helps lower the body to the ground and provides a cushioned site for the knees. The added support it provides will surely be appreciated by the person you're giving the gift to.
10. Greenhouse
Valuable and investment-worthy are what describe greenhouses, be it portable or an outbuilding. On top of providing an ideal environment for the plants, a greenhouse also adds value to the garden and overall property.
It's an excellent gift to get for plant parents, or even for yourself!

11. Seed starter kit
Be someone's plant godmother and help them with their gardening journey with a seed starter kit! It's a handy set that's great for starting a garden, so if you know any novice out there, this can be your best bet!

12. Tools for the houseplants
Even with indoor gardening, planting tools are a necessity. Succulents, for instance, need tiny tools; a six-piece set is enough for transplanting or digging small potted plants.

13. Weed tool removal
Weeds are one of the common enemies of gardeners. Giving your friend a helpful tool like this can mean one thing: you're taking their side against the pesky weeds. Talk about true friendship!
And you also might want to invest one for your own garden!

14. Gardening boots
Boots are also an essential item to have and use as part of a gardeners. They also make a fantastic choice of gift, imparting that you value the safety and comfort of the gardener you wish to gratify.

15. Wall hanging glass planter
Wall hanging glass planters as a gift can mean a lot of things, such as providing houseplants a new and better home. Plus, a gift of a sense of serenity and added beauty to the environment, and free aromatherapy.
16. Soil pH testers
A healthy soil means a hearty harvest. A soil pH tester, whether it's a strip or a meter, is a must-have device to ensure a healthy plant growth. You might want to add this on your green finger Christmas present list.

17. Herb drying rack
For someone who takes pleasure in growing herbs, an herb-drying rack is essential. Do you know someone? If yes, delight them with this kind of gift.
You can either buy one in-store or online, or do it yourself.
18. Backyard beehive
Gardens are an ideal place to set up a beehive (as long as you meet the legal requirements in your region). This is a brilliant gift idea for someone who has a joyful hobby of beekeeping in the yard.
Invest one for yourself, too, and get your own fresh honey.

19. Hummingbird swing
Gardening connects us to nature as well as helps us better understand a variety of wildlife. A hummingbird swing can be a bridge on this understanding, particularly on our feathered friends.
20. Garden shed
In addition to greenhouses, sheds are a luxury to most gardeners. If you're thinking of gifting someone a shack for their gardening needs, then a vertical storage outbuilding like this serves the job!

Round-up
Whether it's a birthday or holiday, our Garden Gift Ideas are sure to give bliss to gardeners. Homeowners who wish to add curb appeal to their property are also no exception!
These tools and devices can help those with green thumbs to work with convenience. What's more, gift ideas such as a shed for storage, a greenhouse for plants, and a water feature for wildlife, are guaranteed to benefit the proprietors in the long run.
We hope our list of gardening gifts will help you find the perfect treat for every green finger in your life, including yourself!
Like our post? Why not share it?
Shop Fire Pits