As much as we cherish the sun's presence, every garden needs a respite from its scorching rays. That's where the art of creating shades for garden comes in.
A garden shade offers the best of both worlds: 1.) offers sanctuary for you to unwind and enjoy the outdoors, 2.) provides a haven for your beloved plants to thrive in comfort.
This guide will look into this importance and provide options and creative ideas for you to try. So read on and see how it can transform your outdoor space into a shaded paradise!
The Importance of Shade

Excessive sunlight in the garden can have detrimental effects on plants and humans.
For plants, prolonged intense sunlight exposure can lead to sunburn, wilting, and dehydration. Leaves may develop unsightly brown patches, and flowers may wither prematurely. Moreover, such conditions can hinder the growth of certain plant species. This makes it challenging to maintain a diverse and thriving garden.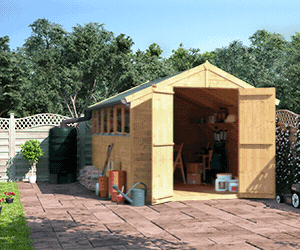 Fortunately, garden shades shield the greens against these harsh effects through:
regulating temperature

reducing the risk of sunburn and water loss
Shaded spots offer plants the ideal conditions to maintain optimal hydration levels. However, if you own a BillyOh greenhouse, that's a different and safer story!
For humans, prolonged exposure to excessive sunlight can lead to sunburn and dehydration. The UV rays can also cause skin damage, increasing the risk of skin cancer over time. In the worst scenario, heatstroke is likely, to add.
Spending too much time in the sun without proper shade can lead to discomfort. This can reduce the enjoyment of your outdoor activities.
Seek refuge in shaded areas by adding shade structures like a garden gazebo. If the space allows, consider planting trees strategically. Doing so can create a more enjoyable and healthier outdoor space for everyone to relish!
Evaluate Your Garden's Shade Needs
To create shade in your garden effectively, assess its current sun exposure. Observe the sunlight patterns throughout the day. Identify areas that receive intense, direct sunlight for prolonged periods. These are the spots that will benefit most from shade solutions.
Next, consider the specific needs of different plants in your garden. Some plants thrive in full sun, while others prefer partial or full shade.
By understanding your garden's sun exposure, you can settle which areas need shade the most.
Choose the Right Shade Structure
When creating garden shade, there are a plethora of options to choose from. Gazebos, pergolas, arbours, parasols, and shade sails are popular solutions available.

Sunjoy gazebos and pergolas are permanent structures that offer a sturdy shade solution. A gazebo provides a fully covered space, while a pergola has an open-lattice design. Arbours, in contrast, are smaller, decorative structures. They are often used to provide shade over pathways or entryways.

Garden parasols are a versatile and portable shade option. Ideal for smaller garden spaces or for adding temporary shade to specific areas. Take this parasol cantilever 3m, for instance. Its crank and tilt mechanism allows you to angle the umbrella perfectly to suit your setting.

An outdoor sail can be arranged to provide ample shade coverage in various shapes and sizes. Often made of polyester, which repels UV damage and repels water and moisture.
Each shade solution comes with its own set of pros and cons:
Permanent structures like gazebos and pergolas add value and elegance to larger gardens. Yet, they require more maintenance and investment.

Arbours offer a charming touch to smaller spaces but may not provide extensive shade.

Parasols are easy to move around but might not withstand strong winds.

Shade sails are flexible and cost-effective. However, they may require readjustment for changing weather conditions.
Top tip: Consider your garden size, design, budget, and specific shade needs.
DIY Shade Projects
There are several creative and DIY shade ideas for gardeners on a budget. One option is to build a simple pergola using wooden beams or repurposed materials. Another cost-effective solution is to construct a bamboo shade structure. Simply tie bamboo poles together to create a rustic and natural cover.
Alternatively, you can utilise shade cloth to create instant shade. Install posts or attach hooks to existing structures. Then, drape the shade cloth over the designated area. Adjust the cloth's tension to control the level of shade as needed.
Round-up
Embracing shade in your garden is a smart and rewarding decision. You can watch your garden flourish into a cool, lush paradise for everyone to enjoy!
Don't let weather elements ruin your outdoor experience! Discover ultimate weather protection for your garden furniture with our garden shade collection! Embrace relaxation outdoors with our selection of wooden gazebos and parasols for sale.
What you should read next: Garden Shade Ideas For Your Outdoor Space