Thinking of going for a shady garden or at least having a partial shade outdoors? Growing trees is great, but it may take longer to provide you with a shady spot in your garden. And there's only so much time you can spend in your garden shed before you need to get outside again.
So, are you up for some backup plans?
Spending time outdoors while basking under the sun sounds like a perfect summer plan. Chances are, catching a tan in England is going to be on most people's plan this year.
Top tip: Remember, too much sun exposure or UV rays can be detrimental to your health. This can cause skin damage, eye damage, and worse, skin cancer.
So as much as you wanted to enjoy your garden space and the summer season, it won't hurt to try adding a shade structure.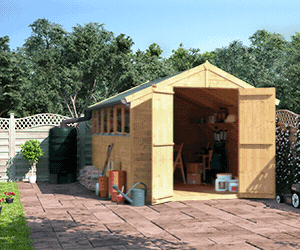 Let your family enjoy the warm weather experience in comfort with these garden shade ideas! Here, our team has curated some of the most innovative ways to welcome sun shades to your outdoor living space.
Key takeaways:
Heat and UV rays can be our greatest enemies when we're outdoors.
This is where sun shades, such as retractable awnings or a shade sail, come in handy.
Equipping your outdoor dining space with a shade structure ensures you and your guests can enjoy alfresco living for longer.
Keep your loved ones cool and protect against the harsh sun rays.
There's a wide range of options and ideas to add a partial shade or shady corner to your garden.
From patio umbrellas, sun shade canopy to growing tree canopy and shade plants, you won't run out of shade solutions!
How Is Time in the Shade Essential For You and Your Garden?
No matter the season, many enjoy spending time in the garden for fun and relaxation. From summer BBQ parties, an outdoor garden patio party to an open-fire experience during winter; we love it all!
People love being sprawled out in the backyard while soaking up the golden rays – or just being outdoors, in general. But things can take a turn for the worse if you spend too much time in the sun.
What's more, without a source of shade to escape the elements, the unpredictable UK weather can have you putting sunscreen on one minute and an anorak the next!
This is why shady spaces in your garden are essential, not only for comfort but also for safety. Choosing the right shade structure is also a cost-effective investment, too. It can pay for itself in durability and reduced energy bills on things like fans or aircon.
Adding a shade structure to your outdoor space can also enhance the visual appeal of your area. It can create a dramatic piece of architecture while also being functional in design.
A great example of this is a garden gazebo, offering historic charm and a classic design. Fabric shades like a parasol are also a popular style with a  central pole umbrella – ideal for small gardens or even commercial purposes.
Most importantly, they offer protection and comfort for your guests during all seasons. For instance, a sunshade canopy can keep everyone cool while also helping to prevent:
Sunburn
Dehydration
Harmful UV rays, which can lead to skin cancer
A shaded environment can also feel up to 10-15° cooler than the temperature under direct sunlight. At the same time, it provides adequate UV protection.
15 Garden Shade Ideas
Are you ready to create your own source of shade in your garden or patio space? Take a look at our 15 shade garden ideas below.

Garden shade idea #1: Plant trees
If you're looking for a sustainable and cost-effective way to add shade to your garden, planting trees is the answer. But not just ordinary trees; you need to select varieties of shade trees.
Many shade trees are deciduous, though, so opt for evergreens with:
Year-round shade
Strong growth patterns
Growing trees will take years to grow large enough and provide a significant amount of shade. Even so, the end result is definitely worth the wait.
Plus, shade trees can lower the cost and use of energy when it comes to heating and cooling your home. This is one of the most advantageous offers trees can provide.
Here's a shortlist of fast-growing shade trees in the UK you may consider planting in your garden:
River or paper birch
Tulip poplar
Dawn redwood
Bald cypress
Weeping willow

Garden shade idea #2: Add a garden gazebo
Even a small garden gazebo is enough to provide a covered seating area for your family and guests. If you have a large outdoor living space, adding a massive gazebo sounds like a great plan!
The beauty of garden gazebos is that they're the perfect spot to read, relax, or hang out.  Most importantly, they act as an outdoor room with their own shade and protection from the elements. If you have the space and budget for this home improvement project, you surely won't regret it.

Garden shade idea #3: Attach a sunscreen awning canopy
A sunscreen awning canopy makes a perfect addition to patios that get bombarded by UV radiation. A smart awning like this is also ideal for a small garden decking space.
If you don't have the time to plant trees or invest in a garden gazebo, a sun shade canopy can be your better bet. Having an awning attached to your property's rear exterior wall can offer you a retractable source of shade.

Garden shade idea #4: Or invest in patio umbrellas
Patio umbrellas are some of the fastest ways to add shade to your outdoor space. If you love hosting a social gathering, umbrellas can provide you with a great type of shade in no time.
But of course, you need to find the perfect patio umbrella for this one. Luckily for you, there's a great selection available online, in-stores, or even hand made.
Top tip: A patio umbrella is an excellent option for when you have particular spots that need sun protection, such as your patio dining table.

Garden shade idea #5: Consider hanging patio curtains
Another easy, quick, and inexpensive way to increase sun shade (or deep shade) is hanging patio curtains. Not only that, but fabric sun shades like curtains also can provide ultimate weather protection.
What we like about curtains is that they can be both opened and closed as the sun moves. This is perfect for maintaining shady areas and air circulation.
You can extend the amount of time you enjoy on your garden deck or patio, as well.

Garden shade idea #6: Install a pergola
For permanent shade solutions, pergolas are a safe bet. This type of shade is permanent, assembled and installed with an open roof system.
If you're looking for something that can complement your architectural garden style, pergolas are the way! They're a popular choice, too, when it comes to decorating your space with garden rooms.
Keep in mind, though, that pergolas offer broken shade (partial shade). But this can be filled in by adding a fabric, e.g. patio curtains as a cover.
You can place the fabric at the top or add a bar system to place a patio curtain at the end sides. That way, you can cover or uncover the pergolas as you like.

Garden shade idea #7: Build a fence or a wall
While fences and walls don't offer protection from the sun (while it's overhead), both can provide shade later in the day. This is especially true when the sun is positioned correctly.
This makes them an excellent addition to a covered patio or canopy, offering a large expanse of shade throughout the day. On top of light shade, they also put up some garden screening privacy.

Garden shade idea #8: Think of hanging shade plants
Hanging shade plants may not be able to provide you with enough shade on their own to protect you from the sun. Still, they make a great supplement to shade structures, such as:
Patio roofs
Garden gazebos
Pergolas
Arbours
Cabanas
Pavilions
When added to these existing structures, hanging plants can increase the amount of shade. Even better, they add a touch of nature and a bit of colour to your space.

Garden shade idea #9: Or consider growing vines
Vine plants can also be your best option here for increasing the level of sun shades for your covered patio. As their vines hang below the containers, this guarantees that they can supply more shade.
Moreover, growing vines can also enhance the shade offered by pergolas, including fences and walls. You can grow them between a fence and a pergola, for instance, to achieve a living marquee.
Our top favourite vines that grow well in containers include:
Top tip: Plant the vines along a trellis or twine strung between the two structures. If you're going for year-round shade, opt for evergreen vines that don't die back or need to be cut back in the winter.

Garden shade idea #10: Install an arbour
Arbour and pergola are often used interchangeably. The truth is, they're not the same, and both have unique qualities.
For one, pergolas have an open roof structure supported by four or more posts. Arbours, in contrast, are more like a combination of a trellis and a pergola.
Arbours may have an open roof structure like pergolas, but the trellis-like feature on each side is what makes them distinctive. The trellis enables vines to grow up and over the arbour to provide shade.
Plus, an arbour is a vertical structure often seen in a landscape or garden. It provides not only shade but also shelter, privacy and serves as an accent.
Some arbours are large enough to include bench seating on the sides. They provide the ideal shady spot to read, enjoy your morning coffee or have some alone time.

Garden shade idea #11: Hang a sun shade sail
Shade sails have become popular in areas that experience extreme heat or warm temperatures. A sun shade sail works best to provide protection against fatal UV rays and strong winds.
What's more, this type of shade is one of the easiest and most attractive ways to add shade to outdoor living areas. Shade sails are basically large pieces of fabric shaped like triangular sails.
They can also be stretched between posts or structures to cover patios and outdoor spaces. Depending on the colour and style you choose, a sun shade sail can give off a modern, sleek, or rustic look.
Easy to install, you can get yours at any home improvement store or some garden centres. You may have to order custom sails to ensure they can fit your space properly.

Garden shade idea #12: Opt for awnings
Awnings are one of the money-saving shade structures that most homes should have. Not only does this type of shade help save energy, but it also protects your family and home from sun damage and UV rays.
Awnings (e.g. fabric awnings) can reduce temperatures by 8-15 degrees celsius. They can also reduce air conditioning costs up to 20 per cent! How "cool" is that?
The good thing about awnings is they're easy to install, and, in most cases, they don't need posts. They make the perfect addition to outdoor areas for adding a partial shade or moderate shade.
If you plan on using an awning as a permanent structure, you can attach it to posts. Some styles have posts integrated into the design.
When it comes to styles, you have three options:
Solid metal awnings
Fabric awnings
Retractable awnings
Solid metal awnings are usually made from aluminium. Hence, they're sturdy and can hold up to rain, wind, and sun for years.
Fabric awnings, in contrast, can be customised to complement your space. With this type of awning, you can choose different styles with a huge variety of colours.
As for the retractable awnings, they can be your most versatile option. As the name suggests, you can adjust a retractable awning depending on when or how you'd like protection from the sun and rain.
Moreover, retractable awnings are available in manual settings (less expensive option) and fully motorised (more expensive models).

Garden shade idea #13: Go fancy with a cabana
A cabana is a small, tent-like structure designed to offer shade. It's often used alongside a pool or at resorts or beaches.
On top of providing shade, cabanas are also used as dressing rooms. They have a wide range of shade shelters that can be anything from fabric to wood.
If you own a pool, a cabana would be a perfect addition to your outdoor space. You could use it as a changing room or a resting area.
You could also transform your existing covered patio into one. All you have to do is to add curtains on at least three sides so it can be closed off, then voila!
Top tip: The combination of a solid roof and curtains makes cabanas an excellent alternative for adding shade to your space.

Garden shade idea #14: Tropical paradise vibes with a palapa
A palapa is an open-sided structure topped off with a thatched roof made from dried palm leaves. It's like a pavilion, but unlike other shade structures, palapas give off a tropical vibe because of their wooden structure/posts.
That said, if you're going for a tropical look in your garden space, this might be the perfect shade structure for you. Or perhaps a private resort getaway vibe!
The thatched roof offers great protection from the sun and rain. As previously mentioned, it's made of dried palm leaves.
So, you can either build your own open-air huts, order a kit to assemble, or hire an experienced contractor.
Trivia: Palapas are very common on Mexican beaches and deserts. The word 'palapa' is actually a Spanish word of Tagalog origin, meaning "petiole of the palm leaf".

Garden shade idea #15: Get creative
Your last resort can be your own product of imagination and creativity. After all, you can create a DIY shade with any materials that can block the sun and be hung up or strung up in some way.
You can try making do-it-yourself rolling shades out of fabrics instead of bamboo. The finished output can be attached to your patio roof or pergola, offering sun shades when the heat isn't overhead.
Or you can create your own version of the canopy with bamboo, fabric and some ropes. Another great option is to string up a row of parasols to achieve a marquee over a walkway.
To make a tent-like structure, throw a sheet over a rope tied between two trees or posts. Not only does this provide a shaded spot for relaxation, but also your children can have a source of shade while playing outdoors.
Round-up
You won't run out of options when it comes to achieving a shady garden. We hope these ideas will inspire you to make your patio or outdoor space more comfortable and usable throughout the year.
To give you a quick recap, here are our 15 garden shade ideas for your outdoor living area:
Plant fast-growing shade trees
Add a garden gazebo
Attach a sunscreen awning canopy
Invest in patio umbrellas
Consider hanging patio curtains
Install a pergola
Build a fence or a wall
Think of hanging shade plants
Consider growing vines
Install an arbour
Hang a sun shade sail
Opt for awnings
Go fancy with a cabana
Achieve a tropical paradise vibe with palapa
Get creative (DIY shade garden ideas)
So, what's your favourite garden shade idea? Let us know in the comments.
And if you want to turn up the heat instead, check out our wide range of BBQs via the button below!
Shop BBQs
FAQs