In addition to garden furniture and rooms, gravels are a great way to add beauty, interest, and curbside appeal to your outdoor space. They serve as excellent alternatives for homeowners who want something other than grass.
Rocks and other small stones can be used in so many ways when it comes to landscaping and decorating the garden. In fact, landscapes with rocks are also popular with many gardeners, especially in the UK.
Moreover, if you want to build a garden pond, fountain, or stream, you can make one with a pond liner and gravel. In this post, we will be going over some gravel garden ideas, so you can see what's possible!
1. Backyard path
Gravel makes an easy filler for the spaces between your stepping stones or sleepers.

2. Simple entrance
Use gravel on your driveway to get the perfect low -maintenance parking spot.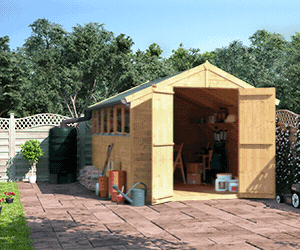 3. Dry creek bed
Use stones to create a unique landscape in your garden.  Add plants to line the edges and mimic the look of a natural creek or stream. 

4. Dry creek alternative
Dry creek beds are not only beautiful to look at; if you live in a particularly wet area they can be used for drainage and to redirect the flow of water to prevent pooling in your garden.
5. Modern corner
Use a light-coloured stone such as ivory to create a more modern look.
6. Zen backyard
Create elegant designs in your gravel using a rake to simulate the river or ocean. It's said this has a meditative effect, to ensure serenity and relaxation in your Zen garden. 

7. Low maintenance garden
Using a thick layer of gravel instead of soil is a great way to prevent weeds from taking hold, so it doesn't need much looking after. 

8. Gravel path
Paving stones can be really expensive, so gravel is a great alternative for a pathway if you're on a tight budget.

9. Gravel walkway
It's important to build up the edges on your walkway to help keep the gravel in place. 
10. Couch on gravel
Create a serene seating area using gravel as a base. 

11. Gravel maze
Create a stunning mini maze in your garden using gravel paths and flower beds. 

12. Bench in garden bed
Add a bench into your gravel beds to create a calming seating area for your morning cuppa. 
13. Modern backyard
Low maintenance gravel beds fit perfectly with the clean lines of a modern garden.
14. Natural shadow
Use leafy trees to create a shaded dining area. 

15. Mediterranean garden
Nothing sets off a Mediterranean garden more than pale-coloured gravel. It also helps reflect heat back onto your Mediterranean plants to help them thrive. 

16. Modern garden
Gravel can make an attractive, long -lasting and economical material for garden seating areas.
17. Pots in gravel
Add pot plants to your gravelled areas to create interest and colour. 

18. Gravel corner
Enhance your gravel path with large lanterns and overflowing plants.
19. Raised garden bed
Use gravel as a budget-friendly alternative to paving stones for small areas that are a difficult shape.

20. Cosy backyard
If you're using gravel for pathways, use a small stone to make sure it's comfortable to walk on. 
21. Gravel walkway 2
Add cute stepping stones to your gravel pathway to give it a 'fairy garden' feel.
22. Backdoor
Use gravel to create a magical, meandering pathway to your backdoor.

23. Raised garden bed 2
Gravel makes a fabulous filler around raised beds and paving stones. 
24. White gravel walkway
Get stunning beach vibes with timber planks and a white gravel base.
25. Simple patio
Gravel is a stylish and economical way to edge your patio area. This simple design also makes a great small garden design idea!

26. Modern backyard 2
Gravel takes a back seat here to a stunning quadrilateral theme that runs throughout the beds, hedges and paving stones.
27. Circular thinking
No shapes are off -limits when it comes to using gravel for your patio or pathways. Add a water feature like a small pond to add more touch to the space.

28. Pea gravel patio
Surrounding gravel allows water to drain back into the soil below. 

29. Driveway
Gravel is perfect for a driveway as it's durable and requires minimal upkeep. 
30. Gravel steps
These irregular-shaped gravel steps are complemented by the scattered planting.

31. Gravel cross
Symmetrical landscaping gives a finished, professional -looking garden.
32. Benches
Seating within your gravel beds allows you to create a beautiful hideaway surrounded by greenery.
33. Simple backyard
Use low-maintenance gravel to fill any space in your garden without the need for precise measurements or heavy upkeep.
34. Pots in gravel 2
Get creative with your plant pots  – use a pale gravel to form a quirky circular edging.

35. Gravel patio & gazebo
Create a stylish but minimal maintenance patio area using gravel. 


36. Floating furniture with gravel underneath
Gravel adds extra visual interest when covering a space where grass won't grow. This in-built 'floating' outdoor seating is paired with light grey tone gravels beneath for a sense of harmony.
To brighten up the space more, add colourful cushions and blankets on the couch.
37. Corten steel gravel steps
This Wuhan Water Garden has integrated corten steel and garden gravel creating this rich rusted landscape. The pairing makes a brilliant choice for edging, raised beds, screens, and more!
Top tip: Opt for ornamental grasses and small ferns to add extra texture, movement, and colour.
38. Ad hoc patio
A bed of gravel anchoring the outdoor seating set, creating an ad hoc patio. The classic furnishings and the environment screams a simple yet elegant Zen garden idea.
39. Replacing a lawn with a gravel garden
If you wish for a low-maintenance or no-maintenance at all garden, replacing a lawn with gravel can be your best bet! Take a look at this concept.
Surrounded by woodland, a gravel seating circle surrounds a fire pit. It provides a buffer between sparks and the garden.

40. Gravel path through ornamental grass
The idea of this gravel design is it provides  a laid-back walkway through the grass garden. The gravel walkway is a well-suited choice for weaving through the scene, thanks to the tall structural plants.
Add a bright colour bench to add a striking focal point!
Round -Up
Gravel is one of those things that has a wide range of uses. Cheaper than paving stone, by using it creatively you can massively reduce the budget required to improve your garden.
And not only does it look great. By using gravel you can absorb surface water from your patio more easily.
We'll be updating this page on a  regular basis, so bookmark it and you'll never run out of ideas to make your garden better. And what better to put at the end of your new gravel path than some BillyOh garden furniture?
Shop Rattan Garden Furniture