Re-roofing your garden shed is not hard as it may seem. For many of us when we finally realise our shed roof cannot hold up to elements any more, it can be daunting to consider replacing the roof. However, we are here to let you know that with the right tools and instructions it can actually be surprisingly simple.
Before we get into the how, let's look at the why.
Why Felting Your Roof Is Important
Shed roofing felt is one of the most important elements of your garden shed. The waterproof nature of the felt ensures you keep your shed dry and increases its lifespan. You need to ensure you are installing the felt correctly though by removing any old felt, fixing any issues and the using clout nails as well as adhesive where required.

How To Re-Felt Your Shed Roof In 5 Steps
Step 1 – Removing The Old Felt
After removing any timber fascia boards, the first step should be removing any existing felt and inspecting your roof for any issues. These should be fixed before installing any new felt. Remove any nails holding the felt in place and use the claw of a hammer or a craft knife to remove the felt. You may need to rip it strongly in places if adhesive had been used.
Step 2 – Checking Your Timber Roof
After removing the existing felt you should check your timber for any rot or damage, paying close attention to where the nails were as that is where water damage would be most likely to occur. Replace any timbers if required and you could also give them a coat of fresh wood preserver to offer increased protection. Remember to let this dry though before continuing the installation.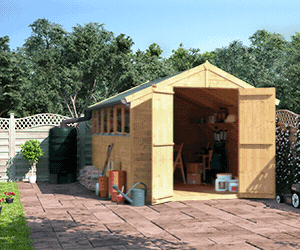 Step 3 – Preparing Your Felt
Now that your roof Is ready you can measure and cut your felt. Use a tape measure to measure the shed roof and add approx. 5cm on each edge for the overlaps and 7.5cm to the gable ends. A standard size shed would require 3 pieces but always check your requirements before starting to cut. Usually, two of the pieces would go on either side of the roof with the third piece overlapping the panels on the sides. A 30cm overlap should be sufficient but if your shed is bigger than the standard size, you may need to cut additional strips of felt for each side of the roof.
Always start by fixing the bottom strip in place before moving up. On a sloped roof, this ensures that rainwater runs over the top of the overlaps rather getting under the felt.
Step 4 – Installing The Felt
You should aim to hammer nails through the top edge of the felt at intervals of around 10cm. Pull the felt taught so that it remains flat against the roof and start at the centre of the felt. When you get to the bottom edge you should hammer the nails in at intervals of 30cm.
Once this is done, secure the side panels and then move on to the top section on the right. At this point you could use a paintbrush to apply adhesive to the ridge before you apply the shed felt, and then hammer nails into the lower edge of the top section at 5cm intervals.
If you have to felt shed roof corners then start by folding the felt down at each corner. Nail it into place and then use a craft knife to cut a slit in the roof apex overhang. Fold the felt down along the gable and hammer nails in at 10cm intervals to secure it.
Step 5 – Tidy Up
After the corners are secured you can reattach the fascia boards by nailing them back in place. If you have any excess shed felt then use your craft knife to trim it and help your shed look neat and tidy. Then stand back and admire your handy work and take a well earned break.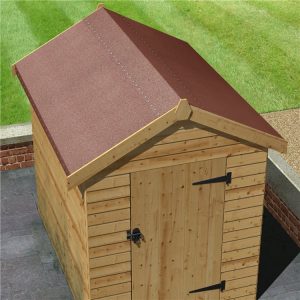 Frequently Asked Questions
Can you felt over old felt on a shed roof?
Many people ask if you can felt over old felt. Given the weather here in the UK, common roofing material has a limited life span. A common reason to replace shed felt is due to a leak and it can be difficult to determine how far any water damage has progressed.
We would advise stripping the roof so that you can inspect and repair the roof timber before then laying down a new layer of roofing felt.
Do you need adhesive for Shed felt?
To successfully install roof felt, you should use adhesive sparingly. This is because the bitumen in the shed felt will expand in warm weather and contract in the cold. If you use too much adhesive it will not provide as much give which could lead to tearing or cracking.
How To Felt A Lean-To Shed Roof
Lean-to sheds will follow a similar process to a standard shed but you will only need one piece of felt to cover the whole area of the roof. If the lean-to shed is freestanding then you can cut a narrower strip of felt which can run along the top edge with a slight overlap to give 5cm down the back wall.
How To Felt A Pent Shed Roof
If you are looking to install felt on a pent shed roof then you will need to follow most of the steps for a standard shed. You will need three strips of felt and simply work your way up from the bottom to the top of the roof, ensuring you secure the felt all the way around the edges.
Looking for Shed Felt?
If you are looking for shed felt then our BillyOh Mineral Shed Roofing Felt is available in the following colours.
Black Mineral Shed Felt
Green Mineral Shed Felt
Red Mineral Shed Felt