A shed roof structure, like the walls and flooring, is bound to face signs of damage over time. It takes most of the hit from outdoor elements, especially in harsh weather. And when it can no longer hold up to strong winds, this likely calls for re-roofing.
The installation process can be intimidating, assuming you'll do it yourself. Not to mention the complexity as if the former wasn't enough.
Lucky for you, we'll take you through all the steps required to felt a shed roof successfully. Even if you haven't undertaken such a task before, you'll learn how to do it like a pro, so keep reading!
Felt Roofing Sheets = Roof Insulation

Roof insulation plays a key role in regulating the temperature in a garden building. A well-insulated roof can also reduce energy consumption costs and promote environmental sustainability. One way to improve it is through felting.
Shed roofing felt is one of the most important elements of your shed. Its waterproof nature ensures it keeps the structure dry and increases its lifespan.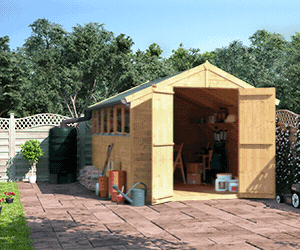 Harsh weather conditions like heavy rains or snow leaks can damage the roof surface. A great example is dampness, which can affect not only the roof itself but also what it shelters from within. But with proper roof felting techniques, such issues can be avoided.
Felting also lessens maintenance costs as it requires less repair attention once installed. It's less prone to deterioration despite being exposed to sunlight and moisture.
Thanks to the velvet mat design, it also seals and protects the roof beneath other layers. As a result, it makes one of the effective roof solutions for wear and tear prevention from heavy winds and more.
Things to Consider Before Getting Started

Adding felt roofing sheets can provide extra protection against the elements. But before doing so, remove any old felt and fix issues – and there's more to consider:
1. Choose the right type of roof felt
The most common types of roofing felt are bitumen-based and are available in rolls or sheets. Also, ensure it's designed to be durable and resistant to weather conditions in your region.
2. Select a quality roofing material

Opt for roofing felt made from asphalt-impregnated fibreglass or polyester-based membranes. This type of material is more water-resistant, protecting your shed from water damage. Top-quality materials also ensure your installation lasts for many years without repairs.
3. Opt for appropriate wood nails
Make sure to use galvanized clout nails for corrosion prevention. Avoid using aluminium or copper nails as they do not age well and cause rust over time. If your shed has multiple layers, ensure all layers are fastened securely together.
4. Check local weather patterns
Before installing shed roofing, check local weather patterns in your area. This will help you have an accurate estimate of how much rain and snowfall the place will likely get each year.
Moreover, it'll give you an idea of what type of material would work best for your climate conditions. Plus, if any extra reinforcements are needed, e.g. wind support or drainage channels.
5. Inspect structural integrity
When working with roofing felts, scrutinise the structural integrity before beginning installation. That way, potential issues such as weak boards or sags in walls are identified early on. In turn, they can be rectified immediately, ensuring the longevity of your investment. Plus, prevent accidents due to faulty installations later down the road.
How to Felt an Apex Roof

An apex roof looks more like a common house roof. It features two slanted sides, with the highest point being where they meet. Here's how to felt your shed apex roof:
The measurement of the felt will depend on the size of the shed. Cut the metre roll into equal size pieces – again, based on the dimension of the structure.
Roll out metre-wide strips across the lower lengths of the roof on both sides. Ensure there's enough overhang to fold down onto the roof framing. Secure the felt using galvanized clout nails to tack the top edge in place.
Then take the smaller piece of felt and position it on the roof. That way, it overlaps the lower piece of felt enough to prevent leaks. Secure this in place with the clout nails.
Take the last piece on the roof surface so that it folds down over the apex and overlaps the felt already on the roof. Once all the felt is secure, trim off any excess and secure the barge boards.
Note: Barge boards are only supplied for the gable ends and not the roof's lowest edge.
How to Felt a Pent Roof

A pent roof is a flat roof with five sloping sides which form an apex at the top of the roof and meet at the centre. It is normally found on smaller garden sheds due to cost savings, making them cheaper than a full apex shed.
Here's how to felt your shed pent roof:
Roll the felt out using the measurements you have measured, then cut. Start at the lower part of the roof; use nails to attach the felt to the roof board. Put the felt over and then hammer in the nails at the highest roof's highest edge.
This is optional, but you may apply a strong roof-felt adhesive. To do this, place it across the top edge of the felt. Then, stick the second felt piece and nail them into place. Repeat this step as you move along the shed to the far side.
Finally, nail the felt at the edge of the roof and its sides. If there are any small overhanging parts of felt, remove them using a craft knife. Barge boards (at least three) can then be fixed as these will hide the untidy edges.
How to Re-Felt Your Shed Roof

Step 1: Remove the old felt
After removing timber fascia boards, get rid of the existing felt and inspect for any issues. These should be fixed before installing any new felt.
Remove any nails holding the felt in place and use the claw of a hammer or a utility knife. You may need to rip it strongly in places if the adhesive has been used.
Step 2: Check your timber roof
After removing the existing, check your timber for any rot or damage. Pay close attention to where the nails are, as that is where water damage would be most likely to occur.
Replace any timbers if necessary. You can also give them a coat of fresh wood preserver to offer increased protection. Let this dry, though, before continuing the installation.
Step 3: Preparing your felt
Now that your roof is ready measure and cut your felt. Use a tape measure to measure the shed roof and add approx. 5 cm on each edge for the overlaps, and 7.5 cm to the gable ends.
A standard-size shed would require 3 pieces, but always check your requirements. Usually, two of the pieces would go on either side, with the third piece overlapping the panels on the sides.
A 30cm overlap should be enough, but if your shed is bigger, you may need additional strips for each side of the roof. Always start by fixing the bottom strip in place before moving up.
Step 4: Install the felt
Aim to hammer nails through the top edge of the felt at intervals of around 10 cm. Pull the felt so that it remains flat against the roof and start at the centre. When you get to the bottom edge, hammer the nails in at intervals of 30 cm.
Once this is done, secure the side panels and move on to the top section on the right. At this point, use a paint brush to apply adhesive to the ridge before you apply the shed felt. Next, hammer nails into the lower edge of the top section at 5 cm intervals.
If you have to felt shed roof corners, start by folding the felt down at each corner. Nail it into place and then use a craft knife to cut a slit in the roof apex overhang. Fold the felt down along the gable and hammer nails in at 10 cm intervals to secure it.
Step 5: Tidy up
After securing the corners, reattach the fascia boards by nailing them back in place. If you have any excess shed felt, use your knife to trim it to make your shed look neat and tidy.
Finally, stand back and admire your handy work and take a well-earned break! Looking for shed felt? Browse through our BillyOh Mineral Shed Roofing Felt – available in Black, Green, and Red.
FAQs
Given the weather here in the UK, common roofing material has a limited life span. But experts advise stripping the roof so that you can inspect and repair the roof timber. Then, lay down a new layer of roofing felt.
To successfully install roof felt, use adhesive sparingly. This is because the bitumen in the shed felt will expand in warm weather and contract in the cold. If you use too much adhesive, it'll not provide as much give, which could lead to tearing or cracking.
Lean-to-sheds will follow a similar process to a standard shed. But you'll only need one piece of felt to cover the whole area of the roof.
If the lean-to shed is freestanding, cut a narrower strip of felt. This is enough to run along the top edge with a slight overlap to give 5cm down the back wall.