Working remotely offers loads of perks, such as flexible working hours, a much better work-life balance and no travel costs – to name a few.  And you can do it all from the privacy of your own garden shed!
Speaking of the working from home lifestyle, there's nothing better than having a dedicated workspace which will remind you of an actual office setting. Whether you're working full-time, as a freelancer, or running a business, it's always a good idea to choose a working area rather than confining yourself to your room.
But, what if you don't have the required room for an office, or find your home distracting? If that's the case, converting your shed into your dream garden office is an ideal solution! 
By reading this article, you'll learn the eight easy steps concerning how you can convert your shed into a perfect home office. Let's get started!
Step 1: Planning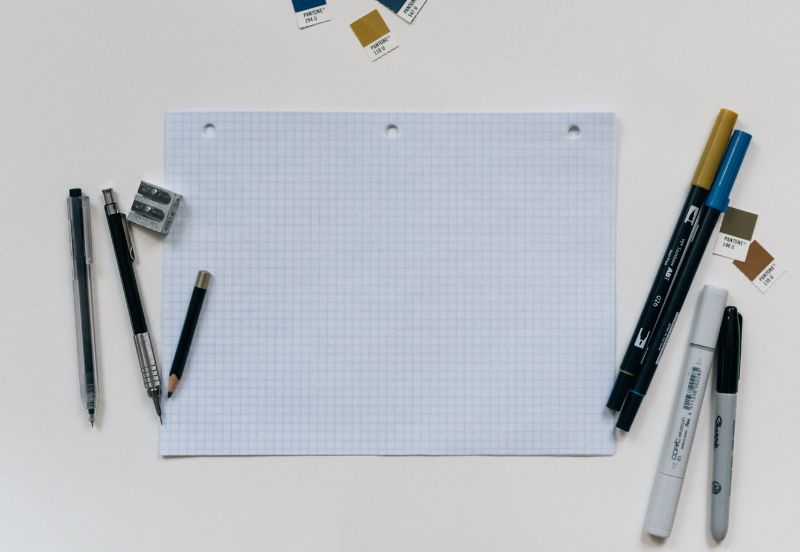 The first step you need to take is to plan what kind of shed office you want. This will vary depending on the type of work you do.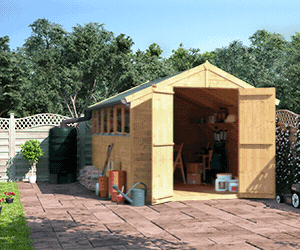 Our experts also advise you to consider how you will use the space and what requirements you will need for those uses. For instance, if you need to use a laptop or computer for the office, then you'll need to supply power to your shed. 
It'd be best to create a list of all the uses and take into account what needs to be done before you can start using the shed as an office.
Step 2: The Office Essentials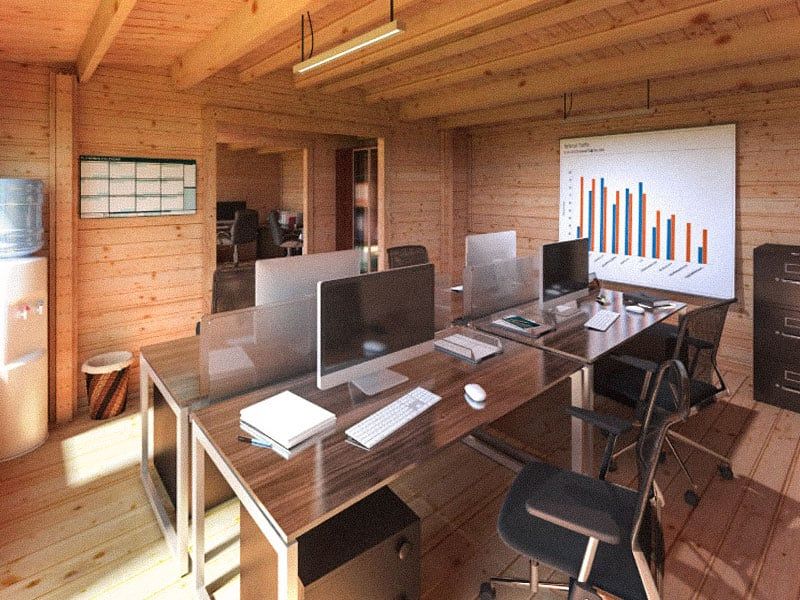 Once you've decided how you'll be using your garden shed office, it'll be easy for you to acquire the necessary essentials.
Your next step is to consider what furniture, storage and accessories you'll need. This will affect the design and access required, including the utilities you'll need in the shed office.
If you're an artist or designer, then you'll want to sketch, draw or sculpt with the aid of a desk or table. You'll also require plenty of natural light and a comfortable chair. 
If you're using the office to write, you may not need a large desk space, but will need more wall space for whiteboards or bookcases. You may even want to kit the office out with a kettle and fridge for refreshments while you work!
The possibilities are endless, so it's important to know how you'll be using the space. Here are some questions you should consider down the answers to:
Will I need an open plan design or a multi-room office for meetings or storage space?

What kind of lighting does the office space require? (E.g. strip lighting, spotlights, lamps)

Will I need access to water?

Will I need an internet connection?

Will the building require heating for colder months?

How do my requirements impact each other?
Step 3: Choosing the Design
If you intend to use your shed office regularly and all year round, you'll need to insulate the building and make sure it's fully weatherproof. 
During colder months, a shed can be at risk from the elements, so it's important that you take measures to ensure it's structurally sound and won't leak water, especially if you'll be storing electronics inside.
Here are some of the types of Garden Offices you can purchase from BillyOh:
Wooden Sheds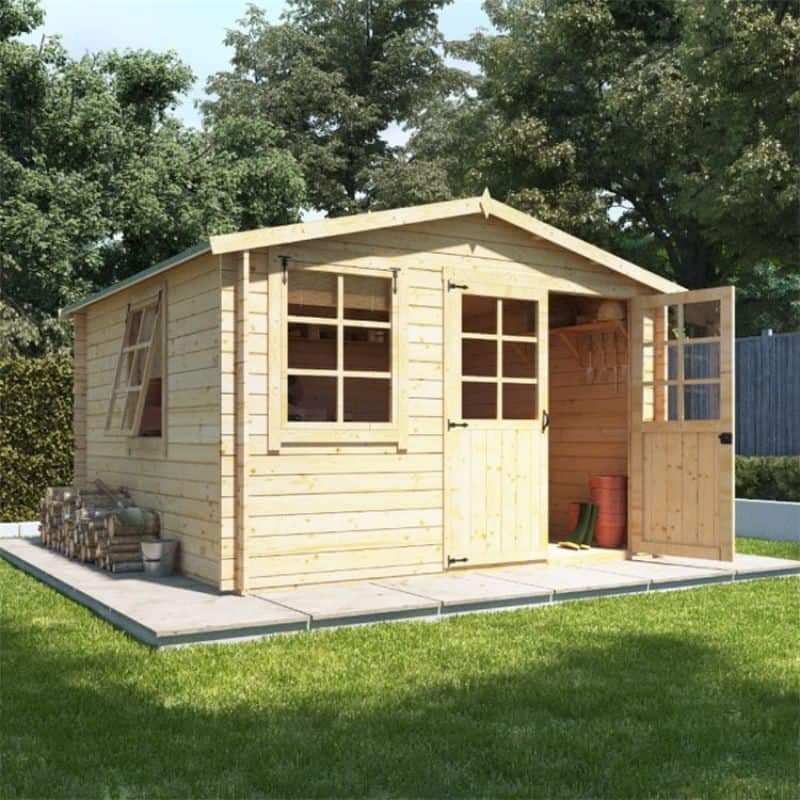 Wooden sheds are the best bet for a reliable office shed. Strong and windowed, they allow enough space for alterations and come in a range of designs to suit your garden style. 
Wooden sheds can be built using overlap or tongue and groove cladding. T&G is a safer bet for a garden shed office as it is stronger and more weather resistant than the cost-effective overlap.
Log Cabins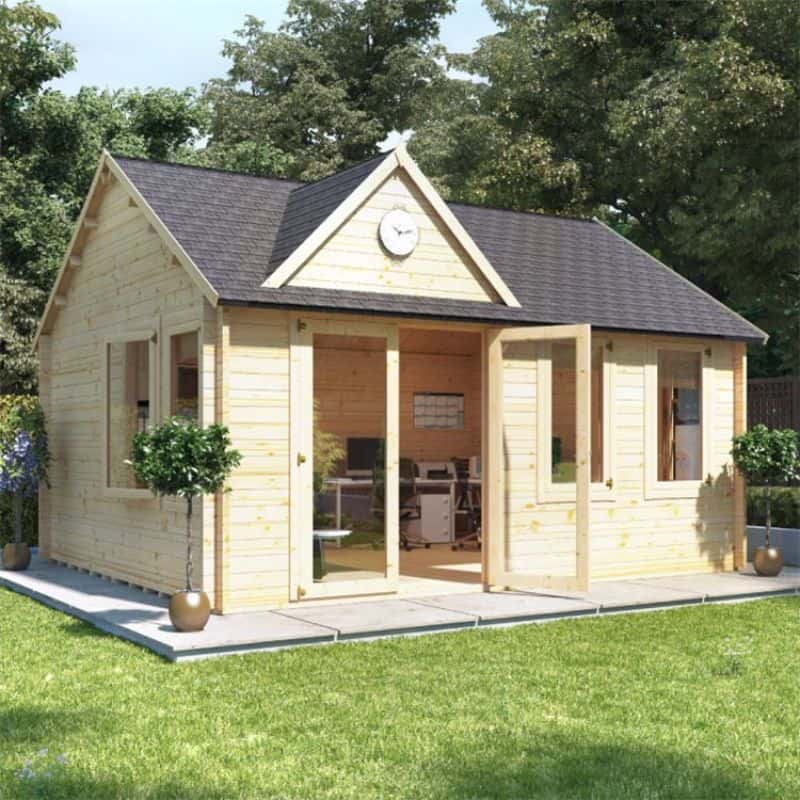 If you're looking for a luxury shed office which will provide you with a high-quality building to work from all year round, then a log cabin is the ideal choice. 
BillyOh supply a range of log cabins in different designs and styles to suit your office needs. Choose from multi-room and open plan designs.
Step 4: Layout and Size
Planning the layout and size of your garden office is important as this will help you determine if the furniture or other accessories you like to include will fit inside.
When purchasing a shed, consider the size of your garden and see how much space it'd take up. If you already have one, ensure that every furnishing you'll put inside has the right sizes and can fit well.
Sheds come in a range of sizes, so depending on how big your garden is, you can find a garden office as small or large as you like.
Small Office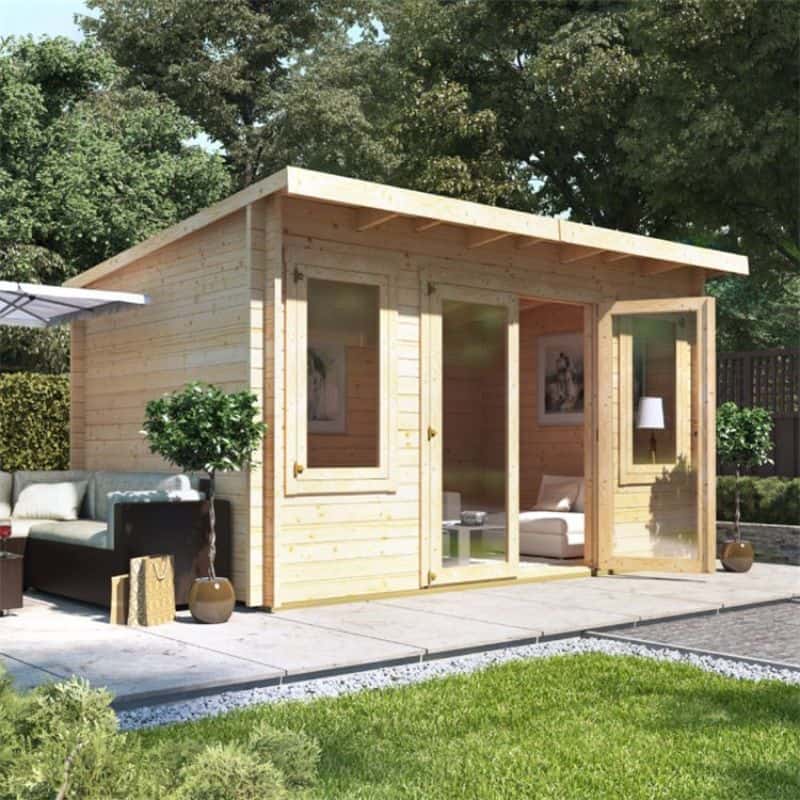 You don't have to own a large shed to convert it into an office. If you only need a small space to work from occasionally or have a small garden, a small shed is enough to store a desk and your office essentials. 
There are many wooden sheds which are equipped for use as a garden office and these range upwards in sizes from 4×6. You can also choose a corner shed which are designed to maximise the space in a garden by fitting into a corner of your garden. 
If you don't want to compromise on the quality of your building, BillyOh also provides small log cabins which are made with a thicker and more durable construction.
Medium Office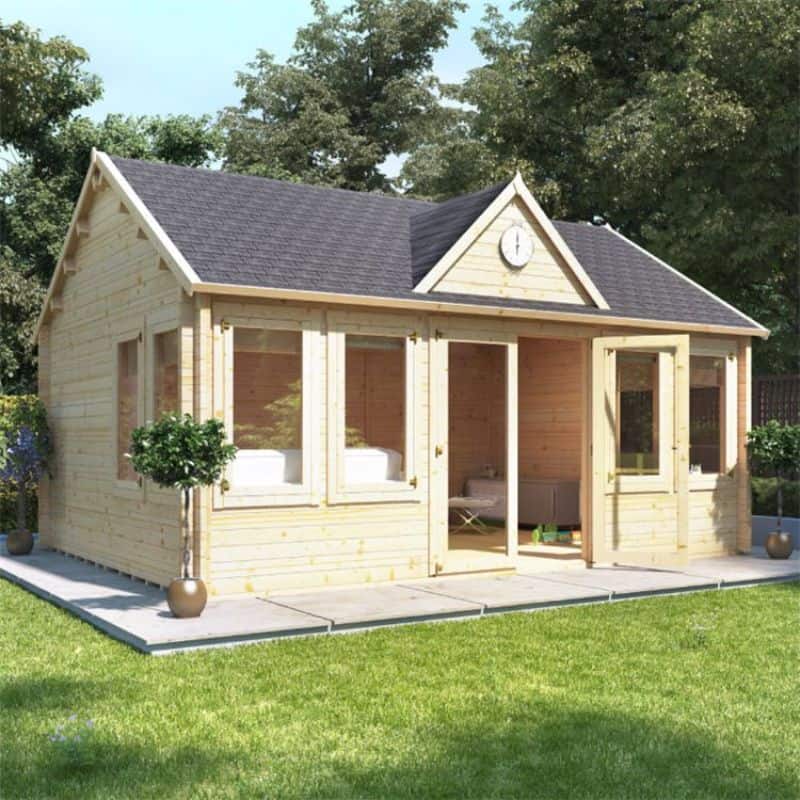 A medium-sized office is perfect if you need somewhere to keep a hefty amount of office equipment, including multiple desks and bookcases. A multi-room garden office will offer you a place to work as well as a room for office storage or a place to keep the printer and files.
You should choose a wooden shed which is windowed, as this will allow plenty of natural light to enter the building and make the office comfortable to spend time in. Opening windows will also provide important ventilation for the office. 
The shed size of 10×8 will offer you a medium-sized office space which should provide plenty of room for a desk and office equipment.
Large Office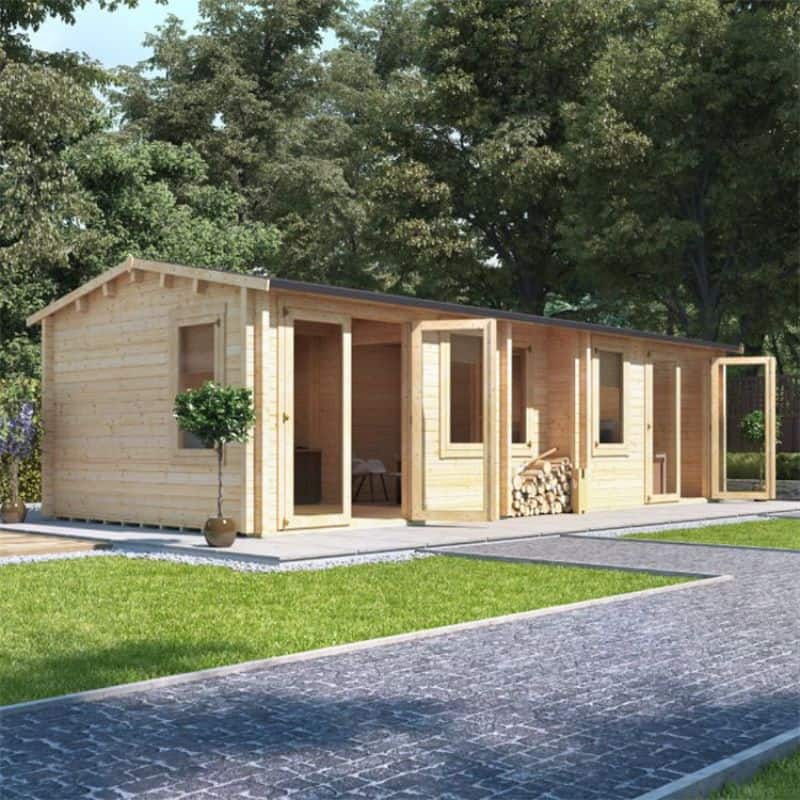 If you need a large office, you can save on costs by owning a log cabin. When starting up your own business, this is a perfect office solution, providing you with a spacious garden building to work from home at a fraction of the cost.
There are many designs and styles available to suit your garden. Contemporary pent styles are perfect for modern gardens and traditional apex and reverse apex designs which complement a traditional garden.
The BillyOh Hub log cabin offers an open plan multiroom design which is perfect for separate offices and keeping storage in a separate area. The large log cabin also provides you with the choice of a multi-purpose building. 
The BillyOh Pod has three separate pods which you can be used for combined office space, as well as relaxing or entertaining. The dividing wall and two sets of double doors allow you to have separate areas for different uses without being disturbed.
Step 5: Assess the Condition of Your Shed
The next step you need to consider is checking the condition of your shed and see whether it needs some alterations or if it's fully watertight. Look out for any tears in the roof felt, whilst ensuring that the roof is securely attached. 
Also, test the doors and windows to see that they're working correctly or if there are any gaps. Empty out the shed completely and look for any signs of mould, damp, leaks or wood rot. These will need to be dealt with before you can progress to converting your shed into an office. 
Making the changes should be a DIY job, but if you're unsure of the stability of your shed, you can always ask a builder to take a look at it or purchase a new shed or log cabin which is equipped for the job.
Step 6: Converting Your Garden Shed Office
Now you're set to convert the shed into your dream garden office! Treat the shed exterior so that it's weatherproof and won't be at risk of damp. 
This will also extend the lifespan of the shed. Next, think about lighting, heating, insulation, and electricity. These are what will transform your shed into a real office so you can start working from home!
Lighting
The right lighting will mean you can work in your office, no matter what time of day it is. Different types of lighting will complement your office needs. 
Halogen lights are good for providing overhead light. They can also be used for adjustable spotlights or track lighting. Whereas, desk and floor lamps are a cheap lighting option which can be moved around and also offer decoration for the garden office. 
LED lighting is a versatile and cheap to run. The LED light can be used for spotlights and certain areas of the office you want to be brighter.
Heating 
Heating will make sure your office is pleasant to work in, whatever the time of year. It will also prevent damp and keep paperwork or electronics from becoming damaged. 
You can heat a shed using an electric radiator which can be wall-mounted or portable and used during colder months. Alternatively, tube heaters are a safe and inexpensive way to keep the office warm and take up little space. 
Insulation 
Make your garden office shed insulated and keep it protected from damp. It will also take less energy to keep warm. It will also work on soundproofing the building, which is excellent if you enjoy working with loud music on! 
You should insulate the ceiling, floor, and walls of the shed for best coverage.
Electricity
Most offices will require a laptop, phone, and lighting. For this, you'll need electricity. 
If you don't use electronics in your office, you can skip this part. It's important to ask a professional to carry out any electrical work for you and will need to be signed off by them for insurance purposes. 
Let them know how many sockets and light switches you need and all the equipment you'll be running off the electric mains.
Step 7: Setting Up Your Office Storage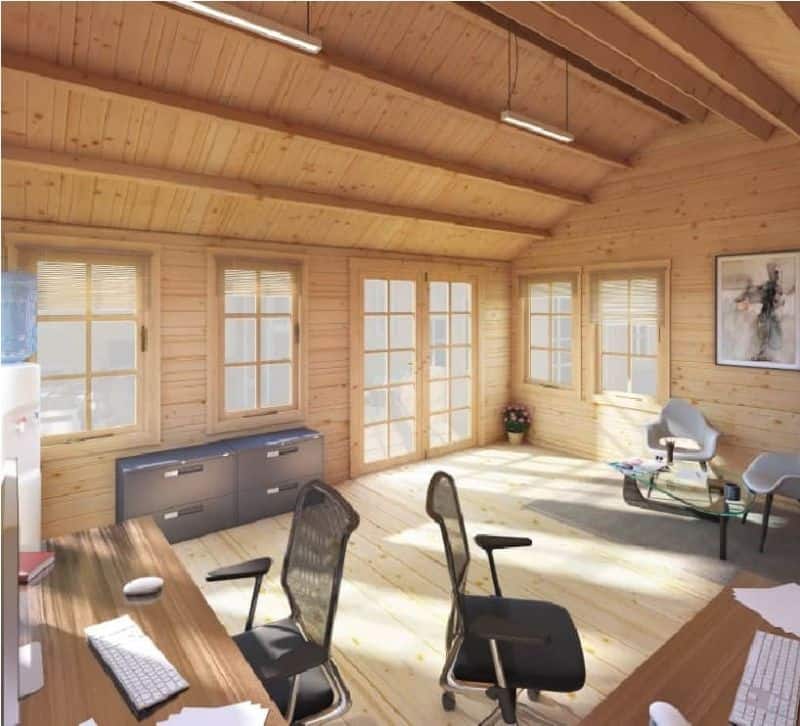 A well-organised space helps to keep an office running smoothly. Depending on how much storage space you need and how big your shed is, there are ways you can minimise clutter and maximise work production. 
An open shelving unit is a great way to utilise a tall shed. Building shelves upwards mean you have more room in the building to work or walk around. 
Another way to use storage from the walls of the shed is by using wall-mounted pegboards. These can hold all your stationery and keep clutter off your desk. 
A cheap method of storage for a garden office are clear storage containers which are stacked together. These are perfect for storing your ink cartridges, paperwork, and chargers. 
They'll keep everything dry and in one place. You can also use magnetic strips to hold metal objects such as scissors. This is particularly useful if your office will be used as a practical space. 
If you have a small office, one way to utilise storage and save money is by repurposing old items. You could attach a wine or spice rack to the wall and keep your document tubes, pens and paperclips stored. Or, use a shoe rack which you would hang on the back of a door to keep small pieces in one place.
Step 8: Decorating Your Garden Office
Paint It Up
To maximise the feeling of space, you'll want to stick to light, bright colours on the inside of the shed. Whitewashed walls are a popular trend for modern garden offices. 
The outside can be painted in any colour you fancy, or whatever complements the garden around it.
Add Personal Touches
If you need garden office shed ideas, create a homely touch by adding photo frames to the office shed wall or desk. You can also add vibrancy to the walls with framed posters. 
These are great if you want to cover up old cupboard doors. 
Bring It to Life
Plants have been proven to detoxify the air and help create a better work environment. They also offer natural decoration. 
If you aren't very green-fingered, artificial plants look just as good.
Add Comfort
Although the shed office will be where you'll be working, you'll still want it to be a comfortable space to spend time in. Add comfort with a rug or garden furniture and cushions.