Snow accumulation on the driveway can be troublesome and a real headache. But you wouldn't want to keep them piling up, so you have no choice but to deal with it.
Skip the snow shovels to save more time and energy during the daunting winter months. You need something more effective, and this post has put together the best options for you to try!
The Hidden Dangers of Snow and Ice

The winter weather is a great time to stay cosy indoors. But look out the window and see layers of snow – and lots of it. More and more are piling up, taking over your front and back garden.
Walking on path icing during a heavy snowfall is bad enough as it is. But letting the packed snow pile up in certain areas of your home can pose a real danger.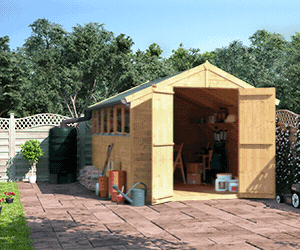 In the driveway, in particular, and without an exemption of the outdoor space, such as the garden. The buildup can cause devastating damage to plants and cause your concrete to break down. Slips and falls in icy conditions are also inevitable. 
Lucky for you, there are 'snow clearance' methods to reduce all these risks without the use of snow shovels.
Clearing Snow From Driveway and Garden
If you live in an area with snowy conditions, you know all too well the struggle of keeping an open pathway. A real hassle indeed, especially during a winter storm. But this time, stop the back-breaking efforts and try these solutions instead:
Treat the driveway with de-icer

One of the best snow removal shortcuts is treating your driveway with a deicer before and after the day of snow. Regular maintenance prepares the surface for the condition. This also goes a long way in helping keep the accumulation at bay.
Deicers are chemicals that help break or prevent a bond between ice and concrete. Calcium chloride (CaCl2), for instance, is present in many deicer products. Once it heats up, it penetrates built-up ice and snow and works well in colder weather.
Note: Avoid using salt deicers if you have plants and pets around, as they are toxic.
Make use of a heavy-duty snow blower

If your driveway has massed too many layers of snow, a corded electric snow blower won't do the job. What you need is a gas-powered two- or three-stage model to chew through dumps of snow.
Two-stage units do well with up to 2 feet of moderate to heavy snow. Three-stage snow blowers, in contrast, are best for heavy snow, ice and slush up to 2 feet deep. Either way, they can clear your way within minutes and with less effort.
Among the benefits of snow blowers are no more back and shoulder pain! Do we need to say more?
Top tip: Don't blow perpendicularly; it's best to move up and down the length of a driveway. And don't fight the wind! Whenever possible, point the chute downwind so the wind helps you blow the snow.
Don't underestimate leaf blowers

(Image Credit: Wikimedia Commons)
For powdery and light layers of snow, a leaf blower does the trick. It's especially effective if you have under 3" of snow. It can also blast the fluffy snow off your driveway!
The higher the MPH of your unit, the easier the process should be. All in all, repeat the technique as if you're blowing off the autumn leaves in your garden as the snow continues to fall.
Note: Wet, dense or heavy snow may be difficult for a leaf blower snow removal.
Install a snow melting system

(Image Credit: Wikimedia Commons)
The benefits of snow melting systems are promising. For one, extending the life of the driveway or heated area. They prevent slippery frost, snow and ice buildup and reduce slip and fall accidents.
On top of those, they cut down the need for salting, sanding, shovelling, or snow blowing. In effect, they lower maintenance costs.
If you're considering repaving your driveway, think about installing the system. This will create a heated area beneath the finished surface. It's like how you'd install heated surface mats underneath tiles in your home. But for heated driveways, they warm the surface and melt snowfall on contact.
This approach may cost you upfront, but it's definitely worth the investment in the long run.
Attach a snow plough to your snowmobile

(Image Credit: Wikimedia Commons)
If you have a long driveway and need to clear layers of snow at once, a snow plough makes a great tool for doing so. A front-mounted unit can suit a 4-wheel drive truck or SUV. Snow pusher models are great for ATVs, UTVs, and snowmobiles. With one, you can turn your recreational vehicle into a winter utility!
Or get residential snow removal services

(Image Credit: Wikimedia Commons)
Regardless of your reasons, hiring a professional or service is ready to do the heavy lifting for you. The only energy you'll have to spend is dialling a phone number or sending an email.
After contacting them, you can sit back and let the professionals do what they do best. You can add your address to their clearing route the same way for their trash removal schedule.
Depending on the cost and how often it snows, paying someone else to get the job done can save you more money. Plus, you don't have to do the work yourself, avoiding injuries and morning stress.
This is your best bet if you don't have a vehicle capable of ploughing snow or not able (don't wish) to clear the snow yourself. And make sure to talk to friends and neighbours! Chances are more than one of them relies on services and can recommend a reputable local company.
Dealing Snow on Your Lawn

Most of the time, snow can be a great insulator and provide needed water for the plants. But there's an exception, such as when the snow gets heavier, and ice buildup is likely. If overlooked, these can cause major damage, e.g. on a tree when limbs and trunks break and fall on the lawn.
Here's how you can remove snow and prevent damage to lawns and plants:
Don't wait for the snow to accumulate. Doing so every couple of inches ensures less damage, rather than waiting until it's deep.

Leave ice alone from plants to avoid further damage to the plants. Branches are also likely to break, so once the ice has formed, wait it out to melt.

Keep off the snow-covered grass, as it tends to be fragile. Reduce foot traffic on the lawn to help the snow stay light and melt faster, as well as keep the grass blades firm.

Avoid

salt on plants

. Otherwise, salt exposure can kill them, leading to bare patches in your lawn or garden.
Round-up
If you have a small space or a tight budget, you may take on the responsibility yourself. Snow blowers offer a DIY approach that will make you feel like a professional. Or you can always go back to shovelling, especially if you have the time and physical ability to do so.
Alternatively, opt for a cost-saving alternative – a snow removal service. It offers a practical solution for long driveways and commercial spaces.
Now you can stay ahead of snow accumulation and not worry about the white stuff overtaking your home!