A traditional garden, paired with wooden furniture, has a timeless charm. It's simply untouchable in the world of landscaping. But with the rise of minimalism and contemporary design, modern gardens are all the rage. The design draws on simplicity and is characterised by a sleek and streamlined style. Cue modern aluminium garden furniture. These modern garden ideas offer a fresh take on the more formal side.
1. Garden path with wooden decking
Wooden deck provides a warm and natural look that complements the garden's greenery. It also creates a sturdy and stable surface for walking, making it perfect for a garden path.
Check our guide to garden deck ideas for more inspiration!

(Image Credit: Wallpaper Flare)
2. Ivory and simple lines
Simplicity is synonymous with elegance. Ivory is a beautiful and calm shade to complement a minimalist garden and patio. The light colour also elevates the presence of the surrounding planting scheme.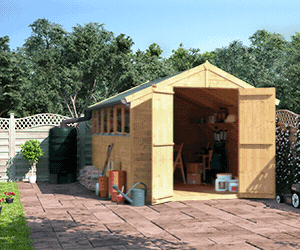 3. Every nook and cranny
Even the dullest part of the garden, such as the corner, can be a spot full of admiration. Create a layout that includes clean lines and geometric shapes. Decorate with concrete planters, mirrors, and lighting for added interest and texture. If the space allows, consider placing a corner summer house for an ultimate retreat!

4. Situate a Japanese pergola
A natural way to bring a sense of tranquillity and beauty to your modern outdoor space. The modern style incorporates sleek, minimalist lines and materials like metal or concrete. It can serve as a focal point for entertainment or relaxation.
5. Borders but make it pebbled
A pebbled border can create a clear separation and define the boundaries of your garden. It gives off a more polished look that suits a minimalist landscape.

(Image Credit: Wallpaper Flare)
6. Hail the white pots
Who said white is boring? Uniquely shaped white pots give a contemporary sense of place. Elevate the look of your potted plants and take a cue from this garden inspiration.

7. Modern garden steps with lights
Step lighting doesn't just add a stylish touch, but it also offers safety, making it easier to navigate in the dark. With outdoor lighting solutions like LED, you can invest in something cost-effective and sustainable.

8. English garden refresh
English gardens can still maintain their classic charm while embracing modern trends. This can mean using geometric lines or adding contemporary features. Aim to incorporate modish elements into the traditional layout.

9. Embrace the horizontal lines
Horizontal lines create a sense of calmness and balance. This style approach can be effective in a space full of vibrant colours and textures. Such simple lines can be achieved using low-lying plants, retaining walls, or pavers.

10. Multi-zone outdoor space
This concept allows for multiple distinct areas within a single garden space. You can create zones for different purposes, such as outdoor dining and relaxation. The use of natural materials, a range of plants, and lighting can help distinguish each zone.

11. Built-in bench seating
A modern planter garden bench is a win-win addition to your outdoor patio. Not only does it provide cosy seating for guests, but it also adds a touch of greenery. It's a great way to add a touch of nature to your while still having a functional piece of furniture.

12. Trees for height
Trees provide garden shade and privacy, as well as add aesthetic appeal to your outdoor space. They can attract wildlife, such as birds, which can enhance the overall beauty of your garden.

13. Wooden garden walls
The wood can create a cosy and intimate atmosphere while providing privacy. Wooden garden walls can also be used to create different zones within the patio. Add a few vertical or horizontal planks with climbing plants for a touch of a natural element.

(Image Credit: Wikimedia Commons)
14. Mirror, mirror on the wall
This modern garden design features mirrors to make the space larger and more open. Such additions can reflect natural light and greenery. Also, create interesting visual effects along with garden water feature ideas.

15. Fence planters
Fence planters are one of the best ways to take advantage of your modern landscape design. The idea is to cover those unused vertical garden spaces with greenery. Instead of a boring fence, use planter boxes to add a splash of colour and style.

(Image Credit: Wallpaper Flare)
16. Edge bed
Garden edging can make your plot look more polished and more manageable. This planting scheme works well for a formal garden, and the same goes for a modern space. Make use of natural materials, such as gravel, and install a flat strip for mowing convenience.

17. Comfy stone corner
Stone patios, decks, and fences never go out of style. Easy to maintain and weather-friendly, they make very compatible decks. Paving stones are extremely durable, too, and will never crack, flake, or chip.

(Image Credit: Wallpaper Flare)
18. A blend of wood and stone
A blend of wood and stone for those cold nights and perfectly warm snuggles. This concept makes a smart and minimal fire pit garden idea if you'd ask us!
19. The power of a pergola
Pergolas provide a beautiful structure that can create a separate outdoor living space. They also provide shade and protection from the sun and rain. What's more, they can be customised to match the style of modern gardens.

(Image Credit: Wikimedia Commons)
20. Two-levelled sloped garden
No matter how small your garden is, you can take it to an elevated level with tiered seating. This can add visual interest and dimension to an otherwise unremarkable outdoor space.
21. Corner pergola and bench
The built-in bench seating provides a relaxing nook and can save space in your yard. While the pergola can offer shaded garden space, making it a great spot to read a book or have a cup of coffee.

Just lay a few slabs of grey stone on a bed of pebbles to produce the feel of being in a stone garden. The use of natural elements like rocks, gravel, and plants creates a sense of tranquillity. The design also incorporates symbolism, with each element representing an aspect of nature.

If you love stargazing or the sky in general, transform your outdoor patio in this garden scheme. The open pergola gives you the perfect view of the vault of heaven. Complete the look with a fireplace, and make sure the seats are comfy so you can enjoy nature for hours!

(Image Credit: Wikimedia Commons)
24. Framed green walls
Green walls can help to insulate your garden. They work by reducing the amount of heat lost in winter and keeping it cooler in summer. A framed succulent display, for instance, is a surefire way to add interest and perks to your patio.

25. When traditional meets modern interior
This creates a beautiful and harmonious balance between the two styles. Mixing natural elements with a modern design can bring eco-friendliness to the space. Sleek garden furniture can also add elegance to the natural elements.

Round-up
Whether you're looking to improve your garden or just want some fresh ideas, we have the perfect solution! Discover an array of products tailored to every preference and budget. Explore our captivating assortment, including BillyOh garden furniture and garden buildings UK. Enhance your leisure and relaxation with our exceptional BBQs!
Experience the epitome of outdoor living with BillyOh by checking the button below. What you should read next: Minimalist Garden Ideas
Shop From BillyOh
FAQs