Tired of your traditional garden? Want to try something new this year but don't have the time or know-how? 
If you're looking for a fresh design or garden building that'll make your home look great, then take a look at these modern garden ideas. 
There are all kinds of ways you can add interest and beauty to your yard with just a few simple changes. So read on!
1 – Wooden Deck
Add a twist to garden decks by making them look like a pathway and take a stroll.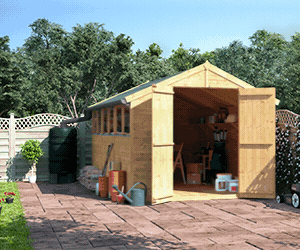 2 – Ivory Minimalist
Simplicity is synonymous with elegance. Try a lighter shade like ivory for your patio and add some elegant looking planters.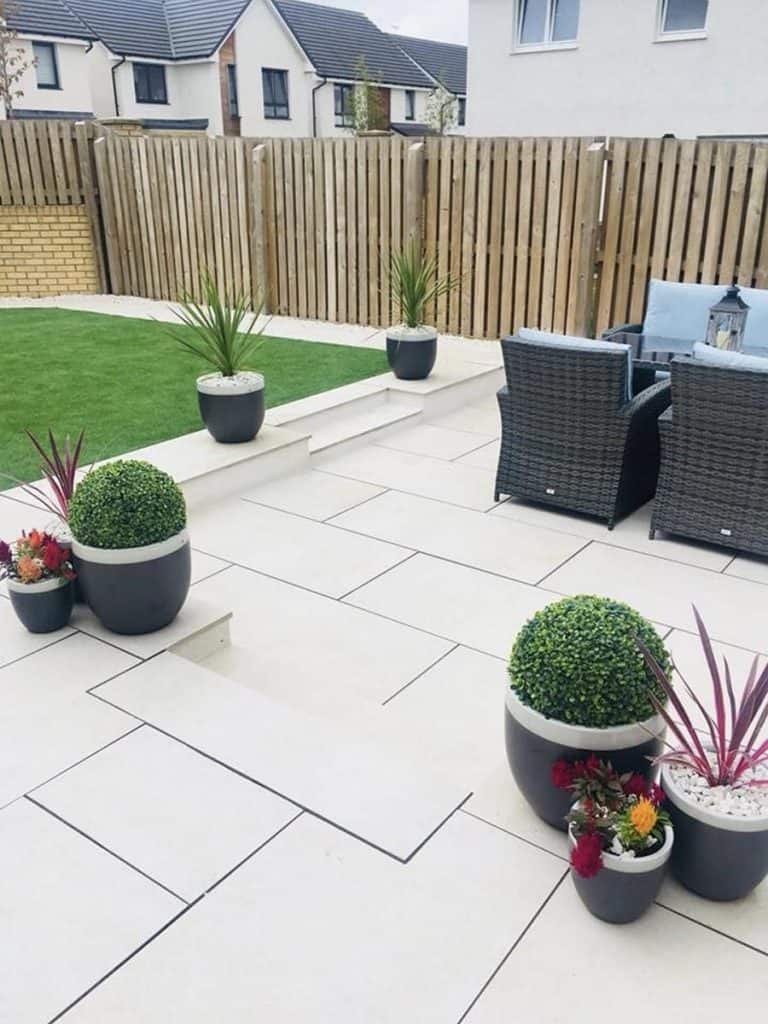 3 – Contemporary Family Garden
It's family time! Design a contemporary style of galley style deck to give yourself a stage.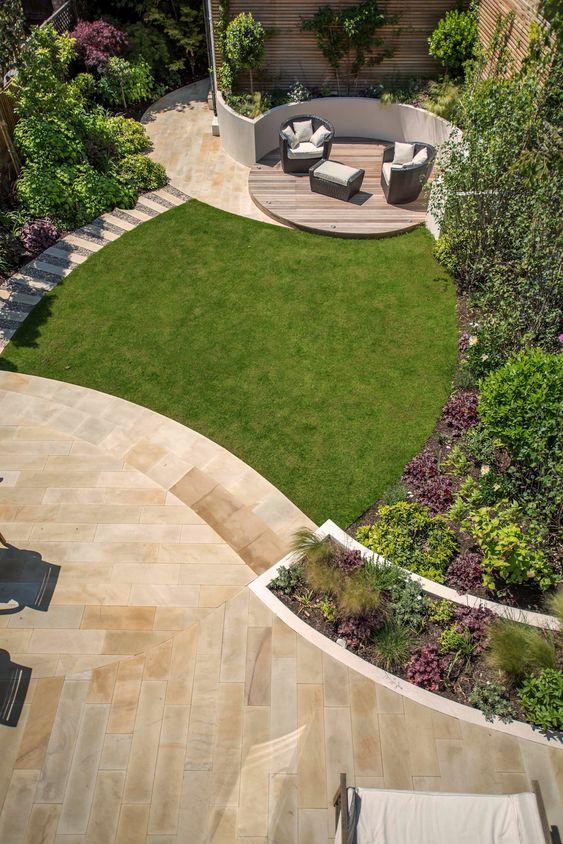 4 – Small Corner Bar
Have a corner space in your garden? Build a small cabin for a nice, cosy bar.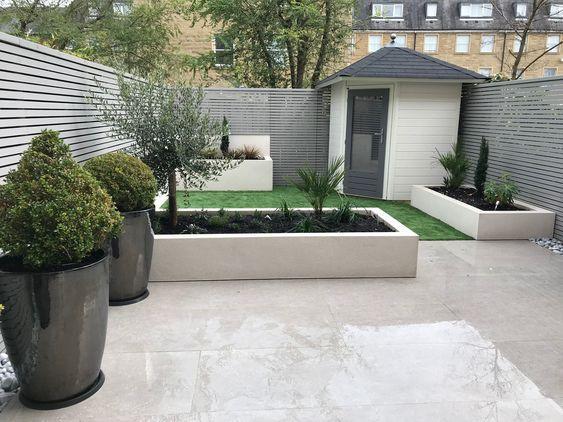 5 – Modern Japanese Pergola
A stylish addition to lawns, these modern Japanese pergolas make a perfect place for a shady retreat and relaxation.
6 – Comfy Corner 
L-shaped benches or sofas create a nice corner for an evening chat over a cuppa.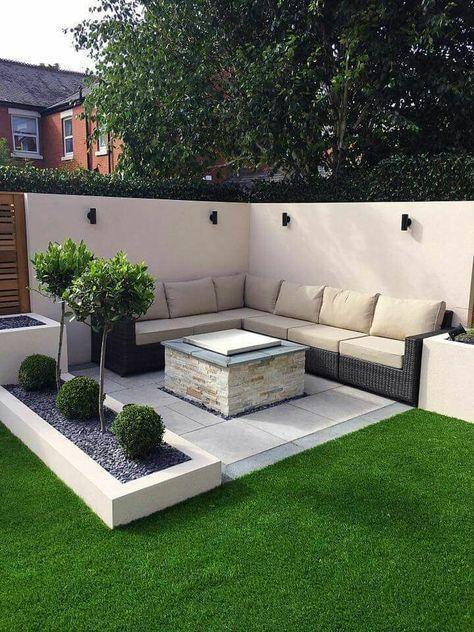 7 – Pebbled Borders
A layer of pebbles helps garden soil retain its moisture for a longer period. Plus, they're great border accessories.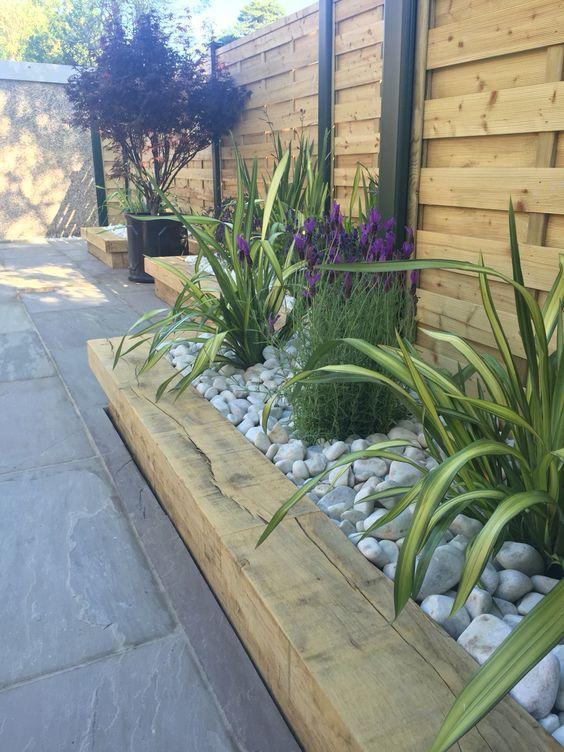 8 – Bright Minimalist
Bring a touch of grace by going minimal. A bright shade of paint and simple shrubs create a perfect spot for a romantic evening.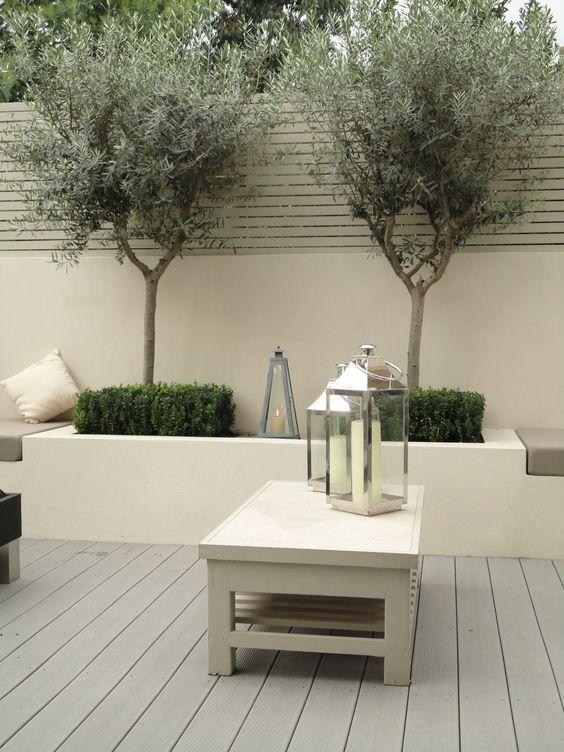 9 – White Pots
Who said white is boring? Uniquely shaped white pots give a contemporary look.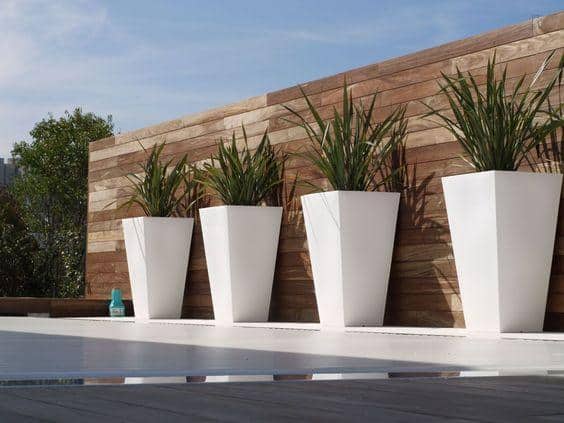 10 – Step Lighting and Garden
Elevate a portion of your garden, build a few steps, and install a few LED lighting strips for a serene night walk.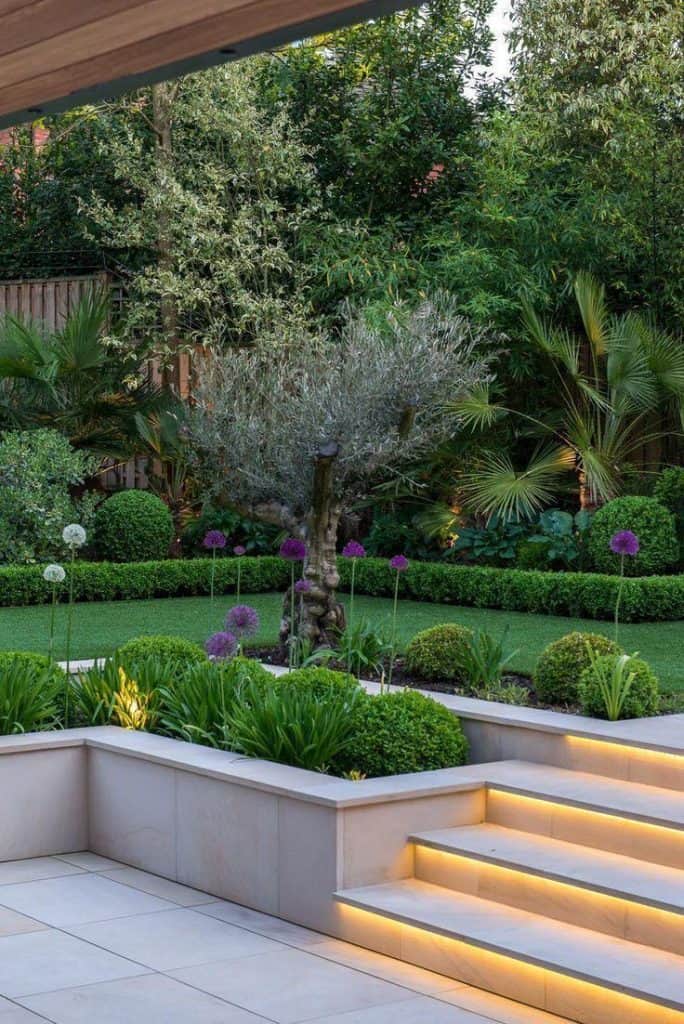 11 – Contemporary Town Garden
An open-themed garden is a great space that can be converted into a spot for dining or playtime.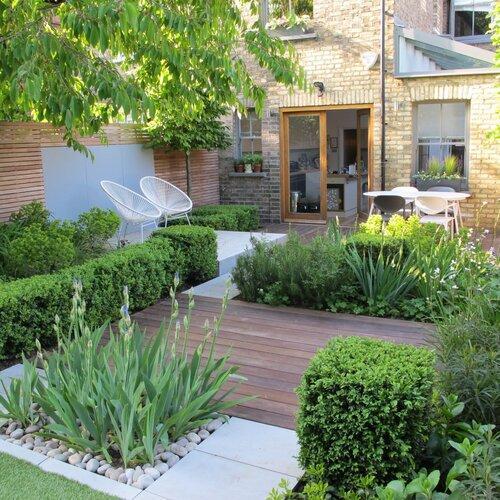 12 – London Family Home
A well-trimmed lawn, a narrow pathway and some choice plants as borders are lovely for a tea party.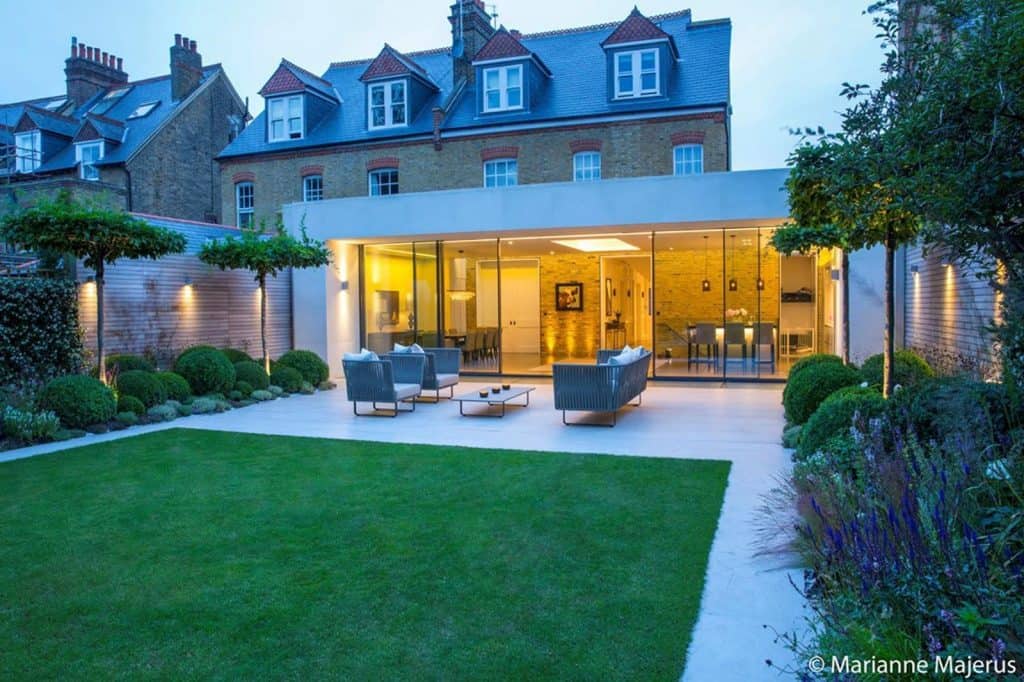 13 – Fulham Modern
Horizontal panelling brings a Fulham modern look to the patio.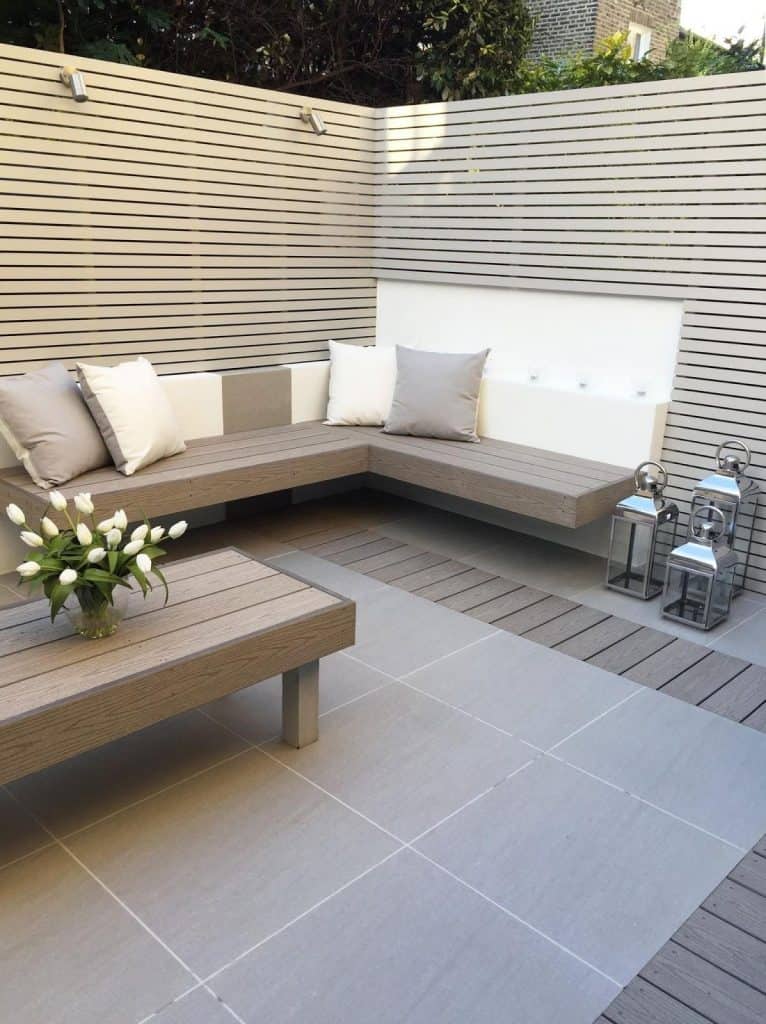 14 – The Clancy
A patio with a unique personality and customised elements like a BBQ space, dining area, compatible plants, and little bushes looks warm and welcoming.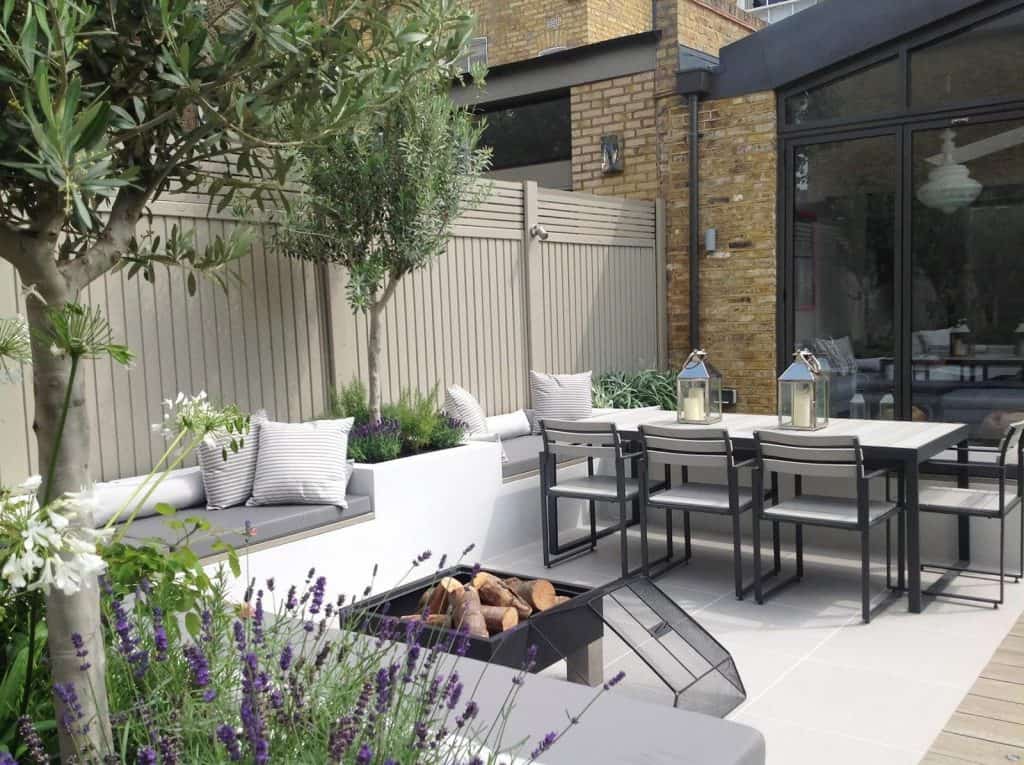 15 – Modern Landscape
Create a small portable pond with some water plants and place it by your garden deck to enjoy those cool evenings.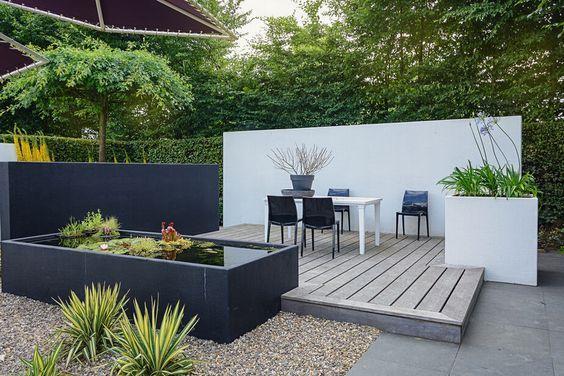 16 – Small Garden
Small is beautiful. Even a small space in your backyard can be converted into a cosy hangout spot.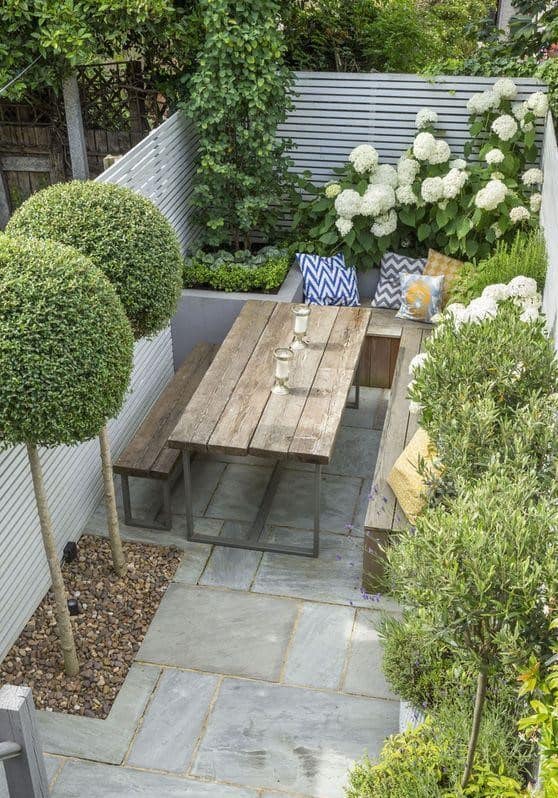 17 – Multi-Zone Garden
A garden for every activity! This multi-zone garden is perfect for dining, socialising, hobbies or laze-around time.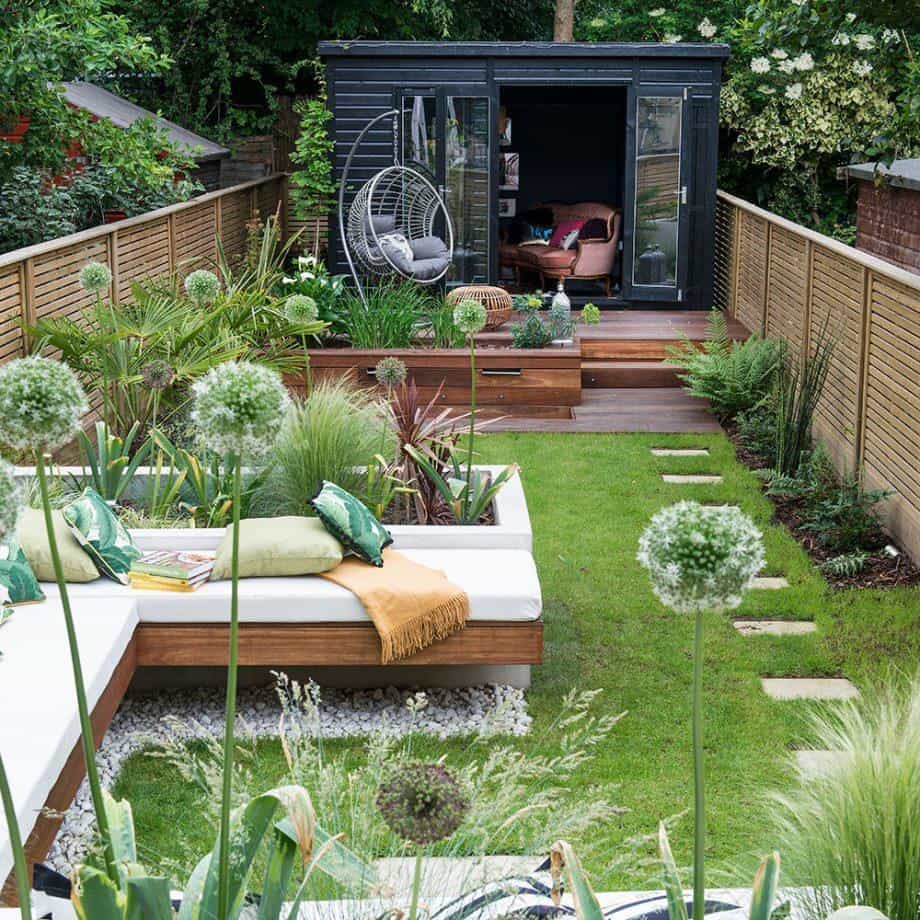 18 – Elegant Modern Garden
A sophisticated backyard with granite flooring, a high-tech deck, and a feature wall with a water blade result in an elegant modern garden.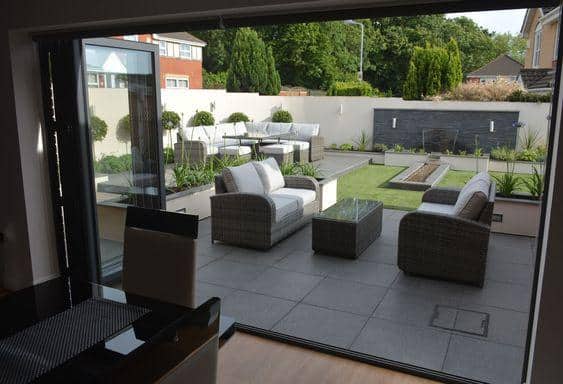 19 – Open Minimalist Garden
An open garden with a wide lawn and a neat corner deck gives space for more fun and relaxation.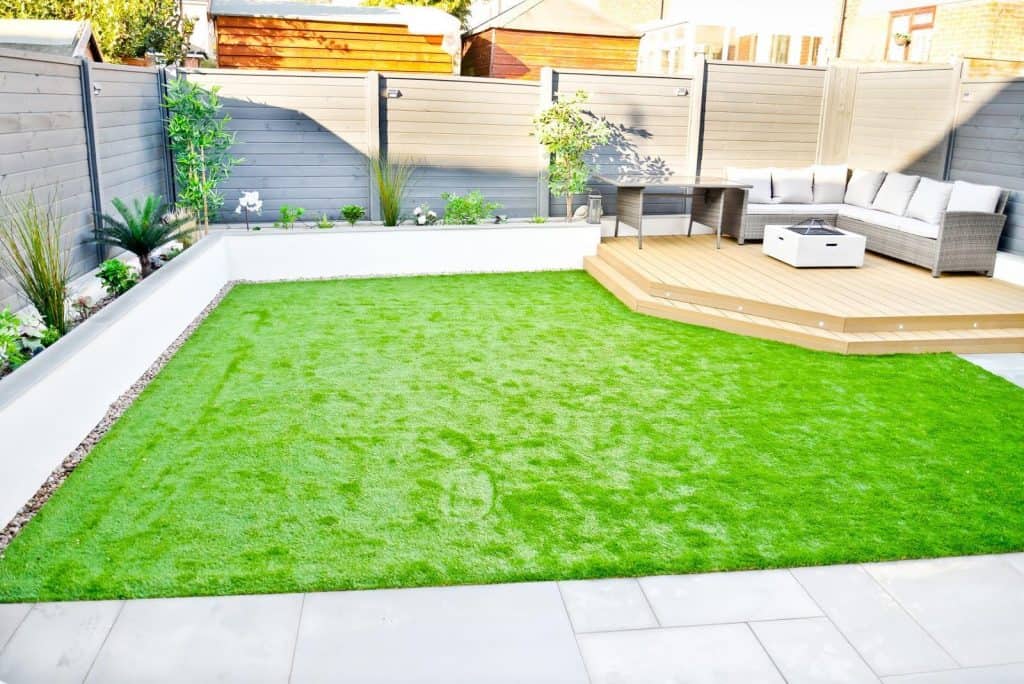 20 – Modern Planter Bench
Adding a few planks of wood or fixing an old crater between two box planters is a refreshing idea to make a small seat amidst your plants.
21 – Beach Pebbles Entrance
Throw a breezy welcome to your guests by converting your mundane entrance into a beach style patio. Simply add some lovely pebbles.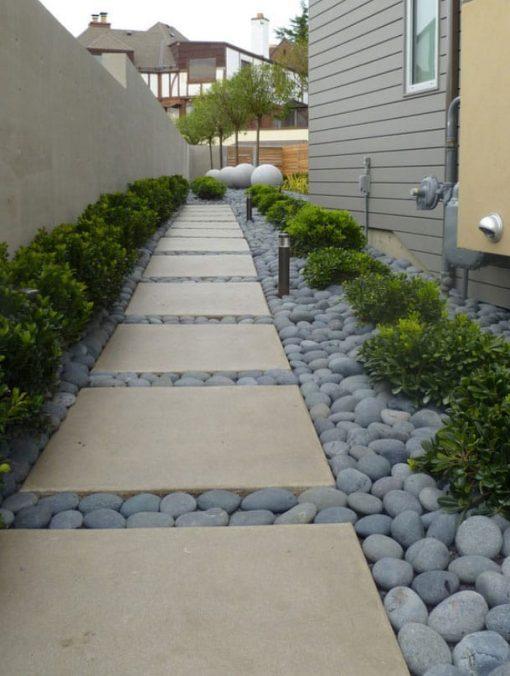 22 – Minimalist Garden
A simple wooden table, a few chairs, an open space and neat wall side planters bring you a minimalist garden.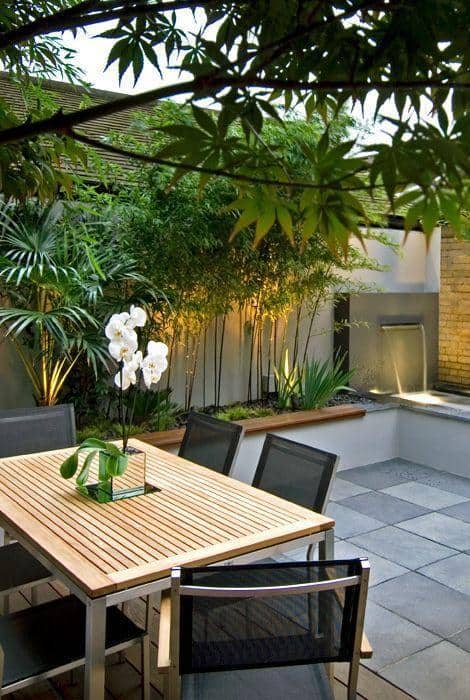 23 – Contemporary Modern Garden
An open space brings multiple options to make get-togethers and parties extra-special. Line up exotic plants and bushes against the patio wall.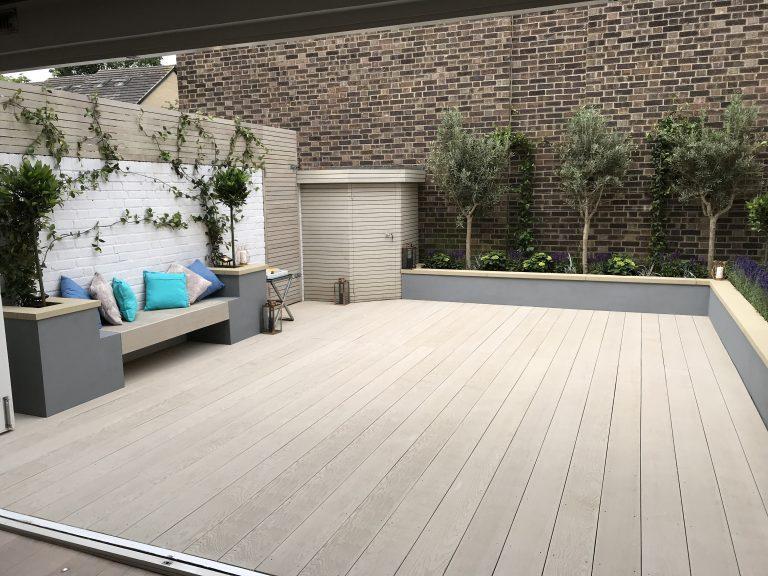 24 – Modern Garden with Trees
Elevated garden spaces are tree-friendly. Bring in some bamboo or robusta for an enthralling garden.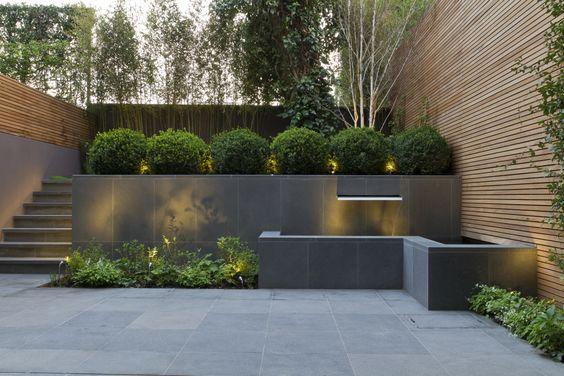 25 – Wooden Closed Backyard
Add a few vertical or horizontal planks over your backyard wall to give you the privacy you deserve.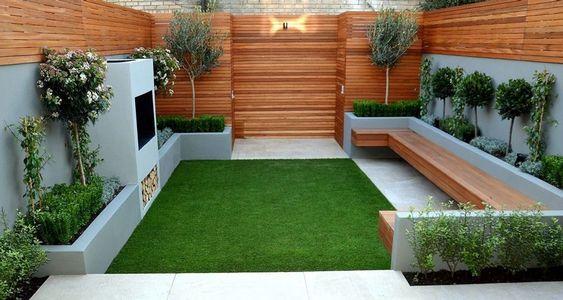 26 – Modern Garden Lighting
Contemporary garden lights offer plenty of options to stylise and upgrade your garden fences and walls.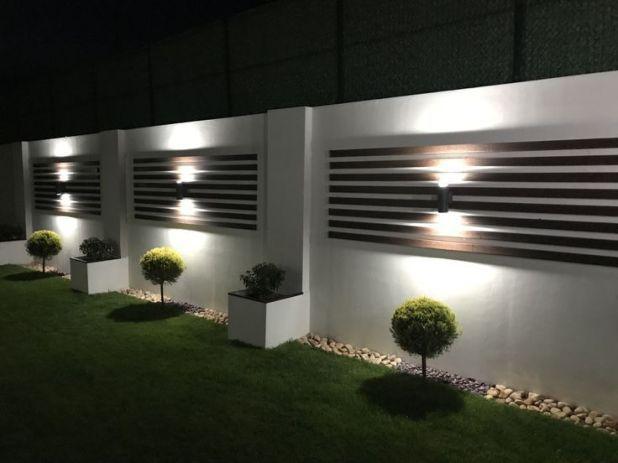 27 – Mirror Wall
Create an interesting illusion by placing a full-size mirror against a wall overlooking your garden.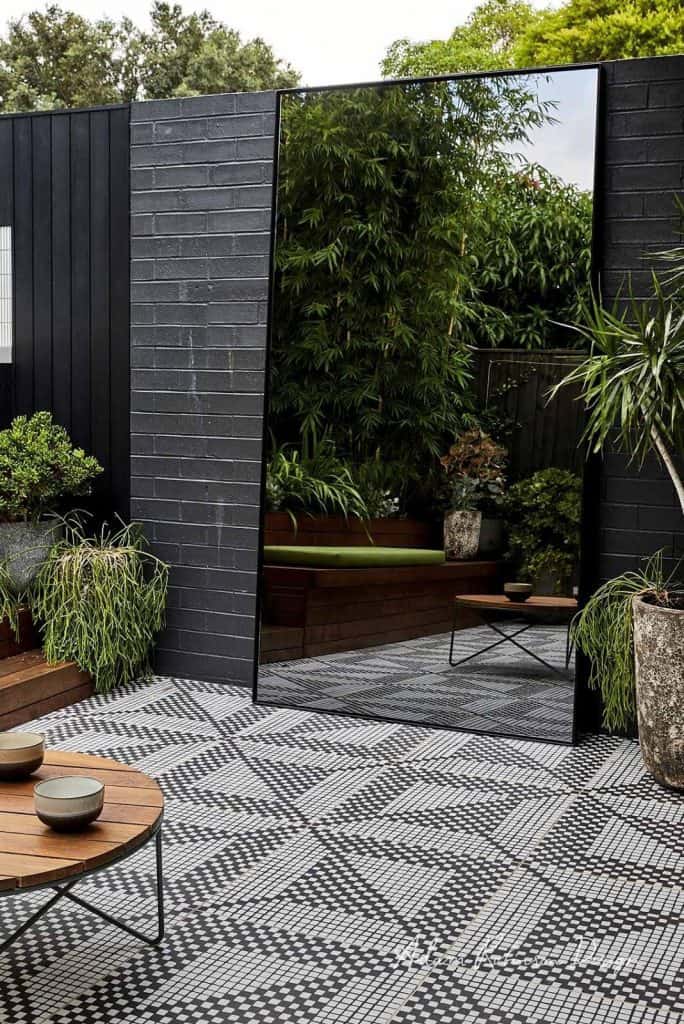 28 –  Fence Planters
Fence planters or box planters are excellent ideas to brighten up things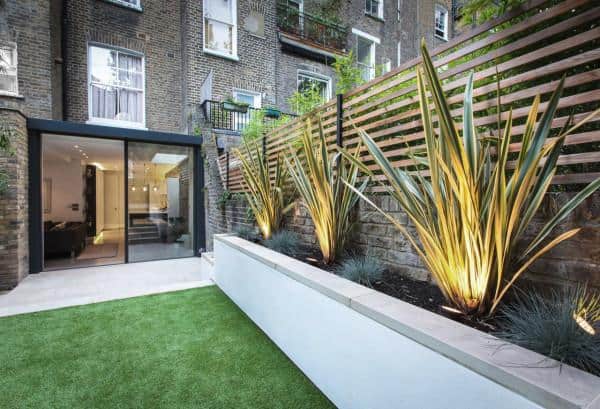 29 – Wooden Corner
Blend in with nature by adding a wooden fence and bench in your backyard that never goes out of style.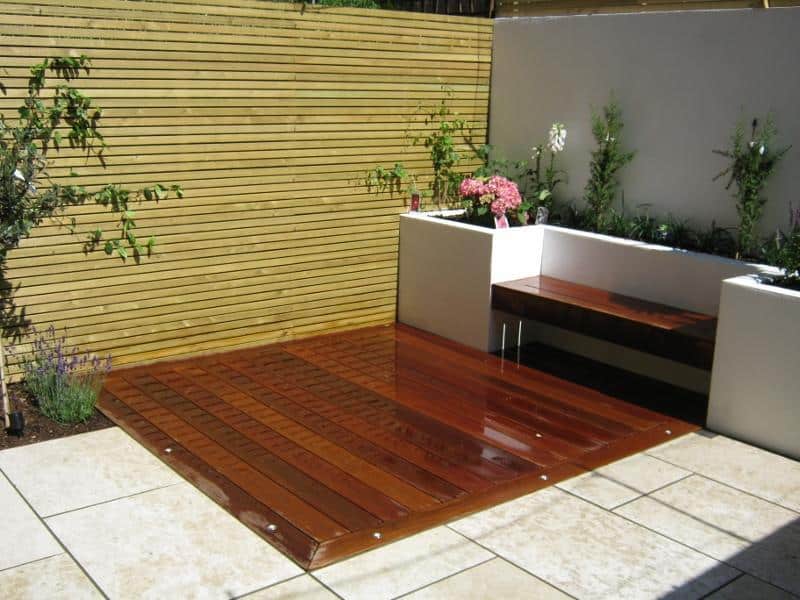 30 – Garden Bed Edge
Even a small space on the edge of your lawn is perfect for those ornamental ferns.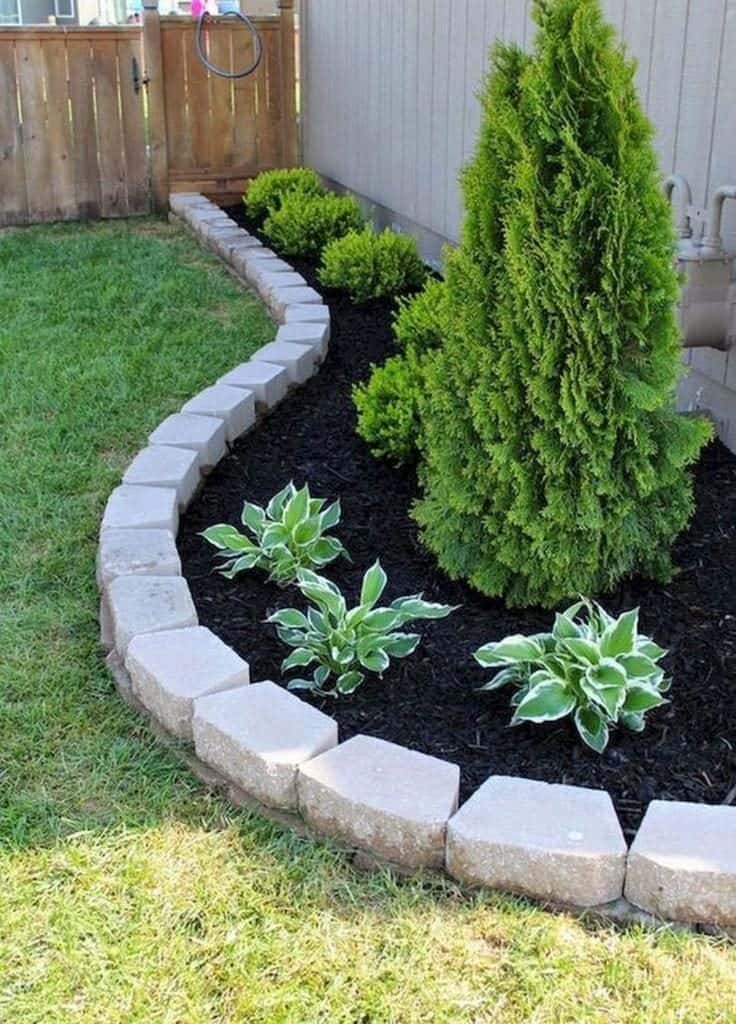 31 – Comfy Stone Corner
Stone patios, decks, and fences never go out of style. Easy to maintain and weather-friendly, they make very compatible decks.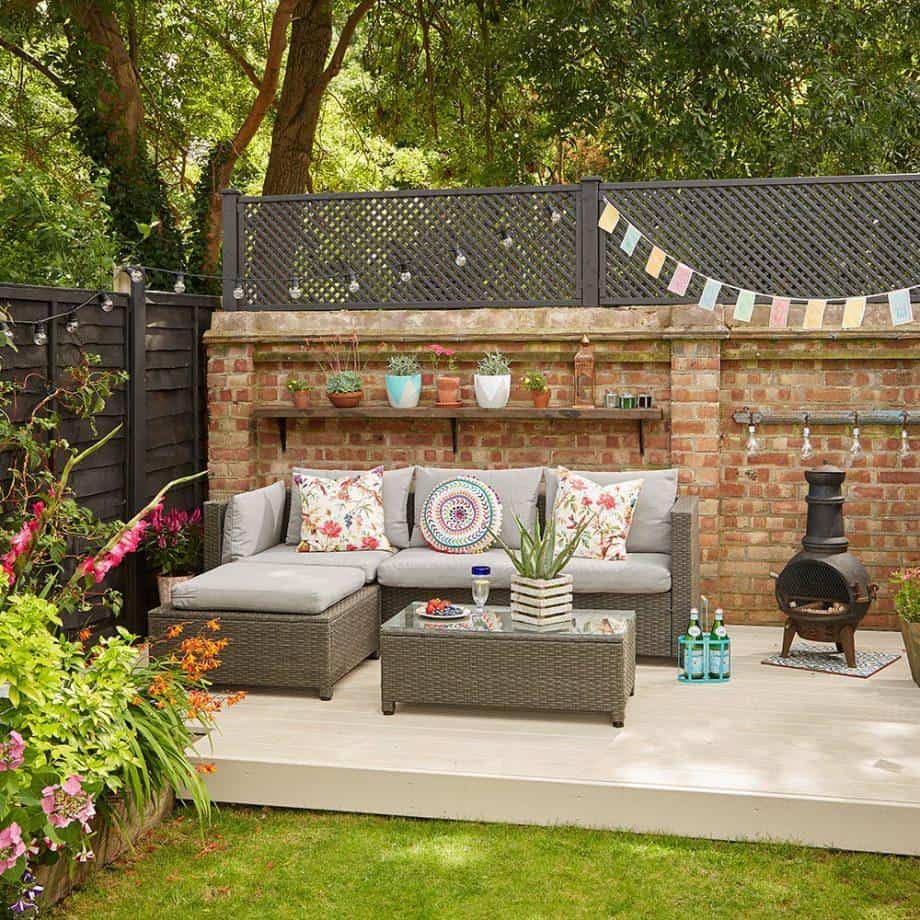 32 – Wooden Fence and Stone Fire Pit
A blend of wood and stone for those cold nights and perfectly warm snuggles.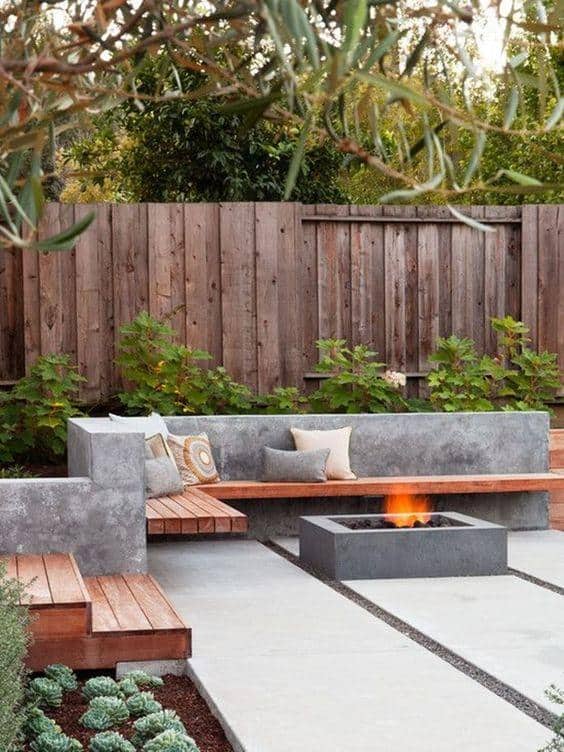 33 – Wooden Pergola
Some pretty ornamental climbers would bring these wooden pergolas some nice shade – perfect for a relaxed evening.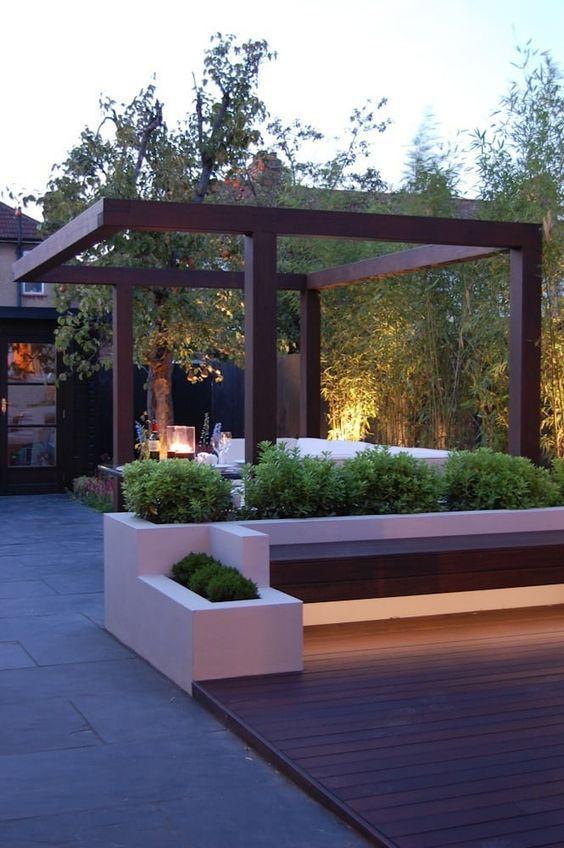 34 – Cozy Backyard
Give a cosy feel to the backyard by separating lounging and dining with a small patch of lawn and few border plants.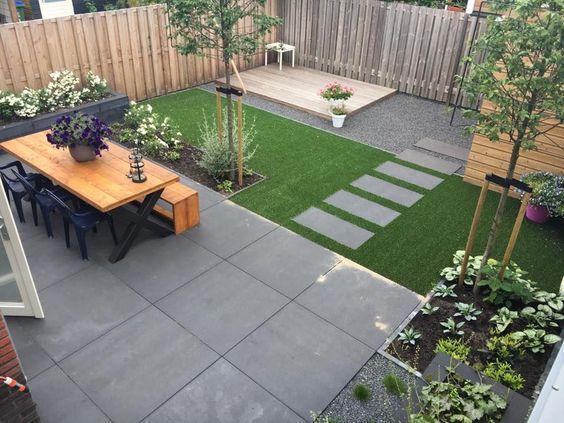 35 – Two-Level Small Backyard
No matter how small your backyard is, just take the seating to an elevated level from the plants.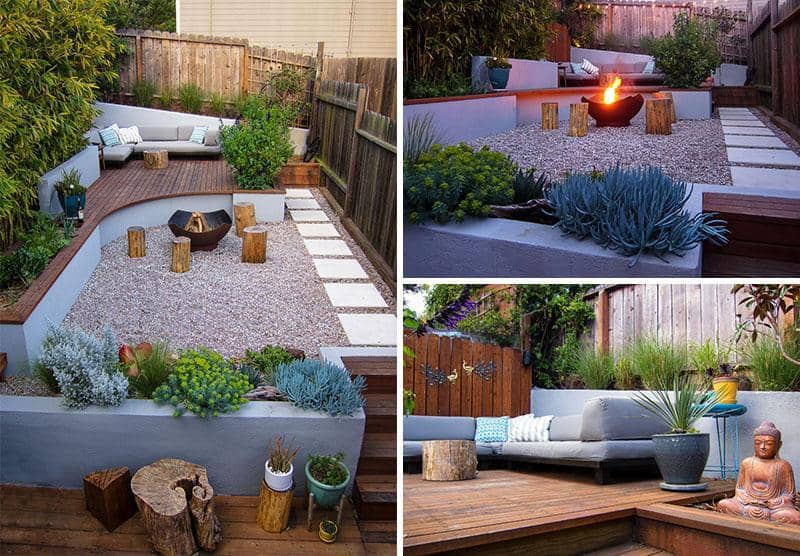 36 – Corner Pergola
A corner pergola covered with a cluster of nice climbers is cosier as it's extremely shady even in those blazing afternoons.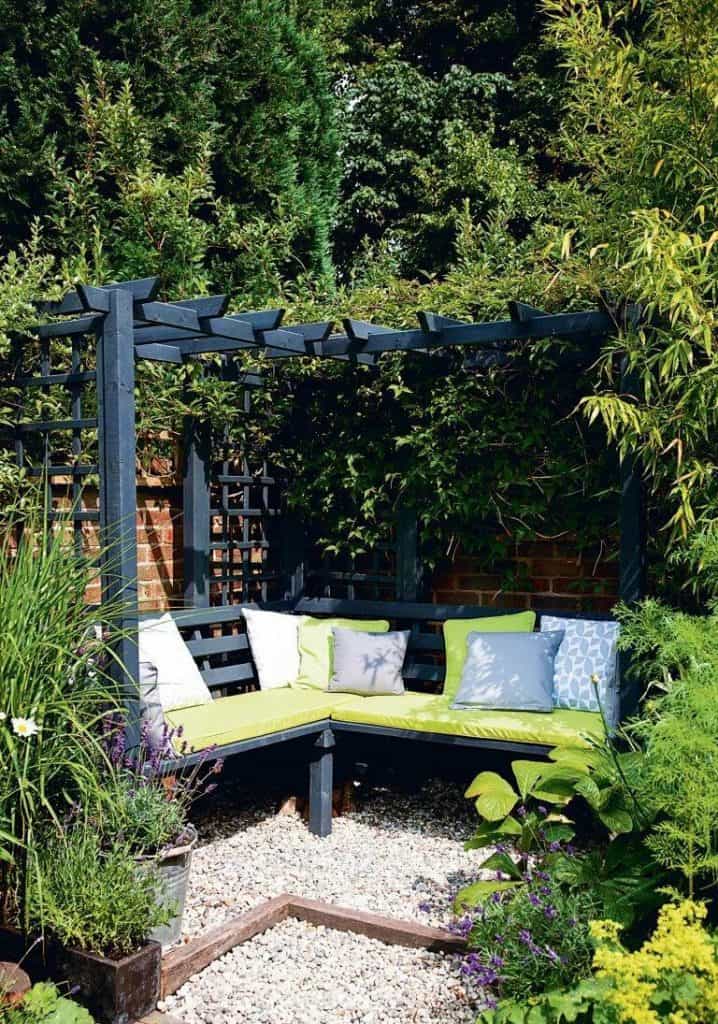 37 – Pebbles
Stone walks laid with pebble borders are rustic designs that make your garden stand out.
38 – Modern Two-Level Garden
The lawn on an elevated space is perfect for lounging, while the dining area a few stairs below amidst greenery makes a wonderful spot for private dinners.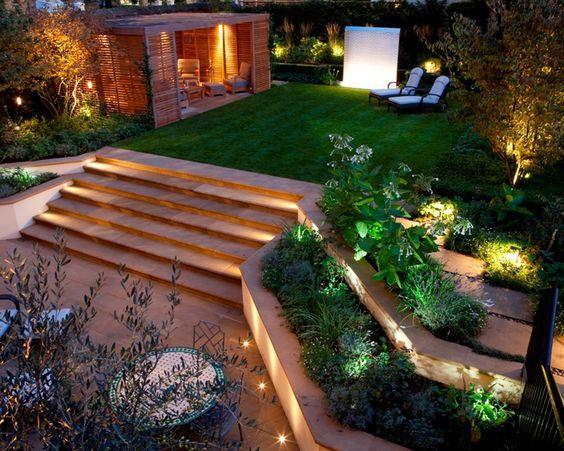 39 – Stone Japanese Garden
Just lay a few slabs of grey stone on a bed of pebbles to produce the feel of being in a stone garden.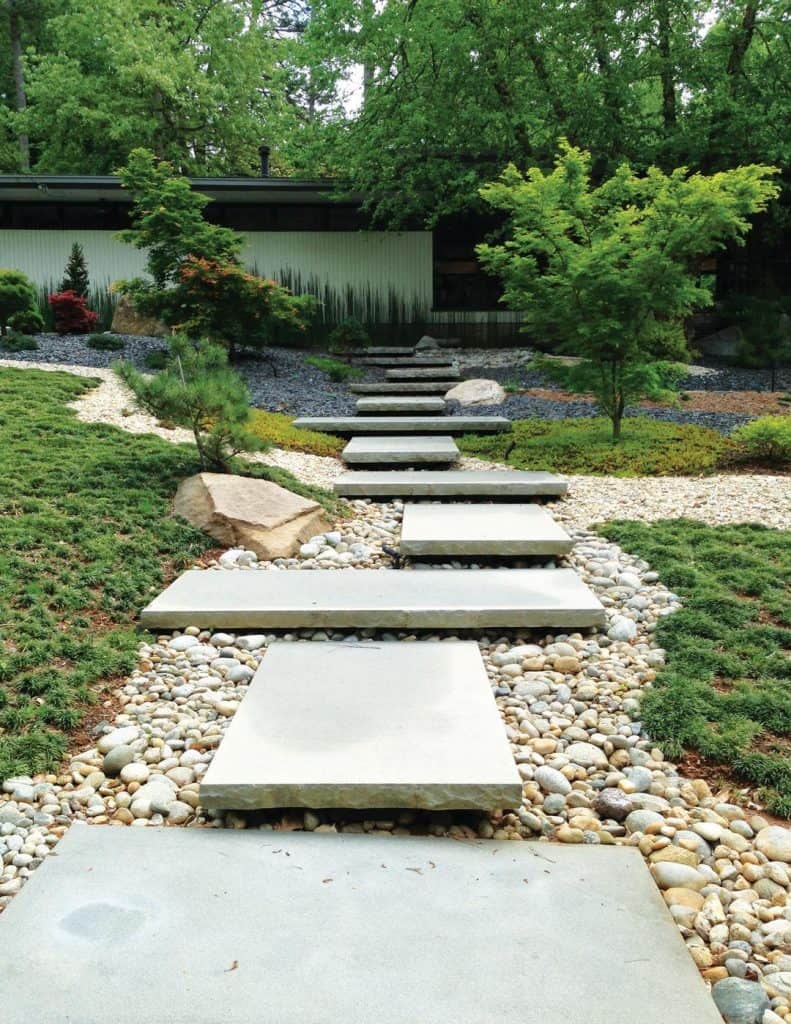 40 – Slim Modern Garden
Those narrow spaces in your yard can be upscaled by adding planters in the form of a maze and a small deck at the end.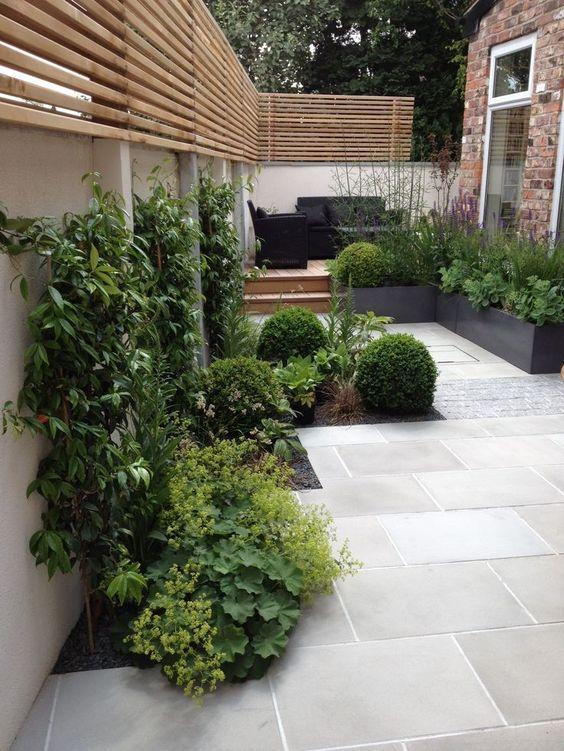 The Round-up
Whether you're looking to improve your garden, or just want some fresh ideas for a small space, we have the perfect solution. 
Our exciting range of products is sure to cater for all tastes and budgets, so check out our range via the button below and find out what we can do for you!
Shop From BillyOh