Guess what? You don't have to live near the seashore to inject nautical-inspired themes into your yard. A garden shed can give you that nautical lounge area.
Plus, beach landscape ideas can work well in urban and rural places. So, even if you don't reside near the coast, no one's stopping you from decorating your space with nautical decors.
Rattan garden furniture, paired with salt-tolerant plants, is one of our favourite combos for coastal-themed outdoor. But we have more beach garden ideas to share with you in this post.
Check out these fascinating designs and get ready to have a backyard that bespeaks the ocean!
1. Surfboard garden sign
Surfboards are one of the essential items that a beach garden theme must-have. A welcome sign like these can already add a touch of the coast to your humble backyard.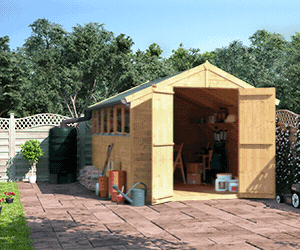 What a smart way to welcome your fellow ocean and surf-lovers friends into your outdoor space!

2. Or go for a surfboard backyard fence
If you have old surfboards in your shed (or know someone who has), for the love of the ocean, don't throw them away. Give them a second life as fences in your garden.

3. Garden gate with ship's chain
These wooden posts decorated with rusty ship chains are an excellent garden gate idea for your beach-themed driveway. This nautical decor goes hand-in-hand, evoking the zest of the ocean.
4. Nautical lounge area
An uninspired corner space of this garden is transformed into a cosy and fun beach patio. A beach sign and ship wheel are hung on the wall, and the DIY benches and cushions come in hues of blue and are constructed from an old cable drum.
The brick wall on the side adds warmth, perfectly blending in with the light grey wall.
5. Boat garden pond
An old boat may not be ideal for island hopping use, but it can fill in the job well as a garden pond. Lay boards across the front and back of the boat to create a simple seating area.
Top tip: Place cinder blocks under both ends of the pallet if you want to have a "boat dock".

6. Beach pebble landscape
This pebble garden design idea gives off the look of a shingle beach. It's ideal for front yards and landscaped areas with pebbles or small to medium-sized cobbles.

7. Give palm trees a spot in your yard
The sight of palm trees can make us think of a beach landscape. You don't have to go for the gigantic ones; some are small enough to make good container plants.
Use the trees as a source of shade and place them near your beach sun loungers.

8. Fish mailbox
Let your mail and letters get swallowed by this big fish. Adding interest to a simple yard space, this fish mailbox provides a great piece for seashore landscaping.
This will surely catch the attention of your neighbours!

9. Add your own lighthouse
It could be as big as the actual lighthouse you see on the offshore or create a miniature that can fit in your small garden. If you're going for the first one, we recommend putting it near your swimming pool or a large water feature.
But if it's the latter, it would make a great decoration for small garden ponds.

10. Make use of old boats as fixtures
In addition to water ponds, boats also make an excellent garden sofa. Take a look at this DIY project; it brings a much-needed freshness and modern feel to the patio.
11. Ship anchor on a flower or pebble bed
An anchor alone already gives the impression of the sea. Use your flowerbed as the seabed and drag the ship anchor at the centre.
Pick something that has a damaged, rusty look and a large one, if possible. This can create a focal point for your washed ashore garden.
12. DIY pirate ship playground with sandpit
Your children will definitely jump for joy when they see this dazzling pirate ship playground in your backyard! Surround the ship with sandpit and small pebbles to make it look like the pirate has left it on the shore.

13. Seashell mailbox for an added charm
Admit it; you used to collect seashells when you were a kid. Check your treasure box and see if the scallop shells are still there.
If yes, then it's time to take them out and make use of them. A great project you start doing this weekend with the kids is this seashell mailbox.
14. Urban seaside garden theme
The owner of this simple seaside backyard created a raised platform deck where a small beach hut is placed. Add striped folding chairs on the side so you can enjoy the view of your garden.
The ground level is filled with pebble stones, and there's a built-in fire pit too for a chilly night hangout.

15. Coastal landscaping with white river rocks
Ideal for small and corner garden ideas, this low maintenance coastal-inspired landscape features a white river rock. There are plantings around the fence for a clean look in the backyard. Plus, cleaned pavers in preparation for sealing.

16. Yard hammock beach style
Besides surfing boards, hammocks are a staple when going to the beach. Having one in your garden, attached around the two tree trunks or a pergola, will give you a beach-vibe relaxing spot.

17. Beach mural garden wall or fence
One of the easiest ways to achieve a coastal garden theme is to paint your fence or bare wall like a beach! Have a look at this nautical-inspired mural on a wooden fence.
This concept would look amazing if you have a pool or an outdoor hot tub installed in your yard while surrounded by a fence like this.
18. Add a lifeguard tower
Lifeguard towers are commonly found on recreational beaches and public swimming pools. But you can also have one in your garden!
If you have a pool, set up a lifeguard chair and add a parasol for shade.
19. Beach bonfire experience
Create a beach bonfire experience in your backyard with a fire pit on a designated patch of sand. The owner of this garden separated the lawn from the white sand by creating a circular border.

20. Go fancy with beach entry pool concept
Zero-entry is one of the features that you can spend on creating a backyard swimming oasis. The open space that leads to the pool resembles a sand beach, creating a tropical vibe in the area.
Add a wood plank bridge and complemented by palm trees and a vast number of green plants around.
21. Turn your shed into seaside escapade
Garden sheds can be more than just tool storage; they can become seaside escapades, too! You can turn your ordinary outbuilding into a nautical-inspired space.
Paint it white and use plenty of deck chair striped fabric to conjure up a seaside scheme.

22. Take a cue from the coasts
The raised redwood deck and hot tub on this lower paved patio evoke a nearby coastal green feeling. There are strings of bistro lights that emit a soft glow, like starlight, above the tub.
23. Cobble-embellished wall for outdoor shower
The design of this outdoor shower gives off a luxury public shower. The wall is embellished with cobblestones on the north side edges of the shower.
A laurel hedge and wooden garden gate provide privacy.
24. DIY beach cobble fire pit
This do-it-yourself fire pit project deserves a spot in your top favourite DIY list! The buff-coloured Mexican beach cobbles and boulders are set in mortar.
White sand topped with pieces of shells fills the gas-fed fire pit. The overall appearance brings the beach to the garden.
25. Corner garden turned into a white sand area
Ideal for small backyards, the unused corner of your garden can be turned into a sandy retreat like this one! This idea is perfect if you love going to the beach but can't find the time for regular visits.
Add decomposed granite, sand, driftwood, and grassy plants to complete the seaside look.
26. Skip the lawn
The garden lawn and the seaside don't go well together. Take a break from using your lawnmower; instead, lay down gravel or decking. Seashell mulch is also ideal as a pathway.

27. Stick to a white exterior
For a pleasing-to-the-eyes seaside garden, paint the exterior white. This helps disguise the boundary marked by fencing. At the same time, make the distinctive nautical elements stand out.
28. The seaside raised beds
Raised beds, edged with weathered wood, are very seaside-ish. If you are near the beach, this is one of the practical ways to grow flowers or start a veggie garden.
29. Or opt for container gardening
Container garden ideas are so versatile that even a beach-themed yard can benefit from them. Add vertical shelving units or an old boat to display the pots.
You can use recycled pots of all kinds – or paint your terracotta with sea creatures for added interest.

30. Seascape landscaping with succulents
Succulents make good beach garden plants. They're everywhere at the moment and work well in a seaside backyard context.
Other low maintenance plants have a nautical feel. For one, they don't need much watering and are resistant to wind.

31. Adirondack chairs as the focal point
If there's one garden piece of furniture that can bring the totalness of a beach garden vibe, that'd be Adirondack chairs. They're resistant to wind, water, and rust and can stay outside all year-round.
Have a look at this Newby Adirondack chair, featuring ergonomic comfort.

32. Paint the furniture in bright colours
Seaside garden colours include all the shades of sea, sky or sand. But bright colours also have nautical cred, too. As for the decking, think of stripes or cheery checks, or simply a weathered one.

33. Fit in a bistro set
Bistro sets help elevate a backyard, regardless of the size. If your outdoor space is limited, a bistro set will do.
These furniture pieces are enough to give your humble beach-inspired patio more functionality. Paint them in blue to blend into the theme.

34. Add a sculpture
The addition of sculptures in gardens makes a big difference. One can become the focal point or the centrepiece or add drama instantly. Take this massive dolphin sculpture, for example.

35. DIY seashell stepping stones
The time has come for you to use up all the shells you've collected from the beach! The good thing about this DIY project is it's super easy to make. You can do it with a non-stick cake pan.
36. Beach zen feature
Create a zen feature in the corner of your beach garden. Build a rock pool and a dock-Esque decked area. Fill the area with a range of textural native plants, boulders, and a pond.
37. Use buoys as decors
The sturdy construction of buoys can be transformed into all sorts of useful things. Garden planters, for instance. This porch is decorated with buoys, not only in the form of planters but also on the fence and around as decor pieces.

38. Relax under a pergola
Summer in Greece sounds like a good plan. But here's a secret: you can enjoy the experience in the comfort of your garden or patio! Take a cue from this thatched pergola with a 'less is more approach' exterior.

39. Clam fountain
If you're thinking of adding a water feature idea, consider this clam fountain to match the beach vibe. Giant clam shells are especially ideal as a vessel for your fountain. You can also get faux ones and have them custom made by professionals.

40. Alternatively, as garden markers
Seashell garden markers are a simple way to add a touch of nautical vibe to your backyard plot. Take inspiration from this herb garden that can surely fit in with our beachy style!
Use ones that are fairly smooth on the inside, and for variety, add some oyster shells into the mix.
41. Extend the white sand
Here, the white sand is extended throughout the garden, making the space kid-friendly. The bridge over the rocks let children walk across. Near the soft sand are a boat and life jackets, instead of a usual playhouse.
42. No fancy landscape
The idea is to stick to simple planting and landscaping schemes. In this beach backyard, the owner used branches for the fencing and white sand instead of a lawn. As for the plants, they opted for ornamental grasses, such as Festuca.
43. Make a bridge instead of paths
A path that leads to a garden room always makes an impression. If you're considering adding one to your beach escape, go for a path-like bridge like this. Use ropes as handles to usher your guests to your patio retreat.
44. Stacked stones
Stacked stones add a wonderful sculptural element to any garden setting. But since stones and pebbles are a close friend of the sea, they also make a fantastic feature for a beach garden.

45. Surfboard shower
Thinking of adding an outdoor shower near your pool house? This surfboard shower is ready to add that wow factor to your backyard oasis! The incredible outdoor shower design fits both modern and minimalist garden settings.

46. Alfresco in the sand
This isn't your ordinary alfresco dining. The white sand is soft and comfy, and you can enjoy a delicious meal while sitting on it or with just a cushion. To set up your alfresco dining, take a cue from this bohemian beach picnic experience.
47. Boat potting bench
Got an old boat and didn't know what to do with it? How about re-purposing it into a potting bench? We're talking about this one! Not only does it look creatively amazing, but the added storage is also a huge plus!
48. Fishnet wall accent
This fishnet wall decor with various sea displays makes a really nice coastal living accent. A perfect way to show off your seashell collection, vintage anchor, or wooden fishes. It's also a nice way to decorate the wall without smearing it.
49. Treasure chest storage
Build the perfect outdoor toy storage for your kids! This DIY treasure chest box is big enough to store their toys. Place it near their playhouse so they could role-play as pirates, protecting the treasure.

50. Chic boat corner
Don't let the corner of your beach garden be dull while everything blends with the theme. Make use of the space, even if it's small. A mini drinking station like this vintage boat corner, for instance.
Round-up
Who doesn't want an oasis in their own backyard? No wonder why the beach garden theme is being hyped up by many homeowners, particularly those nautical enthusiasts.
If you're one of them, we hope our treasured design inspirations will help you find what you're looking for. From furniture, DIY projects to planters, lighting – the list goes on.
Let us know below your favourites from the list!
Shop Summer Houses
FAQs