A water feature can transform your garden into a tranquil space to relax. The soothing sound of running water provides a calming ambience to enjoy at the end of a hard day.
Water features also attract natural wildlife and enhance your local ecosystem. We've got 50 ideas to help you add a water feature to your garden, no matter what space you have!
They can be adapted to fit smaller spaces, so don't dismiss the possibility of a water feature just because you have a small garden. 
Let's go with our 50 wicked garden water feature ideas!
1. Pond with statues
A beautiful place to relax, listening to the water splash. The best part? It's right there in your backyard.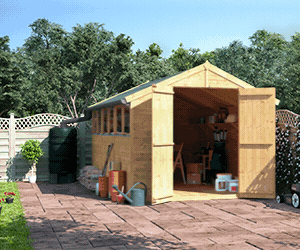 The stone surround helps this pond feel more natural and the sculptures up the wow factor.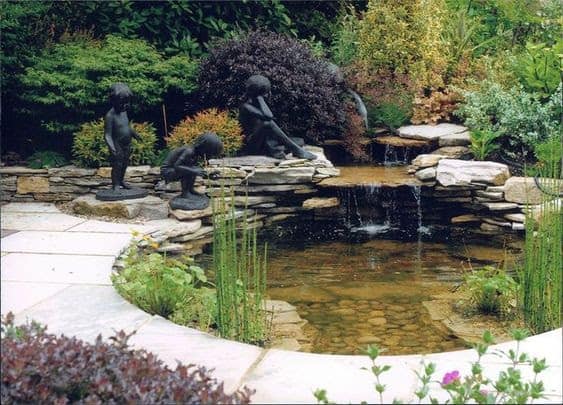 2. Stunning garden fountain
A fountain is a simple water cycle that brings the soothing sound of running water. Add a traditional touch by using a stone 'water spouting'' face.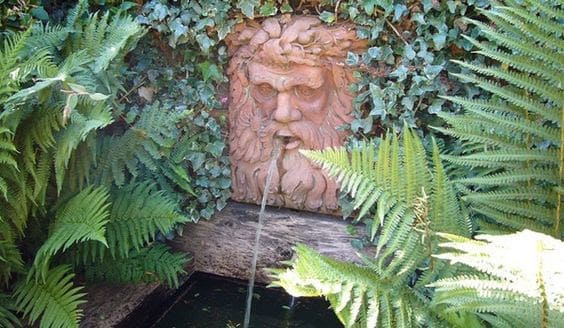 3. Grey stacked garden feature
If you're short on space, keep it simple and elegant with a stacked stone fountain.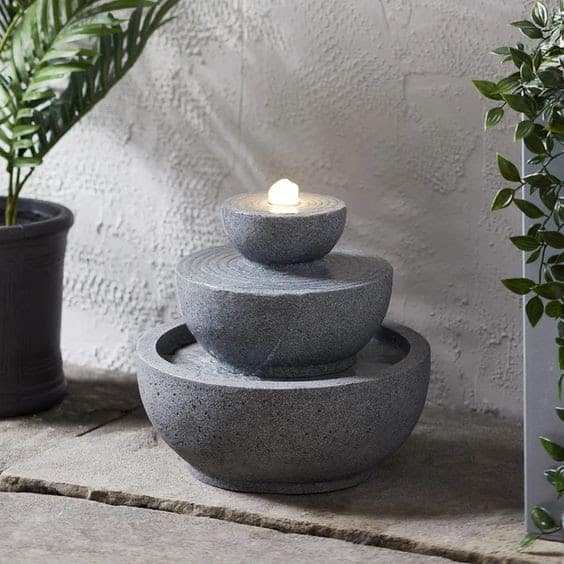 4. Small modern waterfall
Nothing is more relaxing than hearing a waterfall in your garden everyday. This simple, modern style doesn't take up much space but brings a calming feel to the garden.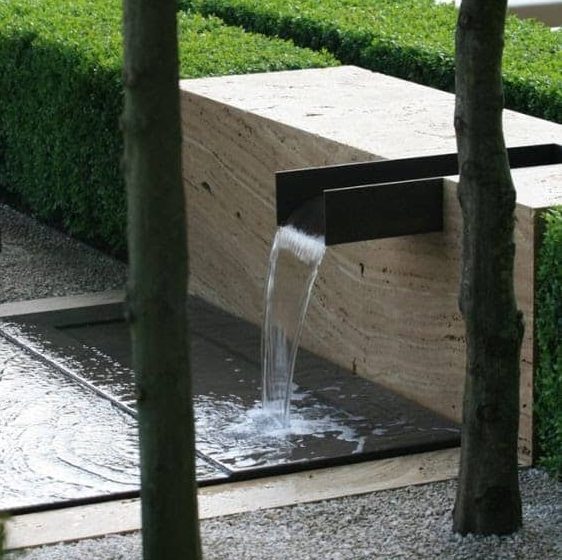 5. Backyard creek
Create a natural waterfall in your garden to feel like you're deep in the woods without leaving your home. The addition of rocks and informal planting help it fit into the garden more naturally. 
6. Granite three bowl fountain
Granite is a great material for a fountain and the tiered bowls look amazing with some underwater lights. This modern style fountain only takes up minimal space too so it's great for small gardens or yards.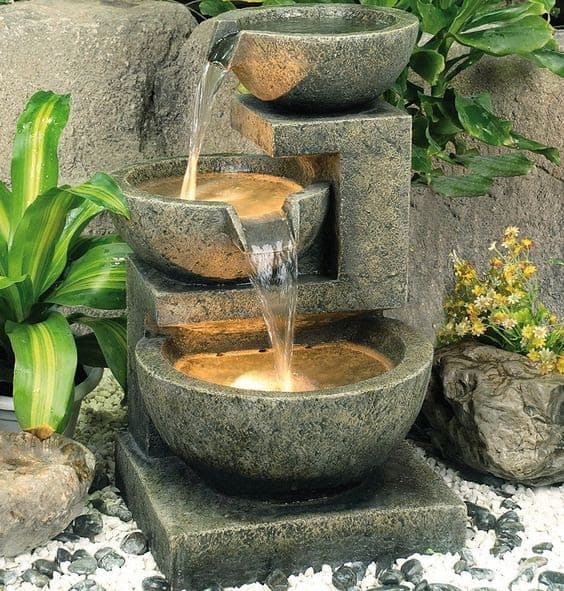 7. Carved rustic fountain
Or maybe go with a carved ceramic fountain, which is great for a rustic garden look and, again, only takes up a small amount of space.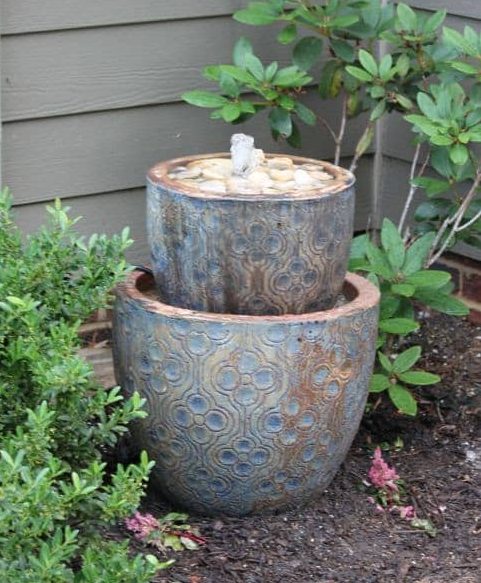 8. Black sphere water feature
Spheres are a popular, contemporary design for water features. Water streams over the surface and glistens in the sunlight.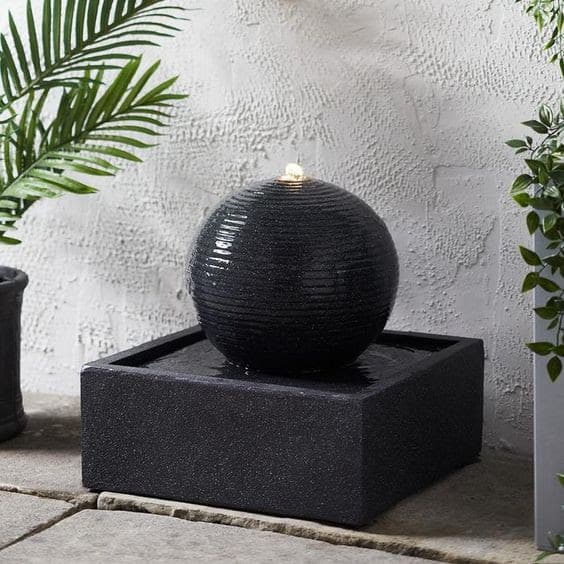 9. Water wall
Create your own rainfall with a doorway into another realm. With this innovative style fountain, you're guaranteed relaxation from the minute you turn it on and hear the water splashing on the rocks. 
It's a real showpiece for a larger garden. 
10. Rock fountain
A fountain can be built using almost any material. This example uses stacked rocks for a natural-looking waterfall to fit with the garden style.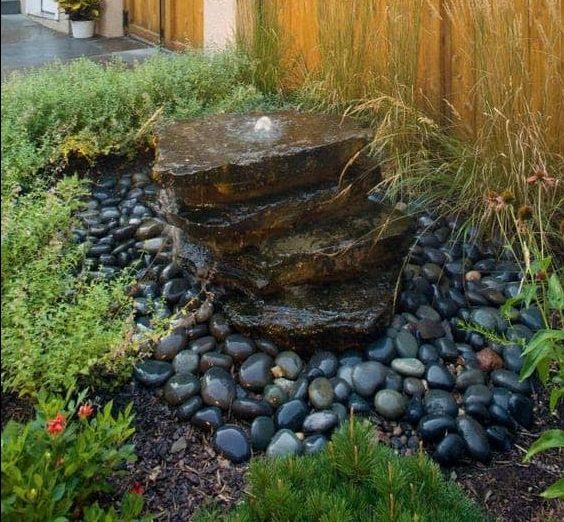 11. Fish pond
Why not bring some friends to add some life to your backyard? With a deep enough pond, you can have fish to say hello to every day.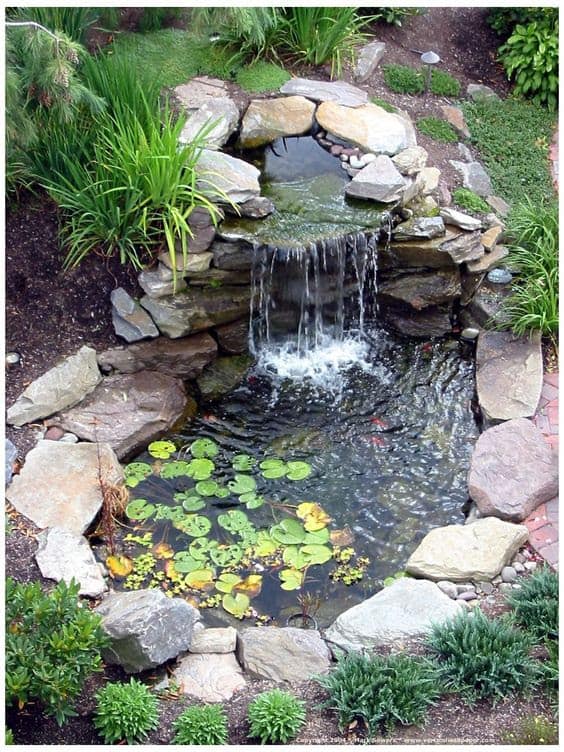 12. Small waterfall with flowers and lights
Add some colour to your waterfall with some flowers and underwater lights. The result will be amazing.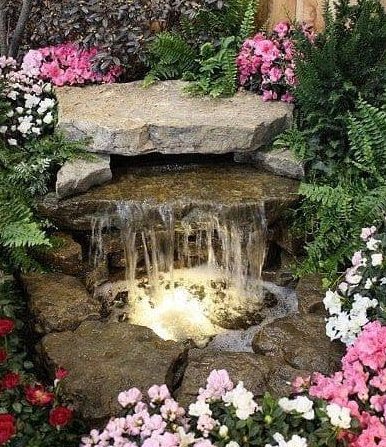 13. DIY attractive fountain
A bowl fountain is a simple way to add a water feature to your garden that's easy to install and won't take up much space. This bold, blue bowl is a stunning example.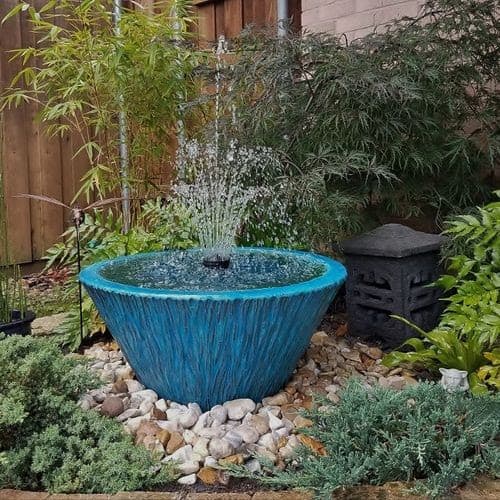 14. Front yard pond
You can set it up yourself and add whatever rocks you want to get the look you really desire. Add some simple planting around the edge to make the area look more natural.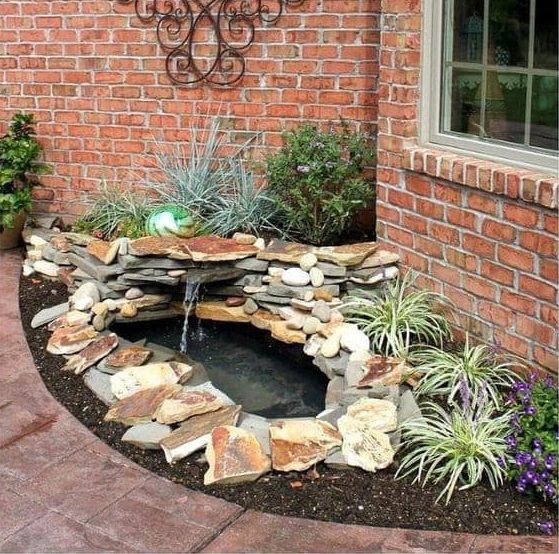 15. Large pebble pond
This contemporary reflection pond will fit into any small space and bring visual interest to your garden. Arrange pebbles at the base to give a unique look.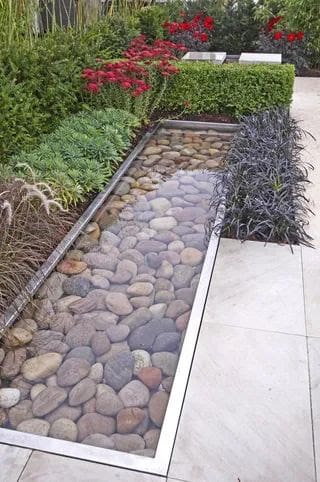 16. Waterfall and fire pit
This style creates a real centrepiece in your garden. The fire pit feature makes it also functional as you can relax around the waterfall while staying warm in the evening.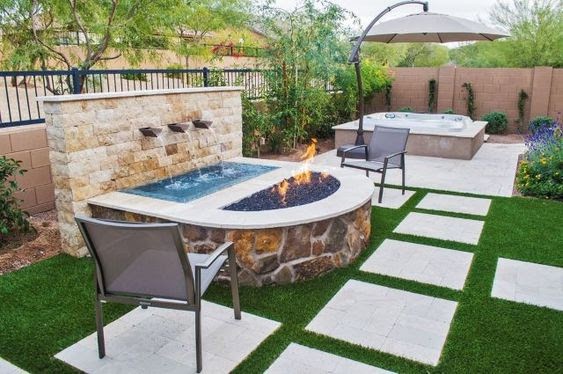 17. All stone small waterfall
For a more traditional waterfall, you could build it into your stone wall with a stone and pebble base. Add some formal garden-style planters to complete the look.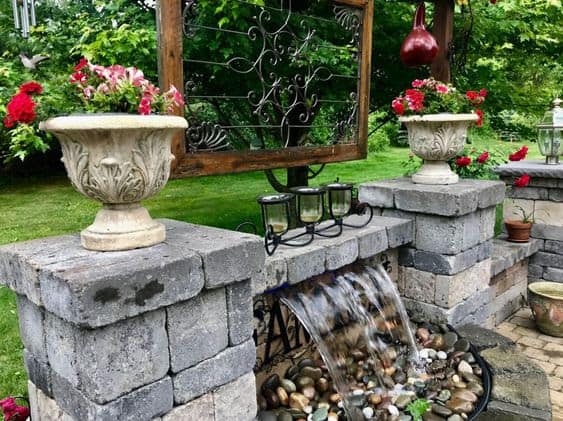 18. DIY round pond
You could recycle an old tin bath or drum to create your own raised pond. They're easy to install and maintain, and also won't take up too much space.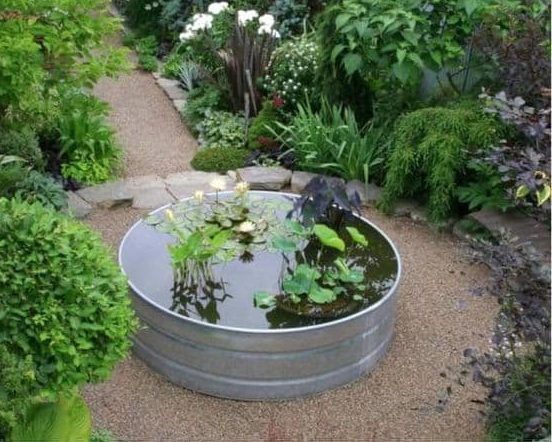 19. Bespoke water feature
This classic formal garden fountain fits perfectly amongst the symmetrical planting of this garden. The intricate design of the base gives an extra touch of extravagance.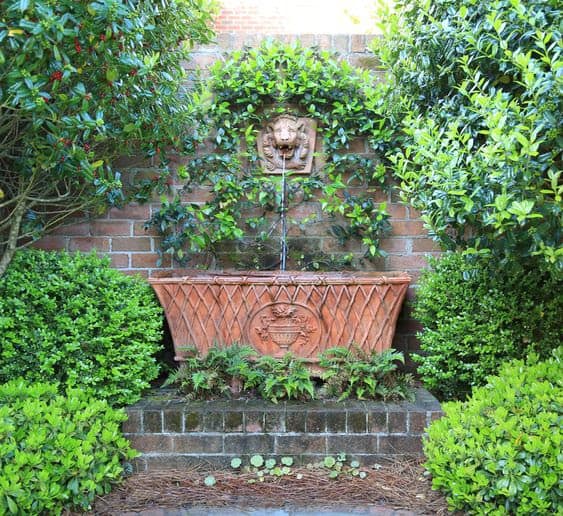 20. Crack on the wall
If simple and modern is more your style, try this minimalistic approach that will still help you relax in your garden.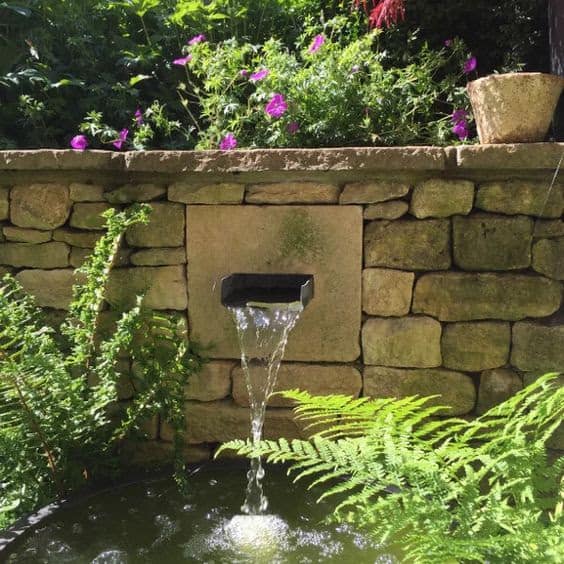 21. Recycled bottles fountain
Those wine bottles can still be of use, even if you're out of wine. Turn them into an amazing fountain for a unique water feature.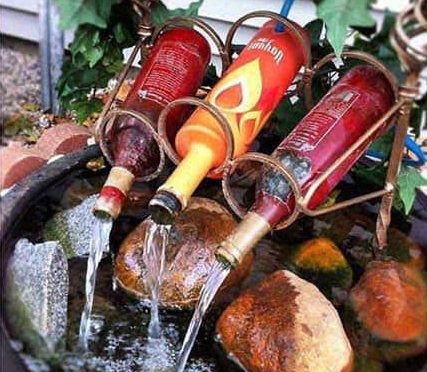 22. Simple water taps
A simple, classic choice but it still adds a touch of beauty to your garden.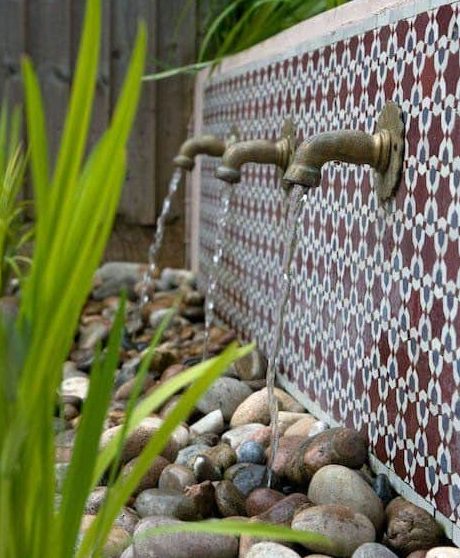 23. Stone-edged pond
This neat little pond has been delicately designed to bring some life to the garden without overtaking the space.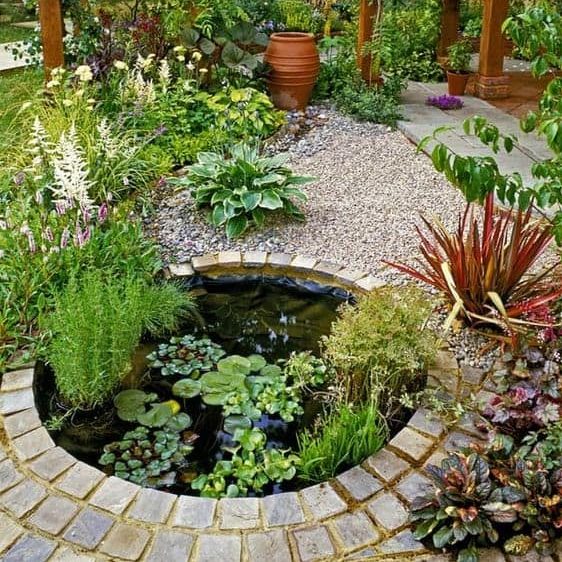 24. DIY fountain in pot
There's no need for a big setup if you're on a tight budget. A large ceramic pot can be transformed into a beautiful fountain for your backyard with little effort.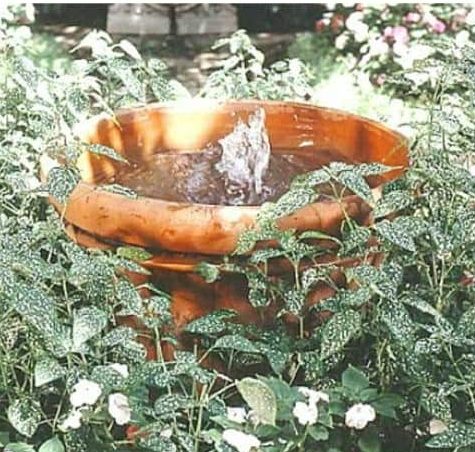 25. Spiral rainfall water feature
If you prefer a more artistic style fountain, this would be the perfect addition to your garden.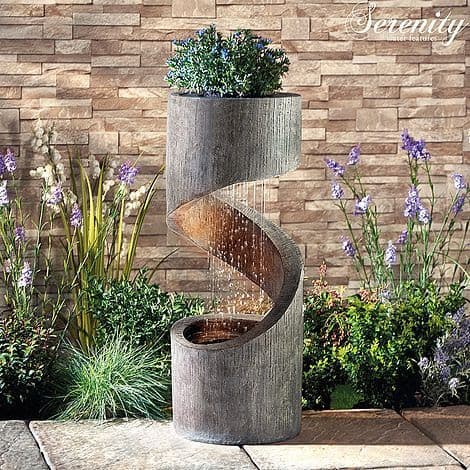 26. Old watering cans
Running water has a relaxing effect. Get creative with some old watering cans and a tin bath to bring that calming effect to your backyard.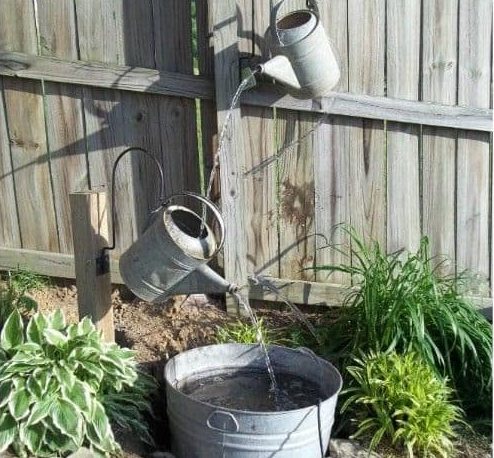 27. Wine bottles and pots
Don't throw away those wine bottles after you've finished your wine. You could recycle them to create an amazing water feature so you always have the calming sound of running water in your garden.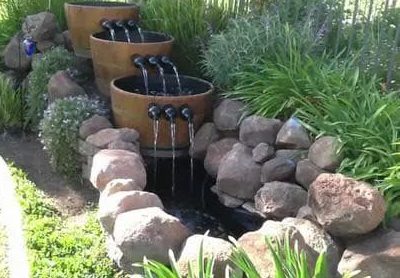 28. Small rainfall for garden
Outdoor waterfalls come in all shapes and sizes and make for ideal focal points of relaxed conversation. This modern rain-style fountain will bring the calming sound of rain to your garden on a sunny day.
29. Rainfall with lights
If you add some lights to your miniature rainfall, it will look beautiful at night.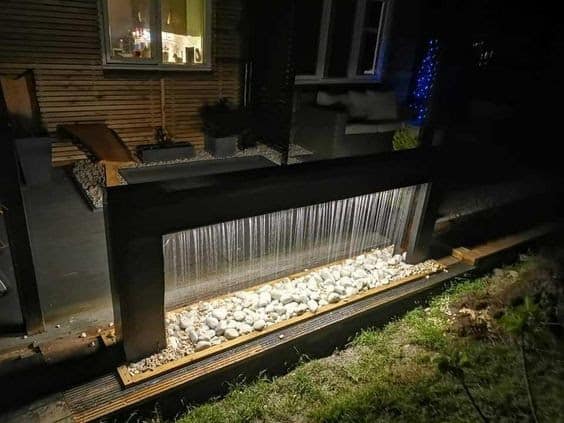 30. DIY backyard pond and waterfall
If you have the space, give your garden an overhaul with a large natural pond.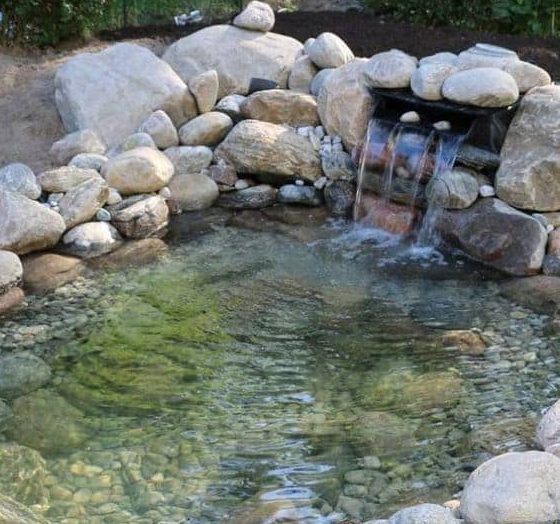 31. Backyard river
Or even build your own stream to have the sound of a babbling brook all the time and create a focal point in your garden.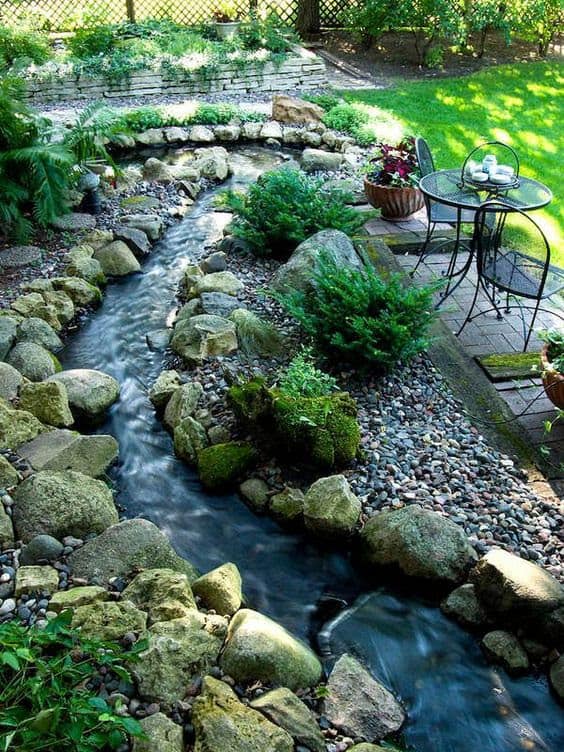 32. Aesthetic water feature
If you have a large garden, you could add an extravagant water fountain to create a real feature. Plus, you can sit on the edge and be close to the water and its relaxing sound.
33. Bird bath from old vase
Build your own bird bath using a brightly coloured plant pot. You could add a small plate with seeds to attract some birds to your garden.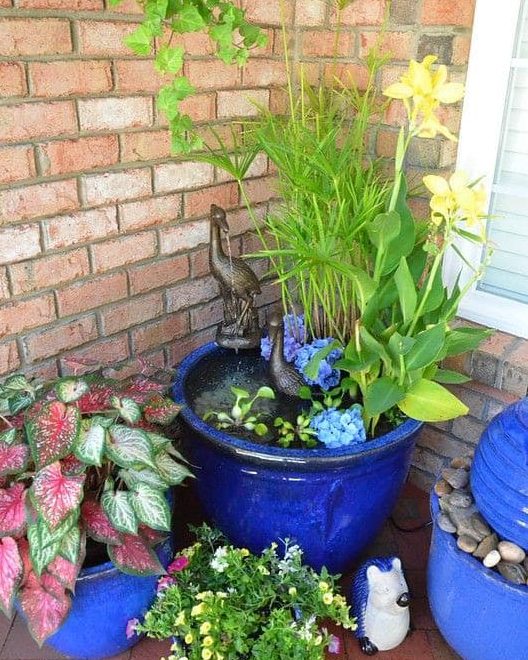 34. Small stylish waterfall
Grey is always a great colour for a modern and stylish look. This style is great for a small space.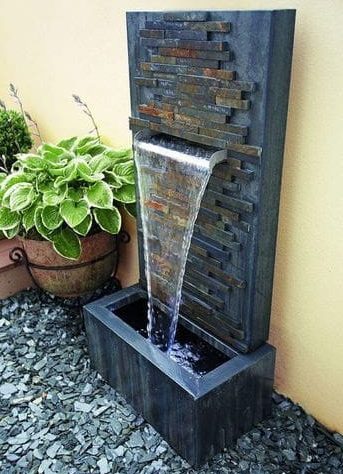 35. Stacked stone fountain
This simple stacked fountain would be perfect to fill an empty corner of your garden. It would be easy to install and maintain, but would transform your space in no time.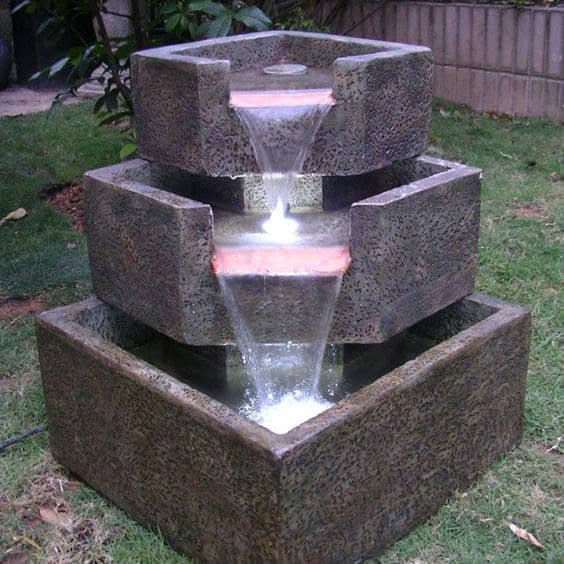 36. Sandstone sphere water feature
Spheres are a simple and very stylish solution for a small water feature in your garden. Minimal effort, maximum style.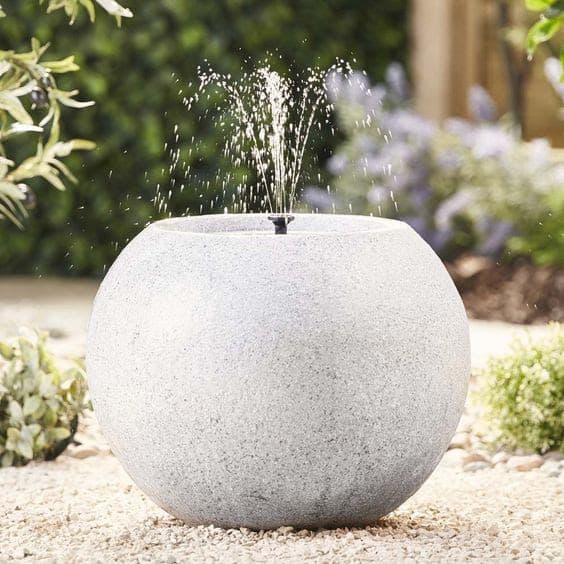 37. Slim side pond
For a more unique, stylish pond that takes up minimal space, you could go for a thin, narrow style with small fountains.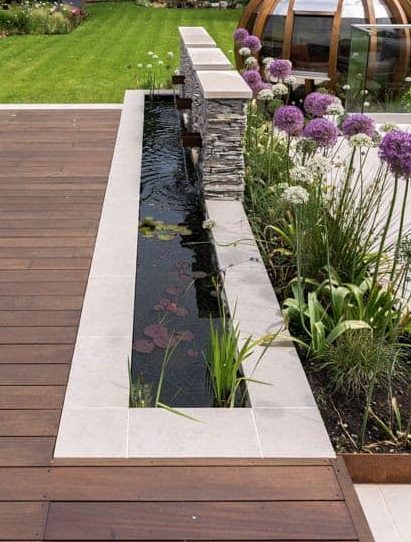 38. Pondless water feature
Sometimes, the garden is not big enough to have a pond. Luckily, there are still some options for a water feature, like this standalone pot fountain.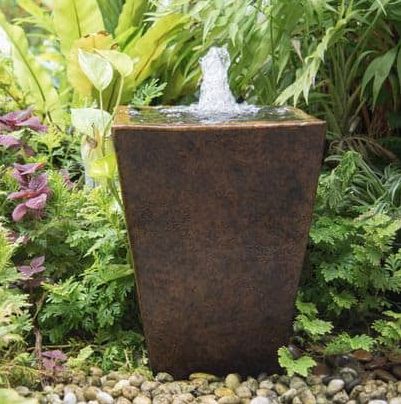 39. Zen mini waterfall
A small water feature to meditate in your zen garden while hearing the waterfall.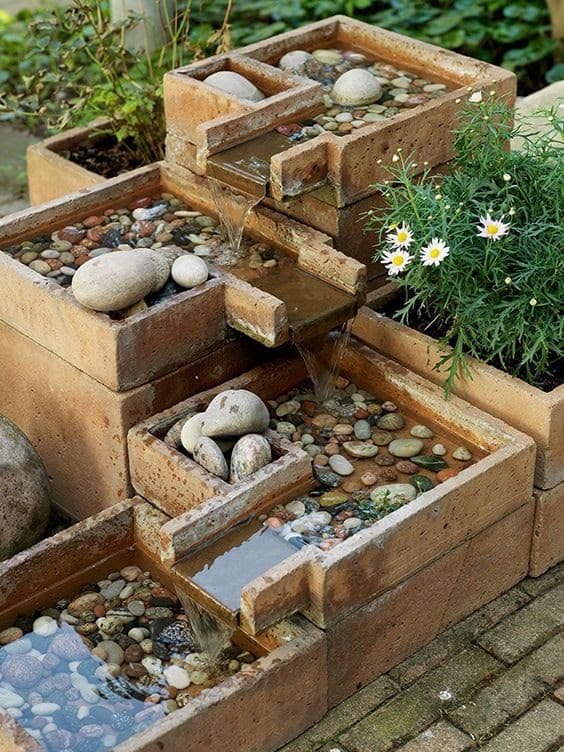 40. Square pond
For a change from the standard round pond, why not go for a square? This style works for a more formal garden where symmetry is important.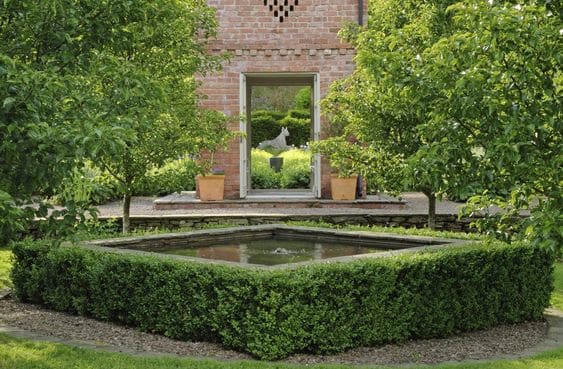 41. Koi pond and waterfall
A simple but stylish oblong pond works great for a small space, plus a small drain keeps the water circling back to your koi pond.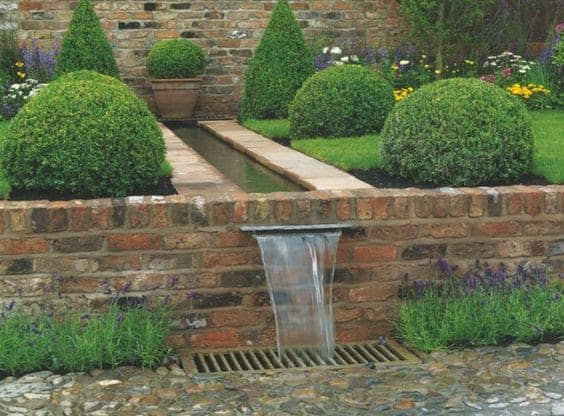 42. Appealing fountain
Simple yet appealing, so you'll always have the soothing sounds of water in your garden.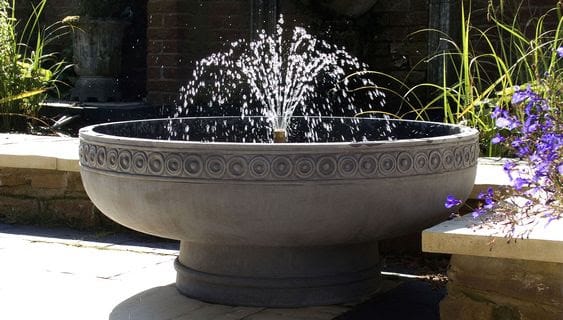 43. Transparent water feature
This unique waterfall uses glass plates rather than stone to pass the water along. The glass helps reflect more light around the garden.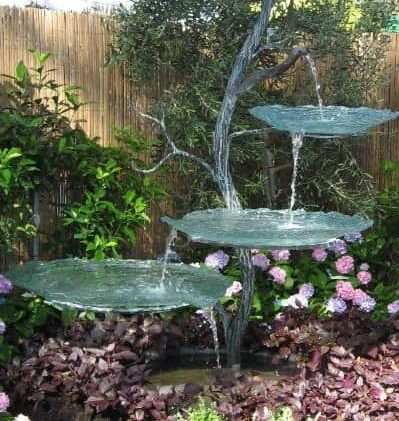 44. Low budget DIY fountain
A recycled tin bath keeps costs down when creating your own waterfall and looks great in any type of garden.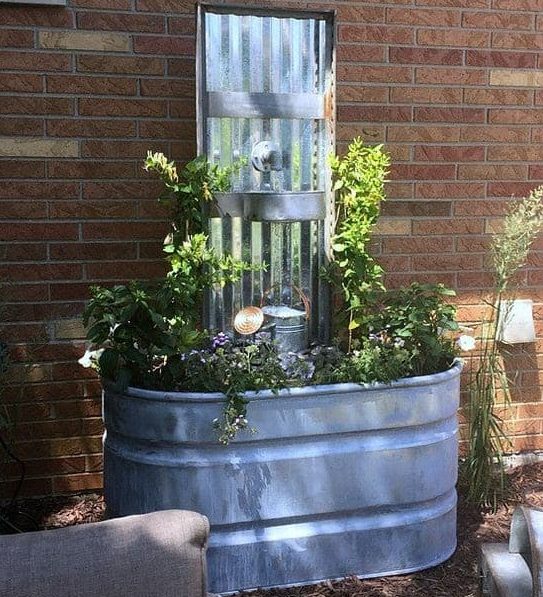 45. Modern oasis
This contemporary water feature is a great addition to a modern seating area. Add a fire pit to keep warm for those late night chats outside.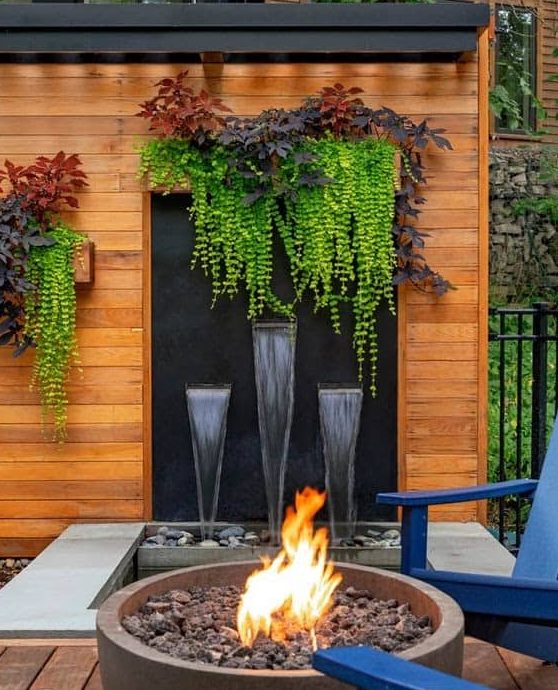 46. DIY water feature on wall
This unusual waterfall would be perfect if you've only got a small backyard. Plus you can spruce up a plain wall!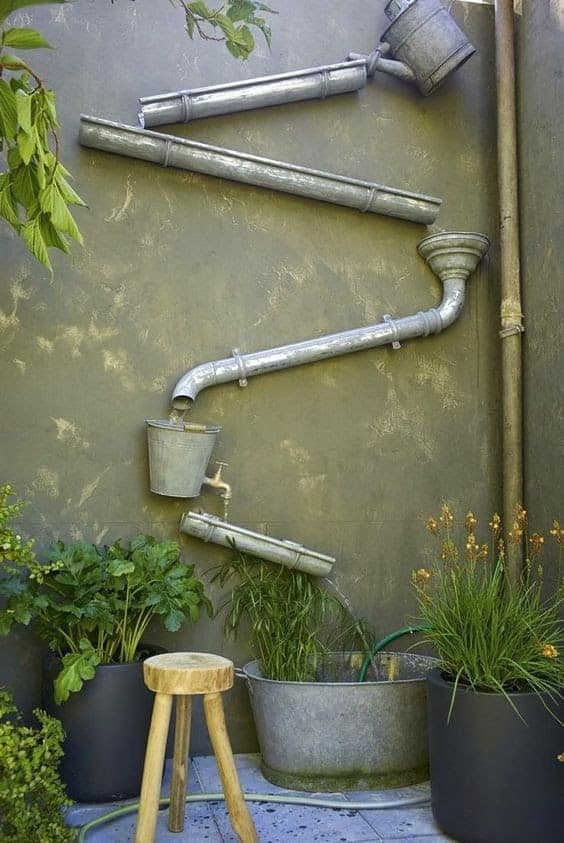 47. Bubbling urn water feature
Simple to craft yourself and it's different from other water features you might find. Arrange the stones to make it your own.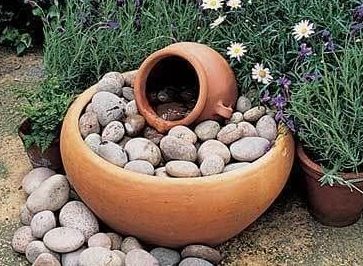 48. Small bird bath
Encourage birds to visit your garden with a homemade bird bath. Keep it simple with a ceramic plant pot and add some water plants to attract insects for the birds to eat.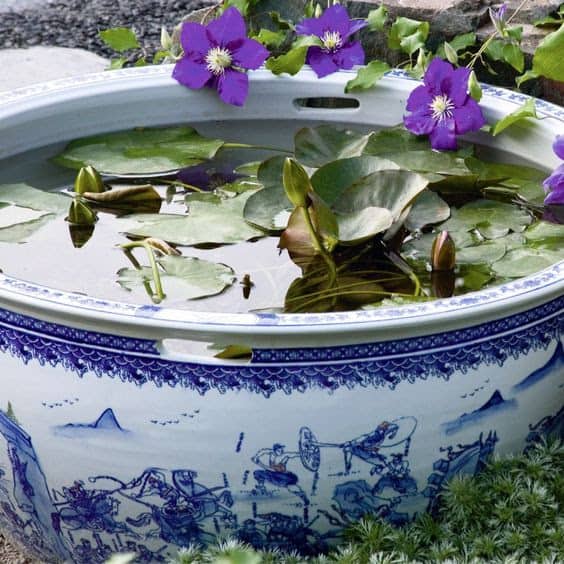 49. Ceramic water feature
Rustic but classy-looking. Add some flowers in the base to make it even more appealing.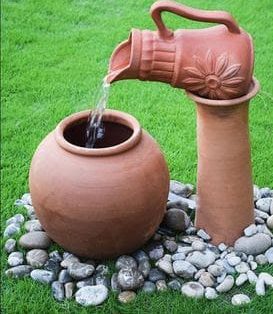 50. Raised square pond
Clean lines produce a stylish and modern-looking pond that will bring some personality to your garden.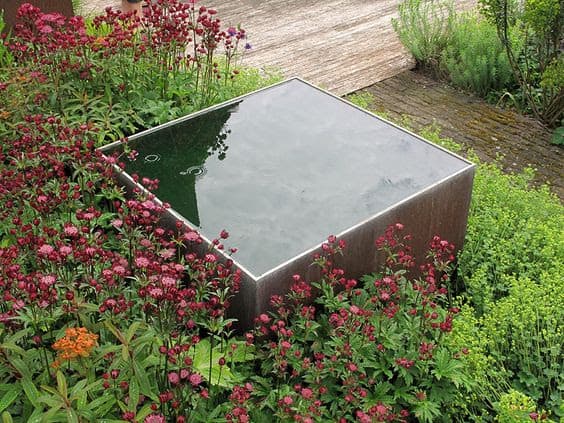 Round-up
Even if you've only got a small backyard, you can still transform it into a calming, serene space with the sounds of nature and bubbling water. 
We hope you've found some inspiration in our list for adding a pond or water feature to your garden, regardless of the space you have available.
Get comfy on some of our cushioned and deep-backed rattan garden furniture to sit back and enjoy your new water feature. Just click the button below to shop now!
Shop Rattan Garden Furniture