Security safes are worthwhile investments, providing a secure place for valuable items. Using one is a great way to keep important documents, jewellery money and more under lock and key.
But you have to do it the right way.  Enter our security safe ideas, a.k.a. the smart places to secure your safe literally out of sight!
1. Invest in a quality safe box
It's better to prepare for the unexpected than to be caught off guard when something goes wrong at home. A high-quality safe box can give you that protection.

2. Faux electrical panel
No one wants to mess with high-voltage warnings – the thieves from the movie Home Alone proves that, right? A faux electrical panel might be your best shot if keeping your valuables in an actual wall safe.

3. Fake support columns
This column is actually full of hidden compartments and chambers. The marble-made base is a pull-out stool and is great for storing items. And the upper cabinet makes the perfect spot to hide a security safe box.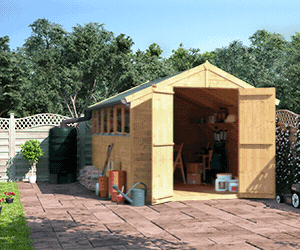 4. The secret stash box
Another fake feature to add to your home is this electrical outlet. It provides the perfect hideout for stashing extra cash and tiny precious objects.
5. Sleep on your valuables
Keep your valued possessions safe by concealing them in your bed's secret compartment. The size is big enough to secure your safe box and other big valuable items. 
You can also store winter clothes and spare linens to make it less suspicious.
6. Air vent hidden safe
If you're looking for a bespoke safe box design, a faux air vent is worth considering. This sneaky safe won't stand out, and it can be mounted to virtually any wall.
You can use an RFID card, key fob, or token to open the safe.

7. Beneath the floor
With basic woodworking skills, you can create a floor compartment for your safe box. Make sure the spot is free from plumbing and wiring and it's big enough to fit your items. Cover the lid with a rug or piece of furniture.
8. Magic mirror on the wall
Ever wanted a safe hidden behind the mirror? This full-length mirror features compartments behind to securely store a firearms collection.
Depending on the size, you can fit a vault to keep other important things.
9. In a book
This secret book safe comes with a magnet lock. A three-digit combination lock is also ideal, so there's no risk of losing keys.
The book is slim enough to park on a bookshelf or nightstand alongside the rest of your reads.
10. Well-hidden stair steps
It looks like a normal staircase until you remove the existing stair tread. It turns into a safe storage solution with a large compartment to fit a small strongbox. Re-attach the tread with a piano hinge to lift or lower the tread.
11. Mantel compartment
Keep the whereabouts of your valuables on lock with custom-made mantel-safe storage like this! The centre panel doubles as a door to a secret compartment that can fit a small safe.
12. A floating shelf
Only you'll know what's inside this sleek, modern floating shelf. The built-in compartment in the base lets you pop in your most precious items and close the safe shut.

13. Kibble-designed safe box
If you have kibble containers at home, make a wise disguise for your safe box. Take a cue from this DIY project! It conceals a keypad-entry stainless steel safe posing as a dog food box.
14. Repurposed old fridge
Put your old fridge to good use again; there's no need for repair or upgrade. Leave it as it is! The size is enough to fit a safe box and more.
Thieves are unlikely to poke around inside for valuables. Add a lock for extra security, but don't make it obvious.

15. Behind the bookcase
Not only does this hidden doorway bookcase make good safe storage, but also an actual secret room! Discreetly stow your possessions behind. The larger space, the bigger it can secure a safe.

16. In the attic
Burglars try to spend as little time in the house as possible. Find someplace inconspicuous, such as plain cardboard in the attic to hide a safe.
The attic is also among the least popular spots thieves search. You can keep all your valuables there as long as they're impervious to heat.

17. Behind the wall clock
A big wall clock might be the perfect solution for you! Install a rack or shelf to support the item inside. Make sure to include a lock at the back for security.

18. Secret wall tile storage
One of the creative hidden safes features special designs in the bathroom under a wall tile. This is great for storing waterproof items, considering the storage location. The bigger the wall tile, the better!
19. Hidden storage picture frame
A high-quality, natural-wood picture frame or artwork makes a beautiful interior display. But it can also keep small valuables safe and secure behind the hinged "safe" panel.
20. Framed medicine cabinets
Turn a medicine cabinet into a framed picture with hidden storage behind it. It would be great for a bathroom, or anywhere you need a little extra organisational space. If you wish to keep a safe box there, make sure it fits well.

21. Under the dining table
The bespoke design of this dining table is intended for keeping puzzle pieces in one place. But if it's shallow enough, you can fit other belongings inside.
Keep everything in a durable container, so in case some spill down those cracks, the items are safe.
22. Keep it in a window frame
Have a look at this secret drawer inside of a window sill! When closed, it blends well with the rest of the framed structure. A great spot to store your passport, some cash, and other important items.
23. Couch and ottoman hidden safe
Disguise your valuables with secret compartment furniture and keep them safe. This couch safe, for one, is a smart way to have the quickest access to your stuff in case of an intruder.
An ottoman works well, too, especially in bedrooms.
24. At the top of a door
Door top views are unreachable and mostly unseeable. This makes them a good hiding place for small valuables. Here, the little tucked-away safe was made using a cigar tube with a screw-on lid.
25. Panelled walls
This moving wall panel swings out to reveal concealed safe storage. The design makes a creative interior feature, and the hidden compartment adds practicality.
A large wall can also make a largely hidden storage cupboard.
Round-up
Security safe boxes attract burglars like magnets, and most know the hiding places. This is why you want to pick a spot that's invisible to them.
It's worth putting time and effort into looking at the best areas in your home. With our security safe ideas, we hope you'll find one to thwart burglars and keep your safe safe.
FAQs