Traditionally, courtyard gardens are seen as nothing more than 'backyards'. Dull, lifeless, small and boring. Well, we don't agree. 
A courtyard of any size can be turned into a classy and cosy area that not only looks stunning but is also somewhere that you'll want to spend your downtime. In addition to sprucing your space up with garden furniture, we've collected a wide range of inspirational ideas to inspire your courtyard makeover.
Let's jump right in!
1. Round table
Perfect for those family gatherings under the moonlight.

2. Garden full of plants
If you've only got room for a terrace, fill it with plants to create your very own magical hideaway.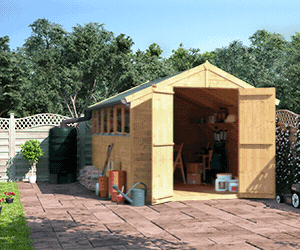 3. Small glass shed
Build yourself a sun room as a middle ground between your home and garden, so you get to enjoy the best of both!

4. Pergola
Bag yourself a seat in the shade by adding a super sleek pergola over your dining area. 

5. Wooden beams and lights
Decorate your wooden beams with fairy lights to keep the party going way into the night. 
6. Relaxing corner
Take the lounge outside with cosy chairs and comfy cushions. 

7. Fire pit and fountain
Even with a small garden, you can still have it all! This fire pit design ideas with fountains and foliage would look amazing in your space!

8. Stone path
This traditional cobbled path will take you on a journey through your beautiful greenery.

9. Picnic table
Think alfresco breakfasts, family dinners and summer BBQs in this cosy picnic area. 

10. Corner trellis
Add climbing plants in your corners to add extra privacy. 

11. Mirrors
If your garden is on the small side, mirrors are a great way to give the illusion of extra space.

12. Urban chill out
This garden is a nature-lover's dream! Surround yourself with plants and keep the seating simple.
13. Chic little courtyard
Tall walls covered in plants and a simple table for night time chats.
14. Tiny space
The smaller, the cosier. And if you add some plants and a little trellis, you'll want to never leave your courtyard.
15. Colourful courtyard
Say goodbye to your boring courtyard by adding plenty of colourful flowers.

16. Small light patio
Add some comfy chairs and a dining table for gatherings with friends.

17. Private sanctuary
With a large pergola and some trellis, you can create a private sanctuary in your backyard. This makes a great garden shade idea as well!

18. Minimalist backyard
A minimalist ivory design can make a small area feel more spacious.

19. Bricks and plants
Spruce up your garden wall with some hanging lights and create a cosy dining space. 

20. Modern colourful garden
Add a bright wall and hanging lanterns to bring party vibes to your garden. 
21. Modern pergola
A contemporary design that shines light on this cosy corner. Add an L-shaped couch and you're set!
22. Small modern backyard
Grab some low-maintenance artificial grass and accessorise with comfy garden cushions. 
23. Long garden
This long, narrow garden has it all; a comfortable seating area on the deck, modern fencing and a section of grass for furry friends. 

24. Railway sleepers and shed
Sleepers make the perfect edging for raised garden beds that follow the path all the way to the seating area. 

25. Small backyard with bamboo trees
Achieve an oriental finish by adding bamboo trees and some targeted lighting. 

26. Compact backyard
Dark wood garden beds that also serve as benches and a stylish bistro set create a small but sleek outdoor space. 
27. Modern finishes
An artistic wall design and contemporary water feature finish this garden off nicely.
28. Cosy arbour
An arbour makes the perfect cosy corner to relax in. 

29. Small two-level garden
If you dream about having a two-tier garden, don't let this small garden idea stop you! 
30. French country garden
Sometimes it takes as little as two small chairs and a couple of rustic shutters to turn back time a few centuries in your backyard.

31. Courtyard cinema scene
Striped outdoor rugs make an ideal accompaniment to a garden cinema area for a film night with friends and family. Turn your enclosed courtyard into your own private cinema and take a cue from this cosy outward appearance!
32. Courtyard boho feel with vintage furniture
Create a space in your courtyard that's full of boho charm. The metal furniture offers a whimsical, shabby chic appeal, while the fireplace evokes a sense of grandeur.
33. Add multi-tasking furniture pieces
This stylish wooden bench makes a great addition to your courtyard seating area. But when not in use, it can double up for different purposes, such as a modern-looking plant display.

34. Squeeze in an outdoor bar
What's not to like in this setup? A secluded courtyard with cosy seating arrangement, pergola for shade, and a garden bar for entertainment!

35. Relax with a hammock in the corners of your courtyard
Enhance the relaxation potential of your courtyard by putting up a hammock. The tiki torches create the perfect mood for relaxation after a long day.

Round-Up
So there you go, courtyards that not only look amazing, they're functional too.
Don't forget to follow our pages on social media so you never miss out on our content. We're on a mission to give you the best ideas and inspiration to make the most of your garden and outdoor space.
Shop Rattan Garden Furniture