Gone are the days when courtyard gardens were dismissed as mere 'backyards'. It's time to rewrite that narrative. A courtyard, regardless of its size, possesses the untapped potential to be an exquisite and inviting space.
Embrace the art of courtyard alchemy as we show you how to weave magic into your outdoor haven. Step by step, we'll guide you through the process. We've curated a few inspirational ideas that promise to ignite your imagination! Ready?
1. Round table
Gather your loved ones under the moonlight. Create cherished memories with a round table in your courtyard garden. This setup encourages connection and conversation, perfect for family gatherings or romantic evenings.

2. Garden full of plants
Transform even the smallest terrace into a mesmerising sanctuary with lush greenery. Take this as a sign to create your own magical hideaway where you can escape the hustle and bustle.

3. Small glass shed
Bridge the gap between your indoor and outdoor spaces with a charming sunroom. This delightful addition provides a cosy retreat where you can bask in the sunlight. At the same time, a tranquil space to enjoy the comforts of your courtyard garden.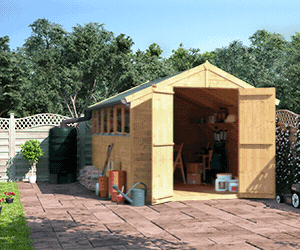 4. Pergola
Enhance your dining area with a sleek pergola, offering both shade and style. Indulge in delicious meals while surrounded by the beauty of your garden!

5. Wooden beams and lights
Infuse a touch of enchantment into your courtyard with fairy lights.  The magic trick here is to drape them along rustic wooden beams. As the sun sets, these twinkling lights will create a captivating atmosphere. Even better, they can prolong the joy of outdoor gatherings well into the night.
6. Relaxing corner
Extend the comfort of your living room outdoors with cosy chairs and plush cushions. Design a serene and inviting corner where you can unwind, read a book, or simply soak up the sun from your courtyard.

7. Fire pit and fountain
Even in a small garden, you can have it all. Immerse yourself in a captivating oasis by incorporating a fire pit and a fountain. This combination, paired with lush foliage, will turn your space into a peaceful haven.

8. Stone path
Take a picturesque journey through your beautiful greenery with a cobbled stone path. This addition not only adds visual appeal but also provides a way to navigate your courtyard.

9. Picnic table
Embrace the joy of outdoor dining with a long picnic table. Picture delightful alfresco breakfasts, family dinners, and summer BBQs in this inviting space!

10. Corner trellis
Elevate the privacy and beauty of your courtyard with climbers on corner trellises. These verdant additions are a perfect way to create a natural barrier. What's more, they add a vertical dimension, enhancing the aesthetics and charm of your garden.

11. Mirrors
Transform your small courtyard into a spacious oasis with the clever use of mirrors. By placing mirrors, you can create the illusion of a larger space. This design trick helps amplify a sense of openness and depth in your garden.

12. Urban chill out
Surround yourself with abundant greenery, letting the plants take centre stage. Make sure to keep the seating arrangements simple and minimalistic. This approach will allow you to unwind and connect with the serenity of your outdoor retreat.
13. Private sanctuary
Carve out a secluded haven in your backyard with the addition of a large pergola and trellis. This provides two things: 1.) a delightful shade option for your garden, 2.) a private sanctuary shielded from prying eyes.

14. Bricks and plants
Revitalise your garden wall by adorning it with hanging lights. With this simple addition, you can create an intimate space that exudes cosiness. It can also provide you with a spot for enjoying meals and creating cherished memories!

15. Long garden
Maximise the potential of your long, narrow garden by designing a multi-functional space. Combine a comfortable seating area on a deck and modern fencing for a sleek look. Also, consider a section of grass for your furry friends to roam and play.

16. Railway sleepers and shed
Use railway sleepers to create raised garden beds that integrate with the path. These rustic additions can give off structure and definition to your garden.

17. Small backyard with bamboo trees
Infuse your garden with an exotic touch by incorporating bamboo trees. These elegant additions bring a sense of tranquillity and create a serene atmosphere. Pair them with targeted lighting to create a captivating ambience after the sun sets.

18. Cosy arbour
Unwind in the perfect cosy corner by adding an arbour to your courtyard. Decorate it with comfortable seating and soft cushions. Hang some climbing plants to create a serene oasis for relaxation and contemplation.

19. Small two-level garden
If you dream about having a two-tier garden, don't let this small garden idea stop you! 
20. French country garden
Sometimes it takes as little as two small chairs and a couple of rustic shutters to turn back time a few centuries in your backyard.

21. Courtyard cinema scene
Striped outdoor rugs make an ideal accompaniment to a garden cinema area for a film night with friends and family. Turn your enclosed courtyard into your own private cinema and take a cue from this cosy outward appearance!
22. Courtyard boho feel with vintage furniture
Create a space in your courtyard that's full of boho charm. The metal furniture offers a whimsical, shabby chic appeal, while the fireplace evokes a sense of grandeur.
23. Add multi-tasking furniture pieces
This stylish wooden bench makes a great addition to your courtyard seating area. But when not in use, it can double up for different purposes, such as a modern-looking plant display.

24. Squeeze in an outdoor bar
What's not to like in this setup? A secluded courtyard with cosy seating arrangement, pergola for shade, and a garden bar for entertainment!

25. Relax with a hammock in the corners of your courtyard
Enhance the relaxation potential of your courtyard by putting up a hammock. The tiki torches create the perfect mood for relaxation after a long day.

Round-Up
So there you go, courtyards that not only look amazing, they're functional too.
Don't forget to follow our pages on social media so you never miss out on our content. We're on a mission to give you the best ideas and inspiration to make the most of your garden and outdoor space.
Shop Rattan Garden Furniture