Gardens are undoubtedly a magnificent addition to any home. They provide a canvas for your creativity to flourish. For one, a designed space adorned with a lovely dining table, perfect for hosting gatherings with loved ones.
However, nature can be unpredictable. What if raindrops start to fall, threatening to dampen your outdoor festivities? Or perhaps the scorching sun rays make it unbearable to spend time in your garden oasis?
Fear not, for a solution exists in the form of a stylish and functional garden parasol. These versatile structures shield you from the elements while allowing you to bask in the beauty of your outdoor sanctuary.
In this blog, we've curated an assortment of awe-inspiring garden canopy ideas.
1. Transparent porch
Embrace the beauty of natural light while reducing the sun's intensity with a transparent canopy. When night falls, this canopy creates a magical atmosphere. It allows you to stargaze from the comfort of your garden seating.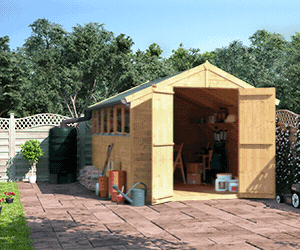 2. Sail with lights
A sail canopy with twinkling lights brings a touch of enchantment to your outdoor space. Extend your time outdoors into the evening, enjoying the cosy ambience.

3. Sail canopy cover
Shield yourself from the harsh sun with a hassle-free sail canopy cover. Easy to install, this versatile option offers relief from the scorching rays. It allows you to savour the outdoors comfortably without breaking the bank.

4. Triangular sail
Perfect for small corners, a triangular sail canopy provides shade in a compact area. Its functionality extends beyond shading. It also enhances the aesthetics of your garden, which is perfect for small garden designs.
5. White veranda garden canopy
Achieve an elegant and minimalist look with a white veranda canopy. Such an addition safeguards your garden furniture from UV rays and inclement weather. This option strikes the perfect balance between beauty and budget-friendliness.

6. Retractable garden canopy
Oh, to choose between sun-drenched or shaded seating without changing your spot! A retractable garden canopy allows you to do that effortlessly. You can transition between sunlight and shade, adapting to your preference.

7. Solid wood pergola
Pergolas provide protection from the harsh glare of the sun by creating some shading for your seating area. You could add some climbing plants to give it some colour.

8. Canopy over pool
Extend the usability of your pool or hot tub regardless of the weather by adding a canopy overhead. This enables you to enjoy your aquatic oasis during rainy days. Plus, it keeps the surrounding area pleasantly cool during scorching summer days.

9. White gazebo
A timeless and sophisticated choice, providing a charming shelter in your backyard. This classic structure adds an element of grace while offering much-needed shade.

10. Beach style house umbrella
Why not consider a large umbrella reminiscent of beachside retreats? You can easily take it down whenever you wish to bask in the sun, providing flexibility.

11. Wooden canopy with lights
Infuse your wooden pergola with a magical ambience by adorning it with string lights. This creates a captivating setting in the evening, giving off a cosy retreat.

12. Long shade sail
Optimise shade and privacy with a long sail canopy that elegantly covers your entire seating area. The design protects you from the sun and creates an intimate haven within your garden.

13. Soft sail canopy
For a versatile and adjustable shading solution, consider a fabric canopy. Ideally, something that provides a softer touch than permanent wooden structures. With a fabric canopy, you can bathe in sunlight or seek refuge in the shade.
14. Glass veranda
Elevate your garden seating experience with a stunning glass veranda. Delight in the warmth of sunlight while enjoying the shade and protection it offers. This allows you to savour the outdoors on sunny days without compromising comfort.

15. Slide-on-wire canopy
You decide when you want some shade by just rolling the canopy left or right.
16. Wooden canopy corner
Not all canopies need to join onto your home – a free-standing pergola in the corner of your garden can provide the cosiest of seating areas. 

17. Curtains
Add a touch of versatility to your garden canopy by incorporating curtains. These movable screens grant you control over the amount of shade desired. With the ability to open or close them at your leisure, curtains offer flexibility and style in equal measure.

18. Natural canopy
Use climbing plants to fashion a natural sun canopy on your pergola. As the lush foliage weaves its way across the structure, it forms a living shade. This eco-friendly solution blends seamlessly with your garden. It provides a refreshing retreat from the sun's intensity.

19. Simple wooden pergola
For a touch of timeless elegance, consider a wooden pergola with sturdy brick bases. This classic design creates a shaded corner in your garden. It can offer respite from the sun's rays while maintaining a traditional aesthetic.
20. Tent
Infuse your outdoor gatherings with a touch of luxury with a marquee-style canopy. Adorned with cushions and homely touches, it brings the comforts of indoor living to your garden. Whether hosting a soirée or enjoying a quiet retreat, this elegant canopy adds an air of opulence and refinement.

21. Garden shelter
Retreat to a charming garden shelter on those sweltering, sun-drenched afternoons. This haven provides a cool and shaded respite where you can enjoy the serenity of your outdoor haven. With comfortable seating, this garden shelter becomes your oasis of relaxation.

22. Pergola on the roof terrace
This concept gives off a modern source of shading – thanks to the transparent roofing. This is perfect if you love hosting mini BBQ parties, having an al fresco dining, or relaxing on your patio with style and shade.

23. Wooden framing pergola with canopy
This design is often favoured because of its natural look. The wooden framing blends easily in with the outdoors or nature.
The charm of wood-framed pergolas can offer a naturally-rustic vibe to your patio.
24. Patio pergola with climbers
Using a pergola as a frame for crawling plants adds a magical touch to your outdoor seating area. The soft aesthetic that the climbing flowers bring in a great view for lounging.

25. Bahamas-inspired garden pergola
Relax in shade in this Bahamas-inspired pergola structure! The pergola is roofed in a Bahamas themed patio with a bamboo roofing.
Round-Up
Garden canopies make an ideal respite from intense sun or a quick shower, allowing you to maximise the time you spend in your outdoor space.
We hope this wide range of options we've provided you with will give you some ideas to add one to your home.
At BillyOh, we stock a great variety of products that will make your garden the envy of your street! Click the shop button below to check them out.
Shop Rattan Garden Furniture