Gardens are a beautiful thing. You can design the space anything you want, such as with a dining table, and it'll great for entertaining family and friends.
But what if it rains? Or what if the sun is simply unbearable?
Well, a stylish garden parasol soon swings to the rescue, allowing you to carry on enjoying your outdoor space. And in this post, we've collected some incredible garden canopy ideas to show you just how useful a canopy can be.
Let's dive in.
1. Transparent porch
Great for lowering the sun intensity during the day but you can still stargaze at night.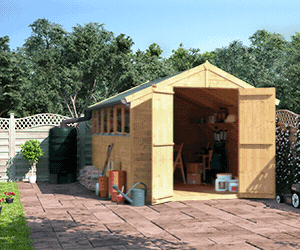 2. Sail with lights
Sails are a modern but economical way of creating a shaded area in your garden. Add some lights so you can stay out into the evening.

3. Sail canopy cover
Protect yourself from the sun with an affordable and easy-to-install sail canopy.

4. Triangular sail
If you've only got a small corner to shade, go for a triangular sail. This canopy also makes an excellent small garden design idea as well!
5. White veranda garden canopy
Keep it chic and simple with a white veranda to protect your garden furniture from both UV rays and bad weather. Beautiful and budget-friendly!

6. Natural tinder canopy
If you're looking for a more Mediterranean vibe, go with a wooden pergola and hanging fabric canopy to shade you from the sun. 
7. Retractable garden canopy
You can choose when to go from sun to shade or vice versa without having to switch seats with a retractable garden canopy. 

8. Solid wood pergola
Pergolas provide protection from the harsh glare of the sun by creating some shading for your seating area. You could add some climbing plants to give it some colour.

9. Canopy over pool
Add a canopy over your hot tub so you can still enjoy it on rainy days, plus it will also keep the floor around it cool on hot days!

10. White gazebo
A simple and classy choice for gaining shade in your backyard.

11. Adjustable sun tracking canopy
As the sun travels across the sky throughout the day, adjust your canopy to keep yourself cool in the shade.  
12. Beach style house umbrella
For a less permanent structure, add a large umbrella over your seating area that can be taken down when you'd like to enjoy the sun. 

13. Wooden canopy with lights
Add some string lights to your wooden pergola to bring it to life in the evening. 

14. Long shade sail
Gain shade and privacy with a long sail that covers your whole seating area.

15. Soft sail canopy
Choose a fabric canopy instead of permanent wooden beams so you can choose when to go for sun or shade.
16. Glass veranda
Glass verandas offer a unique extension to your home living space. You'll still get sunlight but not at its full intensity. Perfect to sit out on warm,sunny days

17. Slide-on-wire canopy
You decide when you want some shade by just rolling the canopy left or right.
18. Small beach canopy
No need for a huge setting, just a couple of poles and a simple canopy in your backyard provide the perfect seat in the shade.
19. Wooden canopy corner
Not all canopies need to join onto your home – a free-standing pergola in the corner of your garden can provide the cosiest of seating areas. 

20. Curtains
Another great idea for a temporary shade screen, curtains can be opened or closed at your leisure. 

21. Tilted canopy
Tilt your sail canopy to get the best protection from the sun. 
22. Two canopies
Sometimes just one is not enough to give you the shade you need! Cover all angles with two triangular canopies.
23. Natural canopy
Use climbing plants on your pergola to create a more natural sun canopy.

24. Simple wooden pergola
Create a more traditional wooden pergola with brick bases to create a classic shaded corner in your garden. 
25. Tent
Bring a bit of indoor luxury to outdoor gatherings with a classy marquee style canopy, plush cushions and homely touches.

26. Garden shelter
A refuge to relax on those sunny, hot afternoons.

27. Retractable canopy
An easy mechanism, so you can fold your canopy away when you prefer to feel the sun on your face.
28. Oak gazebo
Relax any time in your cosy hideaway that will both protect you from the sun and shelter you from the rain. 
29. Grey classic tent
It will feel like you've added a whole new room to your house with a classy metal-framed gazebo, stylish curtains and some homely touches.
30. Modern simple pergola
With this contemporary design, you won't want to leave the shade on those sunny afternoons.
31. Pergola on the roof terrace
This concept gives off a modern source of shading – thanks to the transparent roofing. This is perfect if you love hosting mini BBQ parties, having an al fresco dining, or relaxing on your patio with style and shade.

32. Wooden framing pergola with canopy
This design is often favoured because of its natural look. The wooden framing blends easily in with the outdoors or nature.
The charm of wood-framed pergolas can offer a naturally-rustic vibe to your patio.
33. Solid cherry wood pergola with transparent roof
This massive pergola is made of cherry wood, matching the wood used in the architectural exterior.
The roof design features clear corrugated polycarbonate sheets. This allows you to enjoy a bit of sunlight while keeping you dry from rain and snow.
34. Patio pergola with climbers
Using a pergola as a frame for crawling plants adds a magical touch to your outdoor seating area. The soft aesthetic that the climbing flowers bring in a great view for lounging.

35. Bahamas-inspired garden pergola
Relax in shade in this Bahamas-inspired pergola structure! The pergola is roofed in a Bahamas themed patio with a bamboo roofing.
Round-Up
Garden canopies make an ideal respite from intense sun or a quick shower, allowing you to maximise the time you spend in your outdoor space.
We hope this wide range of options we've provided you with will give you some ideas to add one to your home.
At BillyOh, we stock a great variety of products that will make your garden the envy of your street! Click the shop button below to check them out.
Shop Rattan Garden Furniture