What garden walls are for? Garden boundaries, such as aluminium gates, are a great solution for adding a little more shade or privacy around your shed and neighbouring properties.
Or for backyards that don't match or complement the rest of the garden's theme. These are a few instances that can make your outdoor space look boxed in or overlooked.
If you think your yard needs some makeover, this is the time to take action and put those borders and edges to good use. Whatever your case is, you need some fresh ideas on what to do with your garden.
And this blog post will be the perfect place to start. We have compiled a list of some cool and creative garden wall ideas that will make your yard stand out from all the rest.
Are you ready to transform your garden's perimeter into an eye-catching feature? Take a look at these great examples below!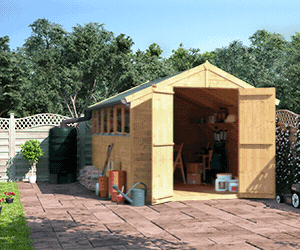 1. Zen wall with pebbles
An oriental-style feature wall helps to create a calm and serene space in your garden.

2. Metal frame with pots
If you're short on ground space in your garden, use the walls too! It also makes a showpiece of an otherwise plain wall.
3. White single fences
These artistic panels bring a real modern, edgy feel to this flower bed. The lighting really brings them to life!
4. Wall trellis panel
A quick and easy way to add some colour to plain walls is to add a trellis panel and some climbing plants or flowers. 

5. Backyard fence with sections
Add some handy shelving to spruce up your garden backdrop, whilst also creating some extra storage space.

6. Modern backyard lighting
Up and down wall lights have a stunning visual effect on these white walls with wooden cladding.

7. Outside living space
Take the indoors outside with you this summer; create your own comfy lounge on your deck, complete with lights and a fire pit so you can get cosy after dark. 
8. Plants in picture frames
Create some living art by adding plants into your picture frames. Bring those boring outdoor walls to life!

9. Grey see-through fence
Contemporary, horizontal wooden fencing creates the perfect backdrop for relaxing, sunny afternoons in the garden. 
10. Shelves with plants on brick wall
Add some shelving to organise your plant pots and give you back some ground space.  Perfect for small gardens!

11. Flowers in frame
Create some wall art for your garden with flower frames! They brighten up a plain wall, adding some much needed colour.
12. Garden mirror
With a simple mirror on the back, you can make your garden look bigger!

13. Bamboo wall
Some bamboo trees can change the look of a simple white wall. This is a great and simple tropical garden idea!
Now, all you need are some pandas.

14. Small garden with wooden walls
You don't need brick or concrete to have some privacy in your backyard. Wood works like a charm and gives a more natural look alongside your greenery.

15. Wooden floating pots
Floating pots are a great alternative to climbing plants. 
16. Backyard tool shed
Use flowers, shelving and shutters to spruce up your shed and make it more of a feature than a boring necessity!

17. Hanging medusa
Don't worry, this one won't turn you into stone if you look at her!
18. Trellis on black wall
Just place the string in your desired shape and let the plants grow around it. After a few weeks, you'll have a beautiful living wall.
19. Laser cut metal wall
Adorn your plain old fence with majestic metal art to create a unique focal point. Adding lights will really make it stand out at night!

20. Shaped wooden wall
If your neighbor's wall already provides you with all the privacy you need, you can go crazy with the shape of your own fence.
21. DIY vertical vegetable garden
A great way to decorate a simple, brick wall, and even grow your own veggies. Perfect if you haven't got the space for traditional beds. 

22. Multicolour flower wall
Beautify a boring space with a living flower wall. Add all of your favourite flowers to really make it come alive!

23. Balcony garden
No matter the size of your outdoor space, there's always a way to fit some greenery in! 

24. Fountain and wooden retaining wall
A great way to bring some life and movement to a plain wooden wall. Water features also create a calming atmosphere. 
25. Small logs wall decoration
Go minimal! Arrange some small logs to create an abstract work of art on your garden wall.
26. Bricks and flowers
Add some wooden frames to a brick wall and create a flower wall that will revitalise your backyard.

27. Modern wall planter
Another great way to grow plants if you're short on space. 

28. Old cans as plant pots
Plant some flowers in old cans and then hang them to completely transform generic wood panels. 

29. Rustic vertical garden
If you're on a tight budget, transform a wooden pallet into a vertical garden for the back of your house.

30. Concrete wall planter block
Give your garden a modern, industrial look with these breeze block planters. 

31. A row of espaliered trees that separates two garden zones
This garden wall stone adds texture and character to the seating zone while screening off the pool beyond. The row of espaliered trees add up a shot of green to the scene without compromising too much space.
It welcomes a patch of leafy shade to the area, too!

32. Closing with accents
This garden fence is made of wooden materials and is designed with a beautiful accent. The sun-look-like patterns are cut through, adding a charming touch to the space.
Note: This design may not work for you if you want a fully-covered garden.
33. Stone wall with a whimsical window
Ideal for both modern and classic garden look, an arched window like this can help break up a grand stretch of wall. The stone material and the vines give off a fairy tale-like yard theme.

34. Fence metal and glass
Metal and glass fences are a modern introduction to garden spaces. They provide a safe and secure boundary with complete visibility.
It also means the sun can travel freely across your garden, preventing shady spots and allowing light into your home.
35. Giant outdoor wreath
Decorate your garden wall with a DIY creation just like this gaint outdoor wreath! It makes a lovely accent, enhancing the look of your plain yard border.
Round-Up
So there you have it, a wide range of garden wall ideas and inspiration. Here at BillyOh, we offer a huge selection of products to make any garden stand out from the crowd.
Click the shop button below to check them out.
Shop Rattan Garden Furniture