Ah, spring! 'Tis the season to wake up your garden to a new growing adventure. Spring in stores a lot of blossoming surprises that is why garden enthusiasts like you waited eagerly for this time to, well, spring!
But the full-blown garden scene has to come a bit later. Plenty of work has to be done first. So to get the best of this season, shake the long numbing-cold winter off and put the eager gardener in you to work.
Yard Tasks
First things first. Do the following checklist of tasks that highly need your attention once you step into your backyard.
1. Clean up the yard.
Do a general cleaning by removing leaves and other debris from your lawn, taking note of areas that need reseeding. Remove the overhanging tree limbs from every plant or other structures. If you have perennials from last year, cut down foliage and reserve it for your compost bin. Divide clumped perennials for later replanting or sharing with friends. You can also start fixing fences, gates and trellis so you'll have more time focusing on your plants after tidying up.
2. Wash and polish your garden tools.
Your tools need some brush up too after months of non-use and hiding in the garden shed or basement. Shears and hand pruners may have accumulated dirt that, if left unwashed, could infect your newly-pruned plants. Almost all tools are easier to work with when cleaned and sharpened so take the time to hone those spades, trowels and hoes with a file and apply lubricating oil. A nice lawn or garden storage shed make a nice shelter for your ever-dependable tools.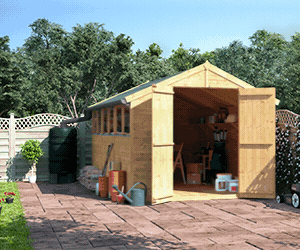 3. Prune shrubs and trees.
If you haven't got around to pruning your trees before or during winter, now is the best time to do so. Remove damaged or dead, or worst, diseased branches from plants. But take note whether a certain plant is best pruned before spring growth or right after flowering. Fruit tree pruning is best done in late winter or early spring. Thin dead foliage too before new growth begins and thinning becomes difficult.
4. Track down garden pests.
Slugs, snails, aphids and larvae may have been sheltering in the crowns or flip sides of your plants for the winter. Go after these hibernating pests before gardening in more plants. There's a slew of pest control materials and methods to choose from but best to start with more natural means like homemade remedies or beneficial insects that will prey on the harmful ones.
5. Prepare the beds and reinvigorate the soil.
It's a lot easier now to pull out weeds so go through it and rake the mulch that remained on the bed over the winter. But how will you know if your soil is ready for gardening since winter weather takes a hard toll on garden soil? An easy guide is to grab a handful of soil, squeeze it tightly, then open your fist. The soil should crumble instead of forming clumps. Take a soil test for pH level if necessary and enrich accordingly: add dolomitic lime to raise pH or sulphur to lower pH. Add in some compost or well-rotted manure too, using a spading fork to mix in everything perfectly well.
Getting into planting
Everything is cleaned, treated and in order, so it's time to get digging, right? Wrong. Take a while to picture in mind the kind of spring garden you want to achieve. That is, if the wintertime hasn't stopped you at all from sifting through catalogues and seed-starting guides or from gardening indoors. But if not, decide on the feel you want for new growths or plants in seasons to grow.
To give you a lift, here are some of the viable plants to grow in your garden this season.
Spring Flowers

Bulbs
Spring-planted bulbs are some of the most scenic and colourful garden flowers. Make sure not to cut off their leaves when they have finished flowering.
Tulip, Crocus, Daffodils, Hyacinths, Dahlia, Lily, Amaryllis
Shrubs. Some of these bushes have more visual impact than pretty flowers and produce blooms that are fragrant. Prune spring-flowering shrubs after flowering.
Rhododendron, Camellia, Viburnum, Forsythia, Lilac, Azalea
Blossom Trees. Deciduous as they may be, these trees give a year-round delight starting of course with dream-like blooms during spring.
Snowy Mespilus, Hawthorn, Crab Apple, Pyrus, Flowering Dogwood, Cherry Tree
Vegetables
Garden vegetables are usually planted when the soil is warm but March can be a great time to plant cool-season vegetables that can withstand the last frost days of the month. You may opt to plant these vegetables directly in the soil, or underneath a row cover, or in containers. For a continual harvest, plant several varieties each.
Lettuce, Cabbage, Kale, Broccoli, Turnips, Radish, Cucumber, Onions
Herbs
Lend your springtime recipes with the unmistakable flavours and fragrance of herbs this season. Plus, some of these edibles are medicinal, too, which the professional "Wildman" Steve Brill loves to teach. You can enjoy these resources by dedicate a row or backyard for herbs or grow it on your kitchen windowsill for easy reach.
Chives, Lavender, Rosemary, Thyme, Parsley, Basil, Mint
Fruits
Fresh fruits abound all year-round, but knowing and eating the kind of fruits that grow in a particular season give you the more nutritional edge. Spring-bearing fruits include:
Avocados, Blueberries, Lemons, Pineapple, Apricot, Strawberries, Kiwi
Shrubs and Trees
Woody plants like trees and shrubs add character and practical use in any landscape. When thoroughly maintained, these plants will live through a background for a lifetime. The European Boxwood and Topiary Society is at the forefront of promoting the art and knowledge of keeping these plants alive.
Holly, Yew, Field Maple, Juniper, Sweet Briar, Boxwood, Woolly Willow
Spring highlights a variety of garden plants but you can always choose to plant perennials or your personal pick. Simply make your spring gardening inspirational and very soon you'll enjoy the "fruits" of your labour.