You might think it pointless looking after your garden in the winter, as you'll spend very little time outside. But what about looking out of your window on a dreary cold day?
Instead of looking out at withered hanging baskets or empty flower beds, you could add a splash of colour with some winter bedding plants. We've compiled a list of garden ideas for your winter backyard!
1. Japanese orange Azalea
Add some bright, fiery colours to your garden to contrast with the white winter landscape.

2. Polyanthus
They come in a variety of bold colours so they're perfect to brighten up your garden in late winter to early spring.

3. Bellis perennis
These small, pretty daisies are bound to transform the look of your flower beds. The plants themselves are evergreen, but they tend to flower in the spring.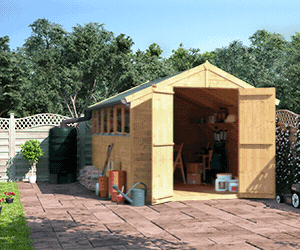 4. Winter pansies
For hardy plants that should survive the winter, plant your pansy seeds in September and early October. This way, you can give them a chance to grow sturdy roots and flowers ahead of the colder weather. 

5. Cyclamen coum
Also known as Persian Violets, these hardy flowers bloom in the autumn and winter months, and sometimes into spring. They're ideal for growing at the base of trees or in the shady borders of your garden. 

6. Violas
Sow the seeds of your violas in early summer if you're looking for winter colour for your garden. They'll flower from autumn right through until spring. 

7. Silver dust
Silver dust is an annual plant known for its striking silvery-white leaves; the perfect addition to a winter garden. 

8. Thyme
Thyme is a hardy herb so can be grown in dry or difficult areas to inhibit the growth of weeds. It can also be grown in pots to use in your cooking. 
Either method will provide extra greenery to your garden in the winter. 

9. Sage
Sage is a great choice to add some colour to the garden during winter time. It's an evergreen plant so can be harvested at any time. 

10. Heuchera
Also known as 'coral bells', these plants are great for filling gaps between taller plants and providing colour virtually all year round. The leaves can range between green, chocolate, purple, bronze, pewter grey, and apricot orange.

11. Chrysanthemums
Big, beautiful flowers that come in a variety of bright colours for you to choose from, chrysanthemums generally flower in the autumn. 

12. Primrose
Available in a range of colours, primroses will continue to flower throughout the winter. They also make a great addition to corner gardens!

13. Wallflowers
The best time to plant wallflowers is September or October. Another great choice for a bright-coloured flower you can enjoy all winter.

14. Braunherz
These evergreen perennials flower during spring and summer, and require partial sun to bring out their purple leaf colour in the winter months. 

15. Inferno
You can get a vivid mix of bright red, gold, green and claret leaves with Coprosmas or 'inferno'. Its colour intensifies in winter as the temperatures drop. 

16. English ivy
Ivy can act as both a ground cover or a climbing vine, and keeps its colour all year round. The best time to plant is spring, but it grows at a rapid rate so it's one to watch! 

17. Nandina domestica 'Gulf stream'
This one is a bushy evergreen shrub that's able to grow in any season. New leaves are a bronze-orange colour that turn green with time, and eventually into shades of red and gold in the autumn and winter.

18. Olearia arborescens
Olearia is an evergreen shrub with glossy green leaves to bring some colour to your garden during the winter months (and the rest of the year).

19. Winter heather
Low maintenance winter heather provides plenty of colour from its small flowers to contrast against the usual dull palette of winter. Plant them in containers or pots and they make a great addition to balcony gardens as well.

20. Springwood white
Springwood White is another member of the winter heather family that flowers from winter to spring.

21. Vinca minor
Vinca minors are easy shrubs to grow, and provide beautiful violet flowers that show themselves from spring through to autumn. 

22. Lamium maculatum
These semi-evergreen plants are perfect for brightening up the base of shrubs or trees. 

Round-up
Now's the perfect time to start thinking about adding some bedding plants to brighten up your garden for the winter season. There are a number of colourful plants and flowers to choose from that still look amazing, or even thrive, in the winter. 
Hopefully, our list has given you some ideas for an evergreen overhaul, so you can enjoy looking out at your garden in the cold winter months.
Shop Greenhouses