Have you ever wanted to try and make a garden shed out of old pallets? Having furniture made out of pallets is a sure conversation starter.
The beauty of pallet projects is they're affordable low-budget alternatives. For one, you could turn old pallets into a unique piece of furniture or holiday décor.
There are many ads online that sell cheap pallets or even give them away for free! With one pallet, you can create a piece of art or a statement piece for your garden. The options are limitless.
What you just need is a guide to show you how.
There is truth in the saying, "one man's trash is another man's treasure".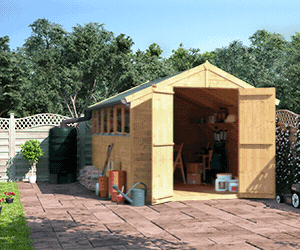 Our team has curated 50 pallet project ideas on how you can make your own DIY pallet decor pieces in this article. This includes kitchen storage, including custom shelving and custom closet.
---


---
Key takeaways:
There are specific pallets that you can use for your DIY project. A great example of this is heat-treated pallets, as they're safe for use.
In contrast, it's not recommended to use those with an "MB" stamp. Chances are, they've been treated with methyl bromide, which is a pesticide.
Before you begin with your pallet project ideas, be sure to check out if there's a stamp on the pallets you plan to use. It's also best if you understand how they'll affect the safety of your DIY project. (Note: DIY Ready has a handy infographic about this topic on their site.)
50 Inspiring DIY Pallet Projects
How about adding to your patio furniture sets by repurposing some old pallets? Keep scrolling for DIY pallet projects and hacks.
1. DIY project: sofa with storage
Take your DIY to the next level with some pallet storage! Create your own piece of furniture so you can have a dedicated space for relaxation or extra seating for your guests.
This pallet sofa with storage is one a creative DIY project that you'll surely benefit from. Filippa Malmegård from ScrapHacker teaches us step by step how to make this awesome project piece.
Here's another tutorial video from the YouTube channel Woodworking art DIY. In the step-by-step video, they'll teach you how to create an outdoor bench with storage. In fact, their whole channel is dedicated to building with pallets!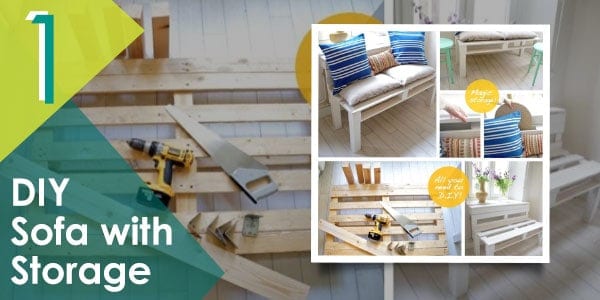 2. Pallet bookshelf
Store your books in a stylish and artistic bookshelf made from pallets. You can add your other favourite pieces along with your novel collection on this shelf once it's done.
If you don't know where to start, fret not; we've got you covered! Our team found this great tutorial from Pallet List, helping you to make a bookcase for minimal charges.
Just follow the provided instructions from the guide, and you're good to go. And if you want to add a splash of colour to your shelf, be sure to have your paintbrush and acrylic paint on hand.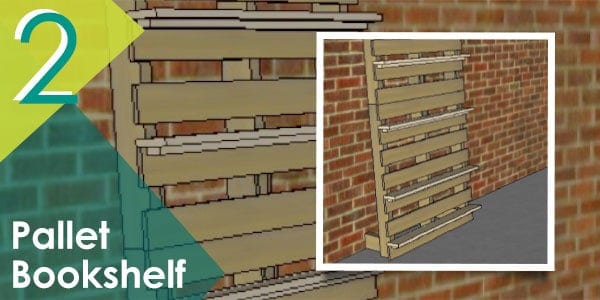 3. DIY wooden wall from pallets
Thinking of adding something unique to your home that can increase its curbside appeal? Well, this is the perfect time to create a wooden wall from pallets.
You can transform any room of your house with a bit of effort and creativity! Joan, from The Scavenger Chic, shows us how she changed the look of her room with pallets.
"The best part about pallet wood is not necessarily that you can get the wood for free, though that doesn't hurt; I just love the rustic nature of the wood." — ­­ Joan, Scavenger Chic
What are you waiting for? Fill that blank wall of yours with a statement piece made by you!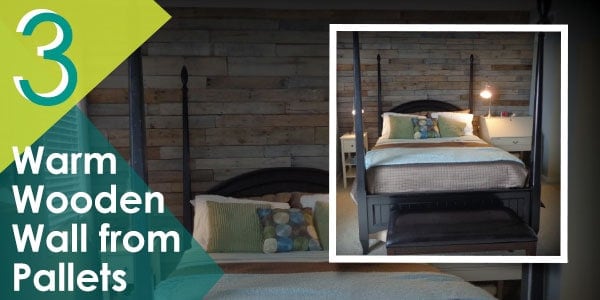 4. Pallet furniture set
Adding in new outdoor pieces to your patio or home can be exciting! Even better if the furniture set is made from scratch.
Make something useful and nice for your living space with this pallet furniture set idea from JennaBurger.com. It's an effortless project you can finish in as little as 3-4 hours.
Not only does this help you save tons of money, but also you get to have new and unique furniture pieces!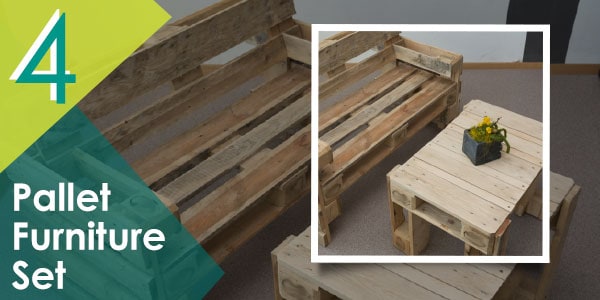 5. Classic and vintage-looking photo frames
If you love incorporating wooden pieces in your home interior, then you're going to love this guide to creating a pallet photo frame. Ready your creativity and craft supplies and create a piece that'll make your photographs more memorable.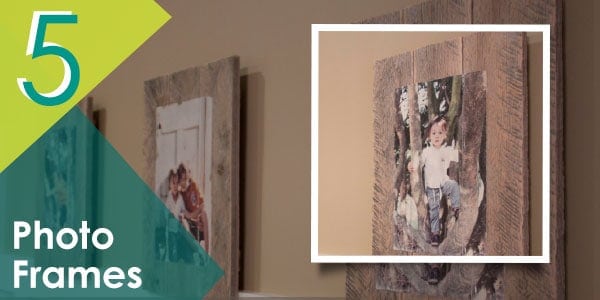 6. Pallet wood coffee table
Running out of budget for a coffee table? Why not build this pallet coffee table as one of your creative DIY projects?
With pallets, you can create a low-cost coffee table that you can use in your living room or outdoor space. Check out these instructions on how to build your own from The Wonder Forest.
Easy Pallet Ideas also has something for you: 20 DIY Pallet Coffee Table Ideas. Now, you won't run out of ideas. You can save your creative juices for next time!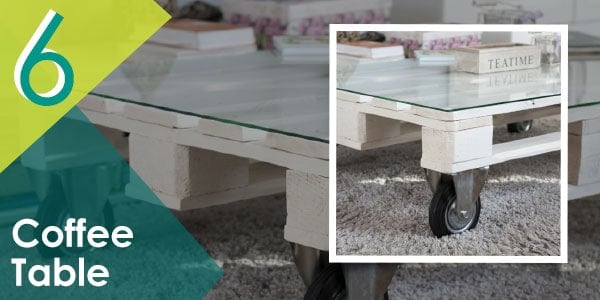 7. DIY shoe rack from pallets
Don't let your shoes get scattered in your house. No shoe rack? No problem!
Watch this video from the How to Fix It Workshop and see how you can make a shoe rack even with the simplest tools. It'd be nice to see all your shoes neatly stacked up in one storage rack, don't you agree?
If you have extra pallets that have been used but are still recyclable, then follow these shoe rack DIY ideas! Check out this one, courtesy of Cut the Wood. Or check out these cool 15 pallet shoe rack plans.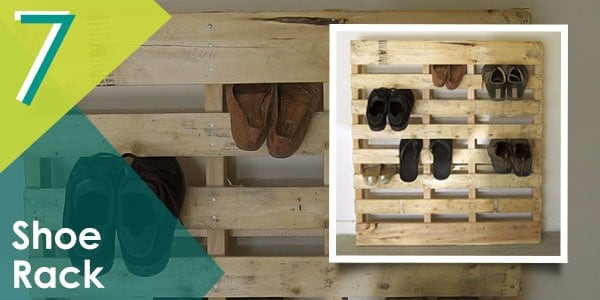 8. Pallet art
Do you have painting projects or art collections? If so, this pallet art project from Sand and Sisal will inspire you!
This piece of art gives off ocean vibes, thanks to the shark pallet art design. If you have kids, they'll love this one, too.
If you want something Christmassy, you can create a Christmas tree shape instead! This kind of pallet art makes a perfect addition to your holiday décor collections.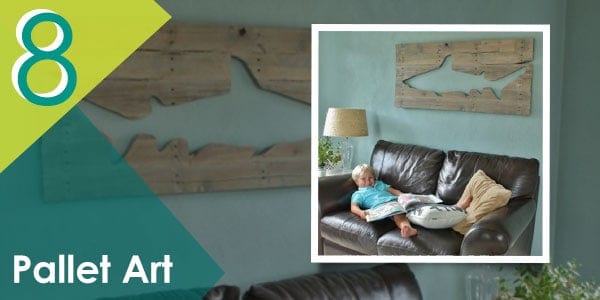 9. Wooden stools for your garden pub or kitchen worktop
Make your outdoor get-togethers more fun and exciting with these pallet stools. If you have a garden bar (in a shed or log cabin), you can't go wrong with this DIY project!
Watch this tutorial video by Sikana English on YouTube to get started with your pallet bar/countertop stools. You can always adjust the height to suit your preference.
To complete the look of your garden pub, why not take a look at our Nightjar garden bar? With a classic L shaped design and room to sit 3-4 people, it's the perfect place to enjoy drinks with friends and family. It fits perfectly in a number of our log cabins for sale.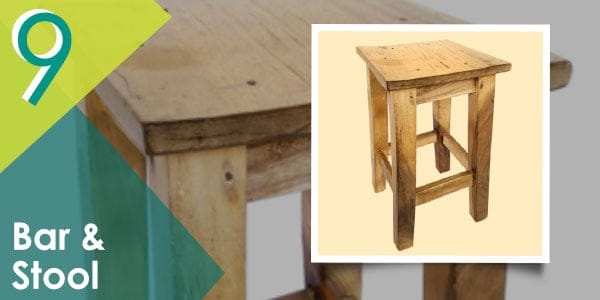 10. A matchbox guitar for the music lovers
There are endless ways to reuse and recycle pallets. Perfect for the music lovers out there, this DIY matchbox guitar is the ultimate dream!
Dianne from HomeTalk can show you the process to make this resourceful instrument. To get started, read this guide and follow the instructions.
"I'm a huge advocate of upcycling and creative reuse. DIY pallet projects are perfect for recycling something unwanted and turning it into something beautiful and useful." — Dinah Wulf, DIY Inspired. 
---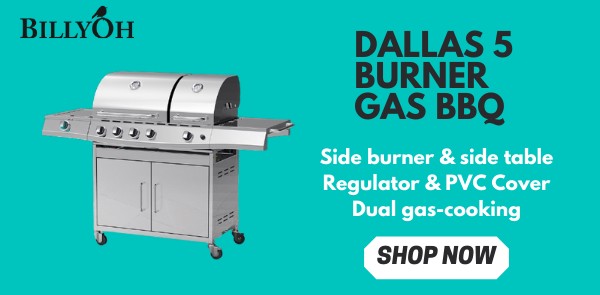 ---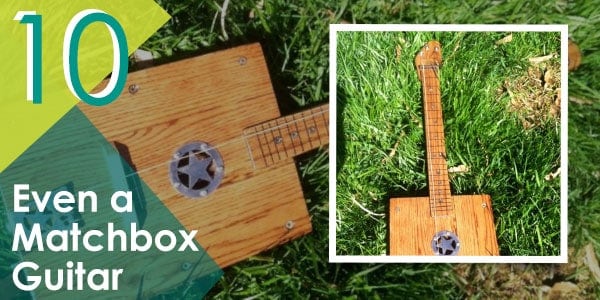 11. Laundry basket organiser
The more storage you have at home, the better! Make the most out of your pallets and build yourself a laundry basket.
Ana White has your back once again with this project. Gather your craft supplies and add this laundry basket organiser to your DIY project ideas.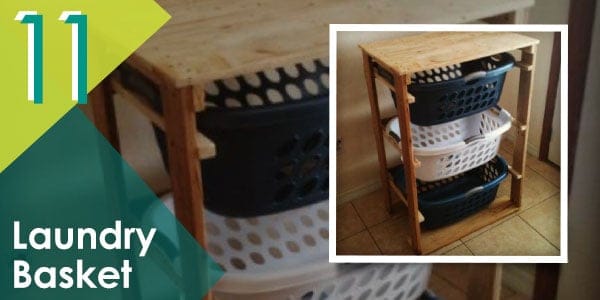 12. Coat rack
Who knew coat hangers could be beautiful? Brooke Riley from Re-fabbed shares with us this super easy DIY pallet coat rack.
And you won't have to take notes as the tutorial is pretty detailed.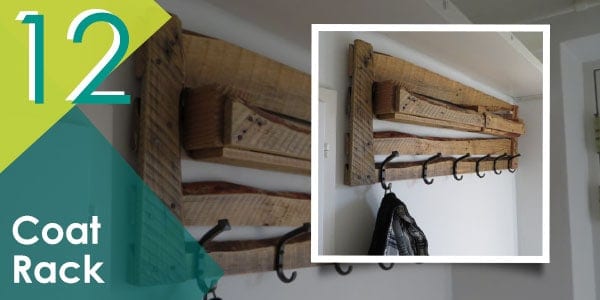 13. Pallet wood open sign
If you have a business, be it small or big, you might want to have this pallet open sign as a statement piece. This is a perfect alternative sign if you're running out of ideas.
You can also make one for your home; I mean, why not? Joan from Scavenger Chic once again shows us how she did it.
This guide is all you need, so what are you waiting for?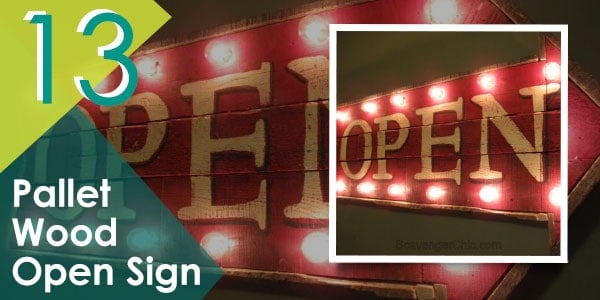 14. DIY bed for your furry friend!
It's about time we all did something for our beloved pets. What about providing them with a cosy and special bed?
Trust us; even your pets can appreciate your pallet DIY prowess! Here's a simple tutorial video from Modern Roots on how to make a pallet bed for your pet.
Are you ready to see your dogs loving their new space?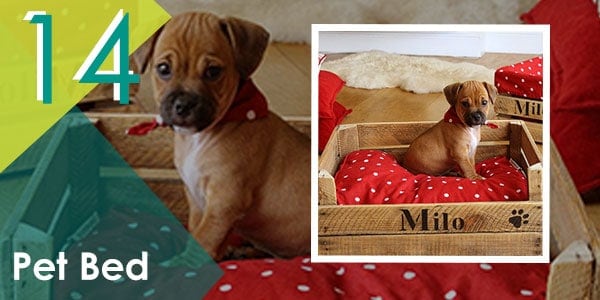 15. Modern pallet bed frame
Now that you've done something for your pet, do yourself a favour next. Why not make the best use of those extra pallets you have at home and create a modern pallet bed frame?
Not only can you make a bed from pallets, but you can also put your own spin on it. WikiHow shows us how simple it is to make one.
You're lucky if you have more pallet pieces because you can create one for the bed frame and another for the headboard!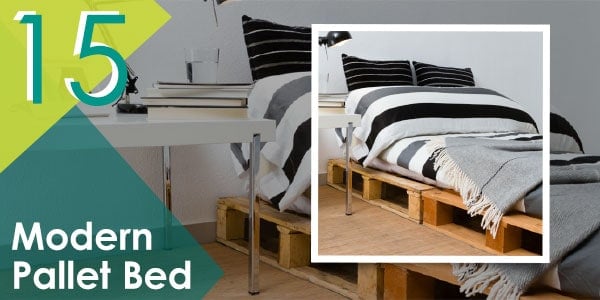 16. DIY reading nook for the kids
Creating a cosy and quiet space for your little ones will give them the perfect environment to fall in love with books. You can encourage your child's interest in reading by making them a nook.
This is a great way to help them explore the limits of their imagination. Kojo-Designs has a tutorial on how to make this beautiful addition to your home.
You can even hang up some fairy lights for nighttime reading. Don't forget to add seat cushions nearby, where your kids can sit back, relax, and enjoy their quiet time.
"I love pallet furniture.The idea of taking something that no one wants and turning it into something useful and/or beautiful resonates with me." ­­ Kirstin, Kojo­Designs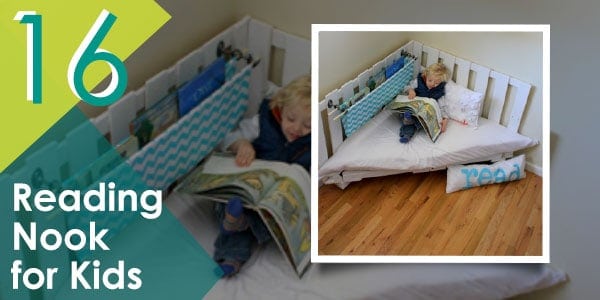 17. Massive headboard for the master bedroom
Pallets are excellent building material for things like DIY walls and headboards. If you have high-quality and sturdy pallets at home, you can make a headboard for your bedroom out of them.
The Thinking Closet has a tutorial for you on how to create a massive headboard. You can't help but fall head(board) over heels with pallets!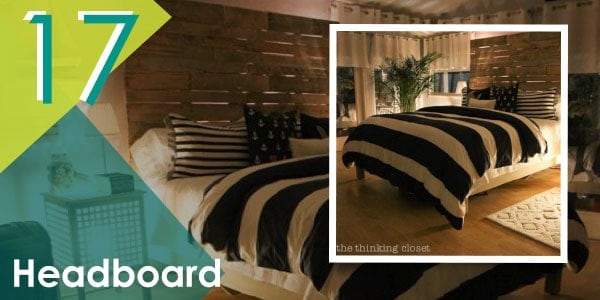 18. Or you can go for a pallet headboard with lights
This DIY pallet headboard with lights is an excellent example of functional and practical headboards. Check out these headboard ideas made with pallets from Pallet Furniture Plans.
See how the lights add to the room's ambience and how they can also add to yours! With bulbs attached to the headboard, you can work on your laptop at night with your legs stretched out on your bed.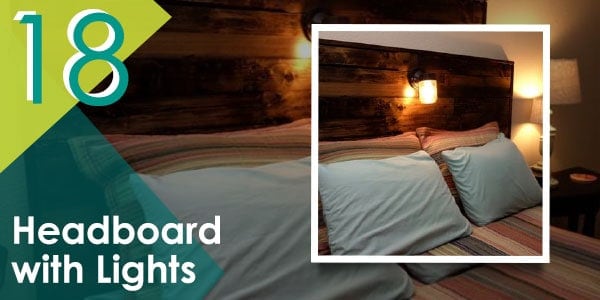 19. Serving tray
Don't we all need a tray to serve food to our loved ones? This pallet serving tray is one of those functional and straightforward must-haves for a DIY project!
Here's a very simple tutorial on how to make one. Kelly Rowe from Live Laugh Rowe shows us how to do it.
For your next BBQ party, alfresco dining, or holiday season celebration, you can roll these pallet trays out to your family and guests. I mean, you made them, so you deserve the credit!

20. Rustic mirror frame
Simplicity goes a long way. And as a home decor piece, this pallet rustic mirror frame sure is a show-stealer!
And if you're a classic modern style enthusiast, you don't want to miss this DIY project. Luckily for you, there's a step-by-step tutorial from YouTube channel F. Branco.
They'll show you how to start and make a pallet mirror frame. So roll up your sleeves and get to work!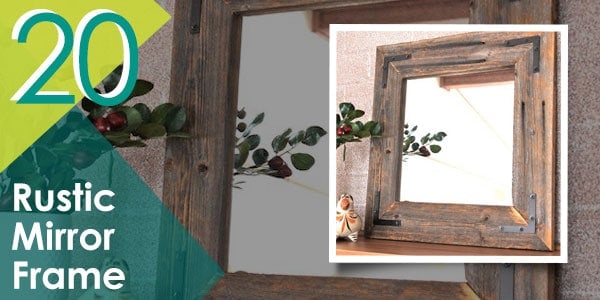 21. Creative shelf
Make your weekend productive with this DIY creative pallet shelf idea! Try this easy to make and odd-shaped shelf to fit your style or even just inspire you.
This one is also from another Instructables member, Eco-Rustic, a company that specialises in reclaiming old wood. It's time for you to make your pallet shelf after making one for the kids!
---


---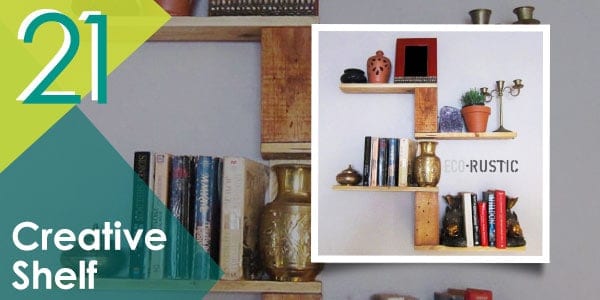 22. DIY dining table
Don't let your pallets go to waste; if you have enough pallets, why not make a dining table? See, you don't always have to buy garden furniture, especially if you know how to DIY!
Make dinners all the more interesting with this project you can finish over the weekend. The ScrapHacker is at it again with this DIY table. You can be sure to host a fabulous dinner party with this one.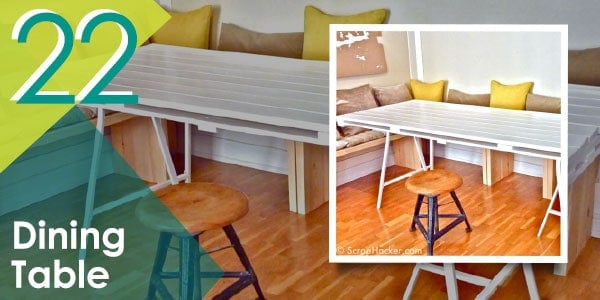 23. Wooden vertical blinds for your windows
If you're into wooden interiors, add a statement piece to your windows with vertical blinds made out of pallets!
Match these with your living room, bedroom, or kitchen windows, and you'll have a subtle yet striking appeal. Humbledtartdept, a member from Instructables, teaches us step by step how to make pallet blinds.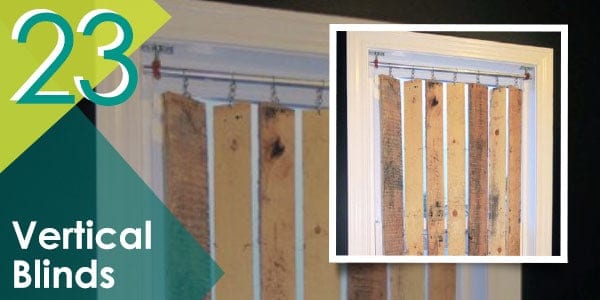 24. Pallet and mason glass jars light fixture
One of our favourites in our awesome DIY ideas is this pallet-inspired lighting fixture. Giving off a rustic charm, this pallet and mason glass jar drop light is everything!
Add flavour to your evening tryst with this remarkable countryside-vibe lighting fixture. DIY Ways has prepared this tutorial on how to get yourself this ambient chandelier without the cost!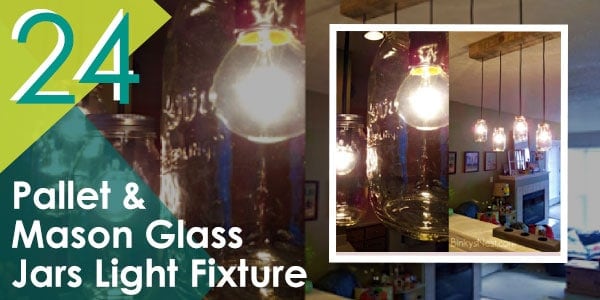 25. Wooden utensil box
Why buy a container when you can make one? Get started with this simple and easy wooden utensil pallet project.
The girls over at The Frugal Girls made these instructions and a tutorial for your reference. This is the perfect piece to complete your cabin-style kitchen.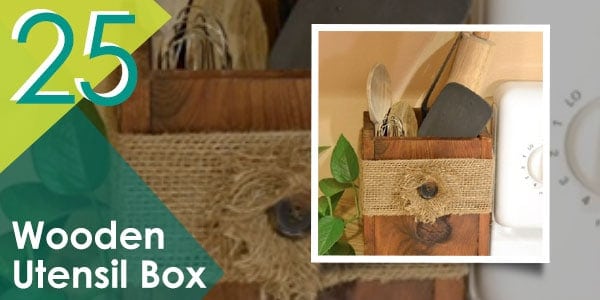 26. DIY wine rack
A pallet wine rack sounds like a brilliant idea for your next DIY project this weekend! Give your wine collection a home by following this guide provided by Sweet Pea.
This project has room not only for wine bottles but also for glasses. The wine bottles are displayed on the top of the rack, while the glasses have slots on the bottom wine rack.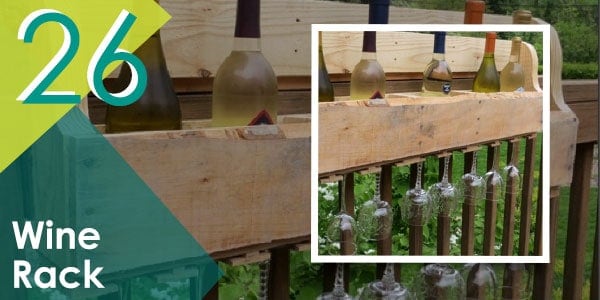 27. Spoon and pallet rack
Our kitchen storage hacks don't end with the pallet box! Take a look at this spoon and pallet rack.
Instead of disposing of your old spoons, use them for this storage hack. Hang your cooking utensils with this handy and easy to make kitchen rack!
Shayna of The Woodgrain Cottage can show you how to do it. The guide also includes a couple more reminders on safety when doing this project.

28. Pallet and mason jar vase
Don't just make stuff from pallets; try a variety of materials with your creative DIY projects. Meredith from unOriginal Mom teaches us how.
All you have to do is get your craft supplies and take note of this guide to get started. You can display your finished artwork as a centrepiece on your front door.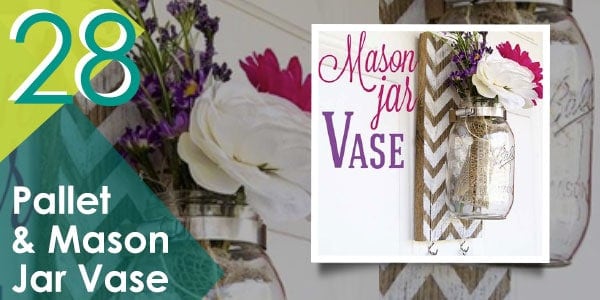 29. Pallet clock
Time is ticking, and if you're running out of ideas for your next home and garden project, this one might be your best bet!
Spice up your home and keep track of time with this fantastic pallet clock. This project is from All Things Heart & Home, and Robin did this project on her own.
If she can do it, so can you!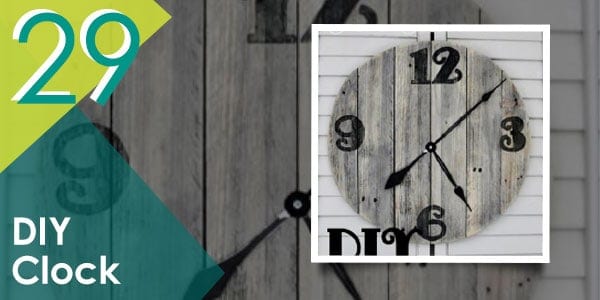 30. Pallet kitchen garbage storage
This simple yet practical use of pallets will get you started and inspired to do more. This project was done by Lauren from The Thinking Closet, a blog site about family, creativity, and everything about crafts.
"What is it about reclaimed pallet boards pieced together that our eyes love so much? Making order out of chaos? The Japanese principle of Shizen: nature with purpose and intention." ­­ Lauren, The Thinking Closet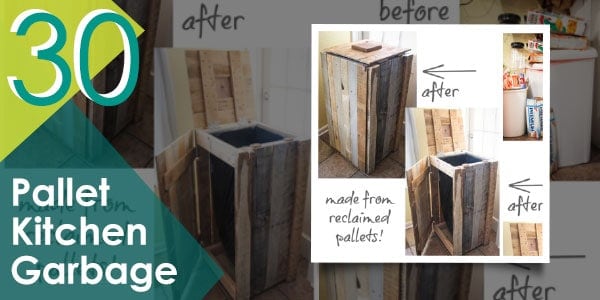 31. DIY garden chair made out of pallets
Thinking about what your next garden project will be? Augment the look of your garden with this awesome pallet garden chair by Funky Junk Interiors.
Feel free to check out their website for other DIY ideas you can do. You can also see more than a few projects from them on this list, so watch out for them!
---


---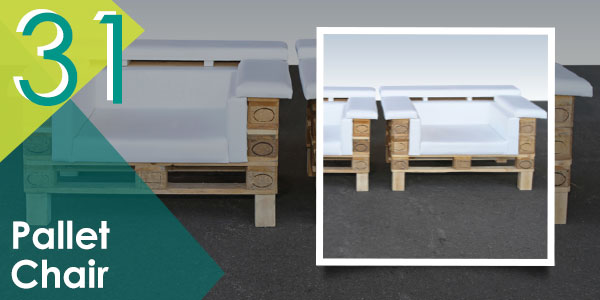 32. Vertical pallet plant shelves
Set up your garden plants uniquely and excitingly. Here's a Youtube video of how to do it by Janie Pendelton from Our Little Homestead!
Having these pallet plant shelves in your garden can help make your space neat and tidy. It's a plus point in your property's curb appeal.
Your plants will surely be grateful for providing them with a great home and environment, too!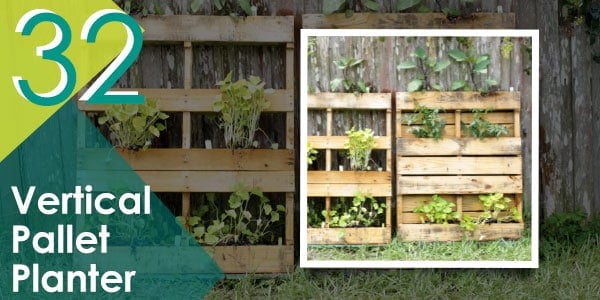 33. A rocking chair to create a space for relaxation
There are tons of pallet furniture ideas you can create on your own, and of them is this rocking chair! This also could be the next key feature of your front porch, so be sure to take the project seriously.
Wholman teaches us how to rock with this DIY rocking chair over at Instructables.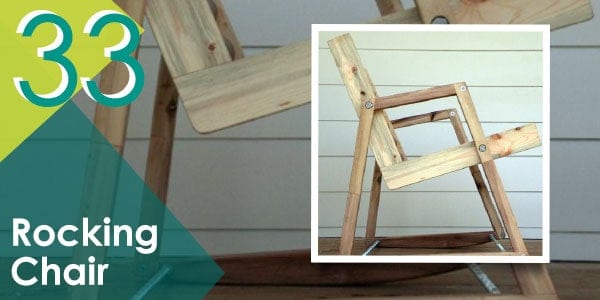 34. Pallet outdoor sofa for your patio
Maybe sometime in the past, you've thought of getting a stylish sofa but haven't had the budget to get one. But now, you can build one, thanks to the folks over at 101 Pallets.
This project should be on everyone's list. I mean, what's not to love about an outdoor sofa?
You get to have the perfect space for afternoon lounging. Even better, without it costing a fortune.

35. DIY plot for your range of plants and herbs
As much as your plants will appreciate a greenhouse, you can start small with this DIY pallet plot for your beloved greens. If you're a novice gardener, this is a great start to grow vegetables, herbs, and plants.
Put them in dedicated containers and watch them flourish one by one. This guide will teach you how to make a DIY plot/bed for your green babies, courtesy of Instructables.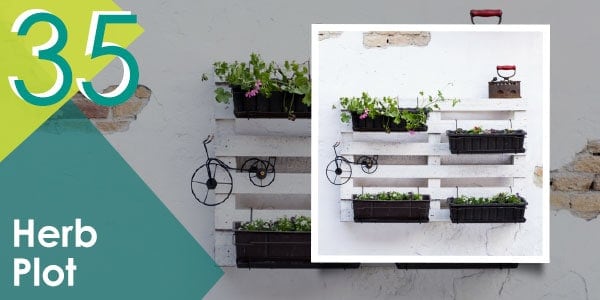 36. Make your own garden loungers with pallets
Nothing's better than sitting on a lounger while soaking up some vitamin D during the day. Even better, with a few good books to read on.
Try this easy pallet project out so that when summer comes, you'll be ready to have some me-time under the sun! Instructables member @shoestringpavilion shows us how to make garden lounges the easy way.
These garden loungers also make great seating for your guests when hosting a BBQ summer party.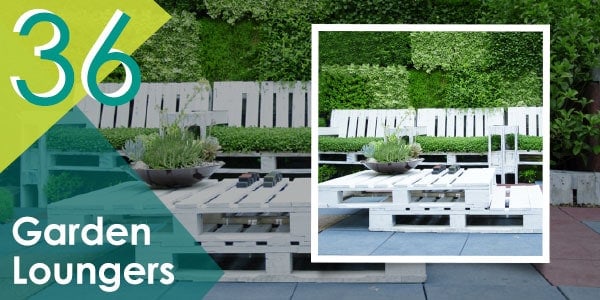 37. Pallet garden walkway
A garden building sure can increase the value of your home's curbside appeal. But with a pallet garden walkway that leads to that building or all the way to your patio? Now we're talking!
Equip your outdoor space with this handmade yet fancy walkway project and be the talk of the neighbourhood. Funky Junk Interiors is out here again to teach us how to do it.
Get started with this helpful guide.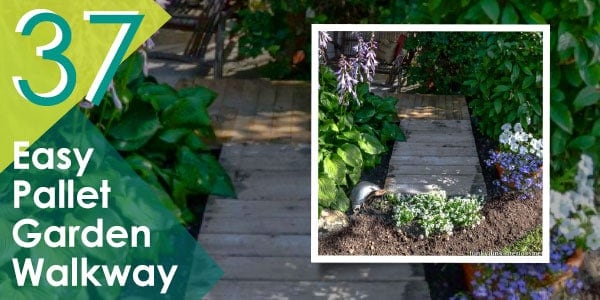 38. Easy pallet bike rack
Do you need storage for your bike or your children's bikes? Don't let those bicycles clutter your front yard or garage; pallets have got your back!
Instructables member @maudlin shows us how to store your bikes; pallet style.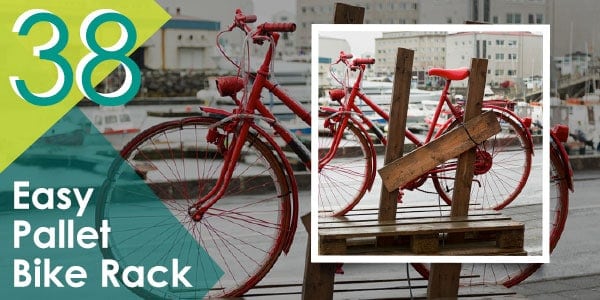 39. Potting bench for gardening hobbies
A Piece of Rainbow teaches us how to make these potting benches from pallets. This DIY garden project is perfect if you're looking for ways to make your plant potting duties more convenient.
Not only that, but you can also save a fortune if you make one on your own instead of buying one online. Plus, you can help lessen your waste and protect the environment by making use of your old pallets rather than disposing of them. Then you can invest your savings in a quality potting shed instead.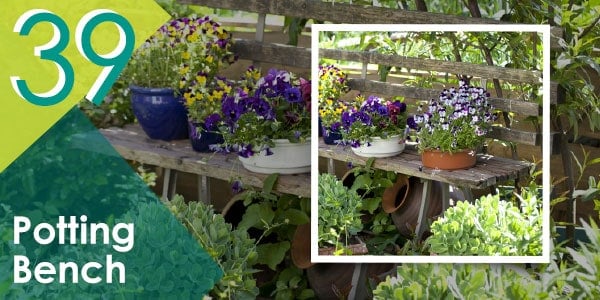 40. DIY pallet patio daybed
Need to snooze for a bit? Make a daybed and let your pallet dreams come true!
Head on over to Lovely Greens to find out how you can make this gorgeous daybed for your house. You don't want to miss out on this one, particularly for the summer season.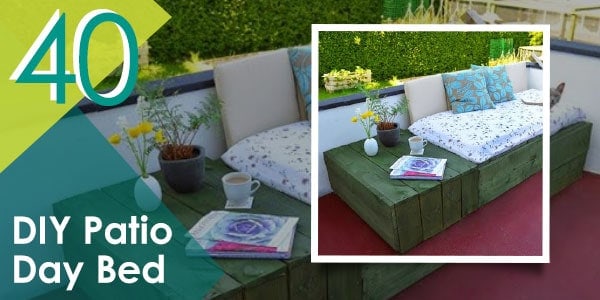 41. Garden tool shelf
Keep your gardening tools and equipment in one place with this DIY pallet shelf. This is a great statement piece for a garden workshop, where you get to showcase your most beloved tools.
Try this simple but practical hanging garden tool shelf this weekend. This is another garden project from Funky Junk Interiors, so it's guaranteed to be a good one!
---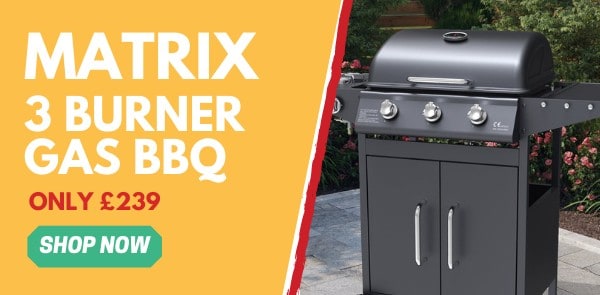 ---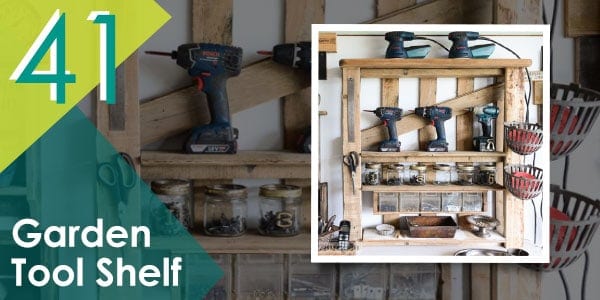 42. Pallet fence
If you're planning to install fences soon, you might want to consider this DIY project.
Use the pallets as they are and put up a tall fence. It will virtually cost you nothing—especially if you get your pallets for free. Hometalk member Siff S. shows us how it will look after you're finished with your fence.
Happy building!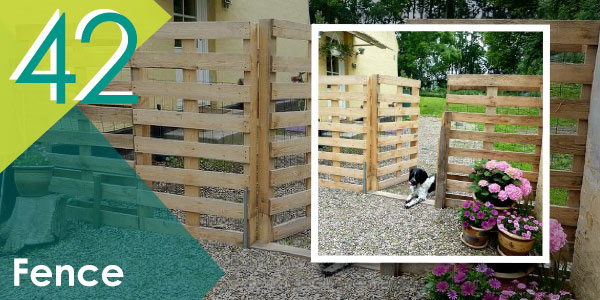 43. Vegetable and herb planter
This DIY project can help you to start your gardening journey. If you're a beginner and don't have enough space to raise beds, you can use pallets to set forth.
1001 Pallets is back again with another step guide tutorial on getting started on your vegetable and herb planter. Just imagine making a pallet bed frame, not just for you but for your plants.

44. DIY sandbox for your little ones
Give your children the best summer experience they could ever have this year with this DIY sandbox! Ana White teaches us again how to make this sandbox with all the crucial details.
Mind you, this isn't just an ordinary sandbox. It comes with built-in seats so the kids can take a rest after hours of fun in the sand.
Basically, it's a flat deck when closed, and a sandbox with built-in seats when open!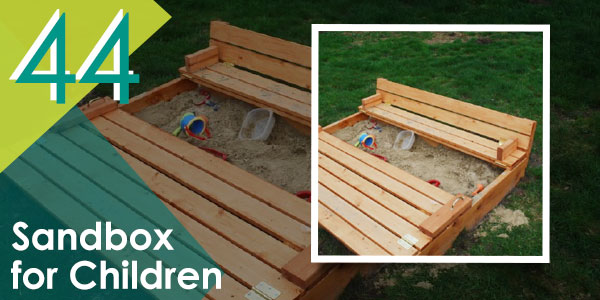 45. Pallet playhouse
Who said you couldn't build a playhouse from pallets? With pallets, nothing is impossible!
Let your kids experience and see the beauty of DIY with this pallet playhouse project. A Subtle Revelry shows us how easy and simple it is to make this wonderful playhouse.
What a great way to add memories to your children's childhood!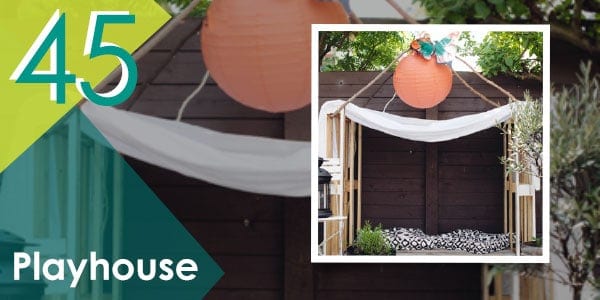 46. Backyard playground
If there's a playhouse, there should be a playground as well. Make this your ultimate goal this year and make your kids happy every day for the rest of their childhood.
If you're up to the task, you can ask Elizabeth over at the Frugal Mom Eh!, how they conceptualised and built this mammoth project.
"One day, while driving by a local factory, I saw a pile of shipping crates and pallets waiting to be disposed of, and the light bulb came on. That pile of pallets looked to me like a mostly assembled, modular playscape just waiting for a home." ­­Elizabeth, Frugal Mom Eh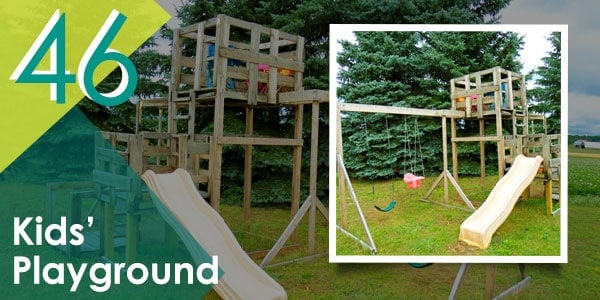 47. DIY outdoor swing chair
You made a pallet bed frame for yourself and your plants; now make a pallet swing chair for your guests to sit on! Instructables member @millsy2254 teaches us the directions to nail this swing project.
You can even decorate it with back and seat cushions for extra comfort. Plus, you can add some colourful throw pillows.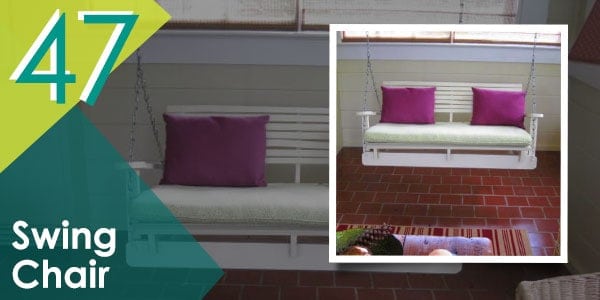 48. Picnic table
Make your BBQ party this summer unforgettable and unique by letting your family have their meals on your picnic table.
You can leave this piece of furniture in your garden or patio and add some decorative items, e.g. candles and flowers. If you don't know how to make it, Ana White is full of ideas on what to make from pallets.
You can check out her detailed guide here.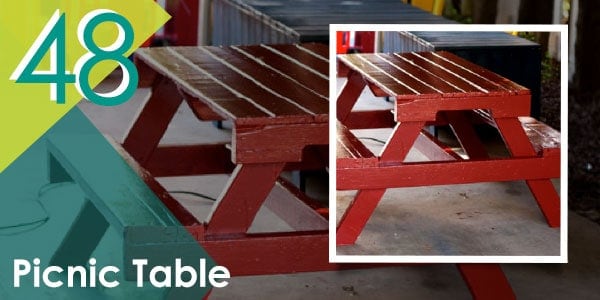 49. Outdoor pallet lamps
Light up your garden with these unique DIY lamps. Ian Anderson posted this on Handy Crowd and intended it for the winter, but there's no problem if it stays in your garden all year long.
Say hello again to the pallet and mason jar partnership! You can try this project out after the DIY pallet and mason jar vase.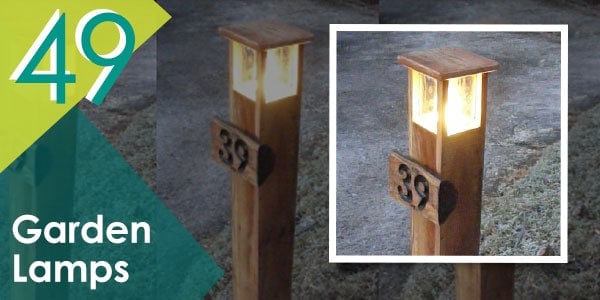 50. DIY outdoor swing bed
Nothing beats unwinding in a swing bed with a view of your garden after a long tiring day!
This project is our favourite, which is why we saved it for last. A big hand for the girls over at The Merry Thought for doing this project.
Imagine spending your time on this pallet swing bed while the sun is setting. So dreamy!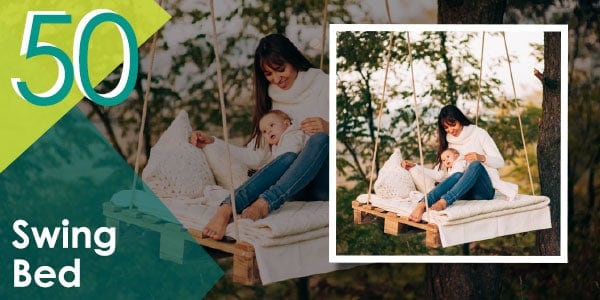 Some Pallet-able Ideas
Pallets are not just a piece of wood. If you have a creative mind and the will to put in the time, pallets could mean the greatest resource for your DIY needs and projects. You could even turn pallets into your own playhouse or garden shed.
You don't need a lot of tools to start your pallet project, either. You can create simple, then when you get up to speed, begin to explore the trickier projects on this list.
So, what do you think of our curated list? Do you have any other ideas that would make a great and inspiring project?
Let us know in the comments below! And if you want garden furniture that isn't made from pallets, check out our collections via the buttom below.
Shop Rattan Garden Furniture
FAQs
If you're looking for free pallets, here are a few places that can supply your needs:
Small shops or facilities. This includes supermarkets and box retailers.
Your local pallet recycler or manufacturer.
Furniture stores.
Bar and craft beer locations.
Anytime you order a fair amount of garden supplies.
Scroll back up to check out the helpful guide above. You can make anything from a DIY sandbox for little ones to planters and mirror frames!
Download Our Pallet Ideas Guide