Thinking of installing a summer house on your own in your outdoor space? In addition to sheds, summer houses are a popular type of garden building in the UK.
They make a perfect addition to most garden spaces as they offer a variety of uses. On top of providing a cosy space for relaxation, a contemporary summer house also makes a great garden office.
Or, if you're thinking of building a mini sun room from scratch, a corner summer house will do the job. A wooden building like this is an ideal solution for completing the look of long gardens, too.
But there's a potentially tricky part, and that's the installation process. You'll need to consider the planning regulations for outdoor buildings, for one.
So our team has rounded up the important details to help you assemble your wooden summer house safely and effectively. This comprehensive guide is suitable for any style of summerhouse.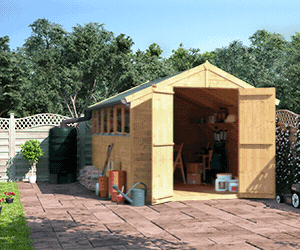 Key takeaways:
Having a summerhouse in the comfort of your backyard is the lap of luxury. For one, you have the perfect space to live it up in the warm season or get cosy and take advantage of the cool British weather.
There are various designs, sizes and materials of summer houses available on the market.
There are some important factors you need to consider, too, in choosing the best one to fit your needs. These include both the resources you have at hand and building requirements.

Introduction to Cool Summer Houses
As the name implies, timber summer houses are wooden outdoor buildings that can be utilised in many ways. Many people take the term to heart though and assume that a cosy summer house is only suitable for warmer months.
The truth is, summer houses aren't just for summer. With excellent quality summer houses that can withstand harsh weather conditions, you could use your outbuilding all year round!
The materials
Many modern design units feature different roof types and protection, such as:
Apex roof
Pent roof
Flat roof
Shingled roof
Tin roof
Roof overhangs
And other outdoor building materials include double-glazed windows and large doors. These qualities allow significant amounts of light to shine through and easy access.
While other summer houses come with porch steps, verandas, or canopies. Larger units are typically designed in the style of garden log cabins but double as summerhouses.

Different Types of Summer Houses
So are you even aware of the type of summerhouse building you own? They may all look the same, but in reality, summer houses come in all shapes and sizes.
Here at BillyOh, for instance, we offer many kinds of high-quality summer houses for every garden. Find out here the type of outdoor building you plan to install in your garden space.

1. Contemporary summer house
This type of garden building gives off a stylish and modern design, hence the name. Outdoor buildings like this usually feature apex tongue & groove panels, creating a smooth and clean appeal.
If you own a contemporary summer house, it can give your garden that modern edge.

2. Traditional garden summer houses
A traditional wooden summer house features Georgian windows and commonly utilises an apex roof. As the name implies, it looks like a classic outdoor building rather than a modern one.

3. Corner summer houses
A corner summer house is designed to fit into a corner, enabling you to make the most of your available yard space. Many models feature two opening side windows (Georgian windows) and double doors.
These elements can provide you with a panoramic view of your garden all year round.

4. Log cabin summerhouses
This type of wooden summer house showcases a more luxurious style. The construction is solid and sturdy, guaranteed to withstand the harsh British weather.
For one, log cabin summerhouses are a step up from a modular summerhouse. What makes the structures robust and built to last is the combined tongue and groove panels/interlocking boards that the log cabin has.

5. Summer house sheds
A summerhouse shed can be utilised in two ways at the same time. It makes the perfect space for relaxing as well as a brilliant storage space.
Some units have a combined side store, ideal for couples and small families. Take a look at the BillyOh Penton corner summer house with a side store.
Cool Summer House Ideas
Installing a cosy summer house in your garden can give you more than luxury all year round. In addition to offering the perfect summer retreat, here are some of the potential summerhouse ideas to provide you with a vision.
Brilliant storage space (a great and versatile alternative to storage sheds/garden sheds)
Workshop or tool shed
Outdoor dining
Garden office
Children's playroom
Everything You Need to Plan When Installing a Summer House
When thinking of installing a summer house from scratch, here's everything you need to consider for a successful setup. From summer house planning permission, to location to design and decor –  we've got you covered!
1. Building regulations/summer house planning permission
Planning authorities (e.g., the planning department/planning office) generally consider summer houses as outbuildings that don't require planning permission. But there are occasional cases where people need to request this to add a summerhouse in their gardens.
One is when your property lies on designated land. These areas refer to:
Conservation places
Heritage sites
Areas of Outstanding Natural Beauty
National parks
There are other rules including, for example, if you're thinking of adding a summer house 20 meters from your main building, its size should not be more than 10 square meters (metres in height).
For more information about summer house planning permission, feel free to read this building regulations approval.

2. Choosing the right location
You probably already have a mental picture of the area where you want to install your summer house. Yet, the optimum location should depend on what you intend to use the structure for.
It should depend on whether you want it exposed or shaded from direct sunlight. You need to examine the route of the sun in your garden throughout the day.
For the ideal placement, your summer house should be facing south, positioned at a reasonable distance away from your house. Also, the size of your summer house will affect its location in your garden (and vice versa).
Lastly, you would want to have your summer house founded on a level and firm ground. This is to keep the structure away from any damp with suitable drainage.
Top tip: If you don't have a relatively large backyard, get a summer house that won't dominate the entire space. In this case, corner summer houses available at BillyOh are ideal to fit into the most obscure spaces in your garden.

3. Proper interior planning, budget, and decoration
This consideration should also include the size of the outbuilding that you'll be choosing. If you're thinking of adding furniture to your summer house, you should contemplate its size and shape.
The idea of decorating your garden building should add to not only its design but the style of your entire property. Proper interior planning, budgeting and decoration can help you make the most of even small summer houses.
4. Check the quality of structure and wood
If you want your summer house installation to be successful in the long run, the structure and materials should be robust. That's on top of having built on a levelled surface at right location. In terms of quality, one of the big considerations is the durability of wood.
You should choose the kind of timber that can last through all types of weather and is immune to the attack of harmful rot and insects. This is especially important when you're just about to get yourself a new garden summer house.
A great example of this is a summer house unit that's made from classic tongue and groove panels (T&G), like in the BillyOh summerhouse collection. This type of construction applies the quality of timber/groove panels that are 11mm thick.
They are also pre-engineered to interlock together. This helps prevent water entry, at the same time, providing valuable protection against severe weather.
Top quality materials like this will ensure your outbuilding will last for years to come and stand stronger in the spot where you installed it.
The Bottom Line
Shopping for a new summer house building can be exciting. Yet when it comes to installing it in your backyard, it can be challenging.
But when you have an idea what type of summer house you have, you'll already know the perfect spot to place it in your yard. For instance, look at corner summerhouses if you've got an awkward space to use up.
Proper planning of the interior, budgeting, and decorating is crucial so you can maximise your summer house no matter the size. Lastly, don't forget the overall quality of the structure of your outdoor building.
We hope our guide will help you assemble and install your wooden summer house safely and effectively! And you can shop our BillyOh summerhouses via the button below.
Shop Summer Houses
FAQs
For the ideal placement, your summer house should be facing south. It should also be positioned at a reasonable distance away from your house.
Most summerhouses don't require planning permission. Permission is only required when the building covers over half the garden and is over 3 metres high with a pent roof. Or 4 metres high with an apex roof.
For more information about summer house planning permission, feel free to read this building regulations approval.
Yes, you can build a summer house next to a fence as long as:
You follow the proper measurement (for permitted development)
Or have the appropriate permit (for larger plans)