Having a long and narrow garden design is actually kind of a luxury, but it can be a challenge when designing it. A rectangular dining table may not be enough to do so.
You have to think of how to maximise on that potentially awkward space. So if you want to give your narrow plot a new lease of life and get that wow factor all year round, we're here to help!
In this post, we've curated landscaping and garden ideas for long gardens from all over the web with long garden ideas. 
1. Modern long garden urban garden
Divide your garden to make different spaces work for you. Here, there's a large seating area with a patio, a lush green lawn with stepping stones and even a football field at the back!

2. Narrow garden with gym
Set aside some space in your garden for a gym to work on your body without having to leave home. For more ideas, take a look at these fantastic garden gym ideas!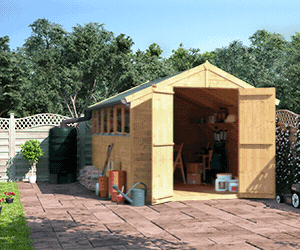 3. Zig zag
When you have a long garden, you can get creative with the shapes of the grass and flower beds.

4. Multi-ambient garden
First, some space for the kids to run. Then, a nice dining table for picnics and dinners. And then, some grass to lay down and watch the sky.
5. Side garden bed
Create some planting beds along the long edges of the garden to add some height with trees and plants.

6. Multi-zoned long garden
Another great example of breaking your garden up into zones; you could even have a section dedicated to each member of the family.
7. Table and shed outdoor furniture
Circular lawns and flower beds can help hide the corridor-feel of a long garden and stop the eye from being drawn straight to the back. Add a cosy outdoor dining space to make the most of your garden on those warm, sunny evenings. 

8. Brick path
A winding path and more natural planting will help to draw attention to the rest of the garden rather than focusing on the length. 

9. Lights on tree
Trees are the perfect addition to a narrow garden to give some added height. Decorate it with some hanging lights to draw the eye up. 

10. Railway sleepers
Use alternative-shaped flower beds to make your narrow garden look wider, as straight beds will just make it feel more enclosed. 
11. Tables on the sides
Different areas break up the narrow space – a small seating area for morning coffee, flower beds and a lawn to bring some life to the garden and then a family dining area for those sunny evening meals outside. 
12. Wooden deck
A modern wooden decking/pathway and tall plants and trees create the illusion of space in a narrow garden. The winding style of the path takes you around the garden rather than giving focus to the far end. 

13. Circular shapes
Use shapes like circles for patios and lawns to break up the space into defined areas.
14. Narrow garden with stepping stones
Go for winding stepping stones rather than a solid, straight path to make the garden seem wider. 

15. Side pergola garden building
If you don't want to cover your entire garden, go for a small pergola at the side. Get shade as well as privacy during your al fresco dining.

16. Small ponds
Water features can help to drown out the noise from neighbours, which can often be intrusive in long, thin gardens. 

17. Narrow garden with shed
A shallow shed like this one is perfect for narrow gardens. It breaks up the space and gives you somewhere to store tools and bicycles. 

18. Perfect path
Having a small path in your garden protects your grass. It's important to avoid straight paths in a long, narrow garden as they direct your attention straight to the back and emphasise the length. 

19. Hard shapes
Triangles and diagonals will help to make your garden appear wider than a standard rectangular lawn or patio would. 
20. Plank path
A soft wooden path that winds through the flower beds will bring beach vibes to your garden.

21. Two-level perfect grass
Splitting the long lawn into two with a row of trees helps to divide the space and make the garden feel shorter. 
22. Couches and fire pit
If you have the space, why not create a little comfort outside? Place a couple of sofas and a fire pit to keep you warm at night.

23. Pergola and minimalist garden
Add some shade into your garden with a small pergola, and create different areas using gravel, paving and grass.  

24. Modern cabin
Use some of that extra long garden to build a modern cabin and gain some extra indoor space.

25. Zen long garden
A small brick path with natural planting, plus some perfectly shaped bushes, provide a lovely section to a zen garden. Concrete accents bring a modern feel.

26. Dream long garden
Perfectly pruned hedges and trees give this garden a manicured, stately home-feel. 

27. Minimal garden
Keep it simple but stylish using black accents that give a modern vibe. Add some seating on the porch, along with some sleek steps and plenty of natural greenery.
28. Wooden side pergola with bench
A pergola will protect you from the sun's harsh rays, so add a bench underneath for an excellent place to sit back and relax.
29. Long ceramic path
Another example of a winding path that captures your attention to give the illusion of a wider space.
30. Pond with pebbles
No pool? Cool down with a nice little pond on the side of your garden.

31. Flower pergola
A classic metal pergola provides the perfect base for climbing vines and flowers to create a fabulous shaded alfresco dining area.

32. Buried pots
If you prefer not to see your plant pots, bury them within your flower beds for a more polished finish to your garden.
33. Playground
Don't forget to think about the kids when breaking your garden into sections. 

34. Modern garden with Jacuzzi
Clean, sharp lines give this narrow garden a modern feel and provide distinctive areas to enjoy. They've even added a square hot tub to fit with the theme!

35. Long dry river
Keeping a river beautiful and clean is a lot of work. However, a dry river requires close to no maintenance. Decorate yours with miniature bridges and edging stones to imitate a real river.

36. Circular traditions
Use circular shapes throughout your garden to create the feeling of more space. Light coloured fences also help to keep it feeling spacious.
37. Modern multi-level fountain
You can also add some modern decorations to bring your garden to life, like this awesome fountain. The trickling sound will help to mask noises from your neighbours that are often a problem with narrow gardens.

38. Multi-level decking idea
Multiple levels of decking and plants help to give your garden more texture and height, so it won't feel as narrow.
39. Fire pit and lights
Enjoy evenings in the garden with friends and family by adding a circular seating area with hanging lights and a firepit to keep warm.

40. Waterfall edges
You don't need lots of space for a water feature – add miniature waterfalls around your decking so you can have the soothing sounds of running water to help you relax. 
41. Side plants
Tall trees add some extra height to your garden and give you some added privacy from your neighbours. 
42. Greenhouse
If you have plenty of space, you can get really creative. You could even have a large greenhouse in your backyard.

43. Modern backyard with lights
Adding some floor or wall lighting always makes your garden look bigger, and you can also enjoy your backyard into the evening. 

44. Vegetable garden
Try growing your own vegetables in your backyard. It could eventually save you a trip to the supermarket!

45. Waterfall and garden bed
Add a waterfall amongst your flower beds and relax while listening to the falling water.

46. Lanterns and concrete path
It's important to add some lighting along your path if you're planning to eat dinner outside or explore your garden in the evening.

47. Black pergola and hammock
Add a swing seat to transform a classic pergola into a comfortable spot to while away the afternoon. 
48. Flower bed
Create curved flower beds to decorate your lawn edges instead of just a simple fence. 

49. Gravel and timber path
Use timber pieces to create 'steps' if your garden's on a slope, as gravel can be slippery alone. 

50. Fountain and stepping stones
If you're going with a stone fountain, some stone stepping stones are perfect to complete your garden look.
51. Elevate seating with raised deck
Create a focal point at the end of your plot by adding an elevated seating area. The raised deck lifts the space.
The wide stepping stones embedded in this garden gravel pathway draws the eye width ways.
52. Stunning long water feature
A stunning water feature can be a lovely focal point for long garden ideas. This style blends well with the plot's shape, offering sensory benefits with its soothing sound, cool feel, and lustrous look.

53. Bluestone paths with merging seating spots
This Bluestone path passes over the property, unifying outdoor seating areas with directing flow from one space to the next. There's a fire pit at the end and each corner is surrounded with full and colourful flowers.
54. Large contemporary back xeriscape garden
A long garden that features contemporary back xeriscape style. The concrete paving and a garden path makes the space even longer.
This concept is a great way to separate the spaces, such as the swimming pool at the left side.
55. Consistent colour scheme
Going for a consistent colour scheme for your long garden is a smart idea. Take a look at this one; the warm, sandy tones create a soothing and cohesive style.
An outdoor space like this will instantly welcome you and your guests with comfort.
56. Outdoor kitchen
Looking for outdoor kitchen ideas? Upgrade the look of your yard dining area by adding a kitchen garden.
This modular alfresco design can be the missing piece to your dream kitchen garden.

57. Stunning water feature
No pool? No problem; add an attractive feature like a garden pond, or cool down with this long water feature! Mix it between your garden path and surround it with greenery for a touch of serenity.
58. Textural planting of ornamental grasses
Mass planting of grasses and complementary colour palettes can provide a sense of both unity and definition to your long plot. Have a look at this Hampshire garden; the mixes of grasses add elegant inflorescence to the property.

The Bottom Line
The main thing to remember with long, narrow gardens is to use different shapes for lawns and patios and divide your space up into different areas using winding paths and irregular planting or flower beds. 
Hopefully you can use some of these ideas to help you transform your garden into a relaxing space you'll be able to enjoy with the whole family.
Shop Rattan Garden Furniture
FAQs