A long and narrow garden may seem like a luxury to have, but it can actually be a challenge to design it. A simple rectangular dining table won't suffice here. You have to maximise the potential of that seemingly awkward space.
Within this post, we've curated landscaping and garden ideas. Our goal is to equip you with inspirations and solutions tailored for long gardens. Prepare to breathe new life into your narrow plot and leave everyone in awe, regardless of the time of year!
1. Modern long garden urban garden
Maximise your long garden by cleverly dividing the space into functional areas. Imagine a sprawling seating area with a charming patio. Plus, a vibrant green lawn adorned with stepping stones. What's more, there's even a dedicated football field tucked away at the back. This approach ensures endless entertainment possibilities for the whole family!

2. Narrow garden with gym
Utilise a portion of your garden to create an enticing home gym. With one, you can prioritise your fitness goals conveniently within your own backyard. For more ideas, take a look at these fantastic garden gym ideas!

3. Zig zag
Embrace the elongated shape of your garden by exploring imaginative designs for your grass and flower beds. Consider playful curves and intriguing contours. This will surely add visual interest and break the monotony of a linear layout.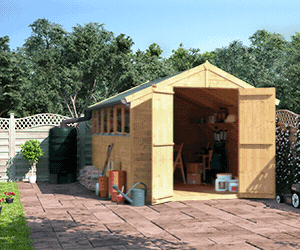 4. Side garden bed
Looking for ways to enhance the vertical dimension of your narrow garden? Then consider incorporating planting beds along its elongated edges. With trees and plants of varying heights, you can add a touch of elegance and create a sense of enclosure.

5. Multi-zoned long garden
Transform your long garden into distinct zones. Make sure to cater each corner to the unique preferences of each family member. From a tranquil reading nook to a vibrant play area, you name it! Overall, these dedicated sections offer a personalised retreat for everyone to enjoy.
6. Table and shed outdoor furniture
Circular lawns and flower beds can help hide the corridor-feel of a long garden and stop the eye from being drawn straight to the back. Add a cosy outdoor dining space to make the most of your garden on those warm, sunny evenings. 

7. Brick path
Guide the gaze away from the garden's length by mixing a meandering path and naturalistic plantings. This arrangement will redirect attention to the captivating elements scattered throughout the space. Such a garden design helps captivate visitors with its hidden treasures.

8. Lights on tree
Embrace the allure of verticality by introducing tall trees into your narrow garden. These majestic additions not only provide shade and privacy but can also be adorned with enchanting hanging lights. The lighting addition can effortlessly draw the eye upward.

9. Railway sleepers
Opt for non-linear flower beds to create the illusion of width in your narrow garden. Instead of confining yourself to straight borders, experiment with organic shapes. This trick will add a sense of fluidity and spaciousness to the border.
10. Wooden deck
A modern wooden decking/pathway and tall plants and trees create the illusion of space in a narrow garden. The winding style of the path takes you around the garden rather than giving focus to the far end. 

11. Narrow garden with stepping stones
Replace a solid, straight path with winding stepping stones. This creative choice not only adds a whimsical touch but also creates an optical illusion that expands the visual breadth of the space.

12. Side pergola garden building
For a touch of elegance and practicality, install a small pergola at the side of your garden. This charming structure offers both shade and privacy. It makes it an ideal spot for delightful al fresco dining experiences. With one, it can also preserve the openness of the remaining garden area.

13. Small ponds
Immerse yourself in a tranquil oasis. Let the gentle trickling sounds transport you to a serene sanctuary. To achieve this, add water features to your long garden to create a soothing ambience.

14. Narrow garden with shed
Optimise the space with a shallow shed specifically designed for such layouts. This practical addition breaks up the elongated space. At the same time, it provides a convenient storage area for tools and other essentials.

15. Perfect path
Having a small path in your garden protects your grass. It's important to avoid straight paths in a long, narrow garden as they direct your attention straight to the back and emphasise the length. 

16. Plank path
Infuse your garden with the laid-back vibes of a beach retreat. Introduce a soft, wooden path that meanders gracefully through the enchanting flower beds. Immerse yourself in a coastal atmosphere right at home!

17. Couches and fire pit
Create a cosy outdoor sanctuary by carving out a comfy seating area with a fire pit. Extend the usability of your garden beyond daylight hours! Revel in the warmth and intimacy of delightful evenings spent under the starry sky.

18. Pergola and minimalist garden
Use a small pergola, expertly combining gravel, paving, and lush green grass. This thoughtful arrangement offers respite from the sun. Plus, it enhances the visual appeal and functionality of your outdoor space.

19. Modern cabin
Harness the length of your garden to construct a modern log cabin! With one, it can expand your living space. Embrace the sleek lines and contemporary aesthetics with this practical retreat solution.

20. Zen long garden
Cultivate a zen garden oasis within your long garden by designing a small brick path bordered by naturalistic plantings. Complement this serene setting with meticulously shaped bushes and modern concrete accents. This approach helps you achieve a harmonious blend of tranquillity and sophistication.

21. Dream long garden
Imbue your garden with an air of refinement and elegance through pruned hedges and trees. This manicured landscape evokes the grandeur of stately homes. It helps showcase your impeccable taste and attention to detail.

22. Pond with pebbles
While a pool may not be feasible, introduce a delightful pond to your garden. It offers a refreshing alternative for cooling down during warm summer days. Embrace the serenity of gently rippling water, adding a touch of nature's allure to your outdoor haven.

23. Flower pergola
Thinking of transforming your garden into a captivating alfresco dining area? Here are some tips: adorn a classic metal pergola with climbing vines and flowers! Revel in the dappled shade and enchanting fragrances.

24. Playground
When considering the layout of your garden zones, don't forget to cater to the needs of your little ones. Dedicate a section specifically designed to engage and entertain children. This allows them to have their own special space to play, explore, and let their imagination soar.

25. Modern garden with Jacuzzi
Clean, sharp lines give this narrow garden a modern feel and provide distinctive areas to enjoy. They've even added a square hot tub to fit with the theme!

26. Long dry river
Keeping a river beautiful and clean is a lot of work. However, a dry river requires close to no maintenance. Decorate yours with miniature bridges and edging stones to imitate a real river.

27. Modern multi-level fountain
You can also add some modern decorations to bring your garden to life, like this awesome fountain. The trickling sound will help to mask noises from your neighbours that are often a problem with narrow gardens.

28. Fire pit and lights
Elevate your garden gatherings by creating a circular seating area. But don't stop there! Adorn it with captivating hanging lights and a mesmerising fire pit. Ready to bask in the warm glow and enjoy enchanting evenings with loved ones?

29. Greenhouse
Unleash your creativity in your spacious long garden by incorporating a grand greenhouse. This architectural marvel offers ample room for cultivating an array of plants. It can also transform your backyard into a thriving haven of greenery!

30. Modern backyard with lights
Illuminate your garden with placed floor or wall lighting. This added glow will create an illusion of expanded space. It also allows you to extend your enjoyment into the evening.

31. Vegetable garden
Embrace self-sufficiency by cultivating your own vegetable garden. This endeavour offers a sense of fulfilment and connection with nature. Even better, it can ultimately reduce your reliance on supermarket produce. Overall, it allows you to savour the flavours of homegrown goodness.

32. Waterfall and garden bed
Indulge in tranquillity by integrating a captivating waterfall amidst your charming flower beds. Immerse yourself in the sound of cascading water. This feature can also serve as a delightful focal point within your garden sanctuary.

33. Lanterns and concrete path
To fully enjoy al fresco dining, incorporate well-placed lighting along your pathways. Illuminate the way with a gentle glow. This ensures a safe and enchanting journey through your garden, even after the sun sets.

34. Flower bed
Add visual interest and elegance to your lawn edges by opting for gracefully curved flower beds instead of a simple fence. These organic contours bring a sense of flow and sophistication. They help enhance the overall aesthetics of your outdoor space.

35. Gravel and timber path
If your long garden boasts a slope, use timber pieces as steps to navigate the terrain with ease and safety. This provides a practical solution for traversing your garden's varying elevations. Moreover, it mitigates the potential slipperiness of gravel.

36. Stunning long water feature
A stunning water feature can be a lovely focal point for long garden ideas. This style blends well with the plot's shape, offering sensory benefits with its soothing sound, cool feel, and lustrous look.

37. Bluestone paths with merging seating spots
This Bluestone path passes over the property, unifying outdoor seating areas with directing flow from one space to the next. There's a fire pit at the end and each corner is surrounded with full and colourful flowers.
38. Consistent colour scheme
Going for a consistent colour scheme for your long garden is a smart idea. Take a look at this one; the warm, sandy tones create a soothing and cohesive style.
An outdoor space like this will instantly welcome you and your guests with comfort.
39. Outdoor kitchen
Looking for outdoor kitchen ideas? Upgrade the look of your yard dining area by adding a kitchen garden.
This modular alfresco design can be the missing piece to your dream kitchen garden.

40. Textural planting of ornamental grasses
Mass planting of grasses and complementary colour palettes can provide a sense of both unity and definition to your long plot. Have a look at this Hampshire garden; the mixes of grasses add elegant inflorescence to the property.

The Bottom Line
The main thing to remember with long, narrow gardens is to use different shapes for lawns and patios and divide your space up into different areas using winding paths and irregular planting or flower beds. 
Hopefully you can use some of these ideas to help you transform your garden into a relaxing space you'll be able to enjoy with the whole family.
Shop Rattan Garden Furniture
FAQs