Upgrading your garden or patio with stylish furniture does not always need to be expensive. In fact, with a few fun ideas, you can create a stunning outdoor space with DIY outdoor furniture!
Here are some of the most affordable and easy-to-make garden furniture projects you can complete in no time:
1. Pallet garden sofa
Pallet wood is inexpensive and ready to use, making it one of the favourites DIY home projects — and that includes rustic garden furniture!
You can transform your old wooden pallets into a stylish garden sofa. One great idea would be to fill a corner design with cushions for comfort and style. For this, you have to first layout your cushions to determine the length of wood you would need.
You can then create the base and secure the backs with a few screws. Once it's done, you can furnish your wooden pallet sofa with more throws and a matching pallet table!
2. Wooden picnic table
Make family meals extra special by adding a classic picnic table into your back garden! Aside from serving as an outdoor dining table, this piece of furniture can also add an accent to any garden or patio.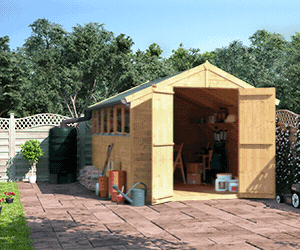 To create a DIY picnic table, you can put together 2 X 4 lumber using a trestle-style base and attached benches. You can also visit this blog for a more detailed set of instructions in creating a picnic table.
3. Folding Chair
If you are looking for a simple furniture project to add in your garden, a wooden chair would be a great idea. It requires minimal woodworking skills and boasts a simple yet useful design.
For this project, you can use cedar, Cypress fir, or other types of pressure-treated wood. You can then prepare your working space, saw, and a belt sander to create a folding wooden lawn chair using an interlocking design. Click this link for a great instructional blog on how to make one.
4. Bench swing
If you and your family love to read or simply want to enjoy the view from your patio, a hanging wooden bench will make a great addition to your outdoor space. To do so, you can repurpose an old bench and hang it using a strong steel chain. You can then connect your bench swing into a ceiling beam or sturdy tree branch, and add some cushion for maximum comfort.
5. Wooden stool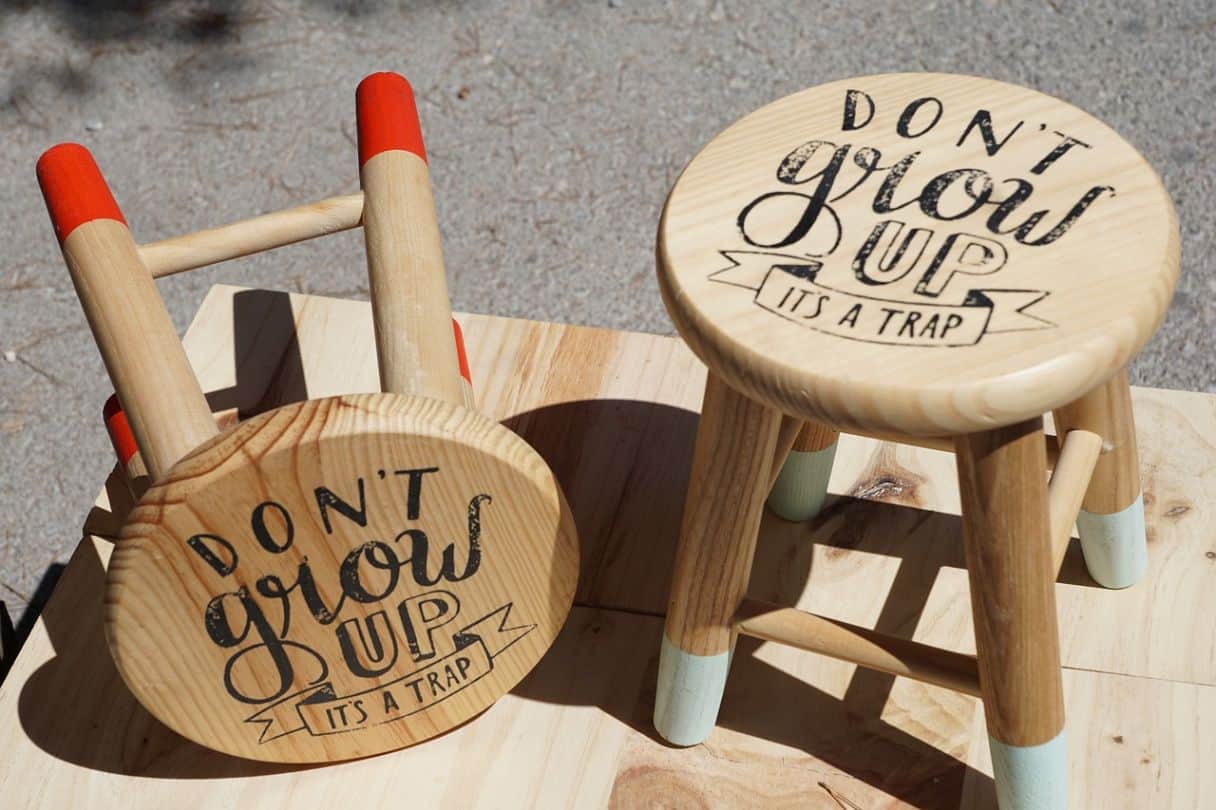 Image Credit: Tier 1 Furnishings
Talking about easy DIY projects, creating stool chairs from reclaimed wood is a simple idea that would add seating into your garden. Simply attach a rectangular base with four interconnected legs into a round wooden slab. You can then adorn it with paint and stain or use print-on-wood techniques. You can also check out this blog for a thorough guide.
6. Rolling console
If you want to create a flexible piece of outdoor furniture, a rolling console would be a great idea! Whether you need a table for BBQ or simply want to adorn your outdoor space with a table filled with small plants, you can use a rolling console anywhere in your garden space.
To create one, you can recycle some scrap wood or use old wooden pallet. Once you have cut the wood into your desired height, width and length, you can simply attach them using metal connectors for wood. Lastly, fasten two pairs of durable wheels at the base and enjoy your movable console!
7. Garden cabana lounge
Turn your garden into a tropical resort with a rustic DIY outdoor cabana lounge! Since this would be a bigger project, you will need to plan it out thoroughly and purchase the right size and type of wood. You can then adorn your garden cabana lounge with soft curtains, an air mattress, and a set of pillows for a truly relaxing space!
Visit Goods Homes Design's tutorial blog to know more.
8. Summer hammock
Hammocks can add a great accent to any outdoor space. To create a DIY project for your garden, you can build one using sturdy lumber posts, strong rope and a piece of hammock-specific fabric.
When determining whether your rope is strong enough to hold a hammock, the rule of thumb is to multiply the diameter of the rope by itself, three times. Then, multiply the result by 2,000 to get the maximum number of pounds the hammock can hold.
9. Wire basket table
If you are looking for an upcycled garden furniture project, you can consider creating a wire basket table. As its name suggests, this project is a combination of an old metal basket and a wooden top. Without the use of any power tool, you can create it by simply attaching the wood to the metal base using cable staples.
10. Wooden chaise lounge
Adding lounge chairs into your garden space is a great way to create a relaxing beach or resort vibe at home. For this project, you can utilise a mitre saw to build an angled shape for your reclining chaise. When it comes to the type of wood, you can use cedar boards for a convenient yet durable material.
Take advantage of these easy garden furniture ideas for your next DIY projects at home! If you do not have the luxury of time or woodworking skills, however, shop through our affordable selection of durable garden furniture pieces that you can surely enjoy year-round!