The idea of DIY is fascinating. It gives you oodles of possibilities of what you can recreate out of "junk" and save money. It encompasses a wide range of projects, like outdoor furniture for home improvement.
Mostly using wooden pallets, there are loads of ideas to choose from. Lounge chairs, garden swings and simple benches, including coffee tables – you name it. With these do-it-yourself outdoor furniture ideas, you can have a patio piece you can take pride in!
Building Garden Furniture Yourself

Gardening and outdoor leisure have become a custom in many UK homes. And this comes with a desire for a comfortable and stylish choice of garden furniture. However, store-bought sets can be expensive and may not always meet your needs. That's where the idea of making your own comes in.
DIY has become a buzzword in recent years. It refers to the practice of creating, repairing, or modifying things by oneself. It's an activity that creatives who seek to save, reduce waste, and build a new skill are particularly fond of.
Why venture into this outdoor furniture project?
Building your own furniture can be a fun and rewarding project – say, swing seats for your porch. It provides a sense of satisfaction and accomplishment. You can also customise the piece to your preference and needs, from the materials to the size and style.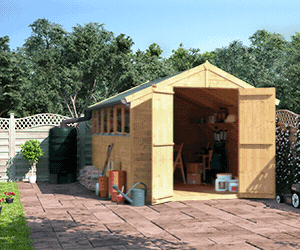 Ready to create unique and functional pieces for your outdoor oasis?
DIY Outdoor Furniture Ideas
With a bit of creativity and some basic tools, here are some of the best piece of furniture you can try at home:
1. Pallet-made outdoor sofa

Pallet wood is inexpensive, making it one of the favourite DIY home project materials. A great way to repurpose old wood pallets is making a pallet sofa for your outdoor space.
Gather the materials. Disassemble the pallets and cut them to the desired size. Next, put them together using screws and add legs if needed. Finally, add cushions for added comfort and style.
2. Wooden picnic table

Picnic tables make family meals extra special and play fun card or board games after. Such an outdoor dining table piece can also add a classic accent to your garden.
You'll need to measure and cut the wood (or barrel), sand and stain or paint it, and then assemble the pieces together. The result will be a sturdy and functional picnic table, adding a rustic charm to your outdoor space.
3. Folding garden chair

(Image Credit: Wallpaper Flare)
If you're looking for a beginner project, this one's for you! It requires basic woodworking tools, and you may need a table saw and a belt sander for best results. The type of wood you can use is cedar, Cypress fir, or the pressure-treated ones.
Start by cutting the lumber wood planks for the chair frame and seat. Then, attach the hinges to the backrest and seat to allow for folding. Once the frame is complete, add cushions or a fabric cover for added comfort.
4. Bench swing

(Image Credit: Wallpaper Flare)
Take your bench seating to a higher level with swing seats instead! To do so, repurpose an old bench and hang it using a strong steel chain. Install or connect it into a ceiling beam or sturdy tree branch and add cushions for maximum comfort. Add a coat of paint for a pop of color.
5. Wooden stool

Talking about easy DIY projects, creating stool chairs from reclaimed wood is one of them. Attach a rectangular base with four interconnected legs into a round wooden slab. You can then adorn it with paint and stain or use print-on-wood techniques. And voila, you have extra seating in your outdoor living space!
6. Rolling console patio table
If you want to create a flexible outdoor furniture piece, you can never go wrong with a console like this. The rolling feature of the table makes it easy to move around and store when not in use.
To create one, recycle some scrap wood or use old wood pallets. Once cut the wood into the desired height, width and length, put together the pieces. Lastly, fasten two pairs of durable wheels at the base and enjoy your movable console!
7. Garden cabana lounge

Turn your garden into a tropical resort with a rustic DIY cabana lounge! Since this is a bigger project, you'll need to plan it out carefully and purchase the right size and type of wood.
Once the frame is built, add the fabric canopy and curtains for privacy and shade. Finally, add comfortable seating and accessories to create a cosy and inviting atmosphere. These include cushions, pillows, and outdoor lighting.
8. Summer hammock

(Image Credit: Wallpaper Flare)
A hammock consists of a frame that supports the hammock and a seat or bench that you can sit on. The frame is usually made of metal or wood, and the seat is often fabric or canvas made.
To create this outdoor furniture project, use sturdy lumber posts and rope, and a fabric. Hang your hammock and enjoy a relaxing afternoon in your backyard oasis. Top tip: When attaching the rope or chains to the fabric, distribute the weight evenly.
9. Wire basket table
This garden furniture idea is a combination of an old metal basket and a wooden top. To make this simple project, you'll need to find an old wire basket that's large enough to serve as a tabletop.
Without the use of power tools, cable staples are enough to attach the wood to the metal base. Attach legs to the basket to make it stable and functional, then paint or stain the basket to match your decor.
10. Wooden chaise lounge

Lounge chairs aren't just a piece of furniture but a modern luxury, offering ultimate comfort. Their utmost purpose is to serve as a resting spot for you to unwind after a long day.
They can be made using wood, metal, or other materials that are durable and can withstand the elements. For instance, cedar boards or pallet woods are a convenient and durable material.
Finish the look with comfy cushions and you can enjoy relaxing in your new garden lounge chair. Best of all, take pride in the fact that you built it yourself!
Round-up
Take advantage of these simple outdoor furniture ideas for your next DIY project! But you don't have the time to do so, browse through our patio furniture, and save these inspirations for later.
Shop Rattan Garden Furniture