Your log cabin shouldn't be overlooked this Christmas. Sit back and let us help you transform your outdoor building into a holiday retreat!
Our team has put together these ideas to make the job easier for you. Room by room, we'll guide you through to make your cabin incredibly cosy and magical.
---
The Exterior
Putting up cheery accessories outside is well worth it for the joy they'll bring to you and others. This includes the lighting, porch or entrance setup, pathway, and more.
Start by picking a colour or theme that you think will suit your taste best.
---
1. Scandi inspired Christmas porch/entrance
Layer up a Scandi inspired porch filled with natural greenery. Set out simple green garlands, potted trees and lanterns. Finish the look with a red Christmas wreath on the door for a pop of festive colour.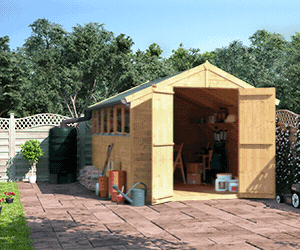 2. Swap out the doormat
Welcome the holiday cheer into your cabin with Christmas-themed doormats. Your guests will surely enjoy wiping their snowy boots on their way in.
Leave faux snow or small ornaments for an extra decorative flourish.
3. Showcase a festive sign
Give your log cabin the ultimate seasonal welcome with a festive sign. You could make your own version, like in the picture below. Or, set out a colourful hanging or leaning banner, then add fairy lights for an ooze yule cheer.

4. Hang a special wreath
Think a simple cabin wreath with white snowflakes and fresh evergreen. A plaid bow also adds a nautical touch. Hang it on your garden building's front door with Christmas tree hooks.

5. Show off a vintage display
Vintage decor, such as sleighs, sum up the rustic charm of log cabins. Look for antique items in flea markets or your shed, and repurpose them into a charming display.
Take a cue from this ornamental sleigh, alongside chopped logs and retro-style accessories.

6. Add cute characters into the mix
Add a fun element to the exterior of your cabin this holiday season. Think adorable animals like dogs with LEDs that spring to life after nightfall.
Have a look at this light family of Dachshund dogs that are all bundled up for the colder winter nights.
7. Light up the fire pit
Nothing beats a roaring fire in the dead of winter. A fire pit is a great way to enjoy your garden this cold holiday season.
Place one in a safe spot near your cabin, then hang fairy lights on posts or an actual Christmas tree close by.

8. Starry night facade
Want to keep the exterior of your log cabin simple? No problem! A twinkling outdoor Christmas lighting idea like this will do the trick.
Simple wire stars make a shining addition to the rustic look of cabins. At the same time, it creates a simple yet timeless focal point.

9. Outdoor Christmas tree
Choose the perfect outdoor Christmas tree to extend the festive cheer to your garden. Wrap the tree with battery and add solar lights in the ground to illuminate the outside of your cabin.

10. Invite Frosty the Snowman
Make the exterior child-friendly by adding an inflatable snowman to your Christmas decorations. It could even be made of metal or wood – whatever you choose, it can inject colour and humour into your yard.

11. Highlight the porch
Bring the living room outdoors by creating a cosy porch scene. It doesn't have to be grand; just accent the space with garlands and comfy seating arrangements.

12. Bench makeover
What's the point of all these Christmas log cabin exterior decors without creating a cosy spot?
Sit back and admire your work by setting up some simple rustic seating. Dress it up with thick-pile textured throws and cushions to keep you warm in the crisp winter air.
---
The Interior
The living area will be the centre of your log cabin this holiday celebration. So this is where you should put extra effort in putting most of your themed decorations.
Think of what kind of atmosphere you'd like to have, from the living room to the kitchen.
---
13. Indoor Christmas tree
Putting up a Christmas tree has become a tradition in many homes, and log cabins are no exception. Opt for a red and green colour scheme and ornaments from top to bottom to keep it classical.

14. The holiday fireplace
You know how to celebrate the season in style if you let your fire do the work! Embrace the rustic vibe of your cabin with a mantel display that includes pine cones, stockings and candles.
15. Blend the kitchen with the theme
If you have a kitchen space in your cabin – good for you! So don't neglect this essential room when decorating. Install fun accessories on the buffet table, such as candles and garlands with bows.
Hang Christmas-themed curtains or fake snow to line the windows. Use your kitchen table to set out a candy or cookie display.
16. Festive dining table
A traditional Christmas table setup that maintains simplicity. Decorate it with a red table runner with lighted candles as the centrepiece. 
Stick to holiday-inspired dinnerware to complete the look.

17. Spruce up the furniture
Even a simple rocking chair can give off a full Christmassy vibe with a scarf and warm cushion. Go for plaid patterns for pillowcases and red coloured carpets.

18. Accessories the bathroom
Some garden cabins come with a bathroom. If you have one, it's best to decorate it as well to match it with the overall Christmas spirit inside.
Keep the decor with the same theme as the rest of the log cabin.
19. Santa's rest stop
There's no reason not to spread the same cheer in your bedroom. Impress Santa and your guests by adding a garland to the headboard.
Classic holiday bedding offers even more holiday appeal, such as red tartan sheets and faux fur.
20. Pay attention to the small details
Christmas is the perfect time to invest in holiday-themed dishes and dinnerware sets. The jolly details add the perfect touch to your table setting.

21. Flaunt a DIY advent calendar
Dazzle the kids (and everyone) with this creative advent calendar! Brown paper bags will fit the rustic theme of your Christmas cabin. Make it look extra charming with stickers, and don't forget the little surprise for each day!

22. Window display
Introduce a touch of winter wonderland in your cabin by having a window display. Hanging wreaths and adding fairy lights or candles can make all the difference.
23. Bouquet centrepiece
Your Christmas feast will look as good as it tastes with a bouquet centrepiece. Pair a rich red floral bouquet with Christmas bulbs to blend tradition and glam.

24. Hang the ornaments
Another way to spice up the look of your cabin, mainly the dining area, is to have an ornament pendant! Match the ornaments with the theme you have in the table setting for a floor-to-ceiling appeal.

25. Candy wonderland
Kids will surely take delight in your log cabin with this theme. Bake some ornament cookies, display peppermint trees on your table, and put treats in small bowls.

Round-up
From the moment your guests enter the cabin, relax in the living room, enjoy a feast on the dining table and freshen up in the bathroom, these ideas will strike a good impression. We hope you enjoyed our suggestions and get inspired to create a theme to suit your liking.
You don't have to decorate each room, but it's nice to have an idea in case you change your mind. Have fun decorating your log cabin for the Holidays!
Shop Log Cabins