If you love sitting out on your favourite patio sofa set in the evenings, a fire pit is essential for keeping you warm. They don't have to cost the earth; we have some ideas on our list that you can build yourself.
Are you ready to make a great focal point for your outdoor seating area? Let's jump in!
1. Fire pit on pebble floor
Add some warmth to your outdoor seating area with a simple fire pit. Hang some twinkly lights and cosy up with cushions and blankets to continue enjoying your garden into the evening. 

2. White bio fuel fire pit
Bio fuel fire pits are a great alternative to burning logs or coal. It allows for a more modern design for your fire pit and provides extra safety as it can be switched on and off at leisure, whereas natural fire pits need time for the fire to die down. 

3. DIY buried fire pit
Create your own buried fire pit lined with stones for a simple but effective centrepiece for your garden.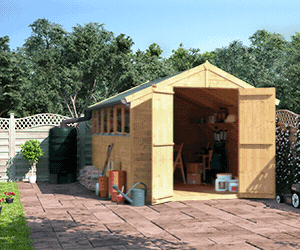 4. Iron raised fire pit
Iron or other hard metals are perfect to endure the heat from the fire and bring a rustic charm to your garden. A fire pit like this would look great in your rock garden themed space.
5. Stunning fire pit with lights
Add a sleek fire pit to a cosy, buried seating area to bring warmth on those cooler evenings and create a stylish centrepiece. 

6. Fire with borders
If you have money to spend, you could bring a sense of luxury to your seating area with a fire pit built-in to your dining table. 

7. Easy and cheap DIY fire pit
If you've got an awkward space to fill, you could design your own stone fire pit area to fit your available space.  

8. Sphere shaped fire pit
For a fire pit with a difference, you could go for a more contemporary, stylish design like this sphere-shaped beauty.

9. Fire pit and pergola
Create a cosy seating area under your pergola so you can add hanging lights to enjoy your space into the evening, and add a fire pit to keep you warm after the sun goes down.
10. Outdoor lounge
Add some comfy seating, maybe even a bar. You can create an outside living room in no time with this simple setup.

11. DIY stone and steel fire pit
There's not much work required to get a lovely source of heat in your garden for those late night chats outside. A simple stone structure around a metal tub provides a budget-friendly fire pit solution. 
12. Stunning fire pit area
When building a fire pit, you could use the same materials to create a surrounding seating area to enjoy the warmth. Don't forget to add some comfy cushions!
13. Fire pit island
Create a small patio island in the middle of your grass garden to relax by the fire. You could add a stepping stone path so you don't have to walk across your lawn. 
14. Personal fire pit
If you love solitary time in your garden, build yourself a small seating area to enjoy the peace and quiet. 

15. Amazing fire pit with roof
Build a pergola around your seating area to create a stylish space and help provide some shade on those hot summer days. Add a fire pit so you can keep enjoying your outside space in the evening. 
16. DIY outdoor lounge
Create a unique lounge in your backyard with comfy seats, an outdoor rug and pretty lights. Place an attractive fire pit to keep warm at night time.
17. Round fire pit area
Create a simple round fire pit and then use the same stone to create a whole new patio area in your garden to enjoy. 

18. Amazing stone fire pit
Imagine looking out at the water every day next to your cosy fire pit. Relaxation guaranteed.

19. Wood garden beds and fire pit
Make your decking multi functional by using it as a seating spot for your buried fire pit. Great if you're on a tight budget.
20. Fire pit with lid
When not using your fire pit, it can be turned into a simple, yet classy table. Find a cover for the pit and enjoy.

21. Eco-smart fire pit
Play it safe with a modern gas fire pit. When you're ready to go inside, you can just turn it off without having to wait for your fire to go out naturally.  
22. DIY stacked bricks fire pit
Building your own fire pit is not easy. Just stack whatever material you choose and make sure the fire is protected from the wind. And you're good to go!

23. Simple concrete fire pit
You don't have to pick a huge, complex fire pit. If you have a simpler taste, a simple concrete square does the trick just fine.
24. Corner fire pit area
You can dedicate a corner of your garden to a cosy fire pit area. Add some tall trees and fencing for extra privacy.
25. Sunken fire pit area
A two-level garden always looks amazing. Even more stunning if you add a fire pit with some seating in the lower level. 
26. Stone island
If you have a huge grass garden,you could add a natural stone patio in the middle dedicated to your fire pit and night chats. 
27. Pebble island
Pebbles are a budget-friendly option for a seating area base. It looks great with this natural-looking fire pit created from large stones. 
28. Bricks and stone semicircle
Create a real statement with your seating area using circular shapes for your patio, seats and fire pit. 

29. Classy sunken area
Concrete and imagination goes a long way in your garden. This stylish buried fire pit area is the perfect spot for chatting with friends in the evening
30. Tree stumps and rocks
Get creative with the seating for your fire pit area.You don't need to spend a lot of money for an amazing outdoor area, you could use stones and logs you already have in the garden.
31. Blue fire pebbles
If you're going for a gas fire, you can decorate your fire pit anyway you like. For example, you could use coloured pebbles like this to fit with the theme of your garden.
32. Useful bench
You can build a bench to sit next to your fire pit and also serve as the place to keep your wood.

33. Light modern fire pit area
Use light colours and polished stones for your fire pit patio area to give it a modern look. 
34. Modern black fire pit and small benches
A simple black fire pit and seats can also bring a contemporary feel to your garden and provide the perfect place to enjoy the view.  What an extraordinary garden seating idea we have here!

35. Private fire pit area
High walls and tall trees are perfect to get all the privacy you need while relaxing in your backyard. 

36. Slope garden fire pit
A little slope in your backyard? No problem, dig it out and add a low wall to create a cute circular seating area around a fire pit. 
37. Brick fire pit in pebble island
Add some small rocks to mark the borders of your patio island for an amazing finish.
38. Stone bricks raised fire pit
For a modern, sleek fire pit area, use matching grey stones for your patio and fire pit and simple white fencing. Add some colour with tall palms in pots. 
39. Stone veneer fire pit patio
For a more natural-looking fire pit area, use different sized and shaped stones. Add a simple stone fire pit and your outdoor seating area is complete! 
40. Simple concrete fire pit area
A smooth fire pit and simple chairs make a great setup if you're going for a minimalist look. 

41. DIY fire pit with lid
You can build your own simple fire pit using stones and craft a small lid so you can use it as a table when it's not lit. 
42. Fire pit with corner pergola
A pergola provides a relaxing spot in your backyard to get some protection from the sun, and a fire pit will keep you warm in the evenings.
43. Sunken square fire pit area
Smooth lines and concrete provide a modern-looking seating area and stylish fire pit. 
44. Fire pit and pool
Add a fire pit near to your swimming pool or hot tub so you have a warm, cosy place to dry off and relax after a swim.

45. Bubble wood burning fire pits
These contemporary bubble fire pits will look amazing in almost any garden and you can get several to maximise the modern look.
46. Modern fire pit with cushioned seating
Remember to add some seat cushions to your benches to relax comfortably while enjoying your garden fire pit.
47. Simple copper fire pit setup
You don't need a huge or expensive setup for a relaxing place in your garden to sit back and let hours go by. Just keep it simple with some comfortable chairs and a simple bowl fire pit. 
48. Fire pit island with pergola
Enjoy your afternoons next to your fire pit while keeping protected from the sun.
49. Fire pit in wooden deck
If you have a sloped garden, create a simple, buried seating area from your decking to relax around a fire pit. 

50. Pebble fire pit in wooden deck
Modern white pebbles create a stylish border for your fire pit against a wooden deck. 
51. Wild desert fire pit oasis
If you have an open outdoor tub, might as well consider a fire pit station in your backyard. This layout features a two-tiered desert-like garden.
The hot tub is at the top while the pit made of pebbles and rocks is below.

52. The fire pit steel
Thinking of making a DIY fire pit but don't have bricks, concrete, or gravelling material to start? Fret not; this fire pit made from an old steel sheet can do the trick.

53. Bowl tabletop fire pit
This DIY bowl-shaped fire pit is enough to warm up the space on your patio. It's portable, too, so you can put it anywhere!

54. Modern fire pit with tile
Create a modern and trendy fire pit made from an old propane pit and tiles. Black grout and black tiles will create a unique finish to this new-style bonfire.
The classy black tiles and grout turned into an attractive fire pit is sure to level up the look of your garden.

55. Flameless fire pit decor
This is an excellent alternative to actual fire if you only wish to use a fire pit as garden decors. Use bricks and stones for the base, and fairy lights that can act as the fire.
56. Brick tabletop
Owning an open fire pit can be a headache, especially with kids around the yard. For peace of mind, we recommend covering up the opening.
Take inspiration from this design idea! It doubles the purpose, acting as a shield and tabletop for food and drinks. This also helps make your fire pit even more versatile than it is.
57. Fire pit and grill in one
This DIY project is a win-win for your fire pit and barbecue party! Although it might cost you some money and time, we assure you that the outcome is more than worthwhile.
Have a grill suspended over your fire pit that can support a frying pan, large pot, etc.

58. A big concrete bowl
Ideal for a modern and minimalist garden style, this clever fire bowl has a built-in function. An Ipe wood top that can be added to turn it into a table when the fire is out.
The design is polished and sleek, mimicking the concrete-and-Ipe bench. This also helps tie the space together.
59. The L-shape approach
Give every seat access to the fire! Build a banquette that mimics the L-shape of the fire pit to enjoy the open fire from any angle.
Keep your seating low to create a relaxed experience, as long as 12 inches off the ground. Decorate the pit with ceramic spheres (nestled in) for added visual interest and more heat.
60. A table fire pit for the patio
With a fire pit table, you can be confident that you get to enjoy the outdoors when the temperature starts to drop. It's a perfect companion for alfresco dining during chilly nights in the comfort of your patio.
Have a look at the BillyOh Sicily 8 Seater Firepit Rattan Dining Set. It provides the perfect spot to happily while away the hours into the late evening.

61. White stucco
This white stucco fire pit area internalises the view that this small outdoor space has to offer. It was cast on-site to ensure it provided a perfect view of the yard – ideal if you have a view of the ocean or mountain.
A combination of built-in seating and Acapulco chairs also creates flexibility.
62. Made from contrasting materials
Create an easy yet unique flow to the outdoor space you typically experience at home by using contrasting materials and palettes.

63. Old pool banquette
This old backyard pool was transformed into a cosy sunken fire pit area. Everyone will be more likely to stick around for the second round of s'mores with the inviting seating. Fill the banquette in the pit area with comfy cushions.
64. The centre of the action
Put your fire pit at the centre of the action – just like this design incorporated into the landscape. The built-in seating areas break up the space and create the feeling of an outdoor living room.
All these while remaining open to the design. Thanks to the minimalist and less feature approach, the fire pit becomes the focal point.
65. Chiminea fire pit
This log burner chiminea also makes the perfect focal point for get-togethers. Its slim, tall design is great for smaller gardens as it can easily be stored in the corner or a shed.
With the black body and mesh door give this wood fire model a modern twist.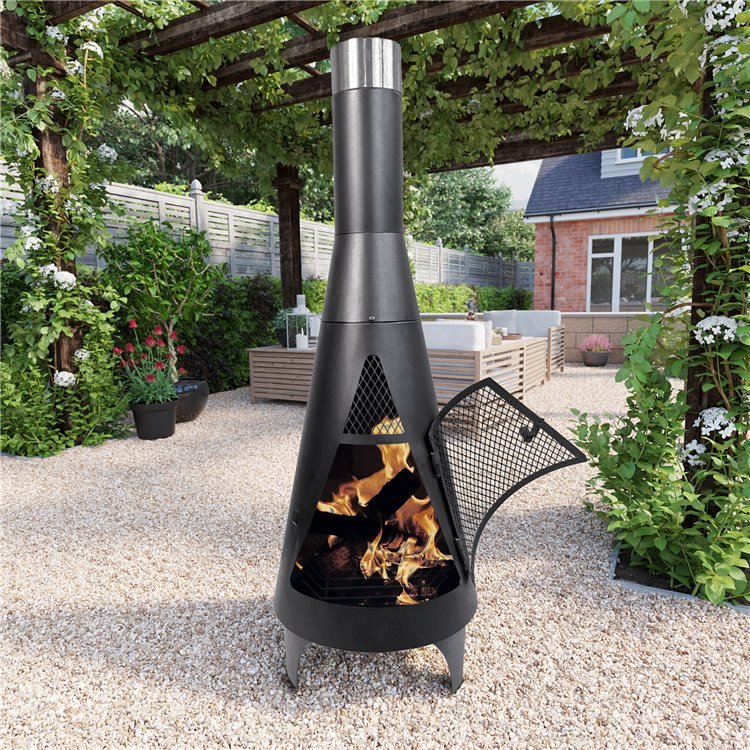 66. A mix of the elements
You've got the best of both elements with this water and fire feature. Experience the therapeutic effect of falling water. At the same time, keep yourself (and everyone) toasty warm with the inbuilt fire pit.
The waterfall fire bowl is also surrounded by cushioned stone benches, creating the perfect summer setting.

67. On the ground
This built-in fire pit offers the perfect entertaining headquarters. A contemporary in-ground fire pit design like this is the ideal option if you want a permanent fixture in your backyard.
When the pit isn't in use, it's wise to have a cover to keep out the weather and prevent anyone from tumbling into it.

68. Sleek contemporary style
The design may be understated, but the monochrome touch emphasises a modern aesthetic. Explore a variety of materials from steel and copper to iron and shapes from round to rectangular. This simple concept might perfectly fit your pebbled garden setting.
69. Gabion fire pit
Offering a natural and rustic appeal, a gabion fire pit can be your next DIY project this weekend! Thanks to the heat-resistant stones, it will provide durable construction and more heat.
It's time to consider using an adapted gabion design for the focal point of your garden!
70. A mix of raw materials
Got any raw materials and metal scraps somewhere in your backyard or workshop? It can be old pallets, twigs and branches, and more. Put them all together in shallow ground, and you'll end up with an innovative fire pit!

Round-up
If you love to enjoy your garden in the evenings, a fire pit is a perfect place to keep warm once the sun's gone down!
We hope our list of ideas has given you some inspiration for your garden, from simple, budget-friendly solutions to whole garden makeovers.
Click the button below to shop our range of smokin' hot garden fire pits!
Shop Fire Pits
FAQs