Rumour has it that you're looking for the best treehouse design ideas.
Treehouses aren't just for Peter Pan's lost boys or for sassy fairies like Tinkerbell. This spellbinding outdoor building can be a dreamy escape for all ages, from high-spirited kids to carefree adults!
So our team curated the 'best of both worlds' design ideas to help you create your dream treetop haven. We also included a few style inspirations that even your kids will beg you to build.
Are you ready to dwell within the branches? Read on!
1. Go innovative
This modern treehouse is posted on a wooden deck with stairs that leads to the second floor. Each room features a high ceiling and is protected with fibreglass walls.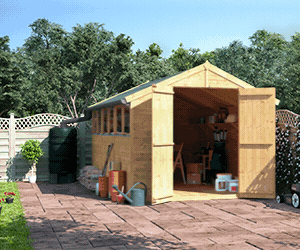 The 'floating in mid-air' concept for the stairs gives the image of a floating treehouse! What a perfect safe haven for the adults.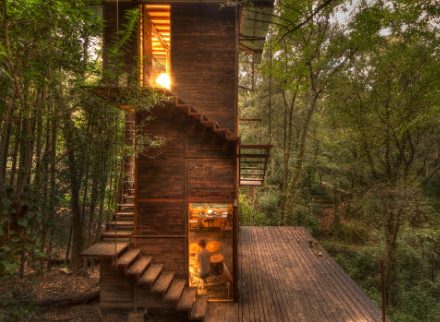 2. Log cabin tree house hideout
A treehouse doesn't have to be on stilts or on a treetop to call it a "treehouse". This little cabin hideout among the trees provides the perfect summer camp atmosphere for your kids!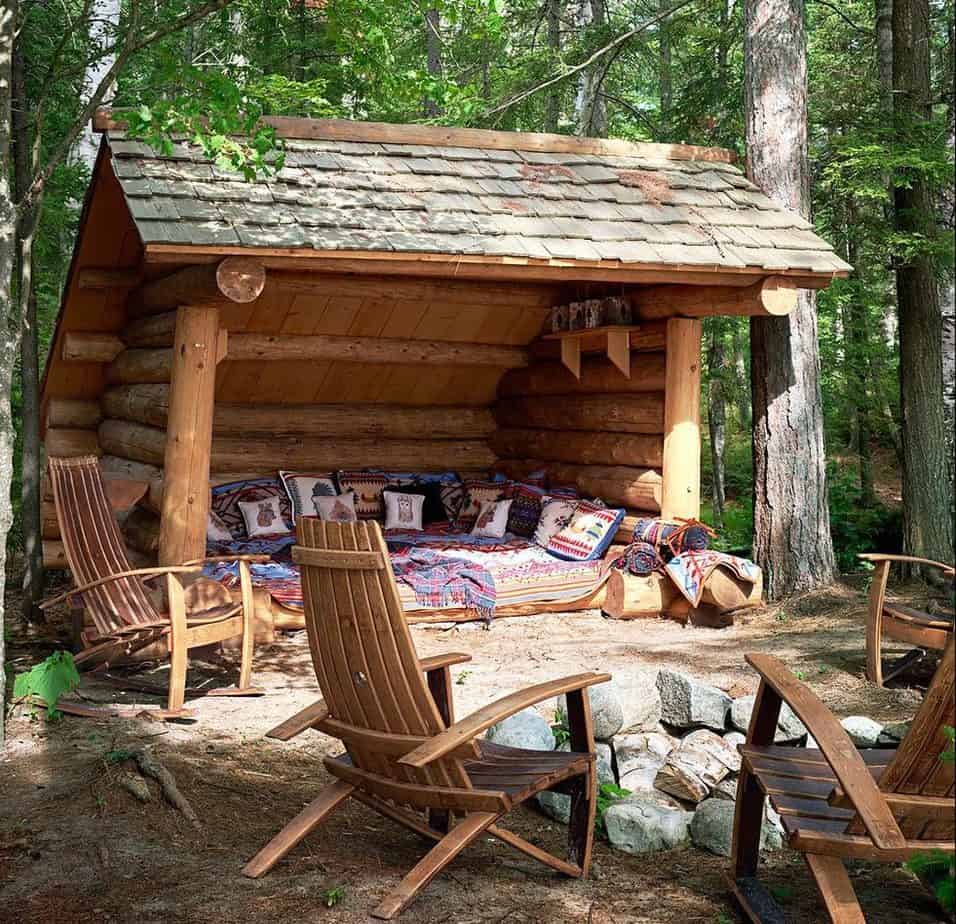 3. Secluded treehouse with hanging bridge
This design idea can be easily carried out with reclaimed materials. Featuring an antique exterior, this treehouse is connected with a rope bridge, set among the trees.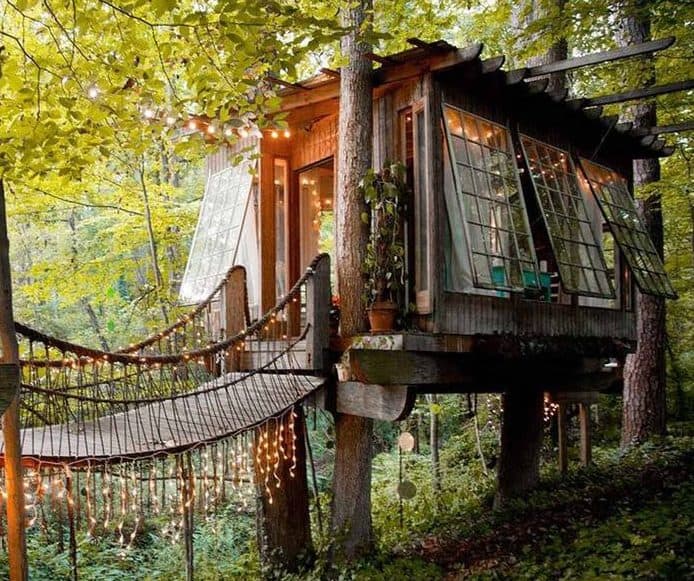 4. Simple as a tree deck
This concept of a treehouse has no walls or roof; just a simple deck or platform. It's easier to make, too; just make sure everything is levelled and secured so it can support the weight of furniture and more people in!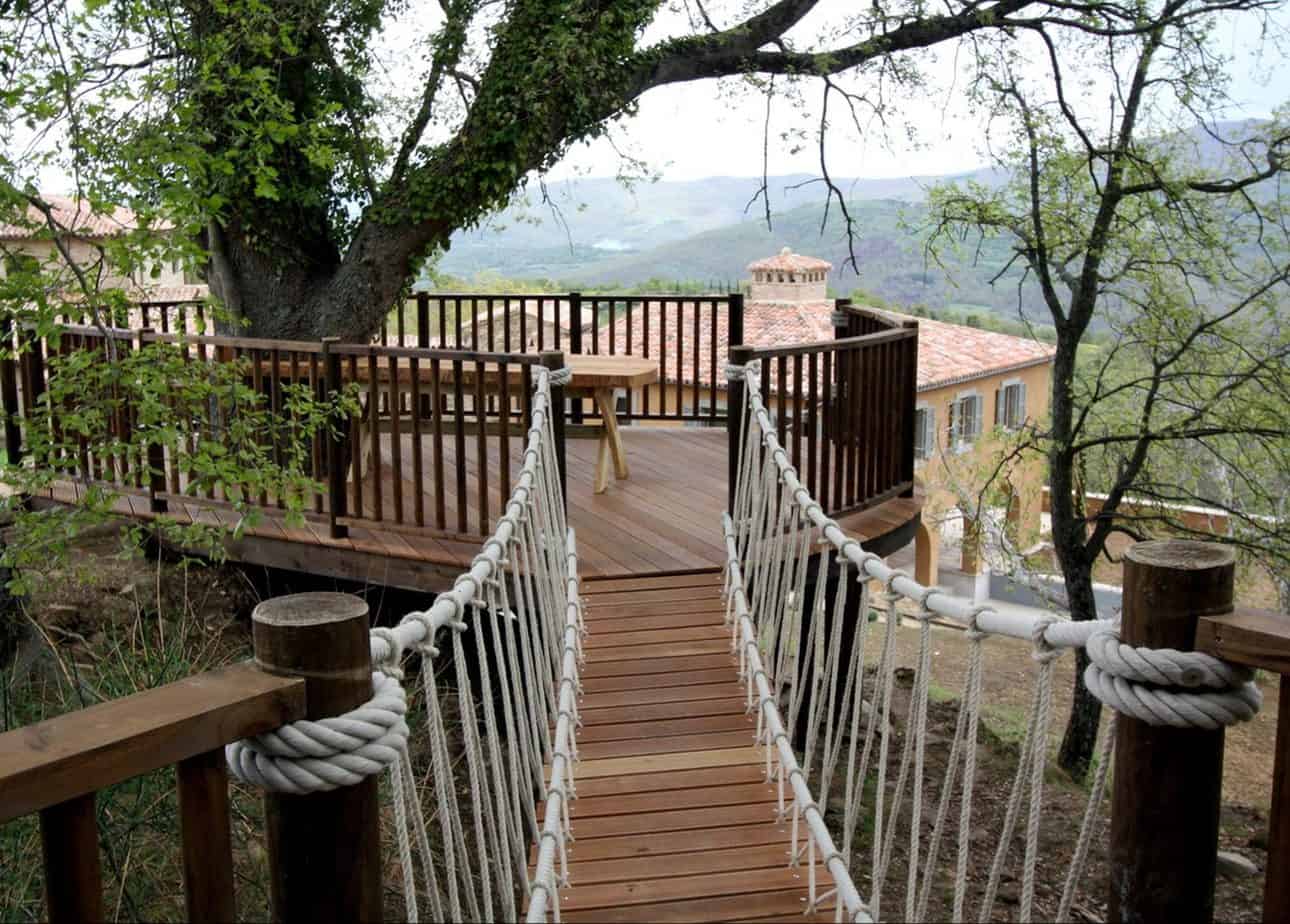 5. Open space tree house
This astounding treehouse sits in a wooden deck over the African bush. Its structure is made of timber and glass and is open-air, allowing you to sleep under the stars.
How lovely!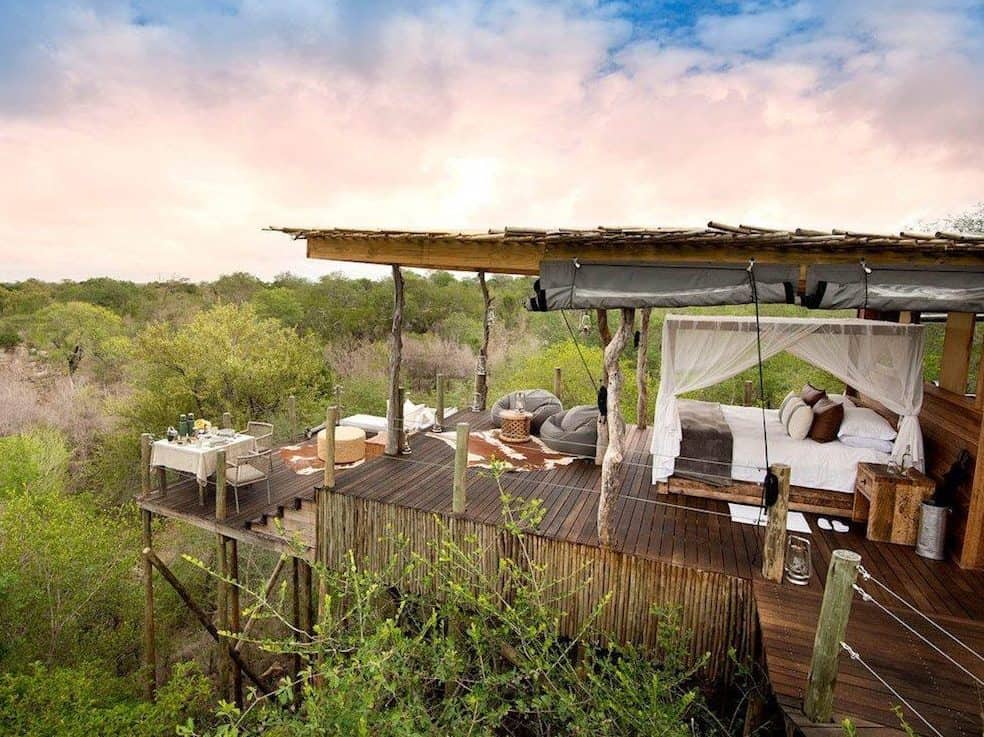 6. Make it gazebo
Gazebos offer a great place for both kids and adults to play and lounge in. But this elevated gazebo can provide more fun and entertainment!
Instead of an actual treehouse, go for this style!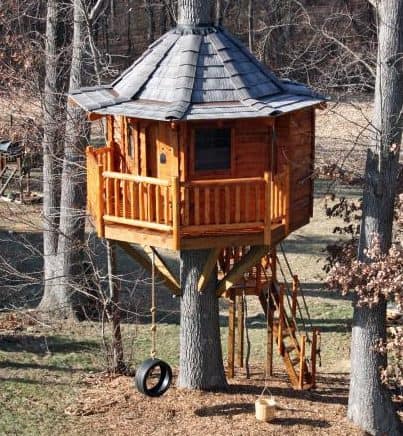 7. Two connecting treehouses with rope bridge
Owning a large garden is a perk, but having two treehouses in your yard is a luxury. To achieve the ancient castle look, connect the two buildings with a suspension bridge.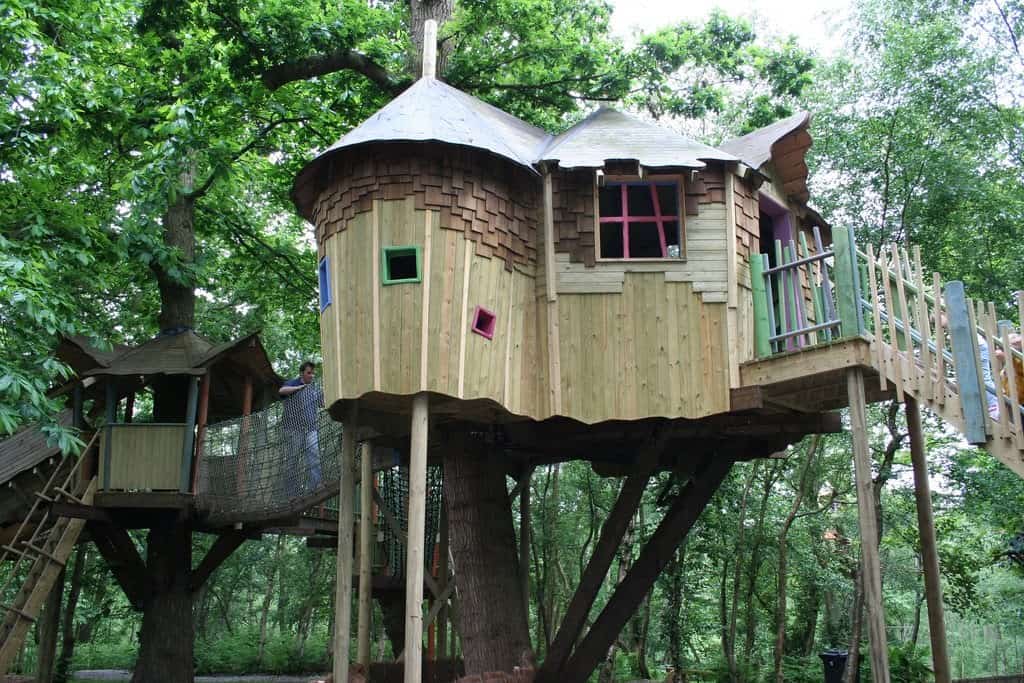 8. Pool adjacent treehouse
A treehouse doesn't always have to be on the actual tree. To inject a bit more fun into your backyard, get inspired by this concept.
The large "treehouse" is adjacent to the pool. Put your treehouse on stilts so it has the same elevated effect you'd get from a classic treehouse.
Top tip: Add a waterslide!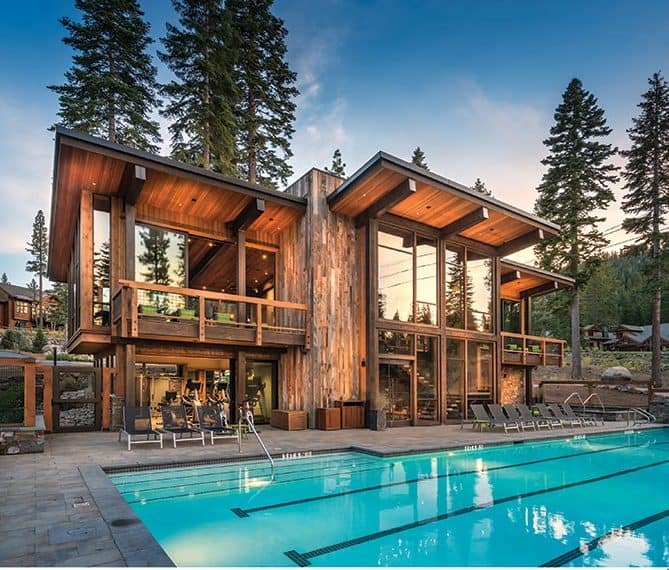 9. Mirrorcube treehouse, a.k.a. the literal "remote hideaway"
This mirror cube treehouse hotel in Sweden looks like a UFO parked in the forest. The sleek metallic design is perfect for anyone wanting to live out their ET fantasies!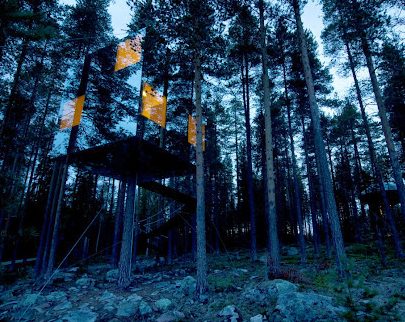 10. Glamping style galore
Level up your glamping galore and have it all in the comfort of your garden with this eco-lodge treehouse design! Set in somewhere in the bush and enjoy the view from your perch.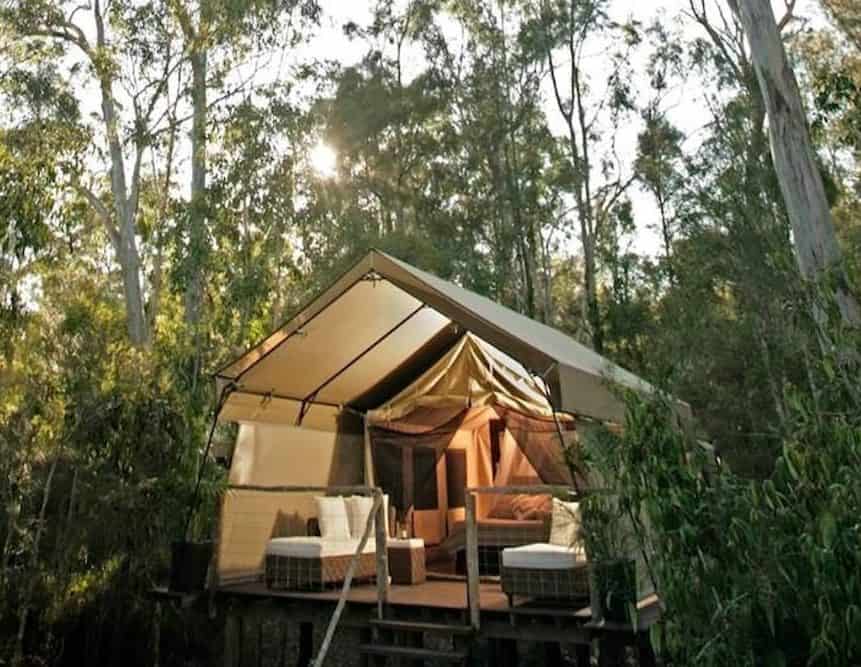 11. The ultimate box treehouse project
Giving off an unconventional design, this box-type treehouse design isn't that complicated to make. From its look, some could even mistaken it as an actual home in a treetop.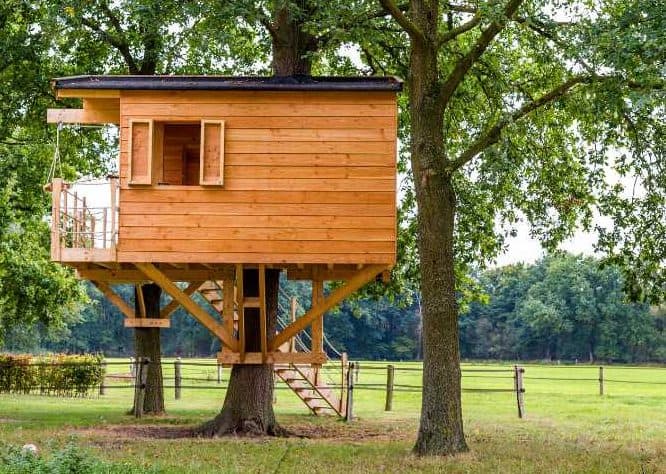 12. Rustic treehouse and play set in one
Take inspiration from this rustic log treehouse combined with a play set! It mimics a fun house playground; it comes with a slide, monkey bars, and a swing.
Your children won't have to go to a public playground to have a fun time.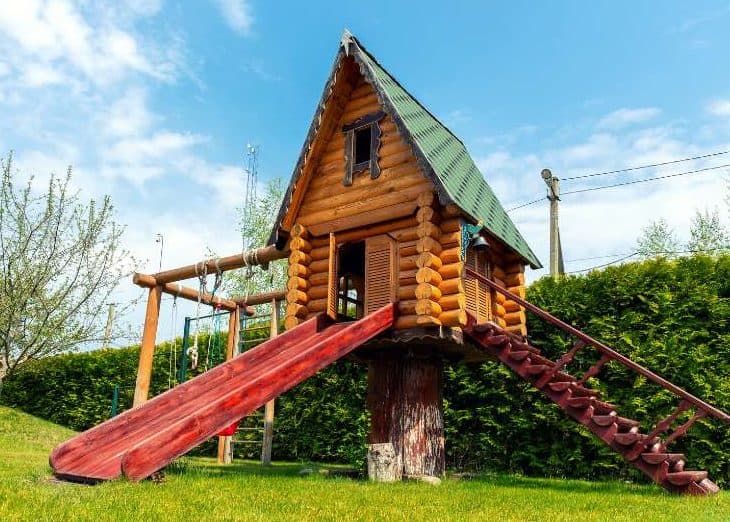 13. Traditional design with modern style
Two treehouse buildings are connected with a wooden bridge, with a slide that serves as the easy exit route. The timber material gives off a traditional design and the extra fun features add a modern touch.
This is a perfect treehouse design idea for large gardens.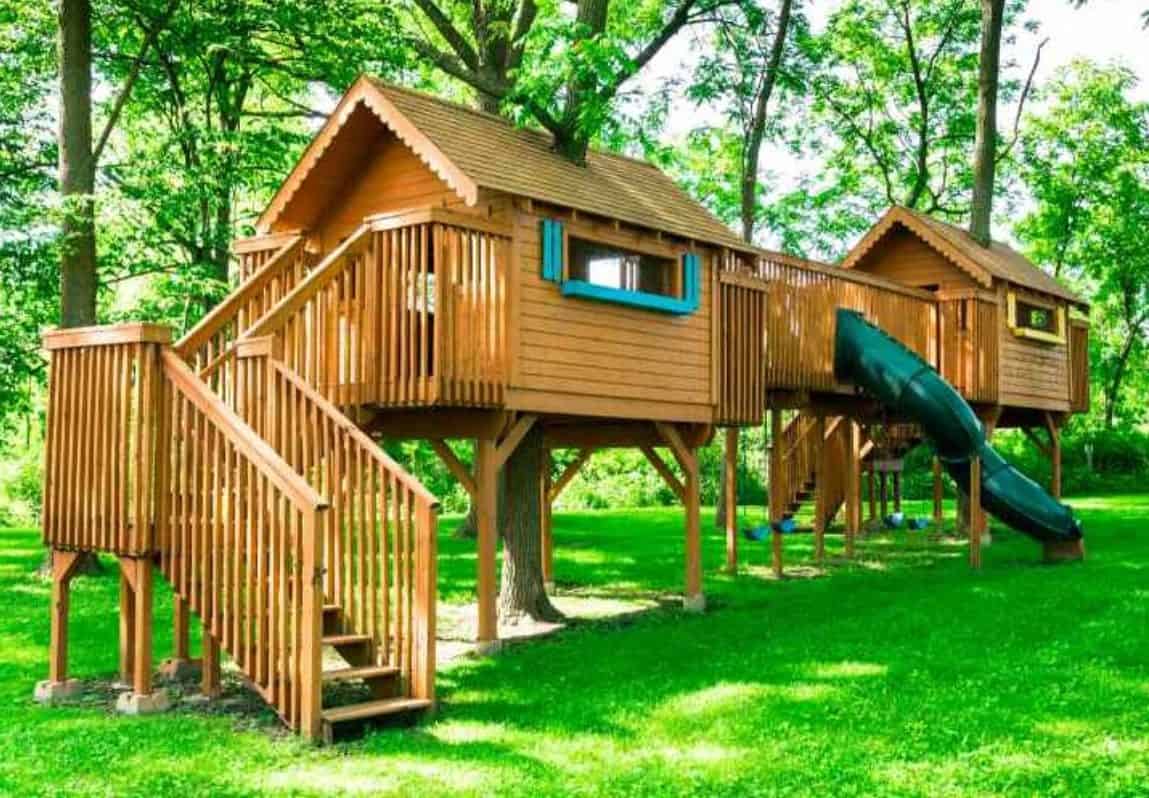 14. Indoor treehouse
Most kids love playtime over bedtime, but what if they could have both? This dreamy kid's room design features a treehouse-inspired bed frame.
This only proves that you necessarily need a backyard to have an epic treehouse!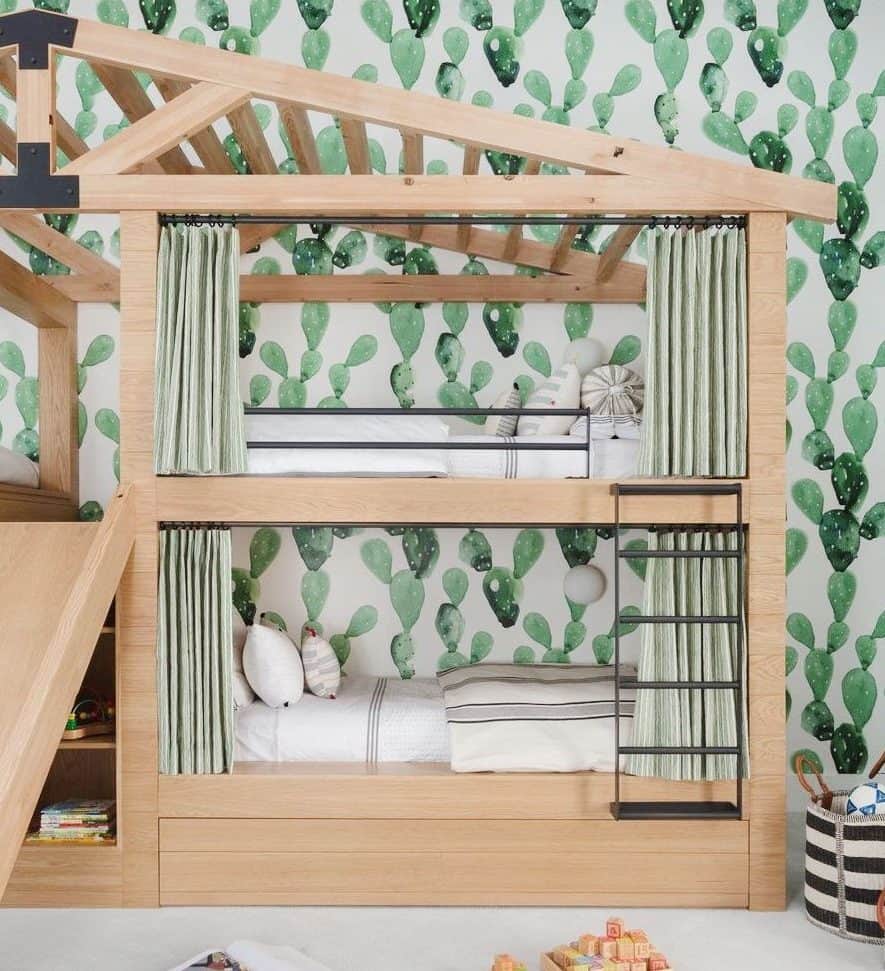 15. Backyard castle
Forget about the classic treehouse frame. Notch your treetop haven and sleep among the trees with treehouse castle!
Put up an outdoor hot tub at the corner if the space allows you to add extra sense of luxury.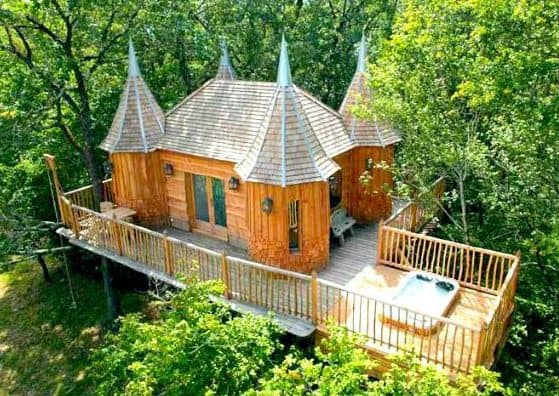 16. Go over the air
Create a piece of private haven floating octagonal on a wooden platform. This concept is suspended between two trees, with a platform covered with a UV-resistant double canvas tent.
Arrange and decorate it the way you want your hideaway to look like. It could be your reading nook, a place for the kids to play, or even as a bedroom.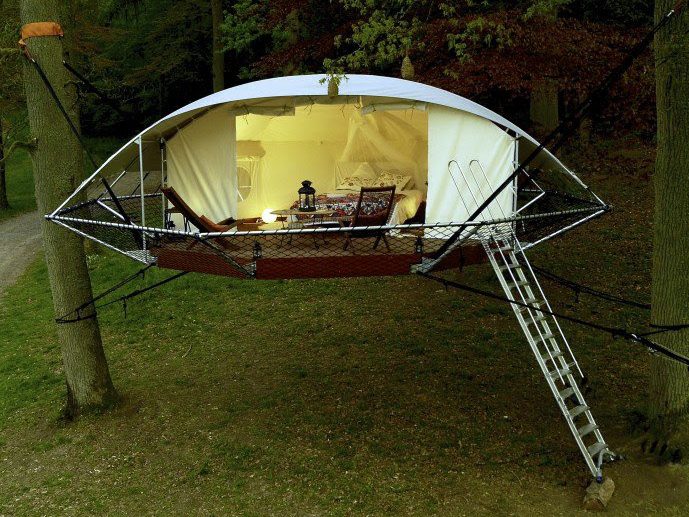 17. Prefab treehouse play structure with sandbox
The rustic two-level treehouse features a sandbox on the bottom, a climbing wall on the back, bunk beds and a viewing area above. Put it on stilts so the kids will feel like they're up in the trees.
They, including the parents, don't have to worry about falling out because the sandbox pit is there to save them!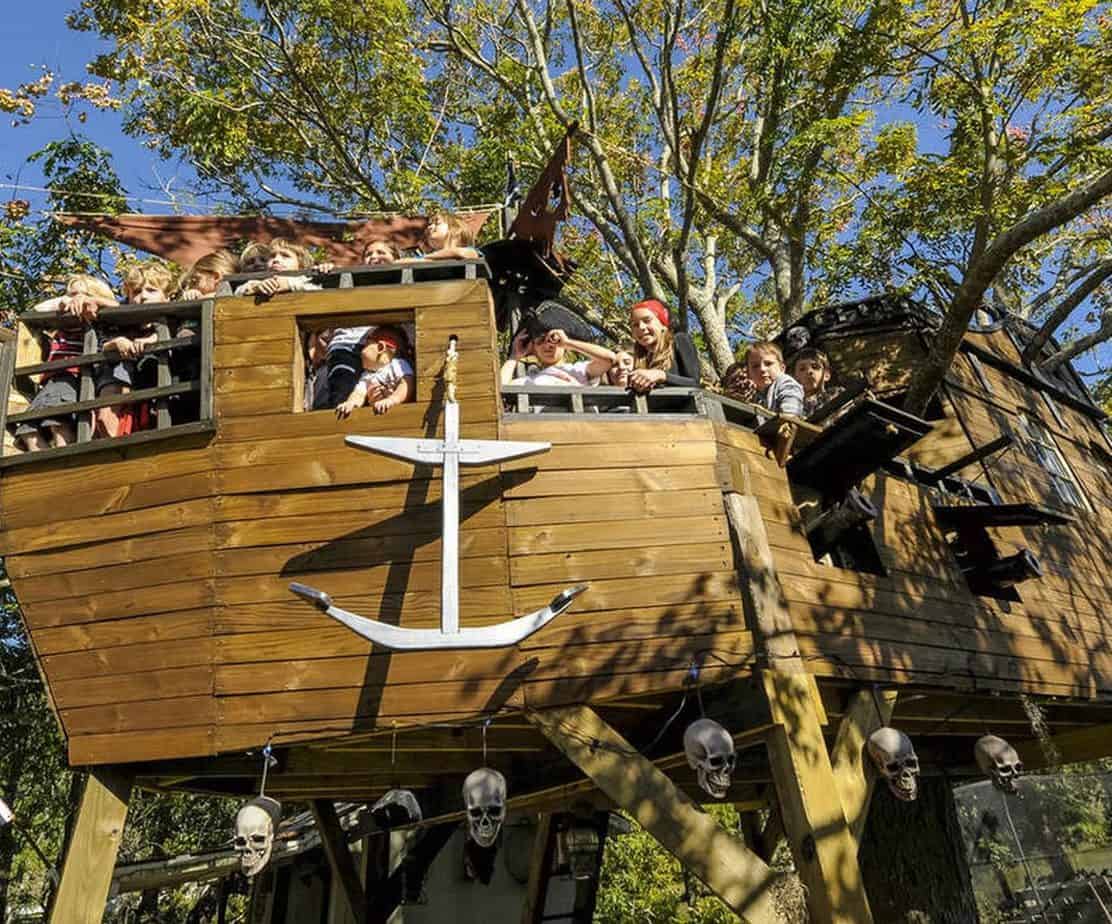 18. The pirate's den
What makes this pirate treehouse the talk of the town is creative structure and fine details. It's complete with crow's-nest, cannons, anchors, enemies' skulls, and the most important one – the pirate's flag.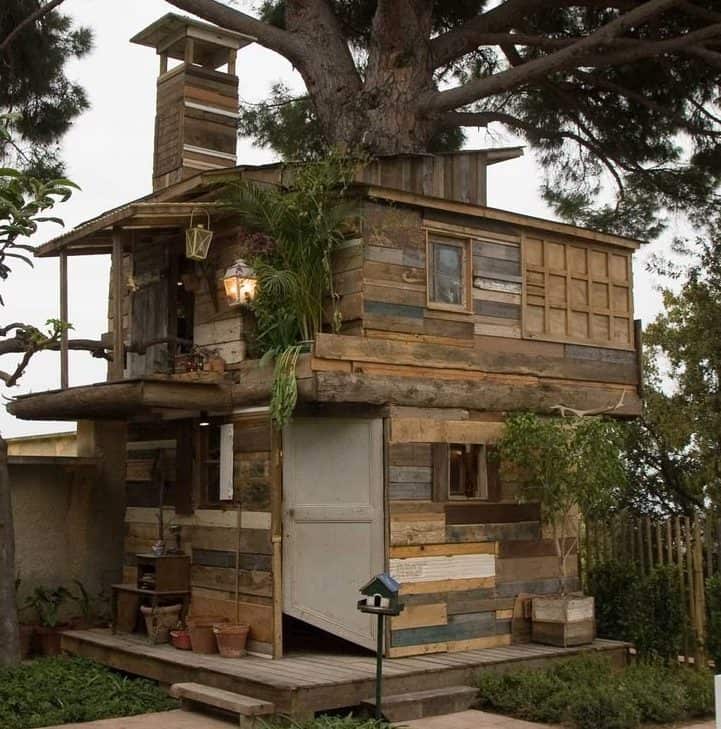 19. Treehouse made from reclaimed materials
Who would've thought that a treehouse made from recycled items would be this appealing to the eyes? This treehouse in Hyères, France catered reclaimed materials, from wood scraps to old household items for the construction.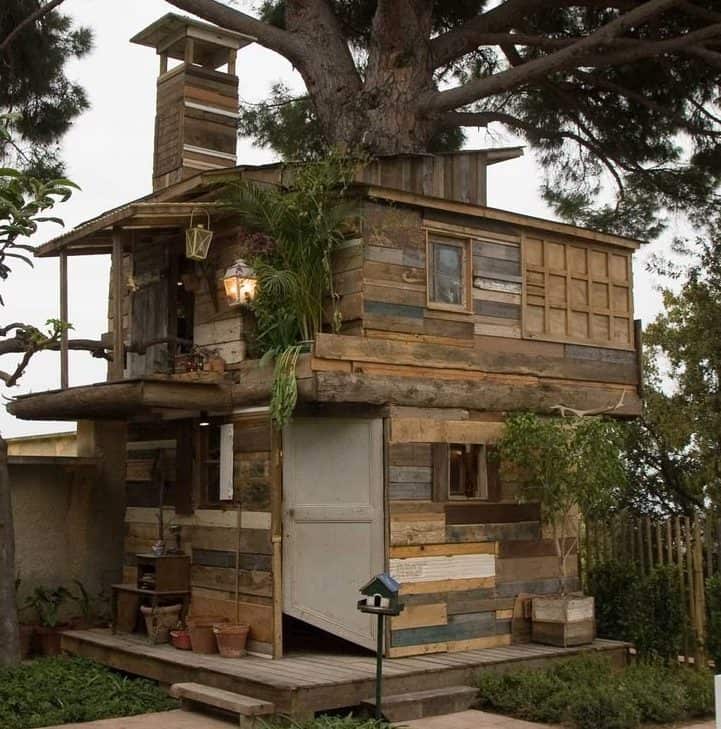 20. The hermit thrush tree escape
Just like the Hyères house above, this hermit tree hideaway sourced its material locally and used reclaimed items to complete its construction.
For a more rugged treehouse experience, add an outside shower or hot tub.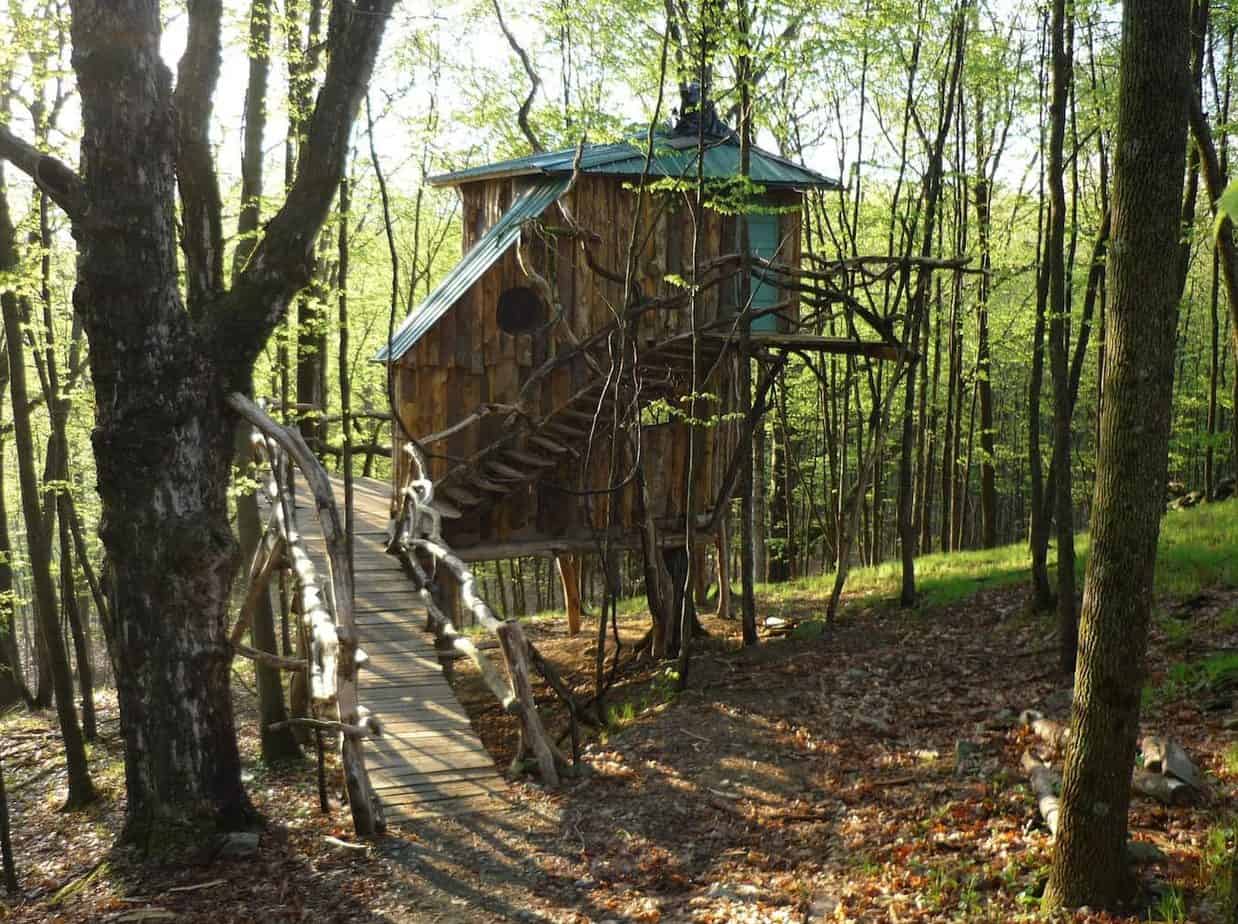 Round-up
There you have it! Take inspiration from these ideas and build your dream treehouse, whether it's for your kids or for adults that you can live in.
What are you waiting for? Take your project to the next level and start dwelling within the birds and branches!
Shop Log Cabins