Are you looking for ways to add instant luxury to your backyard?
We all want a perfect garden. A place that offers calm and tranquillity; somewhere to unwind and relax after a long day, such as in a shed or log cabin.
We're not talking about the beauty of investing in sofa sets for your outdoor space. But imagine a yard with a hot tub ready for you to slip into chill out. Now we're talking!
A hot tub spa incorporated into your deck or in your backyard is a must-have for those relaxing soaks. Plus, amenities like a spa and even your own garden bar might just add value to your property (if you need to justify it!).
Create the perfect outdoor space with irresistible hot tub design ideas below. There's something here for everyone!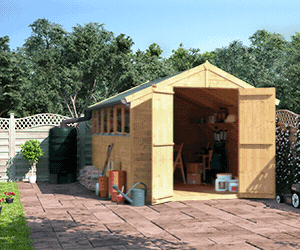 1. The minimalist approach hot tub deck
Whether you have a small or large garden, you can't go wrong with a minimalist design. This simple style presents a modern and clean approach.
Incorporate large stones or wood for decking and let the landscape breathe with minimal details.

2. Go higher with a raised platform design
If you're building a new deck for the hot tub, you might want to consider this raised platform concept.  To make it more inviting, take a look at how this outdoor hot tub below turned out!

3. Hot tub deck combined with garden shade
One of the main reasons to build an outdoor hot tub is to be closer to nature. So don't be afraid to include plants and greenery for a bit of garden shade into your design plans.
Plant trees and bushes around the deck for an added touch as well as a natural privacy barrier. Just go for a natural look for those serene afternoon or evening soaks.

4. A bench surrounding the hot tub
Building a bench around the hot tub is a great alternative to a sunken hot tub. This idea gives off a nice clean, modern look and added functionality.

5. Small hot tub decks
Even if you have a small hot tub, you might consider adding a deck around it. This little trick help create the illusion of more space.
So no matter how small the tub is, make sure it's surrounded by a deck. Plus, this enables you to walk around the outside of the tub.
6. Elevated two or three step concept
For this technique, you need to choose the location carefully. For one, in the corner of your garden or patio near enough to your home for easy access.
This style focuses on giving your hot tub a really unique look through the elevated step design. The steps also make a great spot to place a towel or drink, and of course, to enter and exit the tub safely.

7. Pool side hot tub
Imagine a pool and a hot tub next to each other. If you're thinking of trying out this idea, it makes sense to create a single deck that wraps around both. This is to tie the two water elements together, creating a cohesive design for your backyard.
The deck also provides a comfortable walking space to access the hot tub without getting into the pool. Cool, right?

8. Go natural with wooden decks
Wood is one of the most popular materials for building pool and hot tub decks. The natural texture of timber complements any garden setting, particularly classic styles.
Your best options are pressure treated timber and hardwoods. Both are designed to survive high moisture environments.

9. Covered outdoor hot tubs
As much as we wanted to soak ourselves in the tub during summer, the sun can be harsh. Too much sun exposure also makes it unpleasant to stay longer or be in it at all.
But adding a roof structure, such as a garden pergola, can solve your problem. Freestanding structures provide the shade you need during hot weather (which is whenever!).

10. Take advantage of the view
One of the reasons why many love the idea of hot tub decks is the 360-degree view of their outdoor space. If you've got the view, make the most out of it!
Complete the look of your backyard with this breathtaking concept.

11. Raised short deck with accent seating
Another stunning, modern design that caught our eyes was this one. It features a raised short deck designed with gorgeous accent seating.
Along with a garden furniture set, a fire pit, and a bit of greenery, this exterior is sure to satisfy everyone. I mean, imagine enjoying the warmth of the hot tub in this kind of environment after a tiring day?
What's more, you can cater for a large crowd with extra seating!
12. Consider composite decking
Many homeowners opt for composite decking around their hot tubs. There are two types available for this material: uncapped and capped.
Uncapped is more vulnerable to staining, fading, mould, and mildew. Capped, in contrast, contains UV inhibitors and anti-oxidants for longevity.
Take a look at the photo below for some composite hot tub decking inspiration.
13. Add more water features for peace and relaxation
Water features like fountains are a great way to add a focal point to your outdoor design. Decorating your hot tub deck with more is sure to amplify the sense of peace and relaxation even more.
If you plan on selling your property in the future, the potential buyers will love the idea of a hot tub deck design with a fountain. This style will add value to your property, that's for sure!

14. Incorporate the four elements
The hot tub will automatically cover the water element. For the rest, you can add a footpath in your backyard (earth).
Install a fire pit or light some tiki torches for fire. And don't forget to decorate your patio or your fences with chimes (wind). This concept is a wonderful way to enhance your outdoor space for a full sensory experience. 
15. Privacy is key
You don't want your neighbour to stare at you from their kitchen window as you relax in your Jacuzzi, do you? If you find yourself feeling exposed every time you use your hot tub, it's time to create some privacy.
Use hardwood as a wall cover or stacked some stones. Another option is to use your landscaping and create a natural wall of bushes.

16. Travertine and black stone hot tub
While hardwood can look great for your hot tub deck, if you want something more unique and elegant, travertine material is your best bet!
Take a look at this luxurious hot tub look below. The owner incorporated travertine and black stone veneer panels and the hot tub was sunk halfway into the ground, surrounded by a stone wall.
17. Explore exotic hardwood materials
Durable hardwoods like Acacia, Iroko and Ipe make an excellent choice of material for hot tub decks. They're ideal for exterior use as they can stand the test of time.
18. Large decks for hot tubs
If you have a large backyard, make the most of the space by including a hot tub in your design plan. Whether your deck is elevated or at ground level – create usable zones. For instance, one area will have your hot tub. Another could have outdoor seating with a fire pit or a garden bar.
19. Hot tub decks with a touch of nature
If you live in a remote place, imagine breathing in the pleasures of nature as you listen to the birds chirp. Adding an in-ground hot tub will make you feel like you're in a natural spring the middle of a forest.

20. Tiered decks
There are no rules for designing your backyard deck! But creating tiers can offer functionality as well as visual interest and appeal. Tiered decks also create divided zones for your living spaces, including for your hot tub. If your property has a sloping garden, adding tiers is the best solution.
21. Redwood hot tub
Take a look at this redwood hot tub at the top of a hill. Set in a deck surrounded by walls and stone pillars, just take a few steps and you'll be overlooking your house from the tub.
This concept is an another excellent idea if your property has a slope or mini hill.
22. A multifaceted deck
In narrow landscapes, the corner creates the perfect spot for a small hot tub. And a multifaceted deck, for instance, helps to beautify an off-the-shelf tub.
And since the hot tub is sunk into the deck, the railings can serve as a privacy screen. So if you're looking for ways to maximise a corner garden, this design is worth a try.
23. Brick patio and pavers
A brick patio naturally extends the design element in this outdoor hot tub set-up. The tub's edge is formed by pavers. There's casual seating too that provides an area to rest when the tub isn't in use. And the fireplace with stonework makes a great backdrop.
24. The cowboy hot tub
This cowboy-inspired hot tub is made out of two nested Hastings galvanized livestock feeders. If you live in the countryside, this is an excellent addition to your outdoor space.
The tub is also surrounded by a faux-wood deck. The hot water comes from the house's solar hot-water system.

25. Oversized cedar hot tub with a stone fire pit
If you're a naturalist, this concept may work well for you. A hot tub with a stone fire pit surrounded by flagstones makes a great outdoor living space.
The highlight of this theme is the oversized cedar hot tub- its the perfect place to take a dip.

26. Blend wood and brick together
For a more industrial looking hot tub deck design, mix the urban look of stone and the warmth of wood together. By doing so, you can create a stunning outdoor area.
You may position your hot tub between the wood trellis for privacy. Accent the space with other greenery to add more natural beauty.
27. Set your hot tub within a natural setting
This design can add an excellent focal point to your garden all year round, creating a more natural feel.

28. Mediterranean-inspired outdoor hot tub
If you have a large courtyard with a waterfall and fire pit, this Mediterranean concept is worth a shot! The borders and edges of the hot tub are made from stones.
The surrounding green elements give off a Mediterranean vibe.

29. Add lights to your multi-level decking
To create a focal point to your decking area, consider adding footlights or lights tucked underneath. The modern wood design around the hot tub also creates a seamless design.
If you want to go for a more subtle hot tub design, why not consider this design?
30. Incorporate faux stones
Faux stones are a natural way to add the look of real stone to your hot tub design. Faux panels are a cost-effective alternative that can add a unique touch to your backyard patio.
Decorate the surroundings with pots and plants to make the space more lively.
31. A minibar with accented seating around your hot tub
Enjoying a glass of beer while soaking in the hot tub sounds like a great weekend plan. This concept features a wet bar made from brick pillared stone around the hot tub.
Include accented stools to enhance the space. Add some candles or outdoor lighting to set the mood for a fun night.
32. Stainless steel garden spa and hot tub
Stainless steel hot tubs are unmatched when it comes to durability. An outdoor tub like this can aesthetically blend harmoniously to residential, commercial, and personal spaces.
The design features bench seating, LED lighting, and infinity edge water feature with catch basin.
33. Bath sanctuary of the goddess
Imagine having an outdoor hot tub like this in your backyard. The Parthenon-inspired gazebo, the drapes, lit candles and roses, and of course, the hot steam bath in the middle…
Bow down to the queen!
34. Wishing well type stone hot tub
This tub design kind of resembles the look of a wishing well because of the stone materials and how deep it seemed to look from a high angle. The two-tiered garden has its tub installed  on the "underground" with a bit of depth from the above ground.
Add a dramatic staircase, LED lights, and whatever you can think of to finish the look.

35. Japanese spa gazebo
To add the finishing touch to your Japanese-inspired garden, this spa gazebo is the key. It includes a wood bar and stools to complement the space and serve to entertain guests.

The Bottom Line
In addition to the location, you also need to consider privacy and easy access. And whether you'd like to have your hot tub in sunshine or shade.
The good thing is, most of our cool hot tub ideas have covered the important details for you. And we hope they're got your creative juices flowing!
And don't forget to pick up some post-tub furniture via the button below!
Shop Rattan Garden Furniture