If you have a large and long garden, it can be difficult deciding the best way to make the most of your space. So, we've compiled a list of large garden ideas to help you fill your backyard. From simple planting ideas to luxurious BillyOh garden furniture, we've got you!
1 . Grass and trees
A simple, open garden can be great for family life. Plenty of space for the kids to play and maybe even enough room for a 4 6 inflatable hot tub for the adults!

2. Concrete deck and grass
You can build a modern deck outside your house to place some comfy rattan sofas. Such additions will allow you and the guests to relax and unwind while keeping an eye on the kids.

3. Large garden on a slope
Add some natural stone steps built into a rockery bed to create a safe way to climb that sloping garden!

4. Garden living room
You can watch a movie here or spend an afternoon reading. No matter the use, it's great to have a small, cosy place in your garden, such as a log cabin, that's safe from the weather.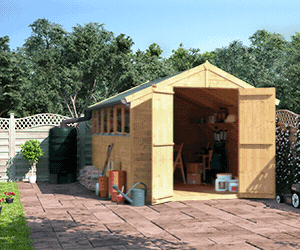 5. Amazing multi-level garden
There's room for everything! You can plant some herbs or flowers and create a patio area with a dining table and a shaded area for relaxing. Consider these garden shade ideas for inspiration!
6. Colourful garden bed
Nothing brightens up your garden more than a colourful flower bed. Get creative with the shape to break up a large garden space.

7. Large vegetable garden
If you have space and patience, grow fresh produce and save yourself some trips to the local markets. A vegetable garden would also look great at the corner of your small tropical garden ideas.

8. Modern open garden
If you enjoy sunlight, make the most of it. No pergolas or garden shade ideas. Just a symmetrical, open garden with simple trees and plants.

9. Deck and garden room
A place for sitting and chatting, a place for lying in the sun and an extended outdoor living space. It's all about how you make the most out of the space. For one, furnish it with rattan garden furniture and a garden sun umbrella for shade.

A classic addition to your garden to sit down and relax after a long day.

11. Small, low-maintenance garden beds
Raised garden beds will bring a new look to your garden. Keep it simple with low-maintenance plants and artificial grass for an easy transformation. 

12. Shade and sunlight
With a large garden, you can divide the area into different spaces for different uses. You could create seating areas in both the sun and the shade so you've always got somewhere to relax.

13. Large garden with seating deck
There's no better place to sit on a lovely afternoon than comfy sun loungers. You can read a good book while keeping an eye on the children playing.

14. Flowers and trees
Or relax under a tree reading your book or playing with your kids. Nothing beats natural shade!

15. Slope turned two-level garden
Once a slope in the backyard, with some work, now it's a classy two-level backyard with a little grass to lay down or for the kids to play on.
16. Modern garden with fireplace
For a luxurious, modern seating area, add an outdoor fireplace to keep you warm in the evenings and some comfortable, stylish chairs. 

17. Rock arrangement
Rocks are a great way to create garden decorations with close to no maintenance.

18. Modern black pergola
Use black for your pergola and fencing to add a modern touch to your seating area. Add some hanging lights so you can still sit out in the evenings.
19. Sunken seating area and bar shed
A modern design, perfect for gatherings with your friends. 
Add a winding path to divide up the space and draw your attention around the garden. Place a bench halfway along so you can rest on those hot summer days.

21. Modern corner with fire pit
For a modern outdoor lounge, you can't go wrong with rattan corner pieces and stylish garden fire pit ideas. Add wall lights and a sleek and simple flower bed to finish the look. 
22. Small tea table
For a more traditional style sitting area, take your country kitchen table outside. Then add some simple chairs and a bench. Pop some garden chair cushions on for extra comfort.

23. Table and L-shaped couch
Use raised flower beds and walls to create defined areas in your garden space. This works perfectly in this example, to provide a comfortable seating area to relax and a separate cosy dining space to eat your meals al fresco. 

24. Path with pergola
This side pergola covers the path so you can get some shade while taking your afternoon walks.

25. Playground in large backyard
If you're not short of space, bring the fun of the park. Take a cue from these garden play area ideas! Consider adding a trampoline, swing set and Bunny playhouse to keep them amused for hours.

26. Comfy seating
When having a large, beautiful garden, maybe all you need is a simple table and comfy chairs to enjoy the space.

27. Narrow garden with fountain
The soothing sound of running water is a great way to relax. Plus, a stone fountain brings added charm to your pebbled garden.

28. Long garden with round shapes
Round shapes help a long, narrow garden feel wider. The shiny, metal lawn borders give this garden a contemporary look. 

29. Wooden backyard swing
Add a wooden swing into your garden design for a comfortable place to relax and admire your beautiful garden.

30. Corner spot and waterfall
Grey is a popular choice for a modern look both inside and outside of the house. The grey sofa, patio and waterfall, paired with the white path and cushions, give this garden a cosy but contemporary feel. 
31. Modern pergola and pond
Sit back and relax here every day while looking at the lights in the water. Relaxation guaranteed.

32. Moroccan courtyard
Red tones look great in the sunlight and under the moonlight too. Use bold colours for the floor tiles and wall to give your garden a Moroccan feel. 

33. Use a variety of colours and patterns for the plants
Have a look at this large garden. It has a great use of colour and patterns for the flowers, broken up in patches on vibrant colours.
It lines the path perfectly, making your guests, neighbours, and even passerby happy to pass through!
34. The beauty of living walls
Living walls are becoming more popular in garden designs, particularly in large gardens. If you want to embrace vertical planting and create drama in your space, this concept is perfect for you!

35. Don't forget wildlife
Always consider the impact your outdoor space has on wildlife. Owning a large garden means you have the perk of creating a bigger bug house, and huge ponds, to name a few. This is your chance to create your own wildlife garden!

Round-up
Large gardens don't have to be boring, plain spaces with a simple lawn and standard flower beds around the edge. From curved lawns to modern patio areas, hopefully, we've given you some inspiration.
If the space allows for more, why not add a garden office or workshop sheds? Or upgrade your gardening endeavour with a full-sized aluminium greenhouse!
What you should read next: Very Small Garden Ideas On a Budget
Shop Rattan Garden Furniture