Thinking of starting a compost but don't know how to go about it? First, understand how composting works to create a nutrient-rich plant booster.
Next, consider what type of compost bin you should go for to keep your pile. Although you can find bins in garden centres, they tend to be expensive.
This is where homemade compost bins come to the rescue! Luckily for you, there are so many different DIY bin projects that will help keep more money in your wallet.
What you'll find below is a round-up of creative compost bin ideas. Choose the one that best fits your needs, and get started!
1. Durable plastic compost bin
Now, if you're looking for a durable plastic bin for your pile, this Garden Compost Bin is your best bet! It can hold up to 300 litres of household and garden wastage.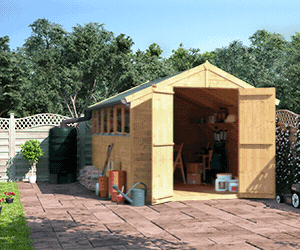 Easy to assemble using a click and connect system, and it comes with a stable hinged lid for ease of access. Even better, the material helps reduce the decomposing smell.

2. Gallon buckets
This composting method is perfect if you don't have the space or have that much organic material. All you'll need are at least five-gallon buckets with lids and small sticks to line the bottom for drainage.
Use a drill (alternatively, a hammer and nail) to pierce the buckets and the lids.
3. Repurpose a cardboard box
The thing we like most about this is that the box itself will slowly be turned into compost. We recommend a solid cardboard box with rigidity if you want it to last up for a year.
Once the materials have been added, fold the lips closed or down to protect the compost from the elements. Top tip: Place something heavy to pin the lips into place.
4. Barrel tumbler
With a base made of a few planks of wood and a barrel, you can recreate this spinning compost bin. This makes composting more convenient! Pour it out when you're ready for some freshly composted soil.

5. Plastic storage containers
Plastic storage containers are widely available, and you might already own a few. Drill holes throughout the container to have air circulating around your compost.
Find a good spot for your compost bin, such as on patios, near the kitchen or vegetable garden.

6. Milk crates
Milk crates are sturdy, and they come with handles for lifting, a great DIY solution that works well. Three cleaned crates will do, and some metal mesh screens or cloth for cover.
Line the bottom of each crate with a few layers of newspaper to catch the compost. Fill them with organic materials, then stack the crates.
7. Wheelie bins
Wheelie bins make excellent modified compost bins. Drill to poke holes at the bottom for drainage and aeration. Add a few bricks to keep it off the ground and allow the liquid drains out.
Roll the bin on the ground to aerate and mix the organic materials at least once a week. To keep it out of sight, store it in this Lotus Metal Bin Store.

8. Indoor jar bins
If this is your first time making compost, consider starting with indoor jar bins. Simply use an empty glass or a few mason jars – this is where you'll house your compost.
Start with dirt on the bottom, kitchen scraps in the middle and some shredded newspaper on top.
9. Cedar lattice design
Cedar lattices can be pieced quickly together to create an enclosure for your pile. And the thing about cedar is it contains natural oils, making it resistant to decay.
This is something worth noting as compost bins are usually exposed to elements.
10. Hardware cloth
Hardware cloth is another inexpensive and easy method for a DIY compost bin. You'll need a chicken wire, some cable ties to hold it all together, and a 1″ x 1″ lumber for the lid handle.
Shape the hardware cloth into a circle. With cable ties, connect your lumber to the wire. Then begin putting in your organic material inside.
11. Made from pallets
With tons of DIY pallet projects available out there, the pallet compost bin is one of our favourites! With a few extra pallets lying around your shed and some DIY tools, you can start building.
Follow this guide on how to build one from scratch.

12. Reusable food containers
Use plastic cups or small plastic containers such as large veggie containers. This method requires an inner and outer container.
The inner is used to hold the worms and their food source. The outer is for collecting drainage liquid and worm castings.
13. Cinder blocks
A cinder block compost enclosure requires a little heavy lifting. But once you have it set up, you can take advantage of it for many years.
Most of the designs have three sides built of blocks. The front side has two pieces of wood anchored into it and spaced out with washers. The space between the boards makes room for a wooden slat that covers the front side of the structure.

14. Shower door bin
Who would've thought you could make a sturdy compost bin out of wood and a shower door? With a few hinges, several wood slabs, and power tools, your shower door compost bin will be ready for use!
15. Wine barrel
If you want a sturdier solution, go for wine barrels instead of plastic ones. The design alone will give your garden a rustic charm. Most importantly, it can rotate enough to spill out the soil.
Create a foundation with four wooden rods in the ground. Attach a metal rod atop the poles that will then impale each of the barrels.
16. Woven basket style
Willows and dogwoods make excellent material for a woven style compost bin. Think of it as if you're weaving a basket, but a much larger one.
After soaking the wood, start weaving them around a frame that's made from solid wooden sticks. Once done, fill it with soil and scraps to start composting.
17. Two bin method
A two-bin composting system allows you to start a new pile while an old one finishes. It's always a great way to make more compost!
The double bin can be made from just (11) 2 x 6 x 12's and a single 2 x 4 x 12′ board. And with the thicker 2X construction, these bins will be in tip-top condition for many years.

18. Rotating drum style
This rotating drum-style bin allows the compost room to breathe and is easy to construct and use. Use two plywood rounds, fine mesh, and a few pieces of wood to recreate this DIY pile bin.
19. Straw bale bin
This concept is effective, requires no construction, and is ideal for country gardens. What's more, it's quick to expand or downsize and helps maintain moisture and heat in a pile.
Use at least 6 to 16 bales of straw to build the base. After adding the second layer, begin filing your bale bin with your compost.
20. Compost barrel tumbler
This innovative wheelbarrow tumbler bin makes it easy for you to put in and take out the finished soil. It's highly efficient to dispose of heavy and toxic waste.
Emptying a compost tumbler is more or less as straightforward as this!
21. The Californian compost cylinder
This cylinder is 4 feet in diameter and about 3.5 feet tall; it can hold a serious amount of waste. You'll need feather board, stock fencing, garden wire & twine, and cardboard for the lining.
It's very quick to construct and very cheap to build. Use this guide to get started.
22. Terracotta
Terracotta pots are purposeful planting containers and effective compost bin alternatives! Use them as a stackable composting station.
You'll have beneficial nutrients for your garden, at the same time, artistic displays.

23. Hinged design
This is like the pallet bin we've mentioned first, but this time, it includes a hinged door. This added feature allows for quick access to your compost and better security.
With a door that swings open, you can turn your pile and remove it when it's ready for use in your garden a lot easier.
24. Bin Crib
What we like about this crib-style compost bin is it takes little maintenance. And you can get your pile on-demand as soon as it's ready through the lower compartment.
You can use planks to recreate this design or an old crib for less labour.
25. Compost hut
We get it; compost piles aren't always the prettiest thing to lay eyes upon. For bins that are not fully covered, there's a way to have them hidden.
An enclosed composter like this works well! Depending on the material you use, it can likely blend into your garden scheme. Most importantly, hide the unsightly scraps.

Compost Bin Ideas: Round-up
Composting has been used for centuries in the gardening world. With compost bins, the process of recycling bio-waste has become easier than ever.
There are compost bins you can purchase, but they're usually expensive. Not only that but also hard to transport and sometimes downright inefficient.
That's why our team has put together this list of compost bin ideas! We hope our compost bin ideas will help you create your own bin for your pile.
Our list of FAQs below is there to answer more of your queries about composting. Make sure to check them out!
Shop Summer Houses
FAQs