If you've always wanted to grow your own vegetables and fruits, but don't know where to start, we've got you covered!
We've compiled a list of the best designs to help you decide how to create your ideal vegetable and herb garden in your available space. Let's dive in!
1. Enclosed vegetable garden
Keep your veggies safe from your children or your pets by enclosing it in this simple setup.  

2. DIY tiered strawberry planter
If you're handy with wood you could craft it yourself for a little place to grow strawberries in your backyard.This tiered style planter is great if you're short on space.
It's one of our favourite DIY pallet projects!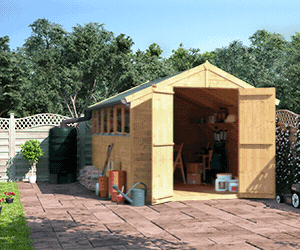 3. Raised sections
If you prefer a formal style garden, build symmetrical planters around a centrepiece, like a tree or water feature. Plant your veggies in separate containers to keep track of them without having them mixed up.

4. Potatoes in container
You can grow some things without having a huge planter or garden bed. For example, you can grow potatoes in a simple, small container like this.

5. Fenced vegetable garden
You can build a small, simple fence around your vegetable garden to keep your plants safe from pets or larger wildlife.

6. Tiered herb garden
Build your own herb garden container with separate sections for each herb so they won't mix when growing. Don't forget to add labels!
7. Ladder vertical garden
Give an old ladder a second life by transforming it into a vertical garden. It's a great solution for a small garden with little or no planting space. 

8. Modern veggie garden beds with gravel
Use black for your raised planters to give your garden a modern look. You could use a simple grey gravel like this as a budget-friendly base for your vegetable garden.
Speaking of gravel, you might want to check out these gravel garden ideas!

9. Breeze blocks flower and herb garden
If you're on a tight budget, breeze blocks make great planters for herbs, as you can easily keep each one separate, and by building them up you can create a simple vegetable patch. 
10. Vegetables in pots
Some vegetables and fruits are able to grow in pots, so you don't need lots of space to grow your own. 

11. Huge fenced vegetable garden
If you have a large garden space, create a simple, open vegetable garden to save a few trips to the supermarket! Add a little fence to keep it safe from animals or children.
12. Small vegetable garden with stepping stones
Decorate your vegetable garden with pebbles and stepping stones for an appealing but practical finish.

13. Tin bath planter
If you're short on planting space, planters are the way to go. Tin bath style planters bring a rustic charm to your garden. 
14. Wooden garden structure
A wooden structure like this is perfect for a small space against a plain wall. A vertical herb garden and raised planters with trellises will brighten up the space in no time. 

15. Raised garden beds with trellis
Install a metal trellis next to your garden bed so your plants have plenty of space to keep growing upwards.

16. Removable greenhouse roof for garden beds
Install mesh or netted houses over your vegetable beds to protect them from small animals and insects that might nibble on your goods! 

17. Tiny enclosed vegetable garden
A small enclosed spot for you to grow some herbs and veggies, and hopefully save a few trips to the market.

18. DIY raised garden bed
If you're building your own garden beds, try building them off the floor so you won't have to kneel to take care of your plants.
19. Big veggie garden with pergola
Why not place a pergola at the entrance of your vegetable garden, to make it look more appealing. You could even add climbing vines and flowers for decoration. 

20. Arch with trellis
Alternatively, install an iron archway for your climbing plants to grow on, for an appealing entrance to your vegetable garden.

21. White wood vertical garden
Spruce up your vertical garden with a lick of paint to match your garden theme. 

22. Vegetable tunnel
Install an iron structure along your garden path and add some climbing vegetable plants to grow around it. You'll have a veggie tunnel in no time. 

23. Tiny raised and enclosed garden bed
No need for a huge setup. You can fit one of these in your small garden and grow whatever you like. 
Add a garden gate and some netted fencing to keep the creatures away from your produce.
24. Vegetable garden with gravel and lights
Add some lights for a nice touch and a great view of your garden at night. 
25. Removable garden bed cover
To avoid birds or bugs from damaging your herbs or plants, add a mesh casing to your vegetable beds. 

26. Cedar raised garden beds
Cedar wood raised beds provide a great colour contrast against dark soil and green veggies. 

27. Vegetable garden with white fence
Decorate your vegetable garden borders with a white picket fence to match your garden boundary fences for a country garden feel. 
28. Huge spring vegetable garden
If you have the space, fill it up! Plant every herb or vegetable you need to save you some trips to the market.

29. Simple raised garden beds with gravel
Gravel works great as a low maintenance base between your raised beds. It helps stop weeds coming through but still allows for drainage around your veggies.
30. Wall mounted herb garden
You could use wood or even some pipes to create a wall-mounted garden with very little budget.

31. Vegetable garden in a small backyard
You don't need much space to create a vegetable patch to be proud of. Just add some simple, rectangular beds and start planting.
This is perfect if you have a rectangular garden!

32. Vegetable wash station
Create a spot in your garden to wash the soil from your vegetables after digging them up. Use a simple mesh and wooden planks to create a frame. 
33. Wooden garden beds
Add a raised frame to your garden beds to hang up nets to keep away bugs, birds and other small animals.
34. Trellis vertical garden
Install a trellis for your vegetable plants to grow on. You'll have a beautiful vertical garden full of fresh produce to enjoy.

35. Vegetable garden in a narrow backyard
Remember, no matter the space, you can fit a veggie garden in your backyard and start growing your own herbs and vegetables.
36. Wood pallet herb garden
Recycled wooden pallets are perfect for a budget-friendly vertical herb garden if you're short on space. 

37. Wood planters in pallet
Alternatively, you could use a wooden pallet as a stand for hanging smaller wooden planters, so you can grow a wider variety of herbs. 
38. DIY raised garden bed with shelf and sections
Add in a handy shelf to your raised herb garden to store your gloves and gardening tools. 
39. Wooden tent vertical garden
Craft your own trellis in the style of a tent for a unique archway and add climbing vegetable plants, like tomatoes or beans. 
40. Deer-proof raised garden bed
If your garden has a mountain or wilderness nearby, include a meshed barrier to give your garden beds some protection.

41. Fenced vegetable growing area
Create a stylish, fenced-off place in your backyard to grow whatever you like, whilst keeping hungry local wildlife at bay.
42. Tiered vegetable planter
Tiered planters don't take up much space so they're great for growing vegetables and herbs in small gardens.

43. DIY tiered herb garden
You could always make your tiered planter corner shaped to fit your available space. 
44. Veggies inside, flowers outside
There's room for everything in this garden. You can add some flowers on the outside to brighten the view.
45. Shoe
organiser

 vegetable garden

Give your old shoe organiser a second life by turning it into a useful vertical herb garden.

46. DIY cute garden markers
So you won't mistake your herbs when they start to grow, make your own name markers using wooden spoons.

47. Star-shaped garden bed
Get creative with the shape of your raised garden beds to inject some of your personality into your vegetable garden. The symmetry of these beds gives this garden a formal feel. 
48. Herb garden in wine boxes
Recycle your old wine boxes to create unique beds for your herbs and veggies. 
49. Cute small shed
If you're short on space, install a tall but narrow shed to store all of your gardening tools and gloves. 

50. Stone garden beds
You don't need to have raised planters for a vegetable garden, just transform your flower beds using planks to separate the produce and give you something to step on. 
Round-up
Whether you're on a tight budget or you've only got a small space to work with, you can still grow your own produce right in your backyard.
We've got everything from simple herb gardens to full-size vegetable patches in our list of ideas, so we hope you've found some inspiration to get started on your own garden.
Shop Greenhouses