Garden decking makes a practical and striking addition to outdoor spaces. But like any other outdoor fixture, it's not invulnerable to the elements.
The truth is, decks take the most abuse outdoors, from heavy foot traffic to climate extremes. This is why it's a good idea to establish a maintenance routine to make the most of your patio deck for seasons to come.
1. Inspect the whole decking area
Pay special attention to the areas near the ground or water sources, as they usually cause wood rot. Check the surface for excessive cracks, splintering, warping or decay as well.
Include the joists, support posts and beams, railings & stairs in your checks for any damage/looseness. Repair or replace any damage if necessary.

2. Perform a water test
This test ensures your deck is waterproof and there's no leak. You can do this by pouring a glass of water on the surface. If the water beads up, the deck is still protected. Otherwise, it's time to wash and re-stain.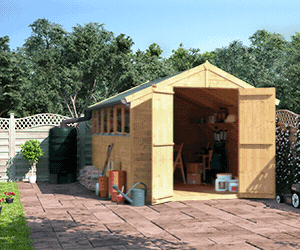 3. Sweeping routine
This should be done at least once a week. Sweep the deck thoroughly. Use a putty knife to remove dirt and debris between the deck boards.

4. Pressure wash
Pressure washing is an effective method for cleaning off dirt, dust, and other debris. It also works well for stripping layers of old stain or paint. 
Make sure you know how to use it properly!

5. Or opt for brush washing
Get down on your hands and knees and scrub the deck with a handy cleaning brush. Pair it with a mild detergent or a deck washer suitable for any sort of stains.
Use a commercial degreaser for oil or grease stains; one with oxalic acid for rust and leaf stains.
6. Wait for the deck dry
Once the detergent has been thoroughly rinsed, allow the deck to dry for 48 hours prior to sealing. A moisture metre is a great tool to use for testing the dryness of the wood.

7. Seal It
Keep your wood deck looking beautiful by applying a fresh coat of sealer every year or two. Stains are available in many colours; the darker the colour, the better the UV protection will be.
8. Then proceed to stain
Staining provides a more uniform tint or colour to the wood. Basically, it changes the colour of the wood, unlike sealing which protects the wood itself.
A penetrating oil stain is best because it soaks in, providing the best protection.

9. Don't miss the railings
Work from the bottom up, apply the cleaner, scrub, and rinse. These steps ensure you'll leave no marks after.
For vinyl deck railings, remove mould, mildew and stubborn dirt with a mild soap solution.

10. Cover nearby shrubbery
The chemicals in cleaners and sealers can harm or, worse, kill plants when hit with the spray off. Cover all nearby vegetation with a tarp or plastic sheet before you start. Allow for circulation by draping the cover loosely.
11. Sand the deck before sealing
Lightly sand the surface to remove splintery or fuzzy patches caused by pressure washing. A pole sander with 80-grit sandpaper will do the work; a power sander is okay but use it in moderation.

12. Skip the chlorine bleach
Oxygen bleach is an all-purpose alternative that won't wash out colours or harm plants. However, it's not appropriate for redwood.
13. Don't use paint as a sealant
Paint looks nice when it's first applied, but it doesn't make the cut as an alternative sealant. It'll make your deck look downright distressed before long.
Top tip: If you're thinking of refinishing your deck, remove all the paint (if it's been painted) first.

14. Give your uncovered deck some TLC
An uncovered deck endures whatever nature delivers. During the off-season, regularly sweep away puddled water, leaves, and other debris. 
Keep an eye on potential water damage and take action if needed throughout the season. Or, install a cover or awning if possible.
15. It doesn't matter even if it's pressure-treated
Don't assume that a pressure-treated wooden deck is maintenance-free. It must still be cleaned and sealed to withstand water and harsh solar damage. Use cleaning products made for pressure-treated wood.
16. Be vigilant about damage
Loose nails and deck attachments and split or rotten planks are other concerns. Inspect your decking occasionally and promptly fix any damage for safety. Complete other repairs before your annual deep clean.

17. Skip outdoor rugs made of natural fibres
Sure, protect your deck from scrapes inflicted by chair and table legs. But don't use rugs made from jute and bamboo, as they absorb moisture and promote mildew.
Opt for recycled plastic-made instead – they'll last longer, too!
18. Don't go overboard with a high-powered washer
As mentioned, a pressure washer is a time- and labour-saving cleaning companion. But in unsteady hands, it can strip or even soak your deck.
Do it gently. Sweep the nozzle along the wood grain at a slight angle about 8 inches from the surface.
19. Stick to brushes for composite decking
Scrub with a soft brush, and don't use a pressure washer to prevent damage. Remove rust and leaf stains with a deck brightener containing oxalic acid. The same goes for vinyl decks.

20. Check the ledger
Using a flashlight underneath your deck, pay special attention to the ledger (the deck equivalent of skirting). Make sure all the pieces of framing are well intact to prevent them from collapsing.

21. Trim nearby bushes and trees
They should be at least 12 inches from the deck to slow mould, moss, and rot. And don't let leaves and other debris pile up in corners.

22. Move furniture to avoid discolouring
Move chairs, tables, and planters occasionally to avoid discolouring the decking. This simple practice also helps prevent uneven fading and cuts down on moisture problems such as rot and mould.

23. Avoid build-ups
Don't let leaves and debris pile up on your deck's surface, especially in the corners. Sweep them with a broom, and don't forget to get spiderwebs and dust in the upper corners as well. Do this once a week, particularly in the fall.
24. Joists, posts, and beams summer inspections
Check all the hardware underneath, especially the joists. You can use a probe for signs of rot on the posts and joists.
Replace any that are seriously rusted. If anything looks serious or doubtful, call in a pro to provide an estimate for the repairs.
25. Wear protective equipment when staining
Do yourself a favour and wear gloves, a safety mask, and eye protection when applying stains. This helps prevent any injury or skin irritation.

26. Re-oil your deck
The signs you may need to re-oil are deterioration, patchiness or discolouration on the edges and other areas. Re-oiling adds a new layer of protection to the wood, giving your deck a longer lifespan.
Again, you need to strip the old oil before applying the fresh layer.

27. Treat new decking
Most new decking already comes pre-treated. Look for a green or brown tinge, or the surface of your deck will be slightly darker than the cut end.
Brand new decking needs to be left alone to weather naturally so that all the pre-treatment has eroded. Wait around six months for it to be fully eroded before oiling.
28. Restore a weathered deck
Decking that's been weathered by the sun appears to be grey, split and could warp. If it's damaged by water, it could rot and become unstable.
But it can be salvaged with a bit of maintenance: make repairs, clean, and pick your paint.

29. Free the deck from algae
White vinegar is a popular natural cleaner that can be used to remove algae on decks. Combine one gallon of water with one cup of white vinegar and scrub the deck with the solution. This method also works on mould and mildew.
30. Give it a makeover
An effective way to add an instant boost to your deck, on top of maintenance, is a seasonal makeover. Paired with furniture, a collection of bright and cushy pillows will add interest.
Check our garden decking ideas for more inspiration!

Round-up
Decks are one of the worthwhile home improvement projects you can invest in. Regardless of the material, whether it's expensive or practically low-cost, it needs maintenance.
A proper routine of upkeep can keep your deck protected and in good shape and avoid costly repairs. Most importantly, this helps increase its lifespan and functionality.
Use our deck maintenance ideas, and you'll be able to enjoy your outdoor living room year-round!
Shop Outdoor Living