Decks are excellent additions to gardens, perfect for elevating plots. And the right decking ideas can bring your outdoor living experience to the next level.
A clever way to utilise decks in outdoor spaces is to create zones with different levels. But to do this, you need plenty of garden design ideas for decking.
Well, our little list of inspiration is a good place to start!
1. Raised and rustic style
When modern designs meet rustic materials, this combo can add a touch of luxury to gardens. Opt for dark wood for a rustic feel and use clean lines to achieve a minimalist vibe.
Match the dark colour of the deck with the fence and furniture for a seamless look.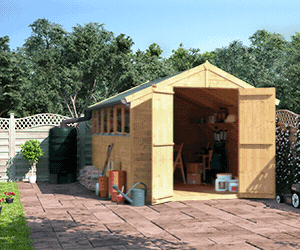 2. Get it covered
A covered decking area lets you make the most of your outdoor living space, no matter the weather. It's up to you how you want to shelter your garden. You may install a roofing like this one!

3. Decked garden room
A deck around a garden room provides more floor space for various purposes. The frontage in this decked outdoor building offers a space to sit or dine outside.
4. Around the pool
For this concept, choose a stylish and non-slip decking material like composite. Pair it with a water feature, and you can create a practical and chic poolside.

5. Raised outdoor kitchen
Keep your BBQ in one place and enjoy a year-round grilling in your own backyard kitchen! Create a dedicated cookout zone by installing raised decking.

6. Rooftop retreat
If you have a balcony, a roof deck is worth considering. Draw inspiration from this design to elevate your space. Punctuate it with a pergola for partial shade.
7. Fire pit on deck
A non-flammable decking material or caution is recommended for this concept. It should be strong enough to support the fire pit design you have in mind.
Install a flame-resistant surface to hold the fire pit and catch sparks. Have a look at the photo below.

8. Stylish sundeck
Natural wood decking looks good when paired with black, giving off a classy vibe. To create a fluidity of design, keep everything in the same colour or add a bit of variation.

9. Muted scheme
You can never go wrong with this concept if you want a more pared-back look. The muted scheme of soft creams and greys is harmonious and soothing.
What a chic yet straightforward-looking scene featuring some very vogue decking!
10. With a patio heater
Keep your patio warm all year round with a heater. This can turn your deck into a magical place to sit, even when the temperature outdoors takes a drop.

11. Decked pond
Your deck needs a view of something that offers melodic and soothing sounds. What we're trying to say is, it needs a pond! Take a cue from this style; it leads to a stone path that follows the stream.
Relax on the patio with a great view of this water garden.
12. Boardwalk
Another way to use decking in your garden is by creating a pathway. This boardwalk-style gives off a beach garden feel with pebbles and sand.

13. Go bamboo
Bamboo makes an attractive and eco-friendly decking flooring option. Ideal for tropical-themed gardens, add bamboo blinds/screens for a sense of privacy. Then, choose the right tropical plants to highlight the space.
14. Traditional route
Constructing the deck at a raised level is a clever way to make use of uneven ground around your property. This classic yet elegant decking comes with a few steps leading down to a levelled area.

15. Composite
Composite decking is a great alternative material to reclaimed wood and fused bamboo. It can be crafted in a wide assortment of colours and finishes, all of which will keep their hue.
Stick to one colour or hue for a clean and neat look.

16. Freestanding
A deck structure that is self-supported and not directly attached to your home; a free-standing deck is a fantastic choice when you want to have a standout feature in your backyard.
Take a cue from this decked outdoor entertainment area surrounded by lush greenery.
17. Full-circle
This incredible garden decking design proves that decks can be created in any size and shape. The Yin and Yang surrounding the small fountains make this concept ideal for Chinese garden ideas.
18. Parquet
Think outside the box and lay a deck in a pattern, such as in the style of parquet flooring. This gives a sleek look while nodding back at a super-stylish bygone era.
Different from the usual parallel lines, parquet decking also exudes an interesting aesthetic.
19. Dark wood stain
Decking is often in warm natural woody shades or pale hues. Opting for a darker colour can create an unusual, contemporary look to your patio.
Plus, it allows the vibrant surrounding to stand out more. If you want to highlight the lushness of your garden, go for dark, muted decking.

20. Combine with flagstones
A mix of stone paving in your decking can give your outdoor space the ultimate modern look. The combination of materials provides contrast between light and dark colours.
Add architectural beds in the centre to inject more colours and a source of greenery.

Round-up
Decks are such a versatile landscaping material for gardens. You could create fabulous outdoor zones for entertainment, dining, and relaxing.
And regardless of the size of your plot, our decking ideas are guaranteed to help you define spaces. By the way, did we mention that decking is also great for heating your garden in winter?
On top of functionality and aesthetics, it looks like garden decks have more to offer. In the meantime, make sure to share this guide to help someone transform their space too!
Shop Rattan Garden Furniture
FAQs