Garden decking ideas are a stunning and practical addition to outdoor living spaces. For smaller gardens or patios, a deck makes a great solution to extending a tiny area.
The right decking can also be used to zone an area, making your humble yard more manageable. Or, if you want a lawn-free plot, decks can give you a low-maintenance one.
It doesn't matter how diminutive your backyard is. Decking is one of the most versatile garden structures around. And our list of small decking ideas will give you tons of inspiration, no matter your square footage!
1. A multipurpose and space-saving layout
Give your small patio style and character with clever furnishing solutions and decking. You can recreate this outdoor dining area with a timber deck and outdoor furniture set.
This is a perfect way to add an extension to your house and create extra space for leisure and entertainment.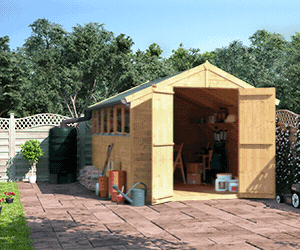 2. With built-in planters
A surefire way to maximise a small decking is to have built-in planters. It's a space-savvy technique to transform a space into a flourishing garden with ease.
Position the planters alongside steps to create a direct view of the planting as you climb.

3. Or design with a bench in mind
Building an attached bench along the deck edge is a popular and beautiful option. Built-in deck benches are also great for optimising sitting on a tiny patio.
With side tables, you could benefit from space-saving.
4. Create outdoor zones
Use small deck ideas alongside paving to create distinct zones and boundaries. The right zoning style will help you set the scene for how you want your garden to look. Take a cue from this small garden layout.
5. Cool curved design
Curved decks are known for their stunning appearance. This design can be a showpiece for your small yard while providing a lovely place to relax or entertain.
The BillyOh Rattan Bistro Garden Egg Set will especially look superb in a curved patio deck.
6. Creative small deck fire pit
Enhance the ambience of your favourite gathering spot with a fire pit. Opt for a gas-fuelled pit for the lowest fire risk.
Also, ensure your deck is strong enough to support the fire pit. Check our fire pit design ideas for more inspiration!

7. Design a seamless transition
Bring the inside out using a design board decking to achieve a seamless transition. The material is also a good low-maintenance alternative to traditional timber decking.
Hardwood decking also has a natural warmth underfoot. It makes an ideal material for barefoot transition between house and garden.
8. Contemporary circular style
An awkward garden space can be a stand-out entertainment area. Take this circular decking, for example.
A unique decked seating area with a difference, unlike the traditional square-shaped one. Complement the deck with plants to create a lush scene – a trellis also looks great for climbers and privacy.
9. With a pergola attached
A pergola can be freestanding anywhere along your deck. It provides shade so you can stay comfy for hours, even during an extended sunny afternoon.
Check our best pergola ideas for patios for more design inspiration!
10. Attach a built-in cooler
You can easily install a small drinks cooler into your decking and it's incredibly cheap to do and simple! You can either use a gutter or build a cabinet (like this one) and attach it to the deck edge.
Drill some holes in the bottom for drainage, add tons of ice and your favourite beverages, and you're done!
11. Introduce a walkway
The walkway tricks the eye into showing off the length of the area, instead of the width. It also adds a playful feel to the outdoor space.
Finish the look with raised beds or greenery surrounding it. A step-style pathway is a great idea for sloping gardens.
12. Equipped with a patio heater
Make the most of your deck and keep your outdoor living space warm year-round with a patio heater. A freestanding heater can turn your deck into a magical place to sit, especially in winter.

13. Deck out your garden room
A small garden room idea to fit into your garden corner is a perfect way to max out the space you have. Even better, deck it out to add more floor space, such as a spot to sit and grill BBQ. Feel free to use the extended square for various purposes.
14. Introduce a shade source
A sun shade is a great way to update a deck, at the same time, to keep the area cool in the summer. A simple addition of garden shades will help you get more use out of your small patio and enhance its design.
Luckily for you, there are so many outdoor shade ideas for you to choose for your decking!
15. Rustic sun deck
It's not a requirement to have a backyard pool to own a sun deck. Take a cue from this raised, rustic-looking deck with sun loungers.
Instead of a pool house, there's an outdoor shower surrounded by bamboo fencing. Recreate the humble entertaining space to catch the sun!
16. Floating, a.k.a. freestanding
This decking concept is self-supported and not directly attached to your home. It might be the best choice if you want to have a standout feature in your backyard.
Take inspiration from this small decked outdoor entertainment area surrounded by lush greenery.
17. Tiny chill out corner
There are ways to turn even the smallest outdoor space into your own personal oasis. This tiny chill out corner is living proof!
The space is big enough to fit a two to three seater couch and a dual purpose table/bench. Check our corner garden ideas for more exterior designs!
18. Wrap a glass frame around
A glass frame wraps around this decking idea. It acts as a clear border, framing the views and offering a sleek contrast.
Glass railings are an elegant way to provide safety, add beauty and a touch of modernity to the deck.
19. Tiered decking idea
A tiered deck blends well with a sloping landscape. It helps create a usable area, even with a small outdoor space. This concept also works well if you want to create a separate zone for your garden shed.
20. Incorporate lighting fixture
A combination of outdoor lighting ideas on decks can add drama and interest. The built-in lights in the steps and bench cast an inviting, warm glow.
The small fire pit makes the space cosier, a perfect spot for evening get-togethers.
21. Deck out the mini pool house
You can never go wrong with a mini decking for a study pool house ideas base. The deck helps extend the area, creating more space for entertainment.
It's where you can make the most out of the summertime while sunbathing on your sun lounger.
22. Dark wood stain design
Opting for a darker wood stain can create an unusual, contemporary look for your patio. The palette also enables the vibrant surroundings, including furniture, to stand out more.
This option might work if you want to highlight the lushness of your garden.
23. Go for composite material
Composite is a great alternative material to reclaimed wood and fused bamboo. The material can be crafted in a wide assortment of colours and finishes, all of which will keep their hue.
Stick to one colour for a clean and neat look, such as this modern grey colour.
24. With a garden pond
Smaller garden pond ideas are good DIY projects, especially when paired with decking. The right pond design can give your deck a view with melodic sounds instead of unwanted noises.
Take a cue from this design and relax in your humble yard with a relaxing view.
25. Made for outdoor shower space
You can discover a wide variety of deck designs and new ideas for layouts. For one, this small outdoor shower space, which offers an alfresco bathing experience.
This is a perfect addition to your backyard swimming pool!
26. Add fencing for privacy
Installing fencing or any privacy wall design on a deck is a snap, though! This wooden fence on a small, decked balcony, for example. It adds a sense of privacy, leisure pursuit, and decorative enhancement.
27. Raise the deck and add a slide
This new addition to the deck has added an extra fun element to the small backyard. A cost-effective way to create a fun space for your kids to enjoy and make the most of your decking design.
A slide also looks amazing on treehouse design ideas or playhouses.
28. Muted colour matching the furniture
A muted colour palette offers a more pared-back look. Soft creams and greys, for one, are strikingly harmonious and soothing. The shade matches the patio couch and concrete fire pit well.
Opt for a darker hue for the plant pots for contrast.
29. A rooftop retreat
Rooftop decks do not have to be huge to create a special hideaway. Smaller decks can still give you an intimate place for open-air leisure.
Draw inspiration from this simple design to elevate your space. Fix a pergola for partial shade, and make sure to add a patio heater for extended hours of fun!
30. Make it fully covered
If you like a roof-over-head when you're out on the deck, there are plenty of options. But a common design is a wooden pergola matching the decking material. This small patio living space makes a great example.
31. Decked outdoor kitchen setup
Building an outdoor kitchen on a deck is a great way to utilise a small space. In this setup, a pergola with a fencing wall can be seen, providing shade and privacy to the area.
The wooden decking matches the timber countertop with a sink and pizza oven. Hooks organisers help save floor space, enough to fit a mix of dining sets.
32. Fit a minibar
A small garden bar idea setup will give you a spot to entertain guests without taking up too much deck space. The layout includes an L-shaped countertop with stools and a BBQ grill at the corner.
Add a cover with a pergola or canopy, and you'll have a multi-purpose BBQ shelter area as well.
33. A Wisteria pergola in the background
This is a view of a decked patio leading up to the older part of the deck with a pergola covered with Wisteria. The vibrant, purple climbing bloom makes a lovely backdrop to the space.
It especially looks amazing in full bloom, draping over a pergola, trellis, or crawling up a bare wall.
34. Sink into a sunken outdoor hot tub
Regardless of the size of your patio deck, you can fit a hot tub, particularly inflatable hot tub ideas. Take a cue from this sunken design approach if you want a permanent deck feature in your backyard.
35. Decorate with an informal dining setup
This cosy patio area extends the outdoor living space with a unique dining layout. The alfresco setup features informal pairing of a dining table and benches.
This offers more seating options, unlike individual chairs, without taking up too much space. Check our garden bench ideas for more inspiration!
36. Introduce a rug for finishing touches
Outdoor rugs are a win-win addition to any patio. They add interest while also giving you something comfortable to rest your feet on.
The right design can be the ultimate finishing touch for your yard decking idea. On-trend prints to look are in monochrome colours and bold, big floral in the brightest shades.
37. As an accent patio piece
Accent decking works well if you only want to fork out a small area of your patio. For one, as a stable surface in a garden room for guests to enter and exit from. Or raise it a bit, just like this small dining setup, to elevate your alfresco dining experience.
38. With a natural privacy wall
A row of evergreens forms a natural outdoor screening idea for this small decked patio space. A line of trees or shrubs can even provide year-round privacy better than a fence. Opt for fir, cedar, pine, and spruce, to name a few.
39. With a built-in bench and lattice wall
This rustic-chic deck features a long built-in bench lined with colourful pillows. The design is also fitted with a wood lattice for privacy, facing a wooden dining table. Another easy and practical way to make your patio a bit more intimate!
40. Second-floor decking
Making use of the area under a deck doubles your space for relaxation. To recreate this scheme, look for a second-floor decking idea that suits your patio and house structure well. Go bespoke to add personal touches to the design.
41. A small centrepiece
Positioning your deck at the centre will give you an instant focal point in your backyard. This is especially when it's decorated with the right furniture.
Take this set-up, for example. It blends sleek, sophisticated pieces with a garden mirror idea for space illusion.
42. Edge it with greenery
A variety of greenery in a raised bed along the edge of your deck can offer privacy and put plants within reach. A natural and lush way to finish off your patio decking idea.
An attached planter also works well for incorporating plants into your design.
43. Spruce up with a container garden
Enhance your outdoor space setting with container garden ideas. Choose plants and flowers that combine interesting colours and textures. To make your container garden portable, consider putting the pots on a rolling stand.
44. Unify the look
Modern wicker garden furniture looks extra wonderful with a brown-treated decking. This patio set, for one, echoes the lines in the modern-rustic timber deck and fencing beyond. A touch of metal pieces in a black finish offers a contrast to the look.
45. Dramatise the scene with an arch
A decked patio stuns with its position under a dramatic metal arch with built-in seating. The arch is decorated with outdoor lighting ideas and some decorative bunting.
To achieve a cottage core vibe, grow climbing roses, and opt for wooden furniture.
46. Above-ground pool deck
An above-ground pool with a deck offers the appeal of an in-ground pool but without the hassle. A fairly straightforward way to make your pool more accessible and enjoyable.
Most importantly, it creates a great place to sunbathe, lounge and relaxes.
47. Hardwood deck and concrete floating steps
This multi-level hardwood deck features floating concrete steps. The design creates unique continuity between the levels while adding a modern interest.
You may also consider using the same material as the decking for the floating stairs.
48. Weathered material
Weathered decking is a traditional, almost distressed-looking board. The material instantly adds a rustic appeal to any space. Surround the decking with perennials and a shallow pond below for added interest.
49. Multilevel under decking
Don't overlook the space under your patio decking. A BBQ area with outdoor dining sounds like a good plan above. Then create a lounging area below or a kid's corner idea.
50. In contrast to the brick
Wooden decking blends well with bricks and other decking materials. This concept will look amazing for your backyard swimming, along with a pool house. Or an outdoor kitchen with an open fireplace for alfresco dining.
Round-up
Garden decking adds a whole new space to your home. You can start small, and then create a larger area eventually, if the space permits.
Whatever size your garden or patio has, you can elevate its look and feel with the right design. Use our small garden decking ideas to combine style and substance, and creativity.
They'll make your tiny outdoor living area more functional than ever year-round!
FAQs