Our winter garden ideas were very handy last season, indeed. And it's time for our Spring plant ideas guide to take over!
Container gardens are the highlight of springtime. It's that time of the year when a backyard shouldn't be left unrefreshed and unbloomed.
And container gardening offers the perfect landscaping solution in revitalising your outdoor space. Get ready to spring forward into the new season with these plant ideas!
Read on, and you'll also see a section of spring combination ideas to welcome the warm weather more into your yard.
---
Container Garden Plant Ideas
Fresh growth, new flowers = a fine way to describe a spring garden. Luckily for you, there are lots of planting methods you can do this season, and one of them is container gardening.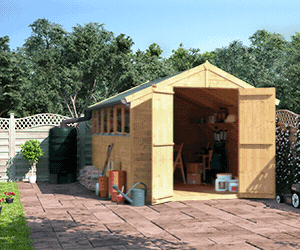 Here are the best plants that can be used to create beautiful spring containers.
---
1. Daffodils
Daffodils are classic springtime bulbs. To complete the look of your spring garden, plant them in the fall. These yellow blooms can bring bright swathes of colour to your yard, welcoming the season.

2. Weigela
A charming spring-blooming shrub that adds flair and colour to your outdoor space. These pretty pink-and-white trumpeting flowers would look lovely in garden entryways or porches.

3. Hyacinths
Like Daffodils, Hyacinths bloom in early to mid-spring. Known for their fragrant blooms, they are perfect for containers and as bedding displays in borders.
They produce flower heads in shades of blue, white and pink, as well as deep red, purple and even yellow.

4. Crocus
Crocus blooms bright and early, bringing much-needed colour after a long dread of winter. Plant them in the fall for a spring show!
Top tip: Find a large container with enough drainage holes. And make sure to fill it with good quality, well-draining soil.

5. Coral bells
Coral bells are best planted in late fall or early spring and can grow at a moderate pace. This makes them a perfect plant for spring containers. They'd also look stunning on rock gardens, borders, or ground covers.

6. Spiral sorrel (Oxalis)
One of the favourite species for spring containers! This evergreen perennial grows well in warmer regions. Flowers are normally yellow, but some foliage ranges from bright green to dark purple.

7. Primroses
These vivid blooming perennial flowers bloom in early spring, ideal for brightening the garden. Inject a rainbow of colours in your backyard, including white, yellow, purple, and pink.

8. Tulips
Plant these bulbs in fall, and you'll have the most colourful spring blossoms! But they're delectable to critters, so plant them in pots where rodents can't dig. Or layer them underneath with less tasty flowers like daffodils.

9. Forsythia
The bright yellow blooms of forsythia are a great sign that spring is here. Plant them in containers during the late fall or early spring, and you'll be rewarded with cheery flowers just in time for the season!

10. Sweet Alyssum
A low-growing beauty that's common in the spring gardens. It requires good air circulation for growing in hanging baskets and containers.
As long as you keep it watered, it'll bloom from spring until the first hard freeze in fall.

11. Snowdrops
Snowdrops, despite the winter-ish name, are hardy perennials that are often heralded as the first sign of spring. These blooms typically appear as soon as the temperatures are regularly above freezing.

12. Forget-me-nots
Forget-me-not flowers bloom in mid to late spring. They pop up in this season, or sometimes, in the summer, in shades like pink and blue.
Top tip: The plants need plenty of air circulation. Thus, one plant per container is best for growing forget-me-nots inside.

13. Wallflowers
Wallflowers are biennial and bloom in spring from seeds planted prior to the season. They flower the following March, offering a splash of colour. Also, they combine beautifully with other spring bulbs in the list above.

---
Spring Combo Ideas
These container gardens are planted with other spring bulbs. In return, they add a much-needed pop of colour to gardens. But this selection will also look fabulous on doorsteps, patios, and decks in early spring.
---
14. Pansies and Violas
Pansies and Violas are cool-weather spring annuals, perfect for this season. In a mixed container, you can replace them with different plants later in the summer as they fade.
Top tip: Pair them with perennials like Coral bells to inject more tone in your yard.

15. Bergenia and Saxifrage
The large, glossy leaves of the Bergenia look fantastic all year round. Its pink flowers add a splash of colour in spring. Both plants are perennial, making them a great pair for the season's container display.

16. Primulas, Sage and Peony
A purple themed container garden consisting of purple Sage, drumstick Primulas, and Peonies. When Primulas are combined with the two, the outcome results in a dramatic spring display. And once the season is over, feel free to plant them out into a damp spot in your garden beds.

17. Heather, Daffodils and Daisies
Put up Heather, Daffodils and Daisies in one container to create a bouquet of bright spring blooms! They'd look perfect on patios, entryway or as a table centrepiece in your alfresco dining area.

18. Tulips and Forget-me-nots
A punchy spring combination of tulips and forget me nots! You can pick a variety of colours for tulips to make the colour pallet of this epic combo easy to play with.

19. Cow parsley, Verbascum and grasses
Bronze Verbascum with purple-stemmed cow parsley mixed with brown grasses. An airy combination offering warm tones and providing a bridge from spring to summer.

20. Weigela and Dryopteris
A mixed and matched spring container consisting of maroon Weigela beside a Dryopteris. The abundant weigela flowers are sure to attract more bees, while the shade it casts offers the perfect spot for ferns like Dryopteris.

Spring Plant Ideas: Round-up
Adios to the cold wintering months and hello to spring with container gardening! After a long, dreadful and freezing season, you finally get to see your yard in its natural glory.
We hope these spring plant ideas will help you create a welcoming garden and make the most of the warmer months. If you have some follow up questions, feel free to check the FAQs below to address your queries.
Shop Summer Houses
FAQs