A beautiful garden isn't just about the plants and flowers you choose to grow. It also concerns how it should complement nature's beauty. Among the key elements in achieving this is via a combination of two outdoor investments. Garden furniture and garden building.
Use this guide for some practical tips, and learn how to create a cohesive outdoor space.
Choosing the Right Garden Furniture

Many homeowners tend to focus solely on furniture when designing their spaces. Garden buildings are yet again overlooked. This often results in an uncoordinated and haphazard look.
A harmonious outdoor living space provides an intentional and well-designed impression. To carry this out, consider complementing the garden furniture with the outbuilding. 
When the materials brew seamlessly with each other, they add depth and character to the garden. This, in return, makes the space a more inviting and relaxing getaway. Instead of shutting one element out, find ways to make them work out together — here's how: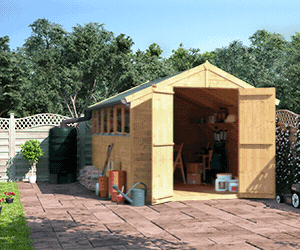 1. Weigh up the style of your garden building
Whatever your outdoor structure is, the style is your starting point. For a rustic garden shed, for instance, wood or wicker can seamlessly blend into the natural look. Cast aluminium bistro sets sit well with metal structures, and so on.
2. Think about the colour scheme

Suppose your garden building has a distinct colour scheme like this BillyOh Studi. Then we recommend selecting furniture that rounds off the palette. To suit the anthracite grey paint, go for a dark monochromatic range.
3. Get the right size
The size of your garden furniture should be in proportion to the scale of your garden building. If you have a small unit, choose smaller furniture pieces that won't overwhelm the space, and vice versa.
4. Consider the purpose of the space
Think about how you plan to use the space around your garden building. If you plan to entertain guests, invest in comfortable and durable sets. Here are some examples of outdoor furniture that work well with garden buildings:
For modern garden buildings, sleek and minimalistic designs are ideal.

Consider selecting metal or

plastic furniture

with clean lines.

Rustic garden buildings look great with furniture made from natural materials.

These materials, e.g. wood or wicker, create a warm and inviting atmosphere perfect for the rustic feel.

Traditional garden buildings benefit from classic and elegant furniture.

This may be wrought iron or

wooden benches

. These pieces provide that much-needed timeless charm.
The Arrangement

Create a focal point with your furniture to draw the eye towards your garden building. This could be achieved by placing a seating area facing the structure. Or through using a statement piece of furniture, such as a large table or sculpture.
Texture and colour also help for added interest and visually appealing outdoor space. Consider adding colourful cushions, patterned fabrics, or different materials to your furniture.
Another is to surround the garden building. For instance, placing chairs and tables around the unit can create an outdoor dining area. In contrast, positioning loungers and parasols can create a relaxation haven.
Adding Accessories

Accessorising the garden furniture and building is also key to cohesiveness. To start, consider the style and materials of both elements.
Then add pops of colour and texture to add visual interest. This can be throw pillows, patterned tablecloths, or a textured rug.
Adding plants and greenery can help create a more natural and organic look. Decorate your garden building with potted plants or hanging baskets. Or place a planter box near your furniture pieces or your shed's windowsill.
Lighting fixtures that fit the style criteria also work wonders! Solar lanterns or string lights are your best bet, as either suits any motif.
Maintenance and Care

"Looking its best for years to come" is another term for 'regular cleaning and upkeep'. Be it the furniture or the outdoor building, or both, you'll want to protect your investment.
Regular cleaning.

Use a mild soap and water solution to clean the surfaces of your furniture and building. Avoid using harsh chemicals or abrasive materials that can damage the surface.

Protective coatings.

Polyurethane, varnish and lacquer for wooden furniture. Wood preservers for garden sheds. Doing so can help protect them from the elements and prevent damage.

Proper storage.

This is where your garden building comes in handy! It provides the ideal space for storing furniture when not in use or for weather protection.
Common care issues and how to address them:
Rust.

Rust can be a common problem for metal garden furniture. To tackle the issue, use a wire brush or sandpaper to remove the rust from the furniture's surface. Apply a rust-inhibiting primer and a coat of paint to prevent further rusting.

Cracks and splits.

These are common dilemmas in wood garden furniture and buildings. What you can do is sand the surface of the furniture or building to smooth out the surface. Apply a wood filler to fill in the cracks and splits. Then, re-sand the surface before painting or staining.

Fading.

Use a UV-protective sealant or paint to prevent the colour from fading over time.
Skip maintenance, and both the garden furniture and building will slip out of view. No matter how the setup orchestrates each other, they'll become less noticeable. Even worse, they may turn out looking rather 'out of order' arrangement.
Round-up
Combining garden furniture with your garden building is often omitted. But this trick is, in fact, one of the gateways to an intentional and well-designed outdoor space.
There are lots to consider, but we hope this guide has given you the heads-up. With these tips, you can create a beautiful and functional garden that you'll benefit from for years to come. Oh, and for garden furniture that you can rely on, click the button below!
Shop Garden Furniture