Like any investment, garden furniture requires maintenance to stay in top condition. Even high-quality outdoor sets are non-exempt to wear and tear. They may begin showing signs of weathering over time, even with proper care. It's in their nature, but there are ways to give them a new lease of life –and that's where you come in.
Browse through these steps you can take to refresh and revitalise your outdoor space!
Assess Your Garden Furniture

Identify the type of garden furniture you have. Is it made from wood, metal, plastic, or some other material? Different materials require different types of maintenance and restoration techniques. Thus, understanding what you're working with is essential.
Once you've identified the type of furniture you have, the next step is to assess its condition. Take a close look at the furniture and identify any areas of damage, such as cracks, dents, or rust. Depending on the severity of the damage, see to it if it can be repaired or needs to be replaced entirely.
Take the time to assess the current state of your garden furniture. That way, you can have ideas on how to proceed with the process of revitalising it.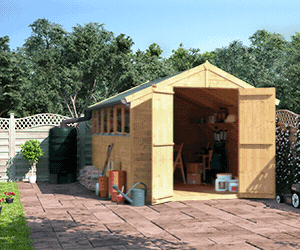 From Dust to Shine: Cleaning Hacks

Before undertaking any restoration work, thoroughly clean your furniture. By this, we meant removing dirt, grime, and any other debris that may have accumulated over time.
Again, different types of garden furniture require different cleaning techniques. Here are some tips and tricks to get you started:
Wood
To clean wooden garden furniture, start by brushing away any loose dirt or debris. Next, use a mild soap and water solution to gently scrub the furniture, taking care not to saturate the wood. Rinse with clean water and allow the furniture to dry completely. Only by then can you apply any restoration products.
Metal
To clean metal garden furniture, begin by wiping down the furniture with a damp cloth. For tougher stains, use a mixture of mild soap and water and gently scrub with a soft-bristled brush. Rinse with clean water and dry thoroughly.
Plastic
Plastic garden furniture is perhaps the easiest to clean. Simply wipe down the furniture with a damp cloth or sponge and a mild detergent solution. Rinse and let it dry.
Synthetic rattan
Synthetic rattan garden furniture is also relatively easy to clean. Start by brushing away any loose dirt or debris. Next, use a gentle soap and water solution and a soft-bristled brush to scrub away any stains. Rinse and dry.
Top tip: Avoid using harsh chemicals or abrasive cleaning tools that could damage the set. With regular cleaning, you can help prolong its lifespan and keep it looking its best.
Bring Your Old Garden Furniture Back to Life

This process can be a fun and rewarding DIY project that can save you money in the long run. Below are some tried and tested tips for bringing your old garden furniture back to life.
Tools and materials needed for restoration:
Sandpaper in different grits

Screwdriver and pliers

Wood glue and clamps

Replacement parts, such as bolts and screws

Paint or stain

Brush or sprayer

Protective gear, such as gloves and safety goggles
Step-by-step instructions for repairing different types of garden furniture:
Wood.

Fill any cracks or holes with wood filler, sand the furniture down, and apply a coat of varnish or stain. Replace any damaged parts, such as slats or legs, and tighten any loose screws or bolts.

Metal.

Remove any rust or corrosion with sandpaper or a wire brush, and apply a rust inhibitor. Paint the furniture with rust-resistant paint, and replace any damaged parts.

Plastic.

Use a plastic-friendly epoxy or adhesive to fix any cracks or breaks in the furniture. Make replacements if necessary.

Synthetic rattan.

Use a synthetic rattan repair kit to fix any broken or loose pieces. Clean the furniture thoroughly, and apply a coat of protective spray.
Options for refinishing garden furniture:
Painting.

Choose a high-quality paint that's formulated for outdoor use. Sand the furniture down, apply a coat of primer, and then paint with a brush or sprayer.

Staining.

Sand the furniture down, and apply the stain with a brush or sprayer.
Goodbye rusted, and hello radiant!
Adding Finishing Touches

Adding finishing touches can take your patio set from functional to fabulous. For one, cushions and pillows can make your garden furniture comfier and more inviting. The right accessories can also help tie your outdoor space together.
Tips for choosing cushions, pillows, and other accessories:
Choose cushions and pillows made from materials that can withstand the elements.

Look for accessories that complement the style and colour of your garden furniture.

Consider adding a weather-resistant umbrella or shade sail to protect your furniture.

Incorporate outdoor lighting, such as string lights, for ambience in the evening.
Don't forget to add covers to protect the cushions when not in use. Store the set indoors, such as in a garden shed, during the off-season. Hopefully, these tips have provided you with ideas to revitalise your garden furniture!