At BillyOh, we provide wooden garden furniture which is great for every garden. From wooden bistro sets to wooden dining sets, we have all kinds of wooden garden furniture which is high-quality and long lasting. If you're looking to own garden furniture which offers your garden stylish seating, our large range of wooden garden furniture is guaranteed to provide you with everything you need.
The wooden dining sets we supply, come in two seater sets or four seater sets, make dining alfresco a much more enjoyable experience. A wooden bistro set is perfect for a small garden, patio or balcony. Our bistro sets are made from stunning acacia hardwood or eucalyptus hardwood, offering stylish, compact garden furniture which is easy to fold up and store away if not in use.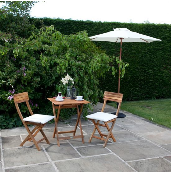 Solid Wooden Garden Furniture
Our four seater dining sets are ideal for families. With great garden furniture, you can enjoy home cooked meals outdoors while relaxing in comfort with your loved ones. Parasol options provide your wooden dining set with cool shade during hot, summer days. A number of our dining sets also come with a space for a parasol to be positioned in the centre of your wooden table.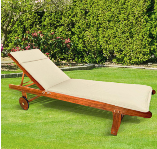 Our wooden sun loungers take relaxing outdoors to another level of comfort. Wheels are incorporated to make maneuvering the lounger as easy as possible. Constructed from durable hardwood, our reliable sun loungers provide you the perfect seating to unwind. You can even add a cushion to your sun lounger for ultimate comfort. These are available in a range of colours to suit your personal taste.
Chunky Wooden Garden Furniture
Whether you're looking for chunky wooden garden furniture or compact furniture, our variety of designs and styles guarantee you'll find the right wooden garden furniture for your garden. Our wooden garden furniture is designed to be durable, traditional and stylish.
Explore our range of wooden garden benches and wooden chairs which offer solid garden furniture that looks great in every garden. Having a place to enjoy views of your garden has never been