Style, comfort, and practicality are something rattan garden furniture has in buckets! Synthetic rattan is the perfect alternative to natural rattan as high-grade polyethylene is much more durable and equipped for the outdoors. 
Even if you do own synthetic rattan garden furniture, when the weather takes a turn for the worst, you should consider storing or covering it to keep it looking it's best and this will also make it last longer. Natural rattan furniture is not suited to the outdoors, so should always be stored away during winter months. 
Keep garden furniture protected with covers 
You can leave synthetic rattan furniture outdoors all year round, but for ultimate protection, cover it with a PVC cover or keep it stored in your garden shed.
Garden furniture covers are ideal for additional protection from the elements. 
Even if you're storing your garden furniture in your shed or garage, a cover will keep it free from dust and it won't need to be cleaned when brought out again.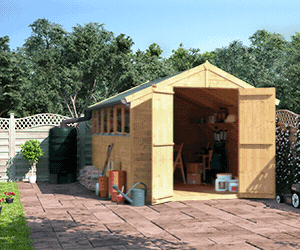 Covers come in a range of sizes and can be specifically designed to fit your furniture.
Caring for rattan garden furniture in season 
The cushions on your rattan garden furniture are designed to be durable so they will withstand wear and tear. However, it's important that you keep them clean and dry. 
Every couple of weeks, you can maintain the condition of your garden furniture by cleaning the table tops and seats. 
Every year, you should wash the furniture thoroughly with detergent and then rinse well. A soft brush will remove any dried on stains or dirt easily.
If you're wondering how to cover outdoor chair cushions, a PVC cover is the best option. 
Protecting rattan garden furniture in winter 
The best way to care for your rattan garden furniture during winter is to store it in a garden shed. This guarantees the furniture more protection from the elements.
However, if this is not possible due your rattan furniture being too large, you should remove the cushions and bring them inside. 
Polyethylene or synthetic rattan is equipped for harsh weather during winter, and won't rot or corrode like wooden or metal furniture can. Natural rattan would not last long in frost so it's important this is brought indoors during winter. 
Storing your rattan garden furniture 
So winter has arrived and you want to keep your rattan garden furniture in the best possible condition. You will need a dry storage space to do the job.
If you're looking for a high-quality store which is strong and durable, you should opt for a heavy-duty shed.
Wooden sheds are renowned for providing reliable storage and they come in traditional apex or modern pent styles to suit all gardens.