It can be challenging to keep children entertained during the holidays. On top of investing in playhouses and rattan sets, we've compiled a list of other ideas for you to try out in your garden.
Hopefully, you'll be able to implement some of our suggestions to help them enjoy time outdoors and keep them amused on those long summer days!
Let's jump into our list of children's garden ideas.
1. Blackboard
Install a blackboard along a wall or fence and have the kids practice drawing, numbers or the alphabet. This is a really simple idea but could provide hours of fun as they can just keep wiping it off and starting again!

2. Hop scotch
Install some stepping stones and add your own numbers so they can play hopscotch! Or if you'd prefer something more temporary, draw it out with chalk on your patio and wash it away afterwards.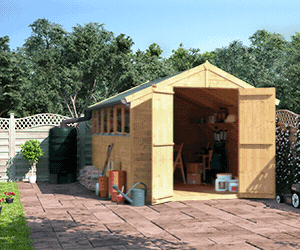 3. Backyard playground
There's no need to go to the park with this incredible design, especially if you own a large garden! Bring the park to your backyard.

4. Trellis shelter with bench
Create your own magical garden hideaway with a trellis shelter and climbing plants. It will feel like a fairy house to your kids but it will also protect them from the sun on hot summer days.
5. DIY barefoot sensory path
A little something to walk on every afternoon and relax while feeling the different textures under their feet. Create a pebble garden path and mix it with wooden slabs and lawns.

6. Sandbox and blackboard
A blackboard is a great idea, but add a little sandbox for your kids to play and they'll never want to leave your garden. 

7. Small garden village
Instead of just a fairy garden, how about a whole village? You could even get your little ones to help you design and build it. 
8. Boot hanging pots
Upcycle those old wellies that no longer fit into pretty plant pots. Get the kids to help with the planting and keep them as a garden project.

9. Backyard swings
Having a park in your backyard is bound to make your kids love it. Adding some swings or slides works perfectly.

10. DIY simple treehouse
If you're building a treehouse and it's not too high, try for an open design so you can keep an eye on your kids. Use natural materials like this example to help it blend in with the garden landscape. 

11. Long thin suburban backyard
Your children will have hours of fun with a raised wooden playhouse, and bark makes a great base for play areas as it will soften any falls. 
12. Wheelbarrow fairy garden
If you've got an old wheelbarrow that's seen better days, give it a new life as a fairy garden. It can be a little project to work on with your kids, and you can use stones and other items you already have in the garden, so it won't cost the earth.
13. Children's playground and shed
Transform an unused area at the back of the garden into a playground for your children. If you're handy with wood you could even build it yourself! 
Swings, slides and climbing walls are all great additions that will keep them busy.

14. Old cans as pots
Get your kids interested in gardening and plant some herbs with them. You could get the paints out and let them decorate the pots before planting!
15. DIY toadstools
Use recycled materials to create your own toadstool seats. These are really simple to make and help the garden feel more magical for your children.
16. Slope garden with slide
If you have a sloped garden, make the most of it! Slides and climbing walls always go down well.

17. Mud kitchen
Children love getting dirty in the garden, so use some old pallets to build them a mud kitchen! Add some of your old kitchen utensils and washing-up bowls to finish it off.
18. Dinosaur park
If a fairy garden is not your kids' style, how about a mini dinosaur park? Add some small plants as trees, and use some pebbles from your garden to create a miniature water feature. 

19. DIY wood town
Create a whole town or small village for your kids to play with their dolls in. This style is easily recreated with some old pieces of wood and a marker pen!
20. Xylophone wall
Bring some fun and colour to the garden with a xylophone wall. It will help to get your kids in touch with sounds and music from a young age. 
21. Pirate ship
Add some pirate touches to a treehouse and transform it into a pirate ship! Kids' imagination goes a long way.

22. Grass and pebbles backyard playground
The good thing about grass and small pebbles is that they're soft to land on. Kids tend to fall a lot, so this makes sure they won't get hurt. 
23. Backyard climbing wall
You might not have the space for a playground in your garden, but a climbing wall won't take up much space and your kids can learn how to climb.

24. Bug hotel
Grown ups don't seem to like bugs that much, but kids tend to love studying them. This could be the start of their career as an entomologist!
Here's how you can create your own bug hotel.

25. Alphabet stepping stones
These stepping stones are a great way to help your kids learn the alphabet while having fun outside. The fence made of coloured pencils fits in well with the theme!
26. Wooden teepee
A wooden teepee like this one is the perfect spot for some nighttime horror stories or family stargazing.
27. Excavation site
You could bury some shiny objects in the sand for your kids to find, or they can just build sandcastles! 
28. Buried trampoline
A buried trampoline is much safer for children than a raised one,  as they're less likely to hurt themselves if they fall off. 

29. Gnome home
Add little doors to your tree trunks to transform them into little gnome homes or fairy houses. The addition of the steps up to the door really makes this feel more magical!

30. Corner playground
You don't need much space to create a great little spot for your kids to have fun. Add bark or another soft material as a base to stop them hurting themselves when they fall over.
31. Hobbit house
If you have a slope or small hill in your backyard, you could make it magical by creating an amazing hobbit house. Be sure to add a cute round door with it's own garden path!

32. Pallet herb garden
It's great to have a little garden project to work on with your children. A herb garden is the perfect starting place as they're easy to grow, so they'll see results quite quickly which will keep them engaged.  

33. Colour pencils gate
This bright and colourful gate is perfect for a children's play area. You can even use it to teach them the names of the colours while they're passing through.
34. Trellis tent
Trellis tents make the perfect shady hideaway in the garden. Maybe it's a good idea to start building it when your child is a baby, so it will be fully grown by the time they are old enough to enjoy it.
35. Colourful path
Get the paints out for this creative project with your children. You can build up your colourful collection of stones over time until you're ready to put them in place. 
36. Fairy garden on tree
If there are lots of trees close to your house, try building some fairy homes with your kids. You can use items you find outside to create a cute miniature garden for your fairy homes, including the little wooden fence, stepping stones and vegetable patch seen here.

37. DIY stepping stones
Create your own 'memory lane' with these personalised stepping stones. You could make a new stone each year with their little hand and foot prints. 
38. Obstacle course for kids
Keep the kids entertained as well as active with a homemade obstacle course. You could use stones as a 'river' (as seen here) and mini benches as walking platforms. 
Remember to use a spongy ground material to give them a soft landing should they fall off.

39. Toad table
Get creative with some paints to transform an old wooden cable reel into a cute table for the children to use.  
40. DIY agility bridge
Who needs the park when you've got your own agility bridge at home? 
41. Birdhouse planks
This bird box-style fence makes a great backdrop for the bird bath and would be a great little project for you and your children. The bright colours and small perches will keep the birds coming back to your garden. 

42. DIY tic tac toe
There are loads of fun games you can create in your backyard for your kids to enjoy. All you need for this simple Tic Tac Toe game is a smooth tree stump to use as a table and then paint some pebbles to create your markers. 

43. Wigwam
This will take a bit of work to build but it makes an amazing outdoor shelter! Add a fire pit outside so it really feels like camping. 
44. Lightened fairy garden
Add some twinkly lights to your fairy garden to make it more magical.
45. Recycled tyre planters
Recycle your old tyres to create a unique planter. You could get the children to help you choose the colours and maybe even help you paint them! 

46. Breeze blocks herb garden
Build a really simple herb garden from breeze blocks for you and your kids to take care of together. They make perfect planters as each herb has its own growing space so you can keep them separate.
47. Caterpillar stepping stones
Simple grey stepping stones can sometimes be boring, so encourage your children to get creative with paints or chalk pens and produce their own designs. 
48. Bespoke treehouse
Add a spot of luxury to your kids treehouse with some curtains and soft cushions. 
49. Flower river
Flower beds don't have to be formal or rectangular. Try something more playful like this flower river to work on with your children. 
50. Small garden shed
A small rustic shed is all children need. Their imagination does the rest!
This creative DIY project is also a great small garden idea.
51. Consider burbling brook
The sound of a running stream and the feel of cool water on hot feet and curious hands delights children. Provide them a water play like this garden brook.
If you have younger kids, make sure it's supervised.
52. Tree-stump stepping stones
A great way to incorporate more of nature's touch to your children's garden is getting them a natural yard accessory like this! Line up the tree stumps to make a meandering stepping stone path for your little ones.
Tip: Smaller wood slices make great stepping stones for very young kids.

53. Grow a mix of edibles
Kids can get excited about eating the veggies they've helped grow in their garden. Growing a mix of edibles and fresh flowers meant for harvesting means there's something they can always look forward to doing in the yard.
54. Provide them with a camp-style entertainment zone
Nothing beats chilling around a classic fire pit while drinking hot chocolate in chilly evenings. This is something that kids anticipate after dinner.
Have s'mores with them and sing songs around a blazing campfire all-year-round with this kind of outdoor setup.

55. Play meadow with water, sand and edibles
Children tend to love running on a soft, springy surface. Add a small patch of lawn and leave more room for creative elements like water, sand and edibles.
Round-up
You don't need to transform your whole garden to add some child-friendly elements that will keep your children busy whilst they're at home. 
Whether you're looking for quick and easy solutions to keep them entertained or full-on projects to work on together, we hope you've found some inspiration on our list!
Shop Playhouses