No garden play is complete without outdoor toys for kids.
The time spent outdoors can be a wonderful part of one's childhood — and a shame if a child misses it. But it is getting trickier to encourage the little ones to go outside, and technology is exhibit A. Still, nothing can top the real 'play fun' experience, especially with the best outdoor toys. They're like magic, getting kids to stay active while their imagination goes wild.
Let your little ones pick their favourite items on this list and let them tempt them outdoors. With these outdoor toy gift ideas, you can make this festive period a truly special one.
1. Sandpit
A sandpit is a fun way to build and model objects out of the sand. It's also where kids can work on their finger muscle strength and control.
To get the best experience for your children, invest in a high-quality product. This octagonal wooden sandpit is worth every penny: it comes with a side seating and in-built cover.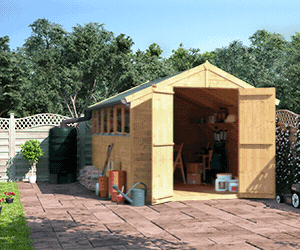 2. Skid sledge
A skid is a must-have for snowy days, and kids will surely love this Mad Dash meerkat one. Made from durable blow-moulded plastic and available in blue or red colour.
Head to your nearest slope, make the most of the winter season, and zoom past everybody else!

3. Toss and catch game set
Toss and catch is a classic game that features waterproof and foam padding. Suitable for all ages, the whole family can take this old-school outdoor match together!
Not only does playing it in the yard super fun but also in the water. Is your garden ready for all the energy this game will bring?

4. Water gun
A.k.a. the futuristic version of water balloons, toy water guns shoot jets of water. They make a cool 'bait' to get the youngsters outdoors and running around.
The fun multiplies with more participants, so invite their friends over or join them. This will encourage teamwork, problem-solving, and hand-eye coordination.

5. Dome climber
Add a splash of colour and a sense of adventure to your garden play area with a dome climber. It features thick bars and colourful circles that are easy to grab and climb onto.
With one, your children experience a fantastic climbing activity. Not to mention that it'll help develop their core strength and motor skills, as well.

6. Giant Jenga blocks
Think of it like the classic Jenga game, but only bigger. Usually, upon setup, it starts at 18" and can stack to a height of over 3".
Look forward to who'll be the last standing player to stack a block without causing the tower to crash! Note: Giant Jenga blocks can be either purchased (online and in-store) or made.

7. Ball pit
Dedicate a space in your back garden and put a padded box filled with small colourful plastic balls. It's a great alternative to public ball pits, treating your kids with their own recreation.
Go DIY using an inflatable hot tub or mini pool and at least 200 plastic balls. Or invest in a ready-made product if the little ones can't wait!

8. Surfing swing
Any child (adults even!) can hop on and soar away with a stand-up surfing swing. Unlike swings made of flat pieces of wood, it's curved and great for active play.
It's so much fun the kids won't even realise how much of a workout they're getting! Look for a modern one with adjustable handles for any height.

9. Sandbox digger
The perfect toy companion to your child's sandpit, such a toy can dig sand, move dirt and shovel snow. A sandbox shovel set ensures everyone inside the pit has their own digging tool.
But to make it extra, go for an excavator crane with 360° rotation. They can pretend to be working on a construction site with a sense of being in the truck, thanks to the stool.

10. Climbing net
Children are born to climb! The webbing climbing net is an excellent finishing touch to your backyard playground.
It takes fun to all new heights, setting your kid's play area above the rest. What's more, a brilliant source of cardiovascular and strength training.

11. Ride-on truck
A ride-on truck is a child's must-have item to keep them entertained, especially in the gardens. With one, you can take a stroll while your little one drives next to you.
Have them roam around the yard and even consider making them their own track. Invest in a model with a parent remote control to ensure safety while they're on it.

12. Bubble balls for soccer
Have you and the kids heard about bubble soccer? Well, it's like regular soccer and riding bumper cars – an outdoor sport that's all rolled into one!
Players of both teams try to locate and kick a soccer ball into the opponent's net, except there's no goalie. The catch? The players are strapped into a giant plastic bubble, their feet excluded.
It also comes with "social distancing" measures, making it a clever game in the new normal setting!

13. Backyard trampoline with a safety net
If you can't think of anything fun to add to the backyard, you can never go wrong with a trampoline. And there's just something about jumping around on one – simply, hours of fun for the whole family!
Luxuriate in jumping together and even playing card games there.

14. Paddling pool
Paddling pools are a must for hot days, and your backyard should at least have one for the kids. A small pool is ideal for first swimmers and toddlers, though you can opt for water slides for the older ones.
Either way, it can keep the kiddos cool, well-entertained, and active in the summer. If you want to join the fun, consider an inflatable hot tub.

15. Giant connect four
Kids ages 8 and up will enjoy this massive board play! It's a tic-tac-toe-like game where players alternately place pieces on a vertical board.
The goal is to be the first to form a horizontal, vertical, or diagonal line of four of one's own tokens. So, who do you think would be the expert among the siblings in this solved game?

16. Bubble lawn mower
A bubble lawn mower toy will become your kiddo's outdoor BFF. It'll have them enchanted as they "mow" the grass and watch it transform into a bubble wonderland.
If you run out of bubble solution, these neon bubble tubes can save the day! The next thing you knew, they were out there forever chasing bubbles and 'mowing'.

17. Foam gliders
Foam gliders will have them eagerly running back and forth as they launch and retrieve them. The looping mode is so awesome that even adults will be giddy with excitement!
Have a look at these Henbrandt dinosaur gliders for the Knights-to-be. Available in various designs, colours, and pack sizes. Little princesses will also love these unicorn versions in 4 colourful designs.

18. Saucer swing
This will become your little one's favourite spot in the backyard. A fun way to play, lounge, and enjoy imaginative play with friends!
The gentle swing movement also encourages balance and supports sensory needs, hyperactivity, and more. Hook it to an existing swing set or on a sturdy pergola, tree branch or patio ceiling.
To inject a pop of colour, opt for a rainbow-coloured saucer swing.

19. Garden play tent
Get them a garden play tent that's roomy enough for peekaboo or relaxing with a book or board game. Like a playhouse, it's an easy way to fire up children's imaginations and set the stage for loads of adventures!
Let them pick between a pop-up tent or stylish teepee to make for their dream outdoor den.

20. Playhouse
Speaking of playhouses, one can be the greatest outdoor toy to have in their childhood. Besides the extra fantasy, a playhouse also adds curb appeal.
With one, you can ensure they're in a safer and more controlled environment. The BillyOh Anex creates just the perfect play space for them, with a multi-floor open area and a snug on the first floor.

Round-up
Technology presents great impacts on kids, but taking a break from the screen also does them good. Even better for the most part, and playing outdoors is key.
It allows a child to explore the natural environment and have adventures. This list of outdoor toys for kids will surely have them begging to go outside and play more often! You can also click the button below to browse our full outdoor toys range.
Shop Outdoor Toys