Garden gates are essential for keeping your garden safe and secure, but that doesn't mean they have to be dull! Just like the front door of your house, your backyard gate should also be welcoming.

With some creativity and little effort, you can set the tone of your garden with these gate design inspirations. Here we've come up with great garden gate ideas for a beautiful outdoor space.
Let's jump in!
1. Simple wooden gate
Simple, pretty and yet resistant. A wooden gate is always a good option for keeping your garden secure. The pergola and trellis surrounding it are perfect for adding some climbing plants.

2. Gated arbour
If you're looking for something a little grander for the entrance to your backyard, this stylish gated arbour would be perfect. The apex roof gives climbing plants and flowers a platform.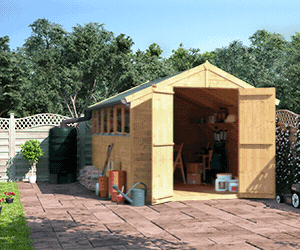 3. White gate with trellis
For a more relaxed, traditional garden gate, you could go for a white picket fence with some decorative trellising.  Add some climbing flowers for some colour.

4. DIY wooden gate
If you want it fast, you can always build it and install it yourself. This style will keep your garden secure from intruders and stop your pets from escaping.

5. Arched trellis
If you want to divide your garden into different spaces, place one of these at the entrance to one section. You'll feel like you're entering a different path of your vegetable garden.

6. Old wood garden gate
If you prefer a rustic style in your garden, you could up-cycle old wooden doors to create a unique garden gate. 
7. Japanese wooden arch
Achieve an oriental look by placing a pergola-style entryway to your garden.

8. Gate for vegetable garden
You can keep your veggies safe from your kids or pets by fencing it off and adding a classic gate. 

9. White fence and gate
Here we have another white picket gate with a curved shape, along with a beautiful arch and some trellis to make a real statement. 

10. Green gate
You can transform a simple gate just by adding a splash of colour. The pergola above gives this a Japanese garden-feel, plus it gives a great base for vines and flowers to grow. 

11. Simple grey back gate
Find a colour that you like and that looks good with your garden theme. Grey is a very popular choice at the moment, both indoors and out, and it brings a contemporary look to a worn wall.
12. White arbour gate with flowers
A classic white fence is easy to decorate by just adding some colourful flowers on top.
13. Log gate
For a unique garden gate, create your own with some wooden logs and sticks, twine and a lot of patience. The end result is worth the wait though!

14. Blue small gate
Grey, white, light brown – that's always expected. Blue, on the other hand, is bound to surprise any guest. 
The cute hanging basket is a great addition!

15. Coloured glass in wooden gate
A little DIY project with amazing results. You can use coloured glass to fill the holes left by knots in the wood, or even add some holes of your own! 
It will look stunning with the sun shining through.
16. English garden gate
The gate is the first thing your visitors look at, so it has to be appealing. This traditional farm-style gate will fit perfectly with a country cottage and rustic garden.

17. Charming wooden gate
A stripped back gate will fit with any garden theme. It doesn't have to be fancy to be beautiful! 
18. Bespoke side gate
Once a side walkway without any privacy, now it's completely transformed with this simple, yet resistant gate. The grey colour and stylish handle give it a contemporary look. 

19. Cedar fence with gate
Cedar is strong and resistant, which makes it perfect for this type of side gate. The classic pergola over the top adds a touch of elegance.  

20. Re-arranged logs
Now that's a gate worth walking through! Use logs and sticks to design your own one-of-a-kind garden gate. 
The natural style helps this blend right in with the a cottage garden theme.
21. White and red
Add a pop of colour to your garden by choosing a quirky colour for your gate. You could even add some flowers to match! 
22. Colour pencils gate
It's guaranteed that your kids will love this one! A unique style perfect for a kids play area or park.
23. Iron gated arbour
Go for an iron arbour rather than wood for a more hard wearing style. 

24. Modern wooden side gate
Adding a modern-looking gate is always going to add appeal to your backyard.
25. Gate with rustic tree
A beautiful, handcrafted design like this one adds some personality to a simple wooden gate.
26. DIY rustic garden gate
Are you good with your hands? Then don't spend a lot of money buying a gate, try building one for yourself!

27. Artistic oriental gate
If you have a zen garden, this style would fit in with your theme perfectly! You'll start relaxing from the moment you open that door.

28. Submarine window gate
A cute way to see who's knocking on the door of your secret garden. 
29. Recycled tools gate
Create your own unique garden gate by recycling your old gardening tools! 
30. Modern garden entrance
A sandstone path looks amazing next to this white fence and perfectly pruned plants.
31. Simple rustic garden door
If your garden has more of a rustic feel to it, you could up-cycle a quirky old door for your garden gate to fit with the theme. 

32. Wooden entrance with basket
This beautiful door fits perfectly with its surroundings. They've even added a basket for mail or deliveries!
33. Garden gate with trellis
Good for garden access or to separate different areas of your backyard. The rustic, no-fuss pergola and fencing add some extra privacy with the climbing plants. 
34. Vintage garden gate
If you're looking for a beautiful gate but don't care much about privacy, this simple but elegant gate is for you. The climbing flowers bring pops of colour and added charm.
35. Wooden Venetian garden gate
Simple, modern and great for your privacy; you won't have to worry about intruders in your garden with this style gate. 
36. Wood and flowers
A simple white wall and contrasting green gate look smart and stylish. The hanging basket and surrounding flowers really bring this area to life.

37. Shapes on door
Craft some shapes in the wood to let a little light in and add some charm to what would be an ordinary wooden gate. 
38. Strong wooden gate
A solid wooden gate will make you feel safe and secure in your garden. Add a little crafted iron window to let some light through and see who's knocking.
39. Grey gated arbour and fence
Grey is a really popular colour choice both inside and outside the home. It brings a modern feel to a traditional gate and ties in with the accents on the house. 
40. Modern arch and white gate
This distinctive style gate is beautiful and welcoming to visitors. You can even add a lantern on top to light up your entrance when you come home late.
41. Japanese garden entrance
A zen entrance for your zen garden, so everything looks in tune. The tall plant pots add some privacy to the trellis-style fencing. 
42. Modern barn-like gate
The idea is pretty simple but effective. It gives you privacy from intruders – both the human and animal kind!

43. Sliding garden gate
Slide your way into your garden with this great up-cycled gate. It's practical too as it doesn't impede on your garden space. 
44. Moon gate
If you have an oriental-style garden, a moon gate is the perfect addition. It's meant to offer good fortune to those who pass through it.

45. Pretty green gate
Spruce up your old garden gate with a change of colour. The ironwork brings extra charm to it and helps to add some privacy.
46. Big arbour and crafted fence
If you're looking for a more unusual fence, you could have one created by a craftsman to add some eloquence. This oriental style fencing  fits perfectly with the Japanese pergola. 
47. French garden entrance
High walls and a tall gate provide excellent privacy but also bring a luxurious feel to this garden entrance.  Perfect for a formal garden.

48. Cream gate on stone
If you have a stone or rock wall, go for a simple cream gate for a great colour combination. 
49. Rusty gate
A bit of rust brings character to a traditional-style iron gate. 
50. Yellow simple door
An up-cycled door provides a unique garden gate, especially when you paint it a bright colour. The rustic, handmade frame and family name up above add to it's charm. 
51. Low wooden gate and fences
Take a look at this small wooden gate. The concept is the gate and fences are low, enabling you to see the scenery or neighbourhood around your property.
52. Tall rustic garden door in blue
Entering this blue door can make you feel like you're entering into a new world. The classic design paired with an arch trellis filled with blooms and flowers make it even more magical.
Customise any pattern you'd like for the door and paint it the colour that fits your cottage garden theme.
53. Small garden gate with high brick wall
If you want to opt for a small gate but wish to have extra privacy to your space, this design could work for you. The brick walls are high enough, offering a great cover and border.
While the small gate still gives you the view of the front or your neighbourhood.

54. Simple pallet gate with flowers
This garden gate idea would look amazing if you have a small flower or vegetable patch. The hanging branches, vines, and flowers create an enchanting ambience.
55. Transparent mesh garden gate
If you have a chicken coop in your backyard, why not consider this kind of garden gate? It's cheap and easy to make.
All you need is a good quality mesh and a few pallets to create the base of the gate, and you're good!
Round-up
There are so many options when it comes to choosing a garden gate, so why settle for something boring? Add some colour and personality to your entrance and really make it your own. 
We hope we've provided some inspiration for sprucing up your own gate or even designing one of your own using natural materials you'll find in your garden or old items from your home you no longer need. 
Shop Garden Gates